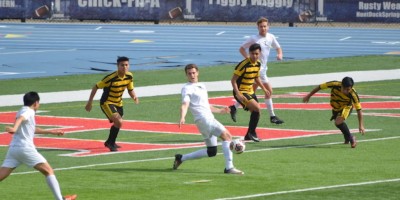 Hillgrove maintains control of the state's highest classification with a 14-0 record as it is coming off victories over Kennesaw Mountain 2-1 and McEachern 2-0. Lambert is No. 2 and also flawless on the year with a 12-0 record. The Longhorns have only allowed three goals this year and one each in the last two games, both 3-1 victories over South Forsyth and Milton. Lakeside-DeKalb comes in at third with Pebblebrook and Collins Hill rounding out the top-5.
In Class AAAAAA, Dalton leads the pack with a 13-0 record and a 6-1 over Creekview on March 26. Pope is coming off a 4-4 tie on the road at Walton. Since losing to Pope 2-0 on March 19, No. 3 Chattahoochee has reeled off a 3-1 victory vs. Centennial and a 5-1 victory at North Atlanta. Sprayberry and Gainesville round out the top-5.
Decatur is the team to beat in Class AAAAA despite a 1-1 tied with Class AAAAAAA No. 3 Lakeside-DeKalb on March 28. Cross Keys, at 11-1, is No. 2 and riding momentum from back-to-back 10-0 shutouts of Columbia and Miller Grove, both at home. Johnson-Gainesville climbed up from fourth to third this week and Starr's Mill moved from sixth to fourth while McIntosh slid from third to fifth.
Upson-Lee is the team to beat again in Class AAAA this week. Since its 2-2 tie with Fayette County on Feb. 22, Upson-Lee has reeled off seven victories while allowing just two goals. Chestatee is second again this week with Eastside, Woodward Academy and Northwest Whitfield holding the same spots.
Westminster is at the top of Class AAA again this week with the only change in the top-5 being Benedictine's climb from sixth to fifth. Pace Academy, previously fifth, slid to sixth.
A shifting top-5 highlights Class AA with Coosa again holding the No. 1 spot. Putnam County is No. 2 again this week. Harlem, previously No. 4, moved up to No. 3. Woodville-Tompkins, previously No. 3, fell to No. 4. Lamar County's climb from No. 10 to No. 5 was the biggest move in this week's poll.
Class A remained the same with Paideia leading the way as it rides momentum from its 5-0 victory over No. 2 Atlanta International on March 26.
Class AAAAAAA
1. Hillgrove
2. Lambert
3. Lakeside-DeKalb
4. Pebblebrook
5. Collins Hill
6. Mountain View
7. Colquitt County
8. Roswell
9. North Gwinnett
10. Mill Creek
Class AAAAAA
1. Dalton
2. Pope
3. Chattahoochee
4. Sprayberry
5. Gainesville
6. Tucker
7. Cambridge
8. Greenbrier
9. Northview
10. Glynn Academy
Class AAAAA
1. Decatur
2. Cross Keys
3. Johnson-Gainesville
4. Starr's Mill
5. McIntosh
6. Clarkston
7. Rome
8. Carrollton
9. Clarke Central
10. North Springs
Class AAAA
1. Upson-Lee
2. Chestatee
3. Eastside
4. Woodward Academy
5. Northwest Whitfield
6. Oconee County
7. St. Pius X
8. Marist
9. Columbus
10. Blessed Trinity
Class AAA
1. Westminster
2. Greater Atlanta Christian
3. East Hall
4. Islands
5. Benedictine
6. Pace Academy
7. Jefferson
8. Lovett
9. Morgan County
10. Pike County
Class AA
1. Coosa
2. Putnam County
3. Harlem
4. Woodville-Tompkins
5. Lamar County
6. Pepperell
7. Fitzgerald
8. Bremen
9. Jeff Davis
10. Thomasville
Class A
1. Paideia
2. Atlanta International
3. Whitefield Academy
4. St. Anne Pacelli
5. Wesleyan
6. Mt. de Sales
7. Pinecrest Academy
8. Athens Academy
9. Holy Innocents'
10. Riverside Military