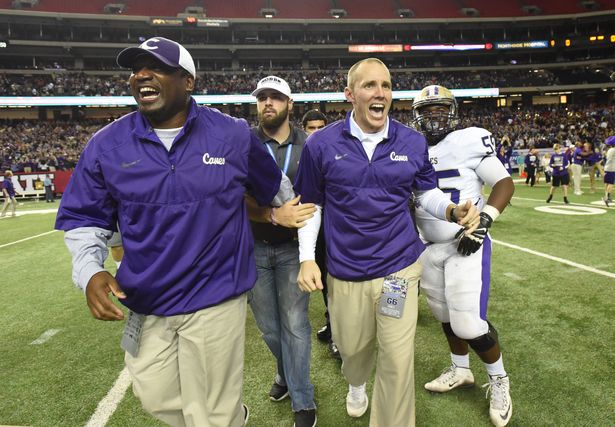 Class AAAAAAA No. 1 Mill Creek turned a 7-0 halftime lead into a 30-0 shutout win over Dacula to remain No. 1 for the third-straight week. No. 3 Grayson edged No. 4 McEachern 16-13 on Friday and South Gwinnett joined Mill Creek at 3-0 with a 14-7 win over Brookood and jumped to No. 5 in this week's poll. Colquitt County's 21-20 loss to Tucker dropped the two-time defending state champs out of the rankings.
In Class AAAAAA, No. 1 Northside-Warner Robins didn't allow an offensive touchdown in its 28-14 win over Westside-Macon and remains at No. 1. Harrison made a leap to No. 6 after scoring a 25-13 win over cross county rival North Cobb to move to 3-0.
Buford, Stockbridge and Grady round out the top 3 in Class AAAAA, while Carrollton and Thomas County Central leap to No. 4 and No. 5, respectively. In Class AAAA, Oconee County and Ridgeland both make their debut, while St. Pius and West Laurens fall out of the top 10.
In Class AAA, the balance of power lies in Region 5 with the difficult group housing No. 1 Pace Academy, No. 3 Lovett, No. 5 Cedar Grove and No. 7 Westminster. After a slow start to the season, Westminster's trip to Ireland could be a turning point, the Wildcats romping Community School of Naples, FL, 42-21.  The biggest drop in the poll belongs to No. 6 Calhoun who drops three spots after a 56-0 loss at home to Class AAAA No. 1 Cartersville.
A new top dog gets the nod in Class AA with Benedictine jumping Fitzgerald for the No. 1 ranking. The Cadets followed up their Week 1 win over defending Class AAAAA runner-up Glynn Academy by shutting out annual power St. Pius at St. Pius 21-0. No. 4 Brooks County looked good in its 35-21 victory over last week's No. 1 ranked team in A-Public, Clinch County.
Darlington falls from No. 2 to No. 5 in Class A-Private after suffering a 40-28 loss at Ridgeland. Landmark Christian jumps from No. 7 to No. 4 following a defense-led victory over No. 7 Stratford Academy 13-3. No. 3 Prince Avenue survived a scare with a 7-0 overtime win against Athens Christian.
Class A-Public has been shaken up with Clinch County and Irwin County being soundly defeated after coming in as the No. 1 and No. 2 ranked teams. Clinch slips to No. 2 thanks to a 35-21 loss to Brooks County while Irwin County plummets to No. 10 after getting trounced by new No. 1 Macon County, 57-15. The Bulldogs take over the top spot after being ranked No. 5.
Class AAAAAAA
1. Mill Creek
2. Roswell
3. Grayson
4. McEachern
5. South Gwinnett
6. Norcross
7. Lassiter
8. Brookwood
9. North Gwinnett
10. Lowndes
Class AAAAAA
1. Northside-Warner Robins
2. Houston County
3. Valdosta
4. Lee County
5. Northgate
6. Harrison
7. Tucker
8. Dalton
9. Creekside
10. Glynn Academy
Class AAAAA
1. Buford
2. Stockbridge
3. Grady
4. Carrollton
5. Thomas County Central
6. Kell
7. Jones County
8. Ware County
9. Bainbridge
10. Rome
Class AAAA
1. Cartersville
2. Thomson
3. Sandy Creek
4. Blessed Trinity
5. Woodward Academy
6. Mary Persons
7. Burke County
8. Jefferson
9. Oconee County
10. Ridgeland
Class AAA
1. Pace Academy
2. Greater Atlanta Christian
3. Lovett
4. Liberty County
5. Cedar Grove
6. Calhoun
7. Westminster
8. Peach County
9. Pierce County
10. Monroe
Class AA
1. Benedictine
2. Fitzgerald
3. Rabun County
4. Brooks County
5. Callaway
6. Vidalia
7. Jefferson County
8. Model
9. Heard County
10. Dodge County
Class A-Private
1. Eagle's Landing Christian
2. Wesleyan
3. Prince Avenue
4. Landmark Christian
5. Darlington
6. Calvary Day
7. Stratford Academy
8. Mt. Pisgah
9. First Presbyterian Day
10. Aquinas
Class A-Public
1. Macon County
2. Clinch County
3. Commerce
4. Emanuel County Institute
5. Mt. Zion
6. Marion County
7. Manchester
8. Trion
9. Lincoln County
10. Irwin County