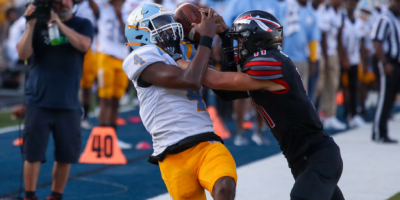 Class 7A No. 1 Collins Hill traveled to Class 6A No. 4 Rome and coasted to a 34-0 victory thanks to big performances from four-star Missouri-commit quarterback Sam Horn and five-star FSU-commit receiver Travis Hunter, who connected 10 times for 202 yards and a touchdown. Horn finished with three touchdown passes, and the nationally-ranked Eagles improved to 4-0 while giving Rome (2-1) its first loss.
Collins Hill set the tone on the first possession of the game, capping a scoring drive with a 9-yard Horn touchdown pass to tight end Ethan Davis. After holding Rome to a missed field goal on the Wolves' first possession, Collins Hill took a 14-0 lead on a 67-yard scoring pass from Horn to Hunter, who caught a pass over the middle and outran a host of Rome defenders on his way to the end zone. Collins Hill took a 20-0 lead into halftime after a 1-yard touchdown run from Spenser Anderson early in the second quarter.
Collins Hill opted for a pop-up onside kick to start the second half and recovered, and the Eagles finished the drive on a 4th-and-goal from the 1-yard line as Horn tossed to running back Ryan Stephens for the touchdown rush. Collins Hill then scored a two-point conversion as Horn rolled out and found Dion Crawford, a linebacker in on the special-teams play, in the end zone. Collins Hill finished the scoring at the 4:41 mark of the third quarter on a 3-yard pass from Horn to Anderson.
Follow the link to the PREP SCOREBOARD and to Todd Holcomb's Friday Night Wrap.
See the rest of the roundups below.
Class 7A
Roswell 45, North Paulding 10
Senior quarterback Robbie Roper threw a trio of touchdown passes and added another on the ground before halftime in Roswell's dominant 45-10 victory over visiting North Paulding on Homecoming Night. Roper put the Hornets on the board in the opening frame with a 21-yard run, and he connected with Shaun Spence (34 yards), Ethan Crite (80 yards) and Christopher Elko (10 yards) in the second for a 28-3 Roswell advantage.
North Cobb 43, Alpharetta 7
The Warriors scored touchdowns on each of their first five drives against visiting Alpharetta en route to a dominant 43-7 victory. The Raiders finally came up with a stop on North Cobb's first second-half possession, but the Warriors added a sixth score with 4:33 remaining in the third for a 43-0 edge. They improve to 2-1 with the win and will travel to Etowah next week.
McEachern 42, Hillgrove 14
McEachern opened up a 22-0 lead in the first four minutes of the game and led 42-0 in the second quarter on its way to a win over visiting Hillgrove. Indians quarterback Bryce Archie threw two touchdown passes to Kaleb Webb, who also scored on a punt return and a kickoff return. Sean Cooper rushed for both of Hillgrove's touchdowns.
Marietta 40, Camden County 17
Host Marietta turned a tight game into a comfortable victory, dominating down the stretch with four straight touchdowns. Quarterback Tyler Hughes finished with four touchdown passes, including two to Cameron Perry, and rushed for a score. Camden County took a 17-14 lead on Adonis Coyle's 34-yard field goal at the 6:41 mark of the third quarter, but Marietta answered with a 5-yard Hughes scramble for a touchdown. The Blue Devils added to their lead with a 27-yard touchdown pass from Hughes to Perry and a subsequent two-point conversion on a pass from Hughes to tight end Camden Overton early in the fourth. Hughes threw his fourth touchdown to Luke Morgan from 12 yards out on a 4th-and-5 play, and Marietta capped the scoring on a 22-yard touchdown run from Melvin Alexander with five minutes remaining. Hughes threw a 41-yard touchdown pass to Perry on Marietta's first possession of the game, and Hughes made it a 14-14 game at halftime with a 31-yard touchdown pass to Jeremiah Frederick with 32 seconds remaining in the half. Camden County's Jamie Felix rushed for touchdowns of 1 and 6 yards in the second quarter.
Gainesville 42, Flowery Branch 35
The Red Elephants came out on top in their shootout over Flowery Branch, breaking a three-game losing streak to the Falcons. Sophomore quarterback Baxter Wright went 20-of-23 with 296 yards and one touchdown and 67 yards on the ground and a rushing score. Junior running back Naim Cheeks finished the night with 132 all-purpose yards and reached the end zone twice. On defense, Junior Stacy Hopkins had six tackles and three assists, and Junior cornerback Dre Raven snagged a pick-six.
North Gwinnett 30, Lovejoy 0
North Gwinnett avenged last season's 19-7 loss to Lovejoy with an emphatic 30-0 shutout of the visiting Wildcats to improve to 2-2 on the year. The Bulldogs outgained Lovejoy 222 yards to 15 in the second quarter alone, during which Marcus McFarlane provided a pair of touchdown runs—including one from 47 yards out—and Dylan Gary added a third. Lovejoy finally slowed down the North Gwinnett offense in the third and stopped the Bulldogs inside the 5-yard line to force a field goal attempt, but the Wildcats were caught jumping offsides. Quarterback Ethan Washington then scored from a yard out, and the 30-0 North Gwinnett lead held through the end of the game.
West Forsyth 51, Walton 35
West Forsyth overcame an early 22-7 deficit in its Week 4 showdown with Walton to come away with a 51-35 win, thanks to a 44-13 scoring run to close the game and a six-touchdown performance from junior running back Peyton Streko. The host Raiders took an 8-0 lead on their first drive after successfully converting for two following a busted PAT attempt, then answered the first of Streko's scores with touchdown runs by Mustafa Hefner and Sutton Smith. Streko found the end zone again before the end of the opening quarter, and the Wolverines capitalized on friendly field position after a blocked punt with a TD pass from Keegan Stover to Oscar Delp early in the second. West Forsyth took the lead for the first time on its next drive with Streko's third touchdown, then reclaimed it again following a Raider score with a 35-yard field goal by Kevin Petraglia for a 30-29 advantage at the break. Streko picked up where he left off in the second half with a fourth trip to the end zone, but Walton quickly responded to cut the Wolverine lead to 37-35 heading into the final frame. The West Forsyth defense held the Raiders scoreless for the remainder of the game, however, and a Jay Helstone 3rd-down sack bookended by Streko's fifth and sixth touchdowns of the night sealed the victory for the Wolverines.
Parkview 26, Loganville 3
Host Parkview struck first with an 8-yard touchdown from Colin Houck to sophomore Zion Taylor to go up 6-0. Loganville got on the board with a 45-yard field goal, but Parkview's Khyair Spain ran in a 16-yard touchdown to push the lead to 13-3 at the half. Houck found Mike Matthews for a 22 and 23-yard touchdown in the second half to seal the victory.
North Forsyth 14, Etowah 0
North Forsyth's Patrick Corrigan had two rushing touchdowns before halftime for the game's only points. He finished the game with more than 70 yards on the ground, while Huffington and Aucoin had 50 and 43 yards rushing, respectively. North Forsyth's ferocious defense had two sacks, an interception, and multiple TFLs to keep visiting Etowah in check all night.
Newnan 39, Mary Persons 32
Newnan's Aundre Carter made a game-saving interception inside the end zone with :32 seconds left to secure the victory over and unranked 3A Mary Persons program. Newnan trailed 19-17 at the half before taking a 32-25 lead entering the fourth quarter on a 4-yard touchdown run from Nick Owens and a 1-yard run from John Austin Cochran. Owens put Newnan ahead 39-32 on an 11-yard touchdown run with 4:49 left in the game. Newnan moved to 1-2 and Mary Persons fell to 2-1.
Class 6A
Kennesaw Mountain 47, Sprayberry 3
Johns Creek 14, St. Pius X 3
Johns Creek found enough offense over the final two quarters to scrape past visiting St. Pius X in a defensive struggle. The Golden Lions got a second-quarter field goal by Jack Galvez from 37 yards out, but their offense failed to score for the rest of the game. The Gladiators got on track with a 47-yard scoring strike from Kyle Durham to Brandon Palmer in the third quarter and they extended their lead to the final 14-3 margin on a 47-yard touchdown scamper by Tylan Johnson with four minutes remaining. An interception by TJ Williams on St. Pius X's ensuing possession clinched victory for Johns Creek.
Cambridge 35, Forsyth Central 0
The Bears' first score in their shutout victory over Forsyth Central came off a 3-yard touchdown rush by junior Jack Marlow early in the first. Marlow struck again in the second on a 2-yard run before senior quarterback Zach Harris connected with Senior Carson Kent to put Cambridge up 21-0 at the half. Harris then hit Marlow for a 34-yard completion and connected with Will Taylor from 26 yards out for a pair of third-quarter touchdowns.
Grovetown 34, Greenbrier 16
Grovetown's Zaidon Gunn rushed for two touchdowns and converted three 2-point conversions and Joseph Jean had two touchdown runs and one successful 2-point conversion to lead the visiting Warriors to victory. Grovetown also sacked Greenbrier quarterback Brooks Pangle with 34 seconds left to mark the final tally. Pangle connected with Davin Driskell (29 yards) and Malik Leverett (56) for Greenbrier touchdowns.
Creekview 21, Cherokee 14
The Grizzlies are now 3-0 on the season following a close victory over the Cherokee Warriors. Creekview was first to put points on the board when senior quarterback Mason Hicks scored on a 6-yard scramble in the first, and Cherokee answered later in the quarter for a 7-7 tie that held into the third quarter. Creekview then reclaimed the lead with a 17-yard touchdown catch by Tyler Stevens. The Warriors managed to tie the game up in the third, but Stevens struck again off a 1-yard rush into the end zone in the fourth to secure the Grizzlies' victory.
Brunswick 52, New Hampstead 24
Brunswick jumped out to a 21-0 lead just four minutes into the game. Terry Mitchell returned the opening kickoff 78 yards for a touchdown and then Chuckobe Hill ran for two touchdowns that were set up by an interception and blocked punt, respectfully. New Hampstead capped an 81-yard touchdown drive with a successful two-point conversion to cut it to 21-8 at the end of the first quarter. Ree Simmons added a Pirates touchdown in the second quarter to put Brunswick up 31-16 at the half. Hill added his third rushing score to increase the lead to 38-16 and Jayden Drayton and Leon Charlton added fourth quarter touchdowns to preserve the victory.
Allatoona 51, South Cobb 9
Allatoona's Tyler McGuire connected with Bryce Herring for a 15-yard touchdown and Marcus Taylor rushed for a 2-yard touchdown to put the visiting Buccaneers up 14-0 at the end of the first quarter. Nathan James ran in a 1-yard score and finished with three touchdown runs. Ty Thomson came up with a sack and South Cobb had a snap go out of the endzone for a safety. Herring returned the ensuing kickoff 60 yards for a touchdown and James' second score was a 15-yard run that put Allatoona up 37-0 at the half. South Cobb added a field goal and a touchdown in the third quarter to cut the deficit to 37-9. In the fourth quarter, Jones' third touchdown run pushed Allatoona's lead to 44-9 and Dekhi Garrett iced the game with an interception returned for a touchdown with 2:12 left.
Class 5A
Calhoun 56, Ridgeland 7
The Yellow Jackets led 35-0 after the first quarter and expanded the lead to 42-0 at the half in a romp of Ridgeland. Christian Lewis passed for five touchdowns in the victory – a 7-yarder to Quin Smith, a 43-yarder to Cole Speer, a 10-yarder to Brett Garland and two touchdown passes to Jerrian Hames. Speer also had rushing touchdowns of 30 and 22 yards. Trey Townsend's 40-yard touchdown pass to Nate Fowler with five minutes left in the game provided insurance and Corbin Fuller's 12-yard touchdown two minutes later put the game away.
Warner Robins 49, Northside-Warner Robins 7
Christon Lane threw three touchdown passes to help host Warner Robins overwhelm visiting Northside-Warner Robins. Lane connected with Cam Flowers from 27 yards out to open the scoring and also finding DK Sturn and Deuce Petty for first-half touchdowns. A touchdown run by Fred Lane allowed the Demons to take a 14-0 lead after one quarter and a 28-0 advantage at halftime. Warner Robins got touchdown runs from Malcolm Brown and Daveon Walker in the second half, in addition to a fumble recovery taken all the way by Montrez Dinkins. The Eagles' only points came via a blocked field goal by Antwon Jackson and a return by Elijah Robinson.
Cartersville 17, Creekside 14
Cartersville scored the go-ahead touchdown on a 21-yard pass from Jake Parker to Phillip Schiltz with just under two minutes left in the game. Creekside scored two defensive touchdowns—a pick-six by Daiquon White in the second and blocked punt return for a TD in the third—plus a successful 2-point conversion to have a 14-10 lead going into the final period. Jake Parker's first touchdown pass to Jacob Ray, following a lost Creekside fumble, was the first score of the game, and a field goal put the Hurricanes ahead 10-6 at halftime. Schiltz's blocked punt led to the second Seminoles score, but he got redemption on the game-winning score as Cartersville was able to hold the Seminoles offense off to close out the showdown between two top-10 teams.
Class 4A
Benedictine 48, North Oconee 17
Justin Thomas had three touchdowns—a 17-yard run in the first, a 58-yard reception off a trick play in the third and a triumphant 92-yard trip to the end zone in the final period—to propel the Cadets to a dominant home win on Friday night. Holden Geriner's touchdown pass to Za'Quan Bryan and Holden Sapp's punt block and interception also contributed to Benedictine's victory. North Oconee's Kent "KJ" Moon had two touchdown receptions, including a one-handed catch, for the Titans.
Marist 37, Hampton 0
Marist did all of its scoring in the second and third quarters to sprint past host Hampton. Both defenses started strong, and the first points of the game came on an interception for a touchdown by Joseph Patin. The War Eagles then added two more touchdowns and a safety prior to halftime; Hayden Richardson tossed a touchdown pass to Walker Ritchens and Will Gerrick added a 20-yard scoring scamper for Marist. Champ Davis tacked on a 1-yard touchdown plunge early in the third quarter to put the game entirely out of reach for the Hornets.
Jefferson 41, Mountain View 14
The Dragons improved to 4-0 for a second-straight season following their commanding win over Mountain View. Jefferson was quick to find the end zone in the first as Senior Malaki Starks scored off a 7-yard rush before striking again in the quarter to extend the lead to 14-0. Next up was Senior Kadin Bailey, who scored off a 25-yard rush to cap the 21-point first-quarter performance. With just under five minutes left in the half, Junior Tre Reece found the end zone off a 45-yard rush on 4th-and-long to put Jefferson up 28-0. Reece struck again in the third off a 40-yard rush, and a touchdown reception by Spencer Neese from Max Aldridge later in the quarter ended the uncontested 41-point scoring spree by the Dragons.
LaGrange 41, Columbus 13
Host LaGrange improved to 3-0 and sparked big plays to cruise to victory in its Region 2-AAAA opener. Quarterback Tae Snead found Tristan Smith for a 54-yard touchdown on the second play of the game and Kobe Jones returned a punt for a touchdown to make it 14-0. Snead added an 80-yard touchdown run to increase the lead to 21-0 before the end of the opening quarter. The teams traded touchdowns before Asa Leath added a Grangers touchdown run to make it 34-7 and then Snead found Jones for a 57-yard touchdown to mark the final tally.
Troup 41, Hardaway 34 OT
Troup rallied back from 28-7 to force overtime 34-34. The Tigers overcame the early deficit, despite starting quarterback Taeo Todd leaving the game with an injury and Tyson Duncan coming in under center. Duncan completed a pass to Dwarney Wortham on third down in overtime to set up TJ Mitchell's game-winning 1-yard touchdown run.
Class 3A
Sandy Creek 36, Starr's Mill 16
Two Greigh Joseph rushing touchdowns put Starr's Mill ahead 13-9 after they gave up a safety on a bad snap with five minutes left before halftime. A few plays later, Sandy Screek's Geimere Latimer connected with Dorian Graham for a 20-yard catch-and-run and a 16-13 Patriots lead. The Panthers tied the game at 16-16 going into halftime. Latimer had a stellar 88-yard touchdown pass to Miles Thorton to start the Patriots third, and pair of fourth-quarter rushing scores from Graham sealed the solid home victory.
Class 2A
Columbia 21, Pace Academy 14
Columbia scored 15 unanswered points in the second and third quarters, then held off a late charge by visiting Pace Academy. After a field goal gave the Eagles a 9-6 halftime lead, they got a 66-yard touchdown run from Elijah Morgan and a fumble recovery for a score by La'Quavious Oliver. Pace Academy pulled to within 21-14 with 2:34 remaining in the game on a 9-yard touchdown strike from Maddox Crawford to Kendall Evans, but the Knights failed to recover the ensuing onside kick. Columbia's Royce Tolbert opened the scoring with a 42-yard run in the first quarter and he also blocked a field goal.
Haralson County 43, Model 0
The Haralson County Rebels used a punishing ground attack to shut down visiting Model on Friday night to pick up a 30-0 non-region win. Quarterback Clay Hyatt led the way, gaining 164 rushing yards and scoring three touchdowns, as the Rebels from Region 5-AA improved to 3-1 on the year. Model (1-3) couldn't muster any offensive consistency, and the Blue Devils' best drive of the game ended with an incomplete pass at the goal line as time expired in the fourth quarter. Running back Wesley Cole got things started early, scoring on a 35-yard touchdown run just two minutes into the game. The 2-point conversion run by Hyatt made it 8-0. Running back Caden Hughes had a 4-yard touchdown run late in the quarter, and Dane Kimball's PAT kick made it 15-0. Hyatt dove in for a 2-yard scoring run in the second period for a 23-0 lead, and he had another 1-yard quarterback sneak for a touchdown to make the lead 30-0 at halftime. Hyatt added a 10-yard scoring run in the third quarter to make it 37-0, and Jacob Key finished the night with a 5-yard TD run in the fourth quarter to wrap up the scoring. Both teams are off next week. Model will start Region 7-AA play at Chattooga on Sept. 24, and Haralson County will return home to host Banks County that same week.
Class A Private
Tattnall Square 42, Deerfield-Windsor 7
Clay Rowland found Griffin Hardy for a 50-yard touchdown on Tattnall Square's opening drive and Antone Johnson, Brayden Smith and Demario Wilmore added rushing touchdowns to build the Trojans' 28-7 halftime lead. Yasir Seleem added a pair of touchdown runs in the third quarter to grow the lead to 42-7.
Athens Academy 70, Providence Christian 35
Athens Christian junior Jessie Hawkins III finished with 301 yards off 20 carries and accounted for seven rushing touchdowns to lead the Spartans. Sam Bush also rushed for a 56 and 13-yard touchdown and Will Warner recovered a muffed punt for a touchdown in the victory.
Class A Public
Irwin County 63, Wilkinson County 0
Host Irwin County outgained Wilkinson County 411-(-38) in total yardage and finished with 245 rushing yards as a team. Quarterback Cody Soliday rushed for a touchdown and also completed touchdown passes to Evan Ross (9 yards), Eli Roberts (17) and Mason Snyder (29). Demarkus Lundy took two carries for a team-high 54 yards and Marcus Edwards, Shane Marshall and Todrick Griffin each rushed for a touchdown. Irwin County blocked four punts in the first half with Nemo McCoy tallying two blocks and Cameron Anderson and Chance Green getting the others. One of McCoy's blocked punts was recovered by Bryce Clements for a touchdown. Cooper Yanzetich was 7-of-7 on PAT's and Nick Driscoll was 2-of-2 in Irwin County's emphatic victory.