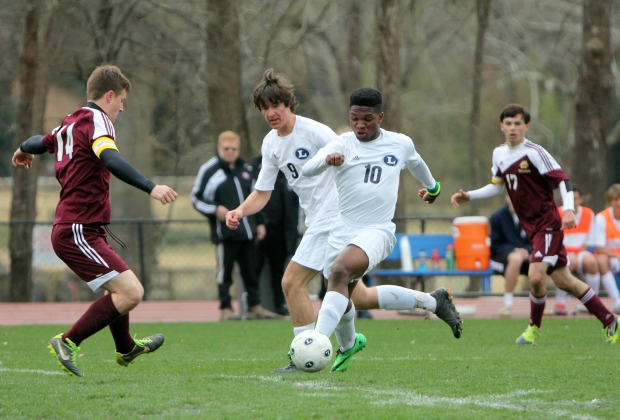 Photo by LeeAnn Young
Johns Creek tumbles from No. 3 to No. 8 in AAAAAA after losing 2-1 to Habersham Central. Mill Creek takes over the third spot in the top ten following a 3-1 win against No. 5 Norcross. Parkview, Brookwood and Pebblebrook all rise with Parkview and Brookwood playing some difficult out of state competition and the Eagles holding a clean sheet at 10-0. North Gwinnett falls out at 6-4 while Meadowcreek enters at 8-3.
No. 1 Dalton defeated Class AAAA's No. 4 Northwest Whitfield 2-1. 11-1-1 Northgate debuts in the AAAAA polls at No. 9 after a hot start. No. 3 Houston County holds the edge over No. 4 Greenbrier due to an impressive resume with wins over Tift County (10-2), 2x Northside-Warner Robins (9-4), East Coweta (9-5), Veterans (9-2) and a draw with 9-2-1 Lowndes. The Bear's only loss has come against Norcross (10-1).
In Class AAAA, St. Pius drops from No. 2 to No. 5 following a 3-0 shutout loss to Marist. No. 1 Johnson-Gainesville remains perfect at 13-0.
Class AAA's No. 5 Westminster slips three spots thanks to a 3-2 loss to Blessed Trinity who rises up to No. 6. West Hall plummets three slots to No. 7 after a 3-1 loss to No. 3 Dawson County.
No movement occurred in Class AA, but there were plenty of changes in Class A with Walker losing to Pinecrest Academy 3-2, dropping the former No. 1 ranked team to No. 3 with Paideia taking over. Atlanta International is only 4-6, but they rank at No. 4 after playing a brutal non-region schedule. No. 8 Stratford Academy hammered No. 10 First Presbyterian 8-0.
BOYS
Class AAAAAA
1. Lakeside-DeKalb
2. Chattahoochee
3. Mill Creek
4. Parkview
5. Norcross
6. Brookwood
7. Pebblebrook
8. Johns Creek
9. Milton
10. Meadowcreek
Class AAAAA
1. Dalton
2. McIntosh
3. Houston County
4. Greenbrier
5. Sequoyah
6. Columbus
7. Clarkston
8. North Atlanta
9. Northgate
10. Riverwood
Class AAAA
1. Johnson-Gainesville
2. Whitewater
3. Cross Keys
4. Northwest Whitfield
5. St. Pius
6. Southeast Whitfield
7. Spalding
8. Woodward Academy
9. Veterans
10. Grady
Class AAA
1. Decatur
2. East Hall
3. Dawson County
4. Oconee County
5. Westminster
6. Blessed Trinity
7. West Hall
8. Savannah Arts
9. Islands
10. Jackson County
Class AA
1. Wesleyan
2. Pace Academy
3. Long County
4. Greater Atlanta Christian
5. Riverside Military
6. Benedictine
7. Putnam County
8. Fitzgerald
9. Jefferson County
10. Bremen
Class A
1. Paideia
2. Fellowship Christian
3. Walker
4. Atlanta International
5. Whitefield Academy
6. St. Anne-Pacelli
7. Savannah Country Day
8. Stratford Academy
9. ELCA
10. First Presbyterian Day