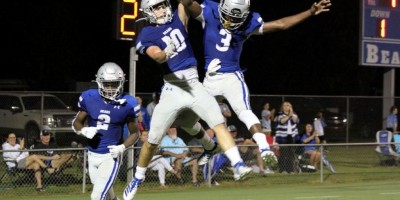 In Class 7A, North Cobb moved up to No. 2 and Walton fell to No. 10 after dropping a 51-35 home loss to West Forsyth. Also, East Coweta moved up from No. 10 to No. 8 and improved to 4-0 and West Forsyth replaced Lowndes in the poll after the Vikings' loss to Lee County dropped their record to 2-2.
In Class 6A, Brunswick moved up two slots to No. 5 after a 52-24 victory over New Hampstead. Also, Rome fell from No. 5 to No. 8 after its 34-0 loss to Class 7A No. 1 Collins Hill. Northside-Warner Robins dropped out of the poll after falling 49-7 to Warner Robins and Kennesaw Mountain makes its historic debut at No. 10 after a 47-3 victory over Sprayberry that improved the Mustangs to 4-0.
Warner Robins is No. 1 in Class 5A this week and replaced Ware County. The Gators are also undefeated, but the defending champions get the nod after their emphatic win over previously-ranked Northside-Warner Robins. Coffee, Woodward Academy and Cartersville round out the top 5.
In Class 4A, LaGrange makes its debut at No. 9 and is 3-0 for the first time since 2010. The Grangers scored a massive 41-13 win over Columbus on Friday. New Hampstead fell two slots to No. 10 after their loss to Brunswick and Bainbridge exited the poll after its 1-2 start.
Oconee County tops Class 3A With Cedar Grove, Pierce County, Peach County and Westminster in the top 5. Sandy Creek, Appling, Thomson, Monroe Area and new-arrival Hart County at No. 10 fill the top 10.
Callaway leads Class 2A again this week with Fitzgerald, Rabun County, Thomasville and Lovett in the top 5. Trinity Christian has a claim on the top of Class A Private and leads ELCA, Calvary Day, Prince Avenue Christian and Whitefield Academy. Irwin County is the team to beat in Class A Private and leads Brooks County, Macon County, Metter and Pelham.
Class 7A
1. Collins Hill
2. North Cobb
3. Mill Creek
4. Roswell
5. Milton
6. Colquitt County
7. Marietta
8. East Coweta
9. West Forsyth
10. Walton
Class 6A
1. Buford
2. Lee County
3. River Ridge
4. Carrollton
5. Brunswick
6. Creekview
7. Westlake
8. Rome
9. Hughes
10. Kennesaw Mountain
Class 5A
1. Warner Robins
2. Ware County
3. Coffee
4. Woodward Academy
5. Cartersville
6. Creekside
7. Calhoun
8. St. Pius
9. Blessed Trinity
10. Decatur
Class 4A
1. Jefferson
2. Marist
3. Perry
4. Benedictine
5. Carver-Columbus
6. Cedartown
7. Flowery Branch
8. Stephenson
9. LaGrange
10. New Hampstead
Class 3A
1. Oconee County
2. Cedar Grove
3. Pierce County
4. Peach County
5. Westminster
6. Sandy Creek
7. Appling County
8. Thomson
9. Monroe Area
10. Hart County
Class 2A
1. Callaway
2. Fitzgerald
3. Rabun County
4. Thomasville
5. Lovett
6. Bleckley County
7. Dodge County
8. Jeff Davis
9. Washington County
10. Northeast-Macon
Class A Private
1. Trinity Christian
2. Eagle's Landing Christian
3. Calvary Day
4. Prince Avenue Christian
5. Whitefield Academy
6. Athens Academy
7. Wesleyan
8. Fellowship Christian
9. Darlington
10. Holy Innocents'
Class A Public
1. Irwin County
2. Brooks County
3. Macon County
4. Metter
5. Pelham
6. Clinch County
7. Dublin
8. Emanuel County Institute
9. Manchester
10. Bowdon