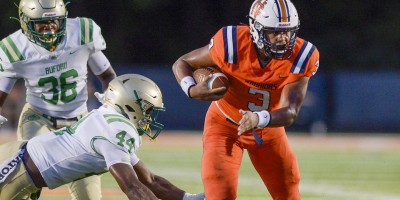 *This file will be updated throughout the evening.
Lovejoy arrived at No. 3 ranked North Gwinnett a 38-point underdog before a suffocating defensive showing and a composed performance from the Wildcat offense snapped the Bulldogs' 27-game home win in a stunning 19-7 upset.
The teams traded punts until midway through the second quarter when North Gwinnett unsuccessfully attempted a field goal, and the Bulldogs' next trip into Wildcat territory ended in a fumble recovered by Lovejoy's Michael Brooks to leave the game scoreless at the break. The Wildcats were first on the board with sophomore back Jekail Middlebrook's 5-yard touchdown (the PAT was no good) before the Bulldogs answered with a pick-six from senior Austin Wainwright. The score stood at 7-6 entering the final frame, but the rest of the game belonged to the Wildcats. Nolan Jones came up with Lovejoy's second fumble recovery of the night at the North Gwinnett 41-yard line, and fellow senior Antonio Jones scored on the next play to reclaim the lead. Following another missed field goal by the Bulldogs, Lovejoy turned it over on downs at the North Gwinnett 5-yard line. Antonio Jones came up big again — this time on defense — with an interception to set up Middlebrooks' second score of the night, and junior Cameron Henry sealed the win for Coach Edgar Carson's Wildcats with an interception.
Class 7A
Alpharetta 21, Chattahoochee 7
Colquitt County 24, Valdosta 10A field goal late in the third quarter gave Valdosta a 10-7 lead before Colquitt County seized control with an explosive series of plays for a 24-10 home win in the narrative-laden Week 4 matchup. The 106th meeting between the two programs remained scoreless deep into the second quarter after the Wildcat defense stopped the Packers on 4th-and-goal at the Valdosta 2-yard line and Vendarion "Big Boi" Knighton recovered a Valdosta fumble in Packers territory. Colquitt County finally got on the board with 3:07 remaining before the break when Antonio Spradley blocked a Valdosta punt and Antwan Daniels returned it for a touchdown, but Valdosta responded in the final moments of the half with a 9-yard touchdown strike from backup quarterback Amari Jones (starter Jake Garcia missed his second game with a hamstring injury) to Javonte Sherman. Following an interception by Jacquez McGowan, the Wildcats settled for a 25-yard field goal and a 10-7 advantage in the final minute of the third. Colquitt County reclaimed the lead just moments later, however, on a 62-yard bomb from quarterback Xavier Williams to Le'Meke Brockington, and added a short field goal early in the final frame. Senior Gamal Wallace then intercepted Jones' pass on the first play of the ensuing Valdosta drive to seal the Packers victory and hand Wildcats coach Rush Propst a loss in his first trip back to Moultrie.
Lowndes 38, Lee County 13
Lowndes quarterback Jacurri Brown rushed for three touchdowns and threw for a score to lead the Vikings to a home win over Lee County. The Vikings picked up a safety on a bad Lee County punt snap to start the scoring, and Brown found the end zone in the first and second quarters and connected with Dominique Marshall for a touchdown pass late in the first half to give Lowndes a 22-6 halftime lead. Israel Mitchell rushed for a touchdown for Lowndes in the fourth quarter — set up by a Tylar Belcher interception — and Brown capped the Lowndes scoring with his third rushing score to make it 38-6.
Norcross 45, South Gwinnett 14
Norcross quarterback Mason Kaplan threw three touchdown passes to lead the Blue Devils to a road win. Kaplan found Trey Goodman and D'Andre Golden for scores in the first quarter and Goodman again in the second to push Norcross to a 35-0 halftime lead. Jahni Clarke rushed for touchdowns in the first and second quarters, Ezekiel Johnson rushed for a score in the fourth quarter, and Francisco Hernandez made a 23-yard field goal in the third quarter. South Gwinnett quarterback Rion White passed for two touchdowns in the second half.
West Forsyth 24, Walton 21
Alex Wilson's 19-yard field goal broke a 21-21 tie with under two minutes to play, and a West Forsyth interception on the ensuing Walton possession sealed the home win for the Wolverines. Walton held a 14-0 lead late in the first half after a touchdown run by Braylen Stokes and a touchdown pass from Hayden Shoup to Stone McKnight, but West Forsyth made it 14-7 after running back Daba Fofana took a direct snap and scored from 2 yards out with under a minute to play before the break. Drew Southern returned an interception for a touchdown for West Forsyth in the third quarter to tie the game at 14-14 before Walton answered with a Stokes touchdown reception for a 21-14 Raiders lead. Following an interception from Raleigh Herbert, backup Wolverines quarterback Ashton Van — West Forsyth's starting quarterback exited early with an injury — threw a 28-yard touchdown pass to tight end Oscar Delp to tie the game at 21-21 in the third quarter.
Milton 43, Hapeville Charter 18
Jordan McDonald rushed 20 times for 85 yards and touchdowns of 8, 4 and 2 yards to lead Milton to a home win. Eagles quarterback Devin Farrell was 17-of-22 passing for 187 yards — including a 10-yard touchdown pass to Matthew Evert — and he rushed for a 1-yard score as well. Zyere Horton also scored for Milton on a fumble recovery and return. Milton raced to a 27-0 lead before Hapeville Charter scored twice inside of four minutes to play in the first half to make it a 27-12 game at halftime.
Grayson 26, Archer 7
Phil Mafah rushed for two touchdowns in Grayson's convincing road win over Archer. Mafah got the night's scoring started with a 57-yard run in the first quarter and a two-point conversion gave the Rams an 8-0 lead that stood through halftime. They got the cushion they needed in the third quarter when A.J. Lopez returned an interception 73 yards for a touchdown for a 19-0 Grayson advantage. Mafah added a 9-yard rushing score in the fourth to make it 26-0. Archer intercepted the Rams three times, but the offense struggled to capitalize on turnovers as they had throughout the game; the Tigers' only points came thanks to a late interception return for a touchdown.
Roswell 41, North Paulding 14
The Roswell Hornets crushed the North Paulding Wolfpack with a strong offensive attack bolstered by an outstanding, four-touchdown performance by quarterback Robbie Roper. Roswell led 14-7 at the break, with second-quarter touchdowns from Ryan Stephens and Roper's pass to Michael Fitzgerald. Roswell outscored North Paulding 27-7 in the second half, including Roper's two touchdown passes to Marquis Willis and another to Taraji Singleton. Ryan Hill added a touchdown for Roswell late in the fourth quarter.
Cherokee, 14 Creekview 9
Cherokee held on for the road win despite a fourth-quarter comeback attempt from Creekview that included a rushing touchdown from quarterback Brody Rhodes and a safety on an errant Cherokee punt snap to pull within five points with 1:36 to play. The Grizzlies got the ball back after the safety but could not convert on a fourth down with 43 seconds left, giving Cherokee the win. Creekview took a 14-0 lead early in the fourth quarter on a touchdown pass from A.J. Swann to Brady Bocherer, and the Warriors got their first touchdown on a blocked punt that was recovered and returned for a touchdown by Chase Goddard.
Collins Hill 28, Rome 14
The Collins Hill Eagles defended homefield scoring two fourth quarter touchdowns to overwhelm visiting Rome. It was a 14-14 game at the half, with each team scoring a touchdown each in both the first and second quarters. Spenser Anderson and Sean Norris scored for Collins Hill, while Rome got both its touchdowns from Caleb Ellard. After a scoreless third quarter, the Eagles outscored the Wolves 14-0 in the fourth on another Anderson touchdown and a touchdown pass from Samuel Horn connected to Donald Griffin to put the game away.
North Forsyth 28, Etowah 0
North Forsyth's Jumel Lewis intercepted Etowah's first play of the game and returned it for a 20-yard touchdown. The Raiders' defense continued its dominance and the Raiders enjoyed a comfortable 21-0 halftime lead before closing out the road victory and improving to 4-0. Patrick Corrigan's 4-yard touchdown run and Brady Meitz's 24-yard touchdown pass to Austin Colon put North Forsyth up 21-0 at the break. The only scoring in the second half came on a blocked punt that was recovered by Drew Aucoin in the third quarter for a Raiders touchdown that set the final margin.
Forsyth Central 42, Cambridge 14
Forsyth Central senior back Peyton Streko had three of the Bulldogs six rushing touchdowns on Friday night, propelling them to a dominant home victory at home against Cambridge and a 2-0 overall record. The game was tied 7-7 before Patrick Haertel scored a rushing touchdown after a Bulldogs interception, and Forsyth Central remained comfortably in control for the rest of the game.
Class 6A
Buford 47, Clarke Central 0
Host Buford handled Clarke Central thanks to two rushing scores by running back Victor Venn (3 and 32 yards) and a touchdown pass and touchdown run by quarterback Dylan Wittke. Wolves quarterback Ashton Daniels also threw a 4-yard touchdown pass to Wyatt Sullivan to give Buford its 26-0 halftime lead. Wittke put the Wolves on the board in the first quarter with a 41-yard completion to Jake Pope and rushed for a 13-yard touchdown in the third quarter. Gabe Ervin Jr. (6 yards) and C.J. Clinkscales (2 yards) finished up the scoring with touchdown runs in the third and fourth quarters, respectively.
Riverwood 29, Woodward Academy 26
Woodward scored on a field goal, a touchdown, and a safety to take a 12-0 lead into the second quarter. Riverwood responded with a touchdown for a 12-7 score at halftime, but Damari Alston's second and third touchdowns of the night in the third quarter gave the War Eagles a 26-14 advantage heading into the final period. Riverwood found its poise in the fourth, however, and was able to get two 4th-down conversions for touchdowns from former War Eagles QB Avery Smith. The defense then forced a key drop by Woodward to seal the Raiders' impressive 15-point comeback victory.
Allatoona 38, South Cobb 0
Allatoona started the game with a touchdown on the Bucs' opening drive and never looked back. Jayden Ponder had two big runs in the possession before finding the end zone for the 7-0 lead. The Bucs defense responded by forcing a three-and-out, then recovering a blocked punt in the end zone for another quick score. Allatoona back Dequori Garrett added a 24-yard touchdown run, and the Bucs took a 21-0 lead into a second quarter that looked a lot like the first. Dean Maddox scored on a 16-yard touchdown run to make the score 28-0, and Allatoona's next possession ended with Garrett's second touchdown of the night to give the Bucs a 35-0 lead late in the second quarter. The Bucs added a field goal in the second half before the defense completed the shutout.
Class 5A
St. Pius X 25, Cedar Shoals 3
St. Pius X used a dominant defensive performance to take care of visiting Cedar Shoals. The Golden Lions led 7-0 after one quarter, 18-0 at halftime, and 25-0 going into the final frame before the Jaguars finally got on the scoreboard with a field goal with just 20 seconds remaining. Shug Bentley got the scoring started with a touchdown plunge in the first quarter and St. Pius X extended its advantage in the second quarter when Jack Parker returned an interception for a touchdown. Mason Benefield capped off the Golden Lions' scoring with a 55-yard scoring scamper in the third quarter.
Blessed Trinity 54, Kell 32
Visiting Blessed Trinity held a 27-10 lead at halftime and went up by as much as 24 points (34-10) early in the third quarter. Justice Haynes rushed for four touchdowns and caught one score from quarterback J.C. French, who threw for four touchdowns. French also hit Brendan Hunt, Ashton Abrew and David Coltrane for scores, including a 78-yarder to Coltrane.
Cartersville 21, Creekside 18
The visiting Cartersville Hurricanes came away with a narrow win over the Creekside Seminoles. Creekside scored first in the opening frame with a touchdown from Nyqua Lett, but a second-quarter touchdown for Cartersville off a pass from Stratton Tripp to Devonte Ross gave the Seminoles a 7-6 edge at the break. Cartersville outscored Creekside 14-6 in the third quarter; Tripp threw two more touchdown passes — one to Evan Slocum and the other to Kolbe Benham — and Lett connected with Wesley Campbell to make it a 21-12 game with Cartersville in front to end the third. Jared Lawrence scored for Creekside to cut the Cartersville lead to three, and Creekside had the ball on Cartersville's 13-yard line with eight seconds remaining before Cartersville's defense came up with a sack to end the game.
Greenbrier 38, Grovetown 3
Greenbrier had a 38-3 lead to force a running clock in the fourth quarter and improved to 3-0 with its road win over the Warriors. Brooks Pangle connected with Wilkes Riggins on a 63-yard screen and Brayden Collett on a 14-yard touchdown pass to put the Wolfpack up 14-0 in the first quarter. Grovetown's Conner Daniels made a 40-yard field goal to put the Warriors on the board before Greenbrier closed the game with 24 unanswered points. Caleb Reining (90 yards) and Malik Leverett (20 yards) both returned fumbles for Greenbrier touchdowns, Khalil Harris scored on a 1-yard run and Wilson Donnelly's 28-yard field goal pushed the lead to 38-3 with 2:47 left in the third quarter.
Eastside 34, Alcovy 31
Eastside did hold a lead at any point of the game until Jaydon Fain's 36-yard field goal attempt at the end of regulation lifted the Eagles to a thrilling 34-31 road victory. Alcovy built an early 14-0 lead with a 1-yard Tristian Mayweather touchdown run and 6-yard Joseph Seay touchdown run. Eastside began its comeback with a 12-yard Kenai Grier touchdown run before the half to cut the deficit to 14-7. The Eagles fumbled their first possession of the second half and Alcovy capitalized with an Ashton Evans 6-yard touchdown run to go up 21-7. Eastisde answered with a Dayton Green 30-yard touchdown pass to Ramon Hernandez, but Alcovy connected on a 33-yard field goal to take a 10-point lead (24-14) into the final quarter. Fain hit a 23-yard field goal to bring Eastside back within a touchdown 24-17 with 9:10 left in the game and after forcing an Alcovy punt Eastside tied it up 24-24 with a Green 71-yard touchdown pass to Saabir Berrien. Evans put Alcovy back up 31-24 with a 58-yard touchdown pass to Jamel Johnson with 3:20 to play. The Eagles tied it back up with 1:14 left on Green's 23-yard touchdown pass to Cole Shannon. Eastside stopped Alcovy's next possession and then set up Fain for the game-winning kick as time expired.
Class 4A
Marist 45, Hampton 0
No. 1 ranked Marist led 28-0 lead in the first quarter and 45-0 at halftime. Six different War Eagles rushed for touchdowns in the first half (Lincoln Parker, Justin Hartwell, Champ Davis, Andrew Mannelly, Hayden Richardson and George Parker) and Dawson Jones added a 47-yard field goal set up by an interception from Josh Moore. Parker had a fumble recovery.
Hardaway 28, Troup 26
Hardaway stopped a potential game-tying 2-point conversion with 59 seconds left to score a Region 2 victory over rival Troup. Anthony Ferguson returned the opening kickoff for a Troup touchdown to give the Tigers a 7-0 lead, but Hardaway answered just two plays later with a Jordan Moultrie 60-yard touchdown run. Troup's Taeo Todd extended Troup's lead with a 3-yard touchdown run on 3rd-and-goal to give the Tigers a 13-6 first-quarter lead. Hardaway got a go-ahead 29-yard touchdown run by Moultrie in the second quarter and went into the half up 14-13. The Hawks outscored Troup 14-0 in the third quarter with a DJ Lucas 30-yard touchdown pass to Aaron Pitts and a 43-yard scramble by Lucas that gave Hardaway a 28-13 edge heading into the final frame. Troup's AJ Tucker scored on a 1-yard touchdown run with 1:18 left to bring the Tigers within a score (28-20). A successful onside kick gave Troup the ball back at the Hardaway 48-yard-line and Tucker found the end zone on a 1-yard plunge with 59 seconds left before the Hawks defense prevailed with a stop on the 2-point conversion attempt.
Jefferson 40, Mountain View 7
Malaki Starks rushed for two touchdowns and passed for one as Jefferson overwhelmed Mountain View at home. Jordan Perry scored on an interception returned 46 yards for the Dragons. Paxton Corkery and Carter Stephenson both scored on rushing touchdowns in the third quarter to increase the lead. Mountain View scored in the fourth quarter on a touchdown pass from Nathan Payne to Mossiah Carter. Starks was 3-for-9 passing for 89 yards and a touchdown. He had 10 carries for 128 yards and two touchdowns of 73 and 21 yards.
Class 3A
Crisp County 34, Eagle's Landing Christian 14
Westminster 7, Pace Academy 3
Westminster kicked off its season by winning a defensive struggle against Pace Academy on the road. The Wildcats scored when quarterback John Collier passed to Henry Chartrand on screen pass in the second quarter for a 55 yard for a touchdown. Pace Academy responded with a 24-yard field goal by Pearson Bates later in the second quarter but settling for three instead of seven proved to be costly; no points were scored by either team in the second half. Aside from the one scoring strike, the Wildcats were content to control the clock by riding workhorse running back Robert Clarke, while Holden Staes led the dominant defensive effort and came up with a crucial sack on the Knights' final possession.
Adairsville 38, Murray County 7
Adairsville amassed a 31-7 lead at the half as it beat Murray County in its Region 6 opener. Courtney Slocum had five carries for 80 yards and three touchdowns in the first half. Quarterback Conner Crunkelton was 5-of-6 passing for 62 yards and a 9-yard touchdown pass to Chris Roper. Murray County's lone touchdown came on a 3-yard pass from Kaleb Jones to Brannon Kuckolls to cut the lead to 21-7, but the Tigers responded with a 46-yard field goal and Slocum's third rushing score for a 31-7 lead at the break. Roper added a 29-yard touchdown on the ground to his first-quarter touchdown reception to give Adairsville a 38-7 lead with 4:06 left in the third.
Class 2A
Haralson County 49, Model 7
Visiting Haralson County scored touchdowns on its first seven possessions—storming out to 49-0 lead before Model spoiled the shutout with Sam Silver's late touchdown pass to Ben Estes with 1:02 remaining. The Rebels opened their scoring burst with a Clay Hyatt 20-yard touchdown run and Mark Harris extended the lead to 14-0 with an 8-yard rushing score early in the second quarter. Model fumbled the ensuing kickoff and Hyatt found Wesley Cole on the next snap for a 20-yard touchdown pass to make it a 22-0 game. Nic Holcomb intercepted Model's next possession, and Hyatt capitalized with a 5-yard rushing score. Jared Key then broke loose for a 64-yard touchdown run before the half ended to give the Rebels a 36-0 lead. The second half scoring was provided by a 32-yard Marc Harris touchdown run and a third rushing score from Hyatt to put Haralson County up 49-0 with 5:22 left in the third quarter.
Lovett 43, Therrell 0
The Lions dominated in all phases of the game to take care of visiting Therrell. Lovett led 7-0 after one quarter before blowing the game open with a 27-point second-quarter effort. A scoreless third frame of play kept it at 34-0 heading into the fourth quarter as the Lions cruised the rest of the way. Lovett's offensive success was highlighted by a 57-yard touchdown pass from Preston Lusink to Alan Pope just prior to halftime.
Class A
 Irwin County 44, Wilkinson County 0
Cody Soliday was 8-of-11 passing for 156 yards and three touchdowns as Irwin handled Wilkinson County. Soliday passed to Gabe Benyard, Malachi Hadden and Eli Roberts for touchdowns. Benyard also scored on a 54-yard touchdown run and made a sack for a safety on defense. Kam Ward scored on touchdown runs of 41 and 17 yards. Irwin amassed 388 yards of total offense and allowed Wilkinson 21 total yards.
Prince Avenue Christian 35, Holy Innocents' 25
Prince Avenue Christian won 35-25 over Holy Innocents in a battle of two of the top-ranked programs in Class A-Private. Quarterback Brock Vandagriff, a senior Georgia-commit, passed to Zac Dye r for a 33-yard touchdown pass in the end zone in double coverage. In the second quarter, Vandagriff passed to a streaking Landon Owens for a 65-yard touchdown. Holy Innocents got on the board when Marshall Nicholls scored from the half-yard line. That momentum was stopped when Owens took the ensuing kickoff back for a 21-7 advantage. In the second half, Vandagriff passed to Logan Johnson over the middle for a 47-yard score. Dyer got the last of Vandagriff's touchdown passes. The Bears made stayed with the Wolverines as Nicholls found Christian Padgett and later got his second rushing touchdown of the day, but it was not enough.
Fellowship Christian 42, B.E.S.T. Academy 0
No. 5-ranked Fellowship Christian led 35-0 at halftime and controlled the game in the second half to improve to 3-0. Murphy Reeves scored on two touchdown runs in the first quarter and a touchdown pass from Eli Hilderbrandt to Jordan Brewer put the Paladins up. Hilderbrandt added a 25-yard touchdown pass to Reeves in the first minute of the second quarter and then passed to Josh McLaughlin 10-yard touchdown with 2:57 left in the half to make it 35-0. Sophomore Caleb McMickle subbed in at quarterback in the third quarter and passed to McLaughlin for the senior's second touchdown reception of the game.
Lakeview Academy 34, Walker 0
Lee Shaw got his first win at Lakeview Academy in a 34-0 shutout of visiting Walker School. Late in the first quarter, quarterback Jesse Whiting faked a handoff scored on a 10-yard run. After Lakeview picked up a safety, Ben Puckett scored from 19 yards out. In the second half, Whiting lofted a pass to Sky Thellman and the 52-yard touchdown made it a 27-0. Luke Cooper scored on a short run to put the game out of reach.