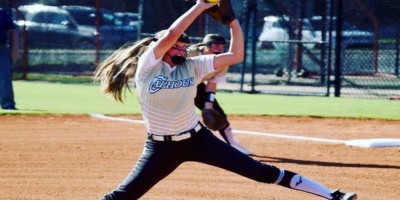 Calhoun Softball Twitter
Teams across the state are beginning to take on region matchups as the softball season inches ever closer to the playoffs, which begin on October 8-10.
East Coweta leads Class AAAAAAA again this week. North Gwinnett moved from No. 3 to No. 2 as Grayson fell one spot from last week's placement. North Forsyth moved up from No. 4 to No. 5 and Colquitt County fell one spot to No. 5.
In Class AAAAAA, Houston County took over the top spot ahead of No. 2 Creekview, No. 3 Evans, No. 4 Lee County and No. 5 Alexander. Locust Grove leads the Class AAAAA poll again this week with Walnut Grove chasing. Carrollton is No. 3 ahead of No. 4 Starr's Mill and No. 5 Buford, previously No. 2.
In Class AAAA, Northwest Whitfield is on top again in this week's poll in a top 5 that did not change. Calhoun leads Class AAA that saw a slight shift in the top with East Hall replacing Franklin County at No. 4. Franklin falls to No. 5. Banks County is at the top of Class AA again this week. Bacon County enters the top 5 at No. 5, replacing a Berrien team which fell to No. 8.
In Class A-Public, Gordon Lee leads the way again. Trion is No. 2 with a new No. 3, Marion County, up from No. 5. Lanier County enters the top 5 at No. 4 after being No. 9 last week. Schley County settled at No. 5. In Class A-Private, Wesleyan leads the way ahead of George Walton Academy in a top 5 that did not shift.
Class AAAAAAA
1. East Coweta
2. North Gwinnett
3. Grayson
4. North Forsyth
5. Colquitt County
6. Etowah
7. Kennesaw Mountain
8. Mountain View
9. Archer
10. Hillgrove
Class AAAAAA
1. Houston County
2. Creekview
3. Evans
4. Lee County
5. Alexander
6. Northgate
7. Dacula
8. Pope
9. Sequoyah
10. South Paulding
Class AAAAA
1. Locust Grove
2. Walnut Grove
3. Carrollton
4. Starr's Mill
5. Buford
6. Statesboro
7. Union Grove
8. Whitewater
9. Jones County
10. Harris County
Class AAAA
1. Northwest Whitfield
2. Eastside
3. Heritage-Catoosa
4. Marist
5. Northside-Columbus
6. Hampton
7. Oconee County
8. Flowery Branch
9. LaFayette
10. Central-Carroll
Class AAA
1. Calhoun
2. Brantley County
3. Ringgold
4. East Hall
5. Franklin County
6. Jefferson
7. Sonoraville
8. Jackson County
9. Crisp County
10. Pike County
Class AA
1. Banks County
2. Heard County
3. Harlem
4. Rockmart
5. Bacon County
6. Screven County
7. Bremen
8. Berrien
9. Vidalia
10. Lamar County
Class A-Public
1. Gordon Lee
2. Trion
3. Marion County
4. Lanier County
5. Schley County
6. Bowdon
7. Academy for Classical Education
8. Emanuel County Institute
9. Georgia Military
10. Baconton Charter
Class A-Private
1. Wesleyan
2. George Walton Academy
3. Tattnall Square Academy
4. Mount de Sales
5. Eagle's Landing Christian
6. Strong Rock Christian
7. Mount Paran Christian
8. Stratford Academy
9. Christian Heritage
10. Prince Avenue Christian