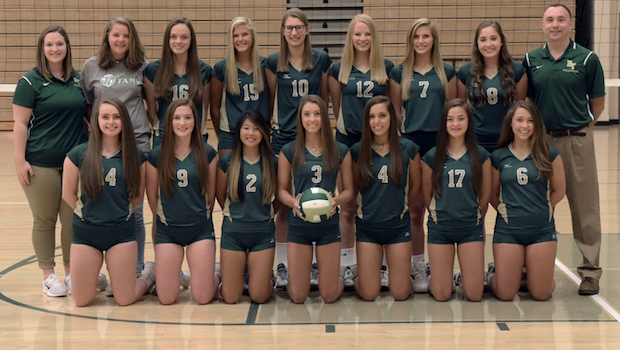 Blessed Trinity volleyball
Etowah holds the top spot in Class AAAAAAA with North Forsyth in second. Walton, previously third, fell to fifth as Kennesaw Mountain moved to third. Mill Creek, previously fifth, moved to No. 4.
In Class AAAAAA, Greenbrier is again in the top spot with a trailing Pope in second. Allatoona is third with Harrison, previously fifth, in the No. 4 spot. Alpharetta, previously fifth, is fourth this week.
Loganville is in the lead in Class AAAAA with Buford close behind. Villa Rica holds the No. 3 spot with Ola, previously fifth, at No. 4. Riverwood fell from No. 4 to No. 5.
Blessed Trinity is the team to beat in Class AAAA with a new No. 2, Marist. Northwest Whitfield, previously second, is third with North Oconee falling to fourth. LaFayette rounds out the Top 5.
Fannin County won't let go of Class AAA with North Hall and Calhoun chasing. Pace Academy, previously third, fell to fourth as Calhoun moved to third from sixth. Islands fell from No. 4 to No. 5 this week.
Coosa is in control of Class AA again this week with St. Vincent's trailing. Harlem is in the No. 3 spot and Pepperell, previously fifth, moved to fourth. Armuchee rounds out the top five teams.
Hebron Christian holds the No. 1 ranking in Class A with Calvary Day, ranked No. 4 last week, as the second-ranked team. Athens Academy, previously second, fell to No. 4. Tallulah Falls is fifth again this week.
Class AAAAAAA
1. Etowah
2. North Forsyth
3. Kennesaw Mountain
4. Mill Creek
5. Walton
6. Lambert
7. Newnan
8. Grayson
9. Lassiter
10. Mountain View
Class AAAAAA
1. Greenbrier
2. Pope
3. Allatoona
4. Harrison
5. Alpharetta
6. Lakeside-Evans
7. Gainesville
8. Johns Creek
9. Effingham County
10. Northgate
Class AAAAA
1. Loganville
2. Buford
3. Villa Rica
4. Ola
5. Riverwood
6. Whitewater
7. McIntosh
8. Decatur
9. Eagle's Landing
10. Walnut Grove
Class AAAA
1. Blessed Trinity
2. Marist
3. Northwest Whitfield
4. North Oconee
5. LaFayette
6. St. Pius X
7. Shaw
8. Northside-Columbus
9. Burke County
10. Jefferson
Class AAA
1. Fannin County
2. North Hall
3. Calhoun
4. Pace Academy
5. Islands
6. East Jackson
7. East Hall
8. Greater Atlanta Christian
9. Liberty County
10. Windsor Forest
Class AA
1. Coosa
2. St. Vincent's
3. Harlem
4. Pepperell
5. Armuchee
6. Putnam County
7. Douglass
8. KIPP
9. Jordan
10. Chattooga
Class A
1. Hebron Christian
2. Calvary Day
3. Lakeview Academy
4. Athens Academy
5. Tallulah Falls
6. Providence Christian
7. Walker
8. Gordon Lee
9. Mt. Vernon Presbyterian
10. Savannah Christian