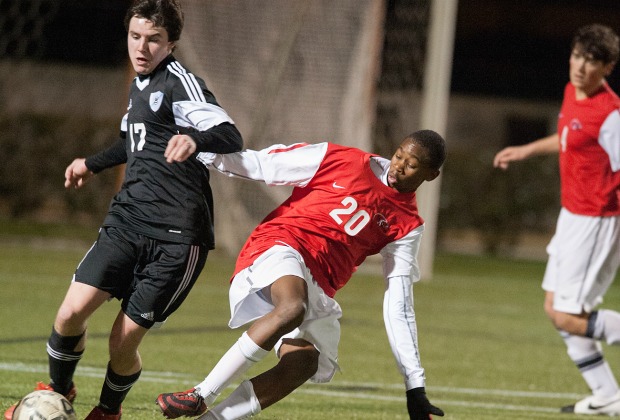 Photo by Warren Bond
Johns Creek's decline has now put them out of the top ten in Class AAAAAA after peaking at No. 3. The Gladiators were defeated by Alpharetta 3-2, dropping their record to 9-4. No. 7 Norcross falls two spots following a loss to No. 9 Duluth 3-1. The Wildcats crack the poll for the first time this season.
A 2-0 loss to bitter rival Cherokee drops the Sequoyah Chiefs from No. 5 to No. 10 in AAAAA. North Atlanta sits at No. 9 after a loss to Cambridge 4-1. No. 7 Northgate is starting to make its move and has run up a 12-1-1 record.
Class AAAA featured a crucial Region 6 tilt won by No. 7 Grady. The Knights defeated No. 8 St. Pius 1-0 and now leap the Golden Lions in the rankings. No. 2 Whitewater picked up a hard earned 2-1 victory over No. 10 Woodward Academy.
No. 10 West Hall has fallen on hard times in AAA and clings onto the final spot in the top ten. A 6-1 loss to Lambert was followed by a bounce back 3-0 win against Franklin County. A pair of Savannah teams, No. 7 Savannah Arts and No. 8 Islands, are quietly climbing up the rankings.
Class AA's two best teams are getting closer to clashing in Region 6. No. 2 Pace Academy has a tough road ahead of them. After favorable matches with Lovett and Holy Innocents', the Knights draw No. 5 Riverside Military on the road, No. 1 Wesleyan at home, then finish the season at No. 4 GAC.
The balance of power is starting to sort itself out in Class A. No. 1 Paideia got the statement victory it needed by defeating defending state champion No. 10 Atlanta International 2-1. AIS also lost to No. 3 Whitefield Academy 1-0. The Eagles have played a brutal schedule but their losses have started to pile up and may weigh them down enough to drop them out of the top ten. Things don't get any easier as rematches with Whitefield and Paideia loom while a season ending visit to AAA's No. 6 Blessed Trinity is one final test before the post season.
BOYS
Class AAAAAA
1. Lakeside-DeKalb
2. Chattahoochee
3. Mill Creek
4. Parkview
5. Brookwood
6. Pebblebrook
7. Norcross
8. Milton
9. Duluth
10. Meadowcreek
Class AAAAA
1. Dalton
2. McIntosh
3. Houston County
4. Greenbrier
5. Columbus
6. Clarkston
7. Northgate
8. Riverwood
9. North Atlanta
10. Sequoyah
Class AAAA
1. Johnson-Gainesville
2. Whitewater
3. Cross Keys
4. Northwest Whitfield
5. Spalding
6. Southeast Whitfield
7. Grady
8. St. Pius
9. Veterans
10. Woodward Academy
Class AAA
1. Decatur
2. East Hall
3. Dawson County
4. Oconee County
5. Westminster
6. Blessed Trinity
7. Savannah Arts
8. Islands
9. Jackson County
10. West Hall
Class AA
1. Wesleyan
2. Pace Academy
3. Long County
4. Greater Atlanta Christian
5. Riverside Military
6. Putnam County
7. Benedictine
8. Fitzgerald
9. Bremen
10. Jefferson County
Class A
1. Paideia
2. Fellowship Christian
3. Whitefield Academy
4. St. Anne-Pacelli
5. Walker
6. Savannah Country Day
7. Stratford Academy
8. ELCA
9. First Presbyterian Day
10. Atlanta International