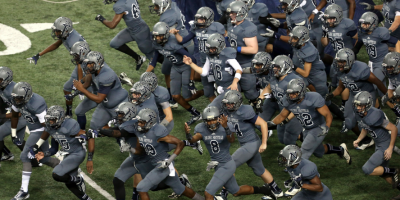 In Class AAAAAAA, Colquitt County grabbed its first win of the season and returned to the poll despite a 1-4 record. The Packers dominated Brookwood 52-14 and losses to Mill Creek, Roswell and Class AAAAAA's Tucker protect the resume enough to bring them back to No. 10.
Northgate climbed to No. 5 in Class AAAAAA, after an impressive 61-48 win over previously unbeaten Creekside. Arabia Mountain made more movement in Class AAAAA by climbing to No. 6 and Kell jumped to No. 4 after scoring a 35-7 road win over Paulding County.
In Class AAAA, Marist drops out of the rankings after a 32-0 loss to Woodward Academy and Cairo debuts at No. 10 after opening Region 1 play with a 46-13 win over Hardaway. Undefeated Oconee County comes in at No. 6 after a 28-10 win over Cedar Shoals.
Class AAA No. 1 Greater Atlanta Christian clicked on all cylinders in its 37-7 shellacking of St. Pius. Davis Mills looked as healthy as can be, completing 13-of-16 passes for 167 yards and three touchdowns. On the ground, Kyler McMichael totaled 157 yards and a score off 17 carries. The Spartans outscored the Golden Lions 28-0 in the third quarter to blow the game open. No. 4 Cedar Grove rises a spot with a 28-21 victory over Lovett, who sinks to No. 8. No. 5 Peach County climbs three spots with their 20-19 win over Mary Persons. Pierce County suffered a tough 33-28 loss to Class AA power Brooks County and now falls out of the top ten, replaced by No. 10 Crisp County who is off to a 4-0 start. The Cougars have a Bye this week, but get a major test as they host Brooks County on September 30.
No. 1 Benedictine continues to roll in Class AA. The Cadets meet up with No. 8 Vidalia at Savannah State this weekend. Brooks County slots in at No. 3 after their victory over Pierce County. No. 9 Pepperell rolled Gordon Central 69-0 while No. 10 Heard County got back on the winning track with a 28-7 win against Central-Carroll.
No movement takes place in Class A-Private as everything went status quo. In Class A-Public, No. 2 Clinch County continued Irwin County's tough season with a 39-19 victory in a rematch of last year's state title game. Marion County slips to No. 9 after a 27-0 loss to Lamar County.
Class AAAAAAA
1. Mill Creek
2. Roswell
3. Grayson
4. McEachern
5. Norcross
6. Lassiter
7. Lowndes
8. South Forsyth
9. Parkview
10. Colquitt County
Class AAAAAA
1. Northside-Warner Robins
2. Houston County
3. Valdosta
4. Lee County
5. Northgate
6. Dalton
7. Harrison
8. Glynn Academy
9. Tucker
10. Creekside
Class AAAAA
1. Buford
2. Stockbridge
3. Carrollton
4. Kell
5. Thomas County Central
6. Arabia Mountain
7. Griffin
8. Rome
9. Ware County
10. Grady
Class AAAA
1. Cartersville
2. Thomson
3. Sandy Creek
4. Blessed Trinity
5. Woodward Academy
6. Oconee County
7. Burke County
8. Mary Persons
9. Jefferson
10. Cairo
Class AAA
1. Greater Atlanta Christian
2. Liberty County
3. Pace Academy
4. Cedar Grove
5. Peach County
6. Calhoun
7. Central-Macon
8. Lovett
9. Westminster
10. Crisp County
Class AA
1. Benedictine
2. Fitzgerald
3. Brooks County
4. Rabun County
5. Callaway
6. Jefferson County
7. Model
8. Vidalia
9. Pepperrell
10. Heard County
Class A-Private
1. Eagle's Landing Christian
2. Wesleyan
3. Prince Avenue
4. Landmark Christian
5. Darlington
6. Calvary Day
7. Stratford Academy
8. Mt. Pisgah
9. First Presbyterian Day
10. Athens Academy
Class A-Public
1. Commerce
2. Clinch County
3. Emanuel County Institute
4. Macon County
5. Mt. Zion
6. Manchester
7. Lincoln County
8. Randolph-Clay
9. Marion County
10. Taylor County