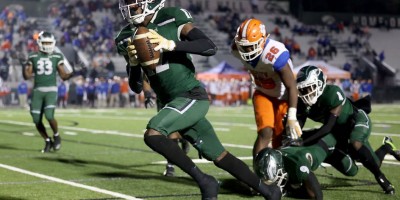 In Class 7A, Mill Creek moved up to No. 2 after a 28-14 win over Grayson and Roswell dropped from No. 4 to No. 7 after falling 31-19 to Walton. Marietta's 31-26 loss to Brookwood dropped the Blue Devils from No. 7 to No. 9 and Brookwood makes its debut at No. 10 due to a previous loss to unranked North Paulding.
Class 6A No. 2 Lee County dropped a 56-30 loss to Warner Robins on Friday, but did not fall in the poll. Kennesaw Mountain improved two slots to No. 5 after improving to 6-0 with a 51-7 win over Lassiter. Additionally, Rome returned to the poll after a 45-27 win over Carrollton—which fell from No. 4 to No. 10 behind the Wolves.
In Class 5A, Ware County fell from No. 2 to No. 6 after a 49-42 loss to Class 4A No. 4 Benedictine. Also in Class 5A, Coffee moved up a spot to No. 2 and Woodward Academy, Cartersville and Creekside round out the top 5.
Class 4A saw LaGrange move up from No. 8 to No. 6 and Stephenson improved from No. 9 to No. 7. Cedartown and Flowery Branch both lost this week; Cedartown slid from No. 6 to No. 8 behind the undefeated Grangers and Jaguars. Flowery Branch fell from No. 7 to No. 9 after its 27-7 loss to No. 1 ranked Jefferson.
Little changed at the top of Class 3A with Oconee County, Cedar Grove, Pierce County, Peach County and Sandy Creek rounding the top 5 in that order. However, Westminster, formerly No. 10, fell to unranked after a loss to Greater Atlanta Christian. Burke County entered the top 10 in its place.
Rabun County, Fitzgerald, Thomasville, Bleckley County and Callaway fill the top 5 in Class 2A. Callaway fell from No. 1 to No. 5 following a 24-8 loss to Thomas County Central.
Trinity Christian tops Class A Private with Eagle's Landing Christian at No. 2. The programs will meet Friday to see who the is top program in Class A Private. Calvary Day, Prince Avenue and Athens Academy round the top 5. Irwin County tops Class A Public with Brooks County, Macon County, Metter and Schley County chasing.
Class 7A
1. Collins Hill
2. Mill Creek
3. North Cobb
4. Milton
5. Colquitt County
6. Walton
7. Roswell
8. West Forsyth
9. Marietta
10. Brookwood
Class 6A
1. Buford
2. Lee County
3. River Ridge
4. Westlake
5. Kennesaw Mountain
6. Brunswick
7. Hughes
8. Douglas County
9. Rome
10. Carrollton
Class 5A
1. Warner Robins
2. Coffee
3. Woodward Academy
4. Cartersville
5. Creekside
6. Ware County
7. Calhoun
8. St. Pius
9. Blessed Trinity
10. Decatur
Class 4A
1. Jefferson
2. Marist
3. Perry
4. Benedictine
5. Carver-Columbus
6. LaGrange
7. Stephenson
8. Cedartown
9. Flowery Branch
10. Dougherty
Class 3A
1. Oconee County
2. Cedar Grove
3. Pierce County
4. Peach County
5. Sandy Creek
6. Appling County
7. Thomson
8. Monroe Area
9. Hart County
10. Burke County
Class 2A
1. Rabun County
2. Fitzgerald
3. Thomasville
4. Bleckley County
5. Callaway
6. Dodge County
7. Jeff Davis
8. Washington County
9. Putnam County
10. Northeast-Macon
Class A Private
1. Trinity Christian
2. Eagle's Landing Christian
3. Calvary Day
4. Prince Avenue Christian
5. Athens Academy
6. Fellowship Christian
7. Tattnall Square
8. Wesleyan
9. Stratford Academy
10. Holy Innocents'
Class A Public
1. Irwin County
2. Brooks County
3. Macon County
4. Metter
5. Schley County
6. Charlton County
7. Bowdon
8. Emanuel County Institute
9. Pelham
10. Clinch County