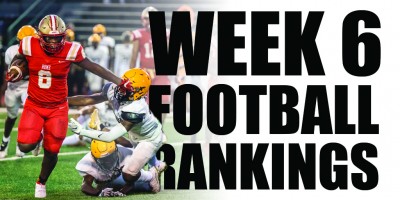 Class 7A experienced massive shifts this week following Lowndes 24-14 win over previously-ranked Grayson. The Rams were at No. 2 last week in front of Mill Creek and behind No. 1 Buford. This week, Mill Creek ascends to No. 1 after its 40-17 win over Parkview. Buford moved down to No. 2 after its 14-0 win over Marietta and Colquitt County moved up to No. 3. Carrollton climbed from No. 6 to No. 4, Valdosta jumped from No. 8 to No. 5 after a 24-14 win over McEachern that improved its record to 6-0. Walton improved one spot to No. 6 and Parkview fell from No. 5 to No. 7. Kennesaw Mountain moved up to No. 8, Lowndes earned the No. 9 spot with its victory. East Coweta is the lone in-state team to beat Lowndes, but dropped a thriller to Lambert and remains unranked. Finally, North Paulding debuts at No. 10 and its only loss this season was a 37-36 loss to No. 8 Kennesaw Mountain.
Class 6A No. 1 Hughes defeated Douglas County 48-3 on Friday and the rest of the top 5 did not change. Houston County moved up from No. 7 to No. 6 and will face No. 2 Lee County on the road this Friday. Roswell moved up from No. 10 to No. 8. In Class 5A, Dutchtown leapt Ware County for No. 2 and Loganville improved from No. 8 to No. 7 after a 64-8 win over Heritage-Conyers. Additionally, Warner Robins was replaced in the poll by Jones County, which comes in at No. 10.
In Class 4A, North Oconee moved up to No. 1, Cedartown comes in at No. 2, Benedictine sits at No. 3, Troup comes in at No. 4 and Perry rounds out the top 5 after jumping all the way from No. 9. Whitewater comes in at No. 6, Burke County moved up a spot to No. 8 and Starr's Mill dropped from No. 6 to No. 9 ahead of No. 10 LaGrange.
Cedar Grove tops Class 3A despite its 39-17 loss to Colquitt County. Carver-Atlanta, Calvary Day, Sandy Creek and Oconee County tops the class. In Class 2A, Fitzgerald leads the pack ahead of Pierce County, South Atlanta, Cook and Thomson.
Prince Avenue Christian is No. 1 in Class A Division I again this week and leading Rabun County, Swainsboro, Bleckley County and Irwin County. In Class A Division II, Early County is at the top with Johnson County, Clinch County, Bowdon and Washington-Wilkes rounding the top 5.
Class 7A
1. Mill Creek
2. Buford
3. Colquitt County
4. Carrollton
5. Valdosta
6. Walton
7. Parkview
8. Kennesaw Mountain
9. Lowndes
10. North Paulding
Class 6A
1. Hughes
2. Lee County
3. Gainesville
4. Rome
5. Thomas County Central
6. Houston County
7. Woodward Academy
8. Roswell
9. Marist
10. Blessed Trinity
Class 5A
1. Cartersville
2. Dutchtown
3. Ware County
4. Kell
5. Creekside
6. Coffee
7. Loganville
8. Calhoun
9. Jefferson
10. Jones County
Class 4A
1. North Oconee
2. Cedartown
3. Benedictine
4. Troup
5. Perry
6. Whitewater
7. Burke County
8. Bainbridge
9. Starr's Mill
10. LaGrange
Class 3A
1. Cedar Grove
2. Carver-Atlanta
3. Calvary Day
4. Sandy Creek
5. Oconee County
6. Crisp County
7. Peach County
8. Dougherty
9. Mary Persons
10. Savannah Christian
Class 2A
1. Fitzgerald
2. Pierce County
3. South Atlanta
4. Cook
5. Thomson
6. ELCA
7. Putnam County
8. Northeast-Macon
9. Rockmart
10. Columbia
Class A Division I
1. Prince Avenue Christian
2. Rabun County
3. Swainsboro
4. Bleckley County
5. Irwin County
6. Whitefield Academy
7. Brooks County
8. Darlington
9. Elbert County
10. Social Circle
Class A Division II
1. Early County
2. Johnson County
3. Clinch County
4. Bowdon
5. Washington-Wilkes
6. Charlton County
7. Aquinas
8. Schley County
9. Dooly County
10. Manchester