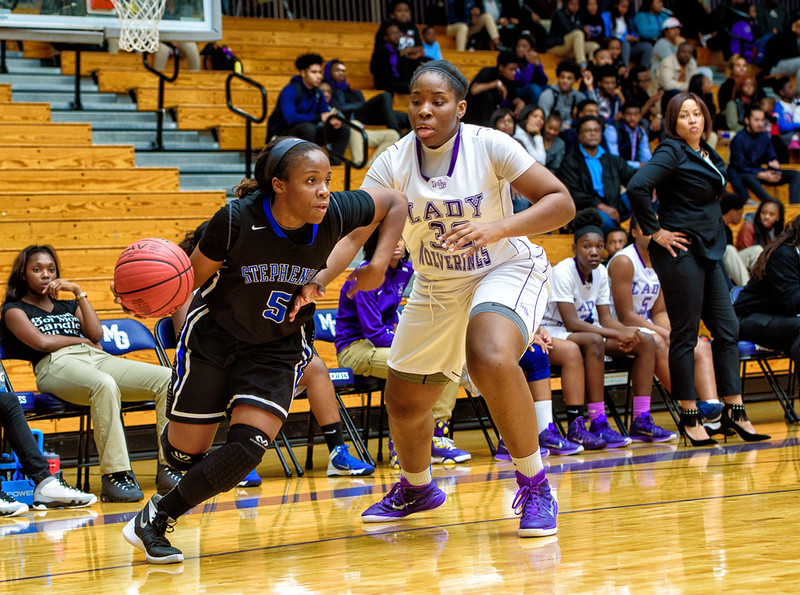 Class AAAAAA saw many of its top ten teams fall this past week, but nearly every loss came to out of state competition, meaning it won't weigh too heavy in terms of movement in the poll. No. 1 Archer suffered its first loss of the season to Myrtle Beach High School, 51-45. No. 4 South Forsyth dropped a pair of games to Tennessee-based programs, by two and one points while No. 6 Parkview suffered two losses to teams from the Volunteer state as well. No. 6 Tucker moves up two spots after handing No. 10 Douglas County its first loss of the year at the Peach State Classic. The Lady Tigers earned a 74-64 victory behind Kierra Johnson-Graham's 22 points and 17 rebounds. Bria Bass added 18 points and four steals. Tucker will now play Westlake in the championship game on Monday night.
Brunswick fell from the undefeateds and tumbles from atop Class AAAAA to No. 6 following a 56-41 loss to Glynn Academy, who debuts in the polls at No. 5 after an impressive 10-0 start to the season. Not only did the Terrors blowout former No. 1 Brunswick, they snuck past former 3A No. 10 Beach, 50-47 at the Savannah Holiday Classic. New No. 1 Sequoyah regains its top spot after opening there to begin the season. Both No. 2 Flowery Branch (11-0) and No. 3 South Effingham (12-0) are close behind. Keep an eye out for defending state runner-up Mays, who began the year at No. 2. The Lady Raiders started the season sluggish at 2-4, but have now won 7-straight to run their record up to 9-4, highlighted by a 67-56 win over 3A No. 3 Laney.
In AAAA, Redan slips from the rankings after suffering back-to-back losses, the Lady Raiders' latest coming to St. Pius, 41-38. A new Region 6 team replaces Redan; No. 10 Arabia Mountain. At 8-3, the Lady Rams have won five in a row. They narrowly edge St. Pius for the final spot thanks to a season opening 34-26 win over the Golden Lions.
No. 1 Morgan County holds a firm grip of Class AAA after No. 3 Laney fell against Mays. No. 4 Jackson-Atlanta jumps up four spots after drilling No. 9 South Atlanta, 71-57. The loss plummets the Lady Hornets five spots. No. 10 Dodge County debuts in the top ten after a 7-1 start. The Lady Indians are led by freshman Destanee Wright. The 5-foot-8 forward leads the team in points (10.3) and rebounds (5.6).
Wesleyan suffered its first loss of the season to Long Beach Poly (CA), 54-51 in overtime, but the Lady Wolves remain No. 1 in AA. No. 3 Model moved to 12-0 with wins over Calhoun and No. 10 Armuchee to win the Rome-News Tribune Holiday Tournament. The Lady Blue Devils outscored Armuchee 27-7 in the fourth quarter to earn a 68-41 championship victory.
Class A-Private saw No. 1 St. Francis continue to establish itself as one of the best programs in the entire nation, picking up a pair of wins at the Crescom Bank Holiday Invitational. The Lady Knights are now two wins away from winning the tournament. No. 3 Tattnall Square Academy added another impressive win to its resume with a 42-38 victory over No. 8 Our Lady of Mercy. In Class A-Public, No. 1 Turner County is beginning to assert itself as the team to beat. The Lady Rebels knocked off No. 5 Greenville 67-55 on the road on Friday. Calhoun County at 5-1 jumps from unranked to No. 4 after wins over Randolph-Clay and No. 6 Mitchell County.
Class AAAAAA
1. Archer
2. Harrison
3. Collins Hill
4. South Forsyth
5. Norcross
6. Tucker
7. Parkview
8. Woodstock
9. McEachern
10. Douglas County
Class AAAAA
1. Sequoyah
2. Flowery Branch
3. South Effingham
4. Southwest DeKalb
5. Glynn Academy
6. Brunswick
7. Grovetown
8. Stephenson
9. Cross Creek
10. Columbus
Class AAAA
1. Griffin
2. Marist
3. Buford
4. Americus-Sumter
5. Veterans
6. Jonesboro
7. West Laurens
8. Carrollton
9. Henry County
10. Arabia Mountain
Class AAA
1. Morgan County
2. Dawson County
3. Laney
4. Jackson-Atlanta
5. Kendrick
6. Peach County
7. Ringgold
8. Washington County
9. South Atlanta
10. Dodge County
Class AA
1. Wesleyan
2. Holy Innocents'
3. Model
4. Pelham
5. Lovett
6. Jeff Davis
7. Vidalia
8. Putnam County
9. Bleckley County
10. Armuchee
Class A-Private
1. St. Francis
2. Calvary Day
3. Tattnall Square Academy
4. Greenforest
5. Stratford Academy
6. Paideia
7. Savannah Country Day
8. Our Lady of Mercy
9. ELCA
10. Mt. Paran
Class A-Public
1. Turner County
2. Taylor County
3. Terrell County
4. Calhoun County
5. Greenville
6. Mitchell County
7. Quitman County
8. Commerce
9. Wheeler County
10. Wilcox County