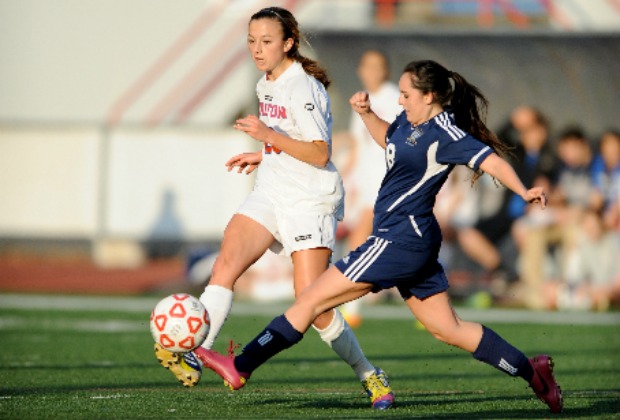 Photo by Randy Bowman
It was a wild week in the state's highest classification as former No. 1 Lassiter lost to West Forsyth 2-1. No. 2 Walton dropped a 3-2 contest to undefeated Pace Academy and No. 3 Harrison made a leap to No. 1 after posting a 3-0 win over Hillgrove. Harrison's only losses this season came to Starr's Mill (5-4) and Pope (2-1).
In Class AAAAA, the top 10 remains the same despite No. 2 Starr's Mill and No. 3 Columbus each falling short to Class AAAA No. 1 Marist. Unbeaten Marist continues to pace the Class AAAA field, with St. Pius, Whitewater and Woodward Academy rounding out the top 4. Whitewater used a 1-0 win over Woodward Academy on March 29 to solidify its spot at No. 3. North Oconee defeated North Hall 1-0 and makes its debut at No. 9.
In Class AAA, Adairsville dropped to No. 9 after a 3-2 loss to Sonoraville. Calhoun's 2-1 loss to Adairsville on March 22 holds the Yellow Jackets at No. 10.
Pace Academy staked its claim on the top spot in Class AA. The Knights defeated previous No. 2 Lovett 3-2 on Tuesday and improved to 10-0. Greater Atlanta Christian edged Lovett 3-1 last week.
Class AAAAAA
1. Harrison
2. South Forsyth
3. Lassiter
4. West Forsyth
5. Walton
6. John's Creek
7. Lambert
8. Pope
9. Grayson
10. Parkview
Class AAAAA
1. McIntosh
2. Starr's Mill
3. Columbus
4. North Atlanta
5. Northgate
6. Evans
7. Gainesville
8. Dunwoody
9. Cambridge
10. Lakeside-Evans
Class AAAA
1. Marist
2. St. Pius
3. Whitewater
4. Woodward Academy
5. Buford
6. Grady
7. Pike County
8. Veterans
9. North Oconee
10. Heritage-Catoosa
Class AAA
1. Westminster
2. Decatur
3. Blessed Trinity
4. Dawson County
5. Lumpkin County
6. Savannah Arts
7. Pierce County
8. Oconee County
9. Adairsville
10. Calhoun
Class AA
1. Pace Academy
2. Greater Atlanta Christian
3. Lovett
4. Wesleyan
5. St. Vincent's
6. Holy Innocents'
7. East Laurens
8. Dade County
9. Long County
10. Bremen
Class A
1. First Presbyterian Day
2. Fellowship Christian
3. Stratford Academy
4. Savannah Christian
5. Athens Academy
6. Savannah Country Day
7. Paideia
8. Atlanta International
9. Prince Avenue Christian
10. Mount Pisgah