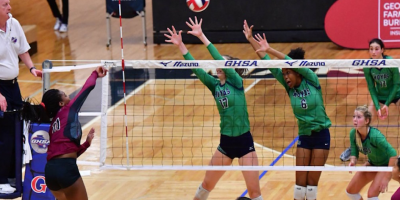 In Class 7A, Walton remains No. 1 after a 2-1 loss to Sequoyah on Saturday. The Chiefs' big win over Walton extended their winning streak to 22 matches and Sequoyah jumped to No. 1 in Class 6A. Former Class 6A No. 1 Buford is 18-2 and both losses have been to Class 5A No. 1 St. Pius. Also in Class 7A, North Cobb moved up from No. 9 to No. 7 and West Forsyth jumped two slots to No. 6. Etowah fell from No. 6 to No. 9 after a 2-1 loss to unranked Milton.
In Class 5A, Northside-Columbus moved up from No. 9 to No. 7 and Harris County fell to one slot to No. 8 in front of No. 9 Starr's Mill. Class 4A saw Jefferson drop from No. 5 to No. 7 after a 2-1 loss to Flowery Branch—which moved up to No. 6 from its previous position at No. 7. No. 8 Chestatee will visit No. 7 Jefferson Tuesday night in a big top 10 battle.
Greater Atlanta Christian is the new No. 1 in Class 3A and Sandy Creek moved up from No. 4 to No. 2 after defeating former No. 1 Westminster. The Wildcats fell to No. 3 after Sandy Creek's big victory and the rest of the poll remains in tact.
In Class 2A/A Public, ACE Charter fell from No. 8 to No. 10 and Lamar County and Union County each shifted up one slot in the poll as a result. Several moves occurred in Class A Private with Brookstone climbing from No. 6 to No. 4 and Hebron Christian dropped down to No. 10 behind No. 8 Wesleyan and No. 9 Holy Innocents. Holy Innocents defeated Hebron Christian this past week and returns to the poll and forced out Prince Avenue Christian.
Class 7A
1. Walton
2. Alpharetta
3. Lambert
4. North Forsyth
5. Cherokee
6. West Forsyth
7. North Cobb
8. Forsyth Central
9. Etowah
10. Harrison
Class 6A
1. Sequoyah
2. Buford
3. Pope
4. Creekview
5. Kennesaw Mountain
6. Lassiter
7. Johns Creek
8. Allatoona
9. Dacula
10. Lee County
Class 5A
1. St. Pius
2. Blessed Trinity
3. Greenbrier
4. Whitewater
5. McIntosh
6. Woodward Academy
7. Northside-Columbus
8. Harris County
9. Starr's Mill
10. Eagle's Landing
Class 4A
1. Northwest Whitfield
2. Fayette County
3. Heritage-Catoosa
4. Marist
5. Islands
6. Flowery Branch
7. Jefferson
8. Chestatee
9. Columbus
10. Madison County
Class 3A
1. Greater Atlanta Christian
2. Sandy Creek
3. Westminster
4. Savannah Arts
5. LaFayette
6. Morgan County
7. Oconee County
8. Richmond Academy
9. Hart County
10. Dawson County
Class 2A/A Public
1. Pace Academy
2. Lovett
3. Gordon Lee
4. Davidson Arts
5. Armuchee
6. Bremen
7. Woodville-Thompkins
8. Lamar County
9. Union County
10. ACE Charter
Class A Private
1. Athens Academy
2. Eagle's Landing Christian
3. Mt. Paran
4. Brookstone
5. Mt. Vernon
6. Trinity Christian
7. Savannah Christian
8. Wesleyan
9. Holy Innocents'
10. Hebron Christian