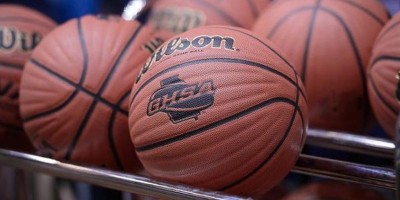 The Milton Eagles take over No. 1 in Class 7A after entering the holiday tournament season at No. 2. The Eagles carry a 12-2 overall record and are currently ranked as the No. 20 team in the national MaxPreps poll. Sitting at No. 2 is 12-3 Grayson, which is sitting at No. 32 in the latest national rankings.  Additionally, Discovery replaced Denmark and debuts at No. 9.
In Class 6A, Wheeler, Chattahoochee, Kell, Richmond Hill and Evans make up the new top 5. South Cobb was replaced by Centennial in the poll and the Knights make their debut at No. 9 ahead of No. 10 Buford.
St. Pius replaced Tri-Cities at the top of the Class 5A poll and Eagle's Landing comes in at No. 2 ahead of No. 3 Tri-Cities. The poll also saw undefeated Jonesboro (7-0) and Griffin (7-0) replace Dutchtown and Woodland-Stockbridge.
Class 4A is led by undefeated Spencer 4-0, which replaced Miller Grove at No. 1. The Wolverines slide down to No. 4 behind No. 2 Baldwin (4-0) and No. 3 Westover (4-1). No. 6 Stephenson recently scored a 62-48 win over No. 7 Luella.
In Class 3A, Thomson and Murray County replaced Morgan County and Greater Atlanta Christian in the poll and Class 2A continues to be led by top-ranked Pace Academy.
The Class A-Private rankings welcomed in Christian Heritage in place of Walker and Christian Heritage remains unbeaten against in-state opponents. Finally, the Class A-Public rankings shuffled significantly with Drew Charter (9-0) taking over No. 1 and Dublin climbing from No. 6 to No. 3 behind former No. 1 Hancock Central.
Class 7A
1. Milton
2. Grayson
3. Pebblebrook
4. McEachern
5. Berkmar
6. Cherokee
7. Newton
8. North Gwinnett
9. Discovery
10. Norcross
Class 6A
1. Wheeler
2. Chattahoochee
3. Kell
4. Richmond Hill
5. Evans
6. Lanier
7. Shiloh
8. Allatoona
9. Centennial
10. Buford
Class 5A
1. St. Pius X
2. Eagle's Landing
3. Tri-Cities
4. Woodward Academy
5. Veterans
6. Forest Park
7. Blessed Trinity
8. Lithonia
9. Jonesboro
10. Griffin
Class 4A
1. Spencer
2. Baldwin
3. Westover
4. Miller Grove
5. Monroe
6. Stephenson
7. Luella
8. Jenkins
9. Cedar Shoals
10. North Oconee
Class 3A
1. Sandy Creek
2. Windsor Forest
3. Hart County
4. Johnson-Savannah
5. LaFayette
6. Salem
7. Cross Creek
8. Sonoraville
9. Thomson
10. Murray County
Class 2A
1. Pace Academy
2. Swainsboro
3. Lovett
4. Woodville-Tompkins
5. Washington County
6. Thomasville
7. Westside-Augusta
8. Laney
9. Vidalia
10. Banks County
Class A-Private
1. Greenforest Christian
2. Mt. Pisgah
3. St. Francis
4. Galloway
5. Providence Christian
6. Trinity Christian
7. St. Anne Pacelli
8. Holy Innocents'
9. Tallulah Falls
10. Christian Heritage
Class A-Public
1. Drew Charter
2. Hancock Central
3. Dublin
4. Towns County
5. Lanier County
6. Chattahoochee County
7. Turner County
8. Manchester
9. Calhoun County
10. Warren County
Girls: Collins Hill tops the state's highest class with Campbell, McEachern, Cherokee and Parkview rounding the top of the class. North Forsyth, Woodstock, North Paulding, Brookwood and Marietta round out the top 10.
In Class 6A, Buford leads the class ahead of Westlake, Carrollton, Kell and Langston Hughes. St. Pius X tops Class 5A with Forest Park, Woodward Academy, Jackson-Atlanta and Cass chasing.
Jefferson leads Class 4A ahead of Luella, Troup, Carver-Columbus and Marist. In Class 3A, Johnson-Savannah is the team to beat with Beach, Coahulla Creek, Lumpkin County and Cross Creek in pursuit.
Rabun County is the team to beat in Class 2A ahead of Early County, Woodville Tompkins, Washington County and Elbert County. Calhoun County tops Class A Public this week ahead of Turner County. In Class A Private, St. Francis is at the top and leading Eagle's Landing Christian.
Class 7A
1. Collins Hill
2. Campbell
3. McEachern
4. Cherokee
5. Parkview
6. North Forsyth
7. Woodstock
8. North Paulding
9. Brookwood
10. Marietta
Class 6A
1. Buford
2. Westlake
3. Carrollton
4. Kell
5. Langston Hughes
6. Lovejoy
7. Sprayberry
8. Rockdale County
9. Statesboro
10. Heritage-Conyers
Class 5A
1. St. Pius X
2. Forest Park
3. Woodward Academy
4. Jackson-Atlanta
5. Cass
6. Loganville
7. Southwest DeKalb
8. Hiram
9. Warner Robins
10. Griffin
Class 4A
1. Jefferson
2. Luella
3. Troup
4. Carver-Columbus
5. Marist
6. Baldwin
7. McDonough
8. Spalding
9. Cedar Shoals
10. Arabia Mountain
Class 3A
1. Johnson-Savannah
2. Beach
3. Coahulla Creek
4. Lumpkin County
5. Cross Creek
6. Sonoraville
7. Upson-Lee
8. Greater Atlanta Christian
9. Cedar Grove
10.  Stephens County
Class 2A
1. Rabun County
2. Early County
3. Woodville-Tompkins
4. Washington County
5. Elbert County
6. Heard County
7. Josey
8. Dodge County
9. Dade County
10. Banks County
Class A Public
1. Calhoun County
2. Turner County
3. Lake Oconee Academy
4. Greenville
5. Clinch County
6. Georgia Military
7. Trion
8. Pelham
9. Wilcox County
10. Dooly County
Class A Private
1. St. Francis
2. Eagle's Landing Christian
3. Mount Paran Christian
4. Holy Innocents'
5. Hebron Christian
6. Galloway
7. Wesleyan
8. Calvary Day
9. Greenforest
10. Tallulah Falls