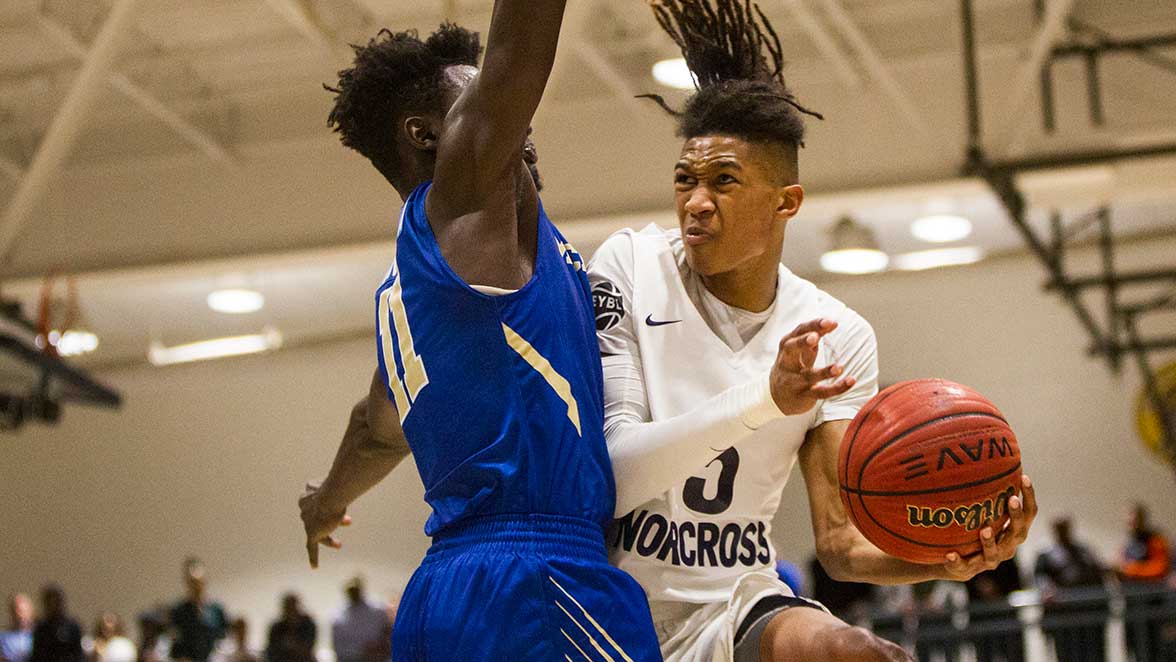 In Class AAAAAAA, No. 1 McEachern scored an 80-72 win at Marietta on Tuesday to improve to 13-0. The top-ranked Indians are currently No. 4 in the MaxPreps National rankings and will take on Kennesaw Mountain this Friday in another Region 3-AAAAAAA contest. No. 2 Meadowcreek was a 68-44 winner over Lakeside DeKalb on Tuesday and No. 3 Discovery scored a 58-51 road win at Peachtree Ridge. Grayson followed its 61-59 overtime victory at Shiloh over the weekend with a 54-42 win over South Gwinnett on Tuesday. Pebblebrook is the new No. 5 after scoring a 68-67 win over former No. 5 Wheeler.
Morgan County leads AAA again this week with Greater Atlanta Christian closely behind. Third-ranked Dawson County stays put with Cedar Grove and Pace Academy rounding out the top-5. Top-ranked Morgan lost one game in early December to Wenonah, Ala. but since then, the Bulldogs have reeled off 10-straight wins.
In Class AA, Woodville-Tompkins is still leading and undefeated through 17 games. The Wolverines beat Bacon County (60-41) on Friday, First Baptist School, SC on Saturday (67-65) and Bryan County on Tuesday (83-32) to remain perfect. Thomasville, Northeast-Macon, South Atlanta and Therrell round out the top-5.
In Class A-Public, Calhoun County is the team to beat with Terrell County, Hancock Central, Wilcox County and Treutlen chasing. In Class A-Private, St. Francis is the team to beat again this week. Mt. Bethel, Greenforest, Christian Heritage and Eagle's Landing Christian are chasing.
Class AAAAAAA
1. McEachern
2. Meadowcreek
3. Discovery
4. Grayson
5. Pebblebrook
6. Wheeler
7. Norcross
8. East Coweta
9. Newton
10. Berkmar
Class AAAAAA
1. Coffee
2. North Atlanta
3. Tri-Cities
4. Alexander
5. South Paulding
6. Sprayberry
7. Sequoyah
8. Evans
9. Chattahoochee
10. Lakeside-Evans
Class AAAAA
1. Buford
2. Southwest DeKalb
3. Fayette County
4. Lithonia
5. Eagle's Landing
6. Woodland Stockbridge
7. Lithia Springs
8. Jones County
9. Kell
10. Carrollton
Class AAAA
1. Upson-Lee
2. Sandy Creek
3. St. Pius
4. Henry County
5. Americus-Sumter
6. Chapel Hill
7. Baldwin
8. Carver-Columbus
9. Salem
10. Thomson
Class AAA
1. Morgan County
2. Greater Atlanta Christian
3. Dawson County
4. Cedar Grove
5. Pace Academy
6. Hart County
7. Johnson-Savannah
8. Central-Macon
9. Kendrick
10. Jefferson
Class AA
1. Woodville-Tompkins
2. Thomasville
3. Northeast-Macon
4. South Atlanta
5. Therrell
6. Elbert County
7. Glenn Hills
8. Spencer
9. Metter
10. Washington County
Class A-Public
1. Calhoun County
2. Terrell County
3. Hancock Central
4. Wilcox County
5. Treutlen
6. Georgia Military
7. Greene County
8. Macon County
9. Chattahoochee County
10. Pelham
Class A-Private
1. St. Francis
2. Mt. Bethel
3. Greenforest
4. Christian Heritage
5. Eagle's Landing Christian
6. Walker
7. Wesleyan
8. Pinecrest Academy
9. Lakeview Academy
10. Riverside Military