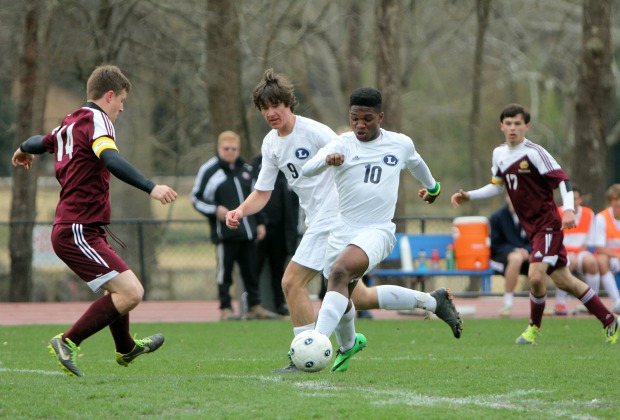 Spring Break has slowed down the action on the pitch across the state, but a few teams still played over the past week. No. 4 Mill Creek dropped an out-of-state match and sees Parkview slide ahead of them to No. 3 in Class AAAAAA. Norcross falls from No. 7 to No. 10 after three straight losses. The Blue Devils are now 10-3 after a 10-0 start. All three losses have come to ranked teams however, losing to No. 4 Mill Creek 3-1, No. 8 Duluth 3-1 and No. 3 Parkview on Friday 2-0.
Not much happened in classes AAAAA through AA. No. 3 Houston County took care of Class A No. 9 Stratford Academy 3-2. No movement occurred in 5A-3A. The only change in Class AA was Putnam County swapping with Riverside Military to take over the No. 5 spot. Riverside drew with Dacula 0-0 while Putnam crushed both Greene County and Georgia Military.
Some interesting results took place in Class A. Back from the dead is defending state champs Atlanta International. The Eagles knocked off No. 4 Whitefield Academy 2-0 and now jump from No. 10 to No. 6, even though they sport just a 5-8-1 record. While AIS is peaking at the right time, No. 3 St. Anne-Pacelli has been solid all year long. The Vikings' only loss came to Mt. de Sales early in March, 3-2. They haven't played too many teams with sexy records, but Pacelli has beaten No. 7 First Presbyterian Day 3-1 back on March 9 and just picked up a 3-2 win over No. 9 Stratford Academy. The Vikings visit Class AAAAA's Shaw (10-1-1) on Wednesday and host 5A's No. 5 Columbus (10-1) on the 20th to boost their resume and see how they stack up against two of the state's better teams.
BOYS
Class AAAAAA
1. Lakeside-DeKalb
2. Chattahoochee
3. Parkview
4. Mill Creek
5. Brookwood
6. Pebblebrook
7. Milton
8. Duluth
9. Meadowcreek
10. Norcross
Class AAAAA
1. Dalton
2. McIntosh
3. Houston County
4. Greenbrier
5. Columbus
6. Clarkston
7. Northgate
8. Riverwood
9. North Atlanta
10. Sequoyah
Class AAAA
1. Johnson-Gainesville
2. Whitewater
3. Cross Keys
4. Northwest Whitfield
5. Spalding
6. Southeast Whitfield
7. Grady
8. St. Pius
9. Veterans
10. Woodward Academy
Class AAA
1. Decatur
2. East Hall
3. Dawson County
4. Oconee County
5. Westminster
6. Blessed Trinity
7. Savannah Arts
8. Islands
9. Jackson County
10. West Hall
Class AA
1. Wesleyan
2. Pace Academy
3. Long County
4. Greater Atlanta Christian
5. Putnam County
6. Riverside Military
7. Benedictine
8. Fitzgerald
9. Bremen
10. Jefferson County
Class A
1. Paideia
2. Fellowship Christian
3. St. Anne-Pacelli
4. Whitefield Academy
5. Walker
6. Atlanta International
7. First Presbyterian Day
8. ELCA
9. Stratford Academy
10. Savannah Country Day