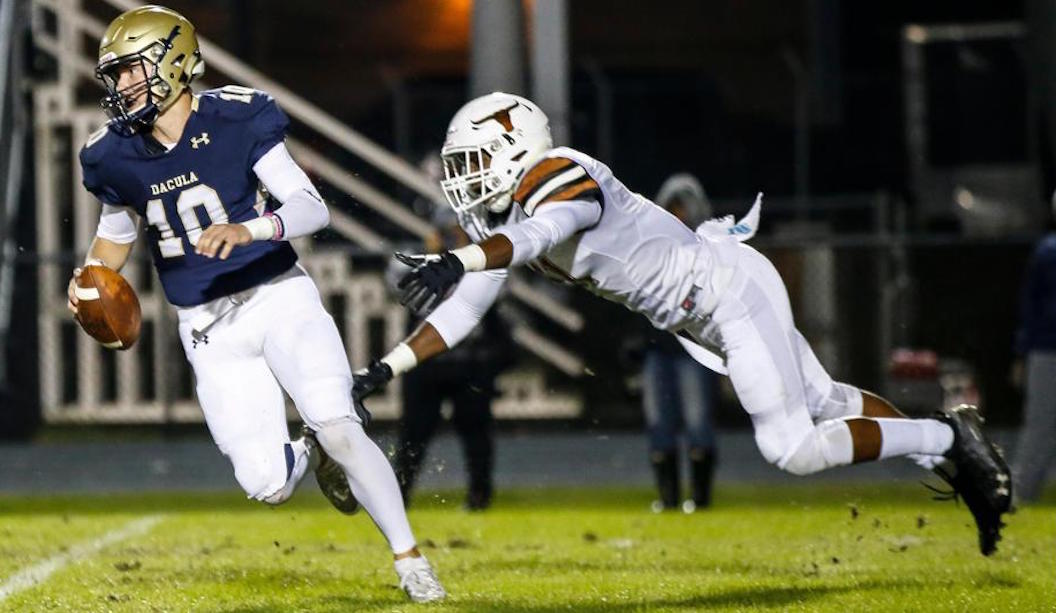 The Dacula Falcons entered the week ranked No. 1 for the first time in school history, and they put an exclamation point on the accomplishment with an emphatic 42-7 home victory over Gainesville. Senior quarterback Jarrett Jenkins led a potent Falcons offense to a 35-7 lead at the break, throwing for 300 yards with three touchdown passes and adding another two scores on the ground in the first two quarters. Jenkins put Dacula on the board with a 15-yard touchdown run midway through the first quarter, which Gainesville answered with a rushing score on the following drive. The rest of the night belonged to the Falcons, however, who closed out the game with 35 unanswered points. Jenkins threw touchdown passes to Blaine Jenkins in the first quarter, Kyle Effords and Kaleb Edwards in the second, and Konata Mumpfield in the third, and his second rushing score came early in the second quarter after Gianni Araujo closed the opening frame with a sack.
After 29 polling weeks at No. 2, including six weeks this season, Dacula replaced Valdosta (whom the Falcons beat 56-21 in the 2018 quarterfinals) atop The Atlanta Journal-Constitution's rankings. The 6-0 Falcons will remain undefeated for at least another week with a bye before they travel to Apalachee in Week 9.
Class AAAAAAA
Collins Hill 60, Duluth 12
Collins Hill quarterback Sam Horn threw five touchdown passes and rushed for one score in the Eagles' road win. Horn found Travis Hunter for four touchdown passes (48, 42, 28 and 5 yards) and had a 1-yard QB sneak for a touchdown in the second quarter. Horn hit Logan Brown for a 32-yard touchdown on the final play of the first half to give Collins Hill a 41-12 lead at halftime. Jalen Johnson (65 yards) and Spenser Anderson (57 yards) added touchdown runs for the Eagles, and Sean Norris had a 58-yard kickoff return for a touchdown that followed a Duluth safety. Duluth's two touchdowns came on passes from Lonnie Ratliff to E.J. Whitfield.
Lassiter 7, Kennesaw Mountain 3
Kennesaw Mountain was first to put points on the board with a 32-yard field goal on its first drive of the game with 6:27 left in the quarter, but the Mustangs failed to score again. Following a defensive stop by the Trojans, the Mustangs were forced to punt to the ball to Lassiter. Senior Jack Ferguson blocked the punt, scooped up the ball and returned it into the end zone for the go-ahead touchdown.  An extra point by freshman Drew Campbell put the Trojans up 7-3, a lead they would maintain for the rest of the game with no point scored in the remaining three quarters.
Etowah 27, Cherokee 24 (OT)
After trailing 21-7 at the break, the Etowah Eagles held Cherokee scoreless in the second half of regulation and came away with a 27-24 road win in overtime. Quarterback Dalton Miller found Brock Rechsteiner for the pair's first touchdown with 4:52 left in the opening frame, but Landon Ergle capitalized on Adarrius Harshaw's long kickoff return with a touchdown run to tie it on the following possession. The Warriors converted on fourth down late in the second to set up AJ Swann's touchdown pass to Harshaw, and the duo connected again with 0:54 remaining in the half for a 21-7 Cherokee lead. The Eagles, who came up short on a field goal attempt as time expired, finally got on the board again with 4:08 to go in the third quarter with another Miller-to-Rechsteiner completion to bring the score to 21-13 (the extra point was no good). Etowah began the fourth quarter deep in Cherokee territory, but Cherokee's defense forced a turnover on downs at the 2-yard line. The Eagles had better luck on their next drive with Miller's third touchdown pass of the night, this time to Blake Bohannon, and Miller and Rechsteiner connected again for the 2-point conversion to tie it at 21-21. Jackson Manns' interception of Swann with 0:42 left in regulation sent the game to overtime, where Miller answered a 36-yard field goal by Cherokee's Luis Mijangos with a touchdown pass to Manns for the 27-24 final. Miller finished the game 20-of-31 for 209 yards and four touchdowns, and Swann went 20-0f-33 for 246 yards, three touchdowns and an interception for Cherokee.
Newton 19, South Gwinnett 0
Newton's Robert Lewis ran 55 yards after the catch into the end zone to put the Rams on the board with 0:28 left in the first half, but a missed extra point kept the lead at 6-0. Newton had a chance to extend its lead with a field goal with 10:36 left in the game, but a bad handle on the snap allowed South Gwinnett to take over at its own 17. With the Comets marching down the field, junior Nyland Green intercepted a pass and returned it 40 yards into the end zone to extend the Newton lead to 13-0, and two field goals in the fourth sealed the Rams victory.
Mill Creek 49, Peachtree Ridge 17
Peachtree Ridge's Brandon Cade gave the Lions an early lead with a 58-yard touchdown run in the first. A turnover by Mill Creek in the second allowed Peachtree Ridge to build on its lead, adding a field goal before Mill Creek's Chance Parker rushed 47 yards for the score to cut the lead to 10-7. The Hawks kept the points coming with a pick-six by Tyler Reed late in the first. Mill Creek continued to pile on the points in the first half, scoring off a 63-yard punt return by Parker Wroble and another strong run by Parker to go up 28-10 in the second. Peachtree Ridge managed to reach the end zone once more, but the rolling Mill Creek offense continued to find success through the air and on the ground to keep the game out of the Lions' reach for the rest of the game. Parker ended the night as the Hawks' lead rusher with 18 attempts for 182 yards and two scores.
North Gwinnett 37, Mountain View 21
The North Gwinnett Bulldogs led by as many as 30 points as they coasted to a 37-21 victory over visiting Mountain View. A field goal and a rushing touchdown by quarterback Jr Martin put North Gwinnett up 10-0 after the opening frame, and the Bulldogs extended their lead to 24-0 by the break with a touchdown pass from Martin to Bobby Ezzard and a rushing score by Devin Crosby. Crosby, who had 131 yards on the ground in the first half, answered Mason Battle's third-quarter, 41-yard touchdown pass to Mossiah Carter with another trip to the end zone. Bobby Joseph gave North Gwinnett its final points, and a 37-7 lead, with a rushing score late in the third. The Bears added two fourth-quarter scores, a 57-yard run by Carter and a pass from Battle to Rahnell Jackson, for the 37-21 final.
Class AAAAAA
Dalton 34, River Ridge 7
Host Dalton exploded in the second half with 28 points to take control in the 34-7 win over visiting River Ridge. After a scoreless first quarter, Jahmyr Gibbs gave the Catamounts a 7-0 lead at 10:55 in the second on a 68-yard touchdown run. Dalton quarterback Parker Adams found Karim Page for a 55-yard touchdown to make it 14-0, then Gibbs closed the half with touchdown runs of 83 and 50 yards to put Dalton up 28-7 at halftime. Gibbs rushed for a fourth touchdown (64 yards) in the second half to cap the scoring.
Cambridge 28, Chattahoochee 20
The visiting Cambridge Bears came away with a win over the Chattahoochee Cougars behind a strong performance by running back Phillip-Michael Collins. After a scoreless first quarter, Collins put Cambridge on the board first with a 6-yard rush. Chattahoochee was able to tie the game 7-7 later in the second with a 15-yard pass from Jaylen Smith to Jordan Palmer, and a field goal from Chattahoochee's Ian Ortloff gave the Cougars a 10-7 lead at the half.  Chattahoochee recovered a Cambridge fumble on the first play of the third, leading to a 9-yard rushing touchdown by Tyran McCoy on the ensuing possession. Cambridge responded with a 6-yard rushing touchdown from Collins, bringing the score 17-14 in favor of Chattahoochee. Ortloff kicked a 26-yard field goal to start the fourth, giving Chattahoochee a six-point lead, but a touchdown pass from Cougars' quarterback Zach Harris to Hayden Gardella put Cambridge on top 21-20. With less than five minutes to go, Cambridge's Zach Ritter came up with an interception, and Collins capitalized with his final touchdown in the final minute of the game.
Creekview 27, Sequoyah 14
Creekview maintained a comfortable lead throughout its 27-14 victory over host Sequoyah behind five forced turnovers by the Grizzlies defense. Ethan Dirrim caught two touchdown passes and added a long fumble return for a score in the Region 6-AAAAAA matchup, and Brennen Kolb had a touchdown reception as well. Two of Creekview's touchdown passes came from quarterback Brody Rhodes, who wasn't feeling well at halftime and sat out the rest of the game. Backup quarterback Mason Hicks threw Creekview's final touchdown pass in the third quarter for a 27-7 Grizzlies lead.
Class AAAAA
Whitewater 21, Jonesboro 20
Whitewater (1-5) rallied past Jonesboro to pick up its first win of the season in thrilling fashion, thanks in large part to the heroics of senior kicker Evan Rogers. After falling behind to Jonesboro 13-0 early in the second quarter, Rogers booted through a 37-yard field goal to get the Wildcats on the board with 1:57 left before the half. Whitewater forced a safety on Jonesboro's next possession to cut it to 13-5 with 1:31 to play, and Rogers then hit a 50-yard field goal as time expired for a 13-8 score at the break. Rogers hit his third field goal from 39 yards out in the third quarter, cutting the lead to 13-11, but Jonesboro answered with a touchdown that gave the Cardinals a nine-point lead (20-11) with just 9:19 left in the game. Whitewater's Silas Rhodes scored a 4-yard rushing touchdown on Whitewater's next possession to make it 20-18, and Rogers sent through a game-winning 40-yard kick with 35 seconds left.
Buford 56, Johnson-Gainesville 7
Buford quarterback Jarvis Evans, who played only the first half, was 8-for-8 passing for 213 yards and one touchdown. Evans' 213 passing yards was a school record for one half. Evans found Justice Johnson for a 34-yard touchdown in the second quarter. Xalan Taylor started the scoring for Buford with a 1-yard touchdown run in the first quarter, and Gabe Ervin Jr. had a 70-yard scoring run to put the visiting Wolves up 14-0 heading into the second. Victor Venn only had two carries, but he scored on both with a run of 37 yards in the second quarter and 25 yards in the third. Elijah Turner had a team-high 75 yards rushing on five carries. Turner ran for a 12-yard touchdown late in the second quarter that put Buford up 36-7 at halftime and a 51-yard touchdown in the third. Javen Sadler capped the scoring for the Wolves with a 21-yard run in the third.
Carrollton 50, Cass 14
Myles Morris passed for five touchdowns in the first half and rushed for one touchdown to lead Carrollton past Cass. The Trojans took a 23-0 lead after the first quarter and a 44-0 lead at the break. Morris, who finished 9-of-14 passing for 259 yards, passed to four different receivers for touchdowns. Terrell Carmichael caught passes of 80 and 25 yards and finished with 162 receiving yards on three catches. Grant Briscoe caught two passes for 49 yards and one touchdown. Brandon Marenco caught one pass, a 30-yard touchdown reception. Mecose Todd had two carries for 67 yards and a touchdown on a 61-yard run in the third quarter. Damean Dominquez kicked a 32-yard field goal to open scoring in the first quarter before the Carrollton offense got rolling. The two touchdowns for Cass came on a 23-yard pass from Logan Nelson to Tahj Dawson and a 15-yard pass from Triston Mize to Santino Jones.
Starr's Mill 38, Griffin 35
Connor Marke hit a 50-yard field goal with seven seconds remaining to give Starr's Mill a dramatic home win. Griffin recovered Starr's Mill's ensuing onside kick and, with just seconds left, attempted a long pass that was intercepted by Cole Bishop in the end zone to seal the Panthers' win. The game-winner was Marke's first career varsity field-goal attempt. Starr's Mill led 21-20 at halftime after a first-quarter touchdown run by A-back Kalen Sims and two touchdown runs by B-back Ben Bodne in the second quarter. Starr's Mill started the second half with an 11-minute drive that was capped off by a touchdown run by quarterback Hunter Lawson to give the Panthers a 28-20 lead, then Starr's Mill took a 35-27 lead in the fourth quarter when Sims rushed for a 30-yard touchdown. Griffin tied the game at 35-35 with a touchdown and two-point conversion on a pass play with two minutes remaining.
Clarke Central 34, Cedar Shoals 3
Cedar Shoals scored first off a field goal early in the opening frame before Clarke Central proceeded to score 34 unanswered points. Gladiators running back O'Brien Barnett scored three touchdowns, while the rest of the scoring bulk came from receiver Jairus Mack. Mack's biggest play of the night was an exciting 60-yard reception. Clark Central scored touchdowns in the first and second quarters before running away with the game with scores on the Gladiators' first three possessions of the third.
Class AAAA
Sandy Creek 44, Troup 7
Sandy Creek built a 44-0 lead in the third quarter to set up a running clock in the final frame and closed out a statement win over host Troup to improve to 5-0 for the first time since 2014. Running back Rashad Amos scored a 6-yard touchdown to cap the Patriots' opening drive. Cody Jones intercepted Troup on the following possession and then quarterback Matthew Williams found Brian Branch for an 18-yard touchdown. Troup's next possession ended on an interception from Branch, who then hauled in a 28-yard touchdown pass from Williams to make it 21-0. Sandy Creek's defense forced a safety before Amos ran in a 28-yard touchdown to put the Patriots up 30-0 at the half. Branch outleapt two Troup defenders and secured a one-handed 21-yard touchdown pass from Williams for his third of the game to increase the lead to 37-0. Williams found Dealo Parson for his fourth touchdown pass of the game to make it 44-0.
Cedartown 51, LaGrange 6
Cedartown took a 51-0 lead into the final quarter of a dominant homecoming victory over Region 5-AAAA counterpart LaGrange. Quarterback Jayden Johnson threw touchdown passes to Micah Arbuthnot and Kobe Pryor and also rushed for a touchdown in the first half. Cedric Washington rushed for two touchdowns and Pryor ran in the Bulldogs' other first-half touchdown. Cedartown also capitalized on a bad LaGrange snap for a safety and opened up the second half with a commanding 44-0 lead. Freshman Harlem Diamond rushed for a 6-yard touchdown in the third quarter that made it 51-0.
Denmark 49, West Hall 0
Denmark avenged its 48-27 loss to West Hall in 2018 with a convincing 49-0 road victory for the 5-0 Danes' fourth shutout of the season. Zach Ogbogu and Jordan Brunson each rushed for first-half touchdowns. Junior quarterback Aaron McLaughlin had another strong performance, rushing for a pair of touchdowns (15, 16 yards) and throwing two touchdown passes to fellow Auburn-commit Ze'Vian Capers (67, 5 yards).
Marist 56, Chestatee 13
Host Marist took a 42-6 lead at the half and closed out Chestatee to improve its record to 6-0. Marist forced a 3-and-out on Chestatee's opening possession and senior quarterback Connor Cigelski took the War Eagles' first snap for a rushing touchdown. After the Marist defense forced another Chestatee punt, Cigelski found Thomas Rollauer for a passing score, giving Marist a 12-0 lead off of just two offensive snaps. Cigelski rumbled in a 63-yard touchdown to make it 18-0 with 7:24 still left in the opening quarter. Rollauer intercepted Chestatee to set up a Richard Bowen field goal before Cigelski closed out the quarter with his third rushing touchdown. Cigelski threw a touchdown pass to Matthew Houghton just before the half to account for his fifth score of the game, and teammates Lincoln Parker, Matthew Dunmon and Andrew Mannelly each rushed for Marist touchdowns in the victory.
Eastside 21, Luella 0
The visiting Eastside Eagles used a strong defensive effort to shutout the Luella Lions. In the first quarter, Eastside's Vaugn Mattox forced a fumble, and Sambo Button recovered the ball and took it to the end zone for the Eagles' first touchdown. It was Button's second defensive touchdown of the season. With 0:57 left in the half, Kenai Grier scored off a rush to put Eastside up 14-0. After a scoreless third quarter, Noah Cook found Grayson Malcom for a 22-yard touchdown pass to firmly secure the win. Grier had a total of 91 yards off 18 carries, while Cook went 11-of-19 for 145 yards and a touchdown.
Cairo 39, Columbus 0
Cairo quarterback Robert Matthew Peters opened the scoring with a 52-yard rushing touchdown and also found Marquii Lovejoy (47 yards) and Johnathan Herring (40 yards) for touchdown passes to lead the Syrupmakers past host Columbus. Tequan Lattimore returned a blocked field goal 80 yards for a touchdown in the second quarter, and Cairo forced a safety on a bad snap that made it 22-0 with 1:55 left in the first half. Tay Solomon fielded the ensuing kick and returned it 78 yards for a touchdown to increase the lead to 29-0. Noah Jones provided the game's final points on a 38-yard field goal with 4:36 left in the third quarter.
Class AAA
Monroe Area 56, East Jackson 7
Zariahm Blade ran in a 1-yard touchdown and hauled in a 28-yard touchdown pass from Selatian Straughter in the first quarter to give host Monroe Area an early 14-0 lead. The Purple Hurricanes added 28-points in the second quarter to grow the lead to 42-0 at the half. Straughter rushed for a 3-yard touchdown and found Danarius Hasendricks for an 8-yard touchdown pass with just five seconds left in the half. Clay Branch scored on a 4th-and-goal from the 1-yard line, and Mason Byron also punched in a 1-yard touchdown run. Branch rushed for a 19-yard touchdown in the third quarter to increase the lead to 49-0 before Monroe Area recovered a fumble in the end zone for their final points of the game. East Jackson's Nino Brown scored a 1-yard touchdown with four seconds left.
Jefferson 33, Franklin County 0
The Jefferson Jaguars dominated in a win over the Franklin County Lions behind standout performances from quarterback Colby Clark and Malaki Starks.  A 20-point first quarter started with an 8-yard rush from Clark, and the next two touchdowns came courtesy of Starks—one off a 43-yard interception return, and a 43-yard rush in the final seconds of the frame. Starks finished the quarter with 77 yards on three carries and the interception. Clark connected with Josh Cochran for a touchdown midway through the second for a 27-0 Jefferson lead at halftime. Clark added a 3-yard rushing score at the end of the fourth quarter.
Greater Atlanta Christian 45, North Hall 21
Jackson Hardy passed for two touchdowns and rushed for one as GAC moved past North Hall in a 7-AAA matchup. Hardy opened scoring with a short touchdown run in the first quarter, and the Spartans added three touchdowns in the second quarter to break open the game. Tyler Bride got things started on a 6-yard run. Hardy passed to Christian Thomas on a 37-yard pass with 5:27 left before the half. North Hall cut into the lead on a 6-yard run from Kevin Rochester with 2:11 left, but Zac Mixon scored on a 96-yard kickoff return with 1:55 left in the second quarter to push the lead. With 42 seconds remaining in the half, North Hall's J.T. Fair scored on a 5-yard run to make it 28-14. In the third quarter, Tyler Curland pushed the lead with a 20-yard field goal, but North Hall responded with a 4-yard run from Cody Smith. In the fourth quarter, GAC put things away with a 46-yard run from Tre Henry and a short touchdown pass from Hardy to Thomas.
Class AA
Callaway 20, Bremen 14
Callaway used three explosive scoring plays to come away with a hard-fought victory over host Bremen. Following a scoreless opening quarter, Callaway quarterback Demetrius Coleman threw an 80-yard touchdown pass to Jymere Jones, and a successful 2-point conversion gave the Cavaliers an 8-0 lead at the half. Callaway dialed up a trick-play double-pass in the third quarter that Jacob Freeman hauled in and turned into a 90-yard touchdown, but a failed 2-point try kept the score at 14-0. Bremen got on the board with a 65-yard touchdown and then tied it 14-14 with a 20-yard fumble recovery touchdown early in the fourth quarter. Callaway answered with a 68-yard game-winning touchdown pass from Coleman to Jones with 8:55 left.
Rabun County 52, Banks County 10
Rabun County improved to 6-0 and 3-0 in Region 8-AA with a blowout victory over visiting Banks County. The Wildcats' sophomore phenom Gunner Stockton threw for four passing touchdowns and also ran in three touchdowns in the victory. Rabun County's only other points came on a 35-yard field goal by Edwin Diaz in the second quarter.
Class A
Irwin County 56, Charlton County 0
Visiting Irwin County built a 56-0 halftime lead with touchdowns from eight different players, and closed out the largest margin of victory in the history of its 42-game series with Charlton County. Eric Anderson, Jamorri Colson, Garland Benyard and Gabriel Benyard each rushed for Indians touchdowns. Nehemiah McCoy returned an interception for a touchdown, and Derrick Taylor and Kam Ward each returned fumbles for touchdowns. Quarterback Zach Smith connected with sophomore tight end Eli Roberts for a passing touchdown, and Evan Ross went 8-for-8 on his PATs.
St. Francis 45, Walker 27
St. Francis led 31-21 at halftime and by as much as 24 points (45-21) in the fourth quarter in its away win. The Knights got two touchdown runs and a touchdown pass from quarterback Josh Gil, who rushed for scores late in the second and third quarters. Gil capped the Knights' scoring with a touchdown pass to Jai Smith with 3:45 left in the game to give his team its 45-21 lead. Isaiah Wadsworth started the scoring for St. Francis with a fumble return for a touchdown in the first quarter, and a 28-yard Jake Heintzelman field goal made it 10-0 St. Francis after the first. Hunter Jones (6 yards) and Gianni Dorsey (4 yards) rushed for scores in the second quarter, with Jones's touchdown being set up by a 51-yard Kylen Smith run.
Aquinas 46, Georgia Military 13
James Schlegel returned an interception for an Aquinas touchdown and threw touchdown passes to Tyler Evans and Joseph Welch as the Irish opened up a 40-6 lead at the half. Darius Stone ran in two first-half touchdowns and AJ Williams also rushed for a 23-yard Irish score. Patrick Cordaro added a 7-yard touchdown run to make it 46-13 with 10:15 left.