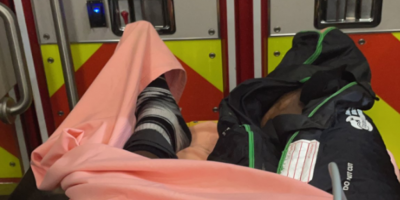 Travis Hunter (Twitter)
No. 1-ranked Collins Hill improved to 7-0 and 1-0 in Class 7A Region 8 with a 63-0 home win over Peachtree Ridge, but the story of the night was the serious leg injury to senior Collins Hill star Travis Hunter in the first quarter.
Hunter, a five-star cornerback and receiver (and Florida State-commit), exited the game with an apparent leg injury and left the field in an ambulance. He shared a photo (above) from his Twitter account from inside the ambulance, showing his right leg in an air cast.
Without their star for nearly the entire game, Collins Hill jumped out to a 27-0 lead over Peachtree Ridge (3-3, 0-1) at halftime. Eagles quarterback Sam Horn threw touchdown passes to Tone Mensinger, Cam Pedro and Spenser Anderson to help Collins Hill to its big halftime lead, and Jaylon Harris and Ryan Stephens rushed for touchdowns for Collins Hill in the second half.
Hunter is rated the No. 2 prospect nationally in the Class of 2022 and committed to Florida State in March 2020.
Here are the games the AJC is covering this week — Milton 55, Alpharetta 27, Brookwood 34, Mountain View 0, Whitefield Academy 28, Heritage-Newnan 10, St. Pius X 33, Southwest DeKalb 13
Follow the links to the Prep Scoreboard or check out Todd Holcomb's Friday Night Wrap.
Class 7A
Lambert 37, Gainesville 28
Lambert got on the board early with a field goal then a pick-six by safety Davis Dobbs, and wide receiver Koja Antwi took a jet sweep 20 yards to the house to extend Lambert's lead to 17-0. A bad snap on Gainesville's punt attempt midway through the second quarter gave the ball back to Lambert, and running back Ethan Terry scored on the next play. A Gainesville touchdown and Lambert's missed 40-yard field goal made the score 24-7 at halftime. James Tyre's 19-yard run on an RPO quarterback keeper on 4th-and-3 extended Lambert's lead to 31-7 to open the second half. On the following drive, Gainesville benefited from a big kickoff return and a Lambert personal foul and unsportsmanlike conduct penalty on two separate plays before converting a 4th down for a touchdown. Lambert's next possession ended with a bobbled snap on the punt attempt, giving Gainesville the opportunity to score on a quarterback keeper from a couple of yards out and narrow its deficit to 10 points. Gainesville added another touchdown with just under five minutes remaining before Ethan Terry broke off a 44-yard touchdown run to put Lambert comfortably ahead 37-28.
Newnan 42, North Paulding 17
Newnan had 600 yards of total offense in a game that saw them score all of their points in the final three quarters. Cougars star senior running back Nick Owens had more than 100 yards rushing and a touchdown on the ground, while junior quarterback James Paige had a passing touchdown to wide receiver Quanard Arnold and two rushing touchdowns himself. Newton running backs Jack Fitzgerald and Quentivous Berry each had a rushing touchdown in the game as well.
Mill Creek 36, North Gwinnett 17
The Hawks remain undefeated on the season with their win over North Gwinnett. After a pair of first-quarter field goals by Trace Butcher, North Gwinnett took a 14-6 lead in the second with back-to-back scores. The Hawks were able to make it a one-point game before the half when Hayden Clark hit Tye Green for a touchdown. Mill Creek came out strong in the third with a safety to go up 15-14, and added another score on a 30-yard play from senior running back Donovan Journey. North Gwinnett kicked a field goal later in the third, but a 92-yard kick return by Caleb Downs helped the Hawks reclaim a lead they held for the rest of the game. Journey scored Mill Creek's last points with a 52-yard rush into the end zone later in the quarter.
Archer 52, Meadowcreek 0
Host Archer improved to 2-0 in Region 7 and has outscored its last two opponents 84-0 following a rocky 0-4 start to the season. Caleb Peevy threw two touchdown passes to DJ Moore and Moore also rushed in an 8-yard touchdown. Chase Sellers' also found the end zone in the first quarter and Al Edwards grew the lead to 34-0 with a 55-yard punt return touchdown.
Cherokee 51, Woodstock 20
Cherokee quarterback A.J. Swann threw five touchdown passes to help the Warriors break a three-game losing streak with a road win over Woodstock. Swann threw two touchdown passes to Cayden Hilliard and one each to Caleb Richardson, Toby Thompson and Peyton Butler. Aidan Moore rushed for two touchdowns for Cherokee, and Joel Stahl made a field goal for the final points of the first half to give the Warriors a 30-7 lead at halftime.
North Forsyth 30, West Forsyth 27
Following a fumble recovery by the North Forsyth defense, Caleb Brown's clutch 18-yard red-zone reception set up Will Peltz's game-winning field goal as time expired. It was the Raiders' first lead of the game. West Forsyth running back Peyton Streko had three rushing touchdowns and more than 100 yards rushing in the first half alone. Jaycen Harris caught the Wolverines' other touchdown from Keegan Stover, which also came in the first half. North Forsyth's running back Patrick Corrigan had a rushing and receiving touchdown in the game, while his quarterback Drew Aucoin also scored a rushing touchdown. Peltz had three field goals on the night, including the game-winner.
Class 6A
Johns Creek 57, Chattahoochee 0
The Gladiators have now won four consecutive games following their Week 2 loss to Carrollton with a commanding shutout victory over Chattahoochee. Terian Williams was electric on defense, collecting two interceptions to go with another pick by Jayden Dykes, who returned the ball to the house for the score. Johns Creek's running game was also on full display as senior running back Tylan Johnson scored three rushing touchdowns and Inari Stinson scored a rushing touchdown of his own. Senior quarterback Kyle Durham had three touchdown passes on the night—one to junior Jaron Green and two to Josh Thompson, who also recorded his sixth blocked kick of the year.
Calhoun 63, Hiram 17
Calhoun scored early and often in a romp of Hirm. The jackets got on the board on a 5-yard run from Gage Leonard with 7:29 left in the first but iIn the second quarter, Calhoun took full control. The Jackets rushed for four touchdowns — Caden Williams (1 yard, 5 yards), Leonard (60), Jalen Womack (3) — to go with a 70-yard punt return from Cole Speer. In the third quarter, Calhoun's Christian Lewis passed to Peyton Law (80 yards), Leonard scored on a 3-yard run and Speer scored again on a punt return, this time from 85 yards. Calhoun's final score was a 22-yard pass from Trey Townsend to Kaleb Ray.
Carrollton 40, South Paulding 13
Carrollton quarterback M.J. Morris threw for 309 yards and four touchdowns on 17-of-25 passing in the Trojans' home win. Carrollton wide receiver Takare Lipscomb caught seven passes for 111 yards and two touchdowns, and Bryce Hicks rushed 18 times for 199 yards and a touchdown to go with three catches for 59 yards and a score. Amare Hall also had a touchdown reception for Carrollton, and Brodie Bradburn had an interception return for a touchdown for the Trojans.
Riverwood 44, River Ridge 15
A 20-0 scoring margin in the first quarter by Riverwood helped the Raiders rebound from last week's 40-32 loss to Johns Creek and earn their fifth win of the season. Their 44 points scored—fueled by a stellar performance by senior quarterback and Toledo-commit Avery Smith, who threw for 347 yards and four touchdowns—was the highest total the Raiders have hit this season.
Buford 58, Habersham Central 0
Isaiah Bond had two touchdown receptions and a kickoff return for a touchdown for host Buford. Bond gave the Wolves a 14-0 lead in the first quarter on touchdown catches of 44 and 51 yards from Ashton Daniels, and he returned a kickoff 61 yards for a score in the second quarter after a Habersham Central running back was tackled in the end zone for a safety. Daniels was 5-of-5 passing for 131 yards and the two touchdowns to Bond, and backup quarterback Dylan Wittke was 3-of-5 passing for 95 yards and a 66-yard touchdown pass to K.J. Bolden in the third quarter to put Buford ahead 51-0. Wittke also ran for a 4-yard touchdown in the second quarter. Victor Venn rushed five times for 76 yards, including a 47-yard touchdown in the third quarter, and Christian Butler (1 yard) and Jaylen Neal (36 yards) also rushed for scores.
Brunswick 56, South Effingham 21
Chuckobe Hill hauled in a pass out of the backfield and broke loose for a 53-yard touchdown to give Brunswick an early 7-0 lead and finished the night with three touchdowns—including a 68-yard run in the third quarter that put the Pirates up 49-21. Ree Smimmons also rushed for a 2-yard score in the first quarter and Jeffery Waye threw touchdown passes to TJ Smith and Terry Mitchell. Mitchell also scored a rushing touchdown that grew the lead to 42-14. Brunswick is 6-0 for the first time since the 1999 season and is 2-0 in Region 2 with a trip to Statesboro scheduled for next Friday.
Class 5A
Calhoun 63, Hiram 17
Calhoun scored early and often in a romp of Hirm. The jackets got on the board on a 5-yard run from Gage Leonard with 7:29 left in the first but iIn the second quarter, Calhoun took full control. The Jackets rushed for four touchdowns — Caden Williams (1 yard, 5 yards), Leonard (60), Jalen Womack (3) — to go with a 70-yard punt return from Cole Speer. In the third quarter, Calhoun's Christian Lewis passed to Peyton Law (80 yards), Leonard scored on a 3-yard run and Speer scored again on a punt return, this time from 85 yards. Calhoun's final score was a 22-yard pass from Trey Townsend to Kaleb Ray.
Starr's Mill 27, Northgate 0
Starr's Mill's opening drive ate up more than nine minutes and was capped with a 2-yard rushing score by Brandon Mathis to give the Panthers a 7-0 lead. Greigh Joseph added an 8-yard touchdown run and Mathis returned to the endzone on a 42-yard carry to increase the lead to 21-0 at the half. Following a scoreless third quarter, Joseph iced the game with a 4-yard touchdown run with 9:13 left that pushed the lead to 27-0.
Cartersville 43, Cass 7
The Canes remain undefeated on the season with a victory in their Region 7-5A opener against Cass. Amari White got things started for Cartersville with an 80-yard touchdown rush early in the game, and the Canes extended their lead when senior quarterback Jake Parker hit Jaylen Scott for a 5-yard touchdown. A successful 2-point conversion put Cartersville up 15-0 heading into the second, where the Canes followed up a Cass touchdown with a 21-yard touchdown pass from Parker to Collin Fletcher. Malachi Jeffries added scores in the third and fourth quarters, and a 75-yard touchdown rush from Paul Gamble brought the score to its final tally.
Clarke Central 13, Eastside 6
Clarke Central led 6-0 at the half following a fumble recovery touchdown by Lucian Anderson. Eastside got on the board with a field goal early in the third quarter, but the Gladatiors answered with an Antonio Jewell Jr. touchdown run that pushed the lead to 13-3. Eastside tacked on a field goal with 6:39 left to make it a 13-6 game, but the defensive battle ended with Bilal Jones' game-clinching interception. With the victory, Clarke Central improved to 7-0 all-time against Eastside.
Rome 49, Dalton 6
Wolves running back Bryson Hill scored four rushing touchdowns in the first half of Rome's game against host Dalton, and Reece Fountain tossed one to Martel Hight early and ran for another himself later in the matchup. Darius Smith scored the Wolves' other touchdown on a 6-yard run, and Dalton's Journey Boston scored the Catamounts' lone touchdown on a 53-yard punt return with just over two minutes left in the game to avoid the shutout.
Woodward Academy 24, Jonesboro 7
Woodward trailed 7-0 at the end of the first quarter after Jonesboro scored on a 90-yard touchdown pass from Chadrick Gardner to Malcolm Simmons, but Damari Alston gave Woodward the lead in the second quarter. Alston scored on runs of 52 and 35 yards and when Myles Hakeem scored on a 10-yard return with 8:44 left in the third quarter ,it put the game out of reach. Lee Johnson converted a 40-yard field goal in the fourth quarter to expand the lead.
Class 4A 
Cedar Shoals 27, Madison County 20 OT
Cedar Shoals blocked a potential game-winning field goal attempt at the end of regulation to force overtime. The Jaguars scored in overtime with a 1-yard Anthony Hubbard touchdown to go up 27-20. On Madison County's overtime possession Nyzier Mitchell came up with a huge sack on third down for an 11-yard loss and the following fourth down pass attempt sailed out of bounds to give Cedar Shoals the victory.
Cedartown 31, Pickens 0
Cedartown quarterback Reece Tanner found Jordan Johnson for a 32-yard touchdown to put the Bulldogs up 7-0 in the opening quarter. Patrick Gardner tacked on a 38-yard touchdown run, Khamarion Davis ran in a 33-yard score and Mario Maldonado kicked a 40-yard field goal to push Cedartown's lead to 24-0 at the half. The teams went scoreless in the third quarter and then UGA-commit Cedric Washington iced the game with a 2-yard touchdown run in the final frame.
Troup 38, Kendrick 0
Troup exploded to a 38-0 halftime lead before cruising in the second half to victory. Quarterback Taeo Todd rushed for a touchdown and also completed a touchdown pass to Dwarney Wortham. Kullum Irvin also ran in a Troup touchdown, Cody Bray kicked a field goal and teammates Noah Dixon and CJ Sands both returned interceptions for touchdowns.
North Oconee 48, Chestatee 20
North Oconee jumped out to a 41-7 halftime lead over host Chestatee. Junior Khalil Barnes rushed for a touchdown and also hauled in two touchdown passes in the first half—including a 39-yard screen that came on a key 4th down and 9 call. North Oconee also scored on a 33-yard touchdown run by Kent Moon in the first quarter. Chestatee's Luke Bornhorst threw two touchdowns and also ran in a touchdown to lead the War Eagles. Also, Dominic Elder scored a 1-yard touchdown to open the second half that gave North Oconee a 48-7 lead.
Jefferson 63, East Hall 0
No. 1 ranked Jefferson led 42-0 with 10:13 still left in the second quarter. By the time the game ended, Kadin Bailey returned an interception for a touchdown and Tre Reese and Zay Minish both returned punts for touchdown. The Dragons also got two rushing touchdowns from Sammy Brown and Jordan Perry, Isaiah Copeland and Christopher Law also ran in scores.
Class 3A
Cherokee Bluff 37, West Hall 7
Sebastian Irons passed to Marlion Jackson twice for touchdowns in Cherokee Bluff's romp of West Hall. Irons found Jackson on passes of 10 and 40 yards for touchdowns. Brayden Nance scored on a 5-yard run and Jayquan Smith rushed in from 50 yards. Michael Arbour was 3-for-4 on point after tries with one field goal.
Ringgold 25, Adairsville 19
Ringgold jumped out to a 21-7 halftime lead and held off host Adairsville's second half rally to improve to 6-0 on the season and 4-0 in Region 6. As a result, the Tigers' have already surpassed last year's win total (5-5) and are 6-0 for the first time since the 1989 season. Mason Parker threw touchdown passes to Grayson Belcher and Jordan Wideman in the first half and Kori Dumas rushed for a 42-yard touchdown. Adairsville cut the deficit to 21-13 entering the fourth quarter, but Landon Eaker made a field goal with about 6:00 left to push it to 24-13. Adairsville returned to the endzone quickly after the field goal to make it 24-19, but Ringgold ultimately forced a turnover on downs at their 28-yard line and kneeled out the victory.
Oconee County 35, East Jackson 7
CJ Jones rushed for 177 yards and four touchdowns to lead Oconee County to a  Region  8-3A victory Friday. Oconee led 28-0 entering halftime. Whit Weeks made an interception with 8:55 left in the third quarter  to protect the Warriors' 28-0 lead. Quarterback  Jacob Wright passed to RJ Johnson for a touchdown for the Warriors.
North Hall 51, White County 20
North Hall trailed 14-13 early in the third quarter before running away with a 31-point home victory. Bradford Puryear gave North Hall a 6-0 lead in the first quarter with a 3-yard touchdown run, but White County answered with a 75-yard punt return touchdown by Dariun Cannon later in the first half to claim a 7-6 lead. Kevin Rochester's 5-yard touchdown run with 2:41 left in the half gave the Trojans a 13-7 lead at the break. White County quarterback Tripp Nix connected with Cannon on a 69-yard touchdown pass in the opening minute of the second half to put the Warriors up 14-13, but Rochester answered with a 72-yard North Hall touchdown run just seconds later to reclaim a 20-14 lead. North Hall kicker Luke Brown connected on a 40-yard field goal to boost the lead to 23-14, but Nix went back to Cannon for a 73-yard touchdown that cut the deficit to 23-20 with 2:04 left in the quarter. From this point, however, it was all North Hall as Jeremiah Telander came up with two game-changing plays. Telander returned the ensuing kickoff following Cannon's touchdown reception 80 yards for a touchdown and then returned an interception for a touchdown on White County's next possession to push the lead to 37-10 with 11:49 left in the game. Hunter Riley added a 25-yard touchdown run and then Rochester iced the game with a 53-yard score—his third touchdown run of the night.
Rockmart 34, North Murray 13
Keyshaun McCollough rushed for three Rockmart touchdowns to lead the 4-1 Yellowjackets to their fourth-straight victory. Teammate JD Davis rushed for a 9-yard touchdown and also connected with Dennis Sims for a 13-yard Rockmart touchdown. North Murray's Owen Hannah made two field goals in the first half and Devin Hunte rushed for a 15-yard score with 3:21 left to mark the final tally.
Class 2A
Rabun County 28, Pierce County 21
No. 1 ranked Rabun County scored a massive road win over Class 3A No. 3 Pierce County in the first-ever meeting between the programs. Five-star quarterback and UGA-commit Gunner Stockton threw three touchdown passes and also rushed for a touchdown to lift the Wildcats over the Bears. As a result, Stockton (215) is now just three career touchdowns shy of matching Deshaun Watson's all-time state record of 218 and he has already tallied 25 passing and six rushing scores through Rabun County's first six games this season.
Model 37, Coosa 7
Model snapped a 3-game losing streak with a massive Region 7 homecoming victory over Coosa. Jeremiah Gamble returned the opening kickoff 51 yards and capped the drive with a 4-yard touchdown run to give the Blue Devils a 7-0 lead. Quarterback Dillon Silver increased Model's lead to 13-0 with a 72-yard touchdown pass to Daniel Jolly later in the opening quarter. Coosa fumbled on its next possession and Silver capped a 12-play drive with a 1-yard touchdown run to push the lead to 20-0. Silver added a 3-yard touchdown run and 29-yard touchdown pass to Amir Pinkard and Daniel Veillon kicked a 22-yard field goal to give Model a commanding 37-0 lead at the half. Coosa's lone points came on a 3-yard touchdown run by Dalton Denton in the final frame.
Class A Public
Commerce 35, Greene County 7
Commerce freshman Jaiden Daniels rushed for three touchdowns in the first half and finished his night with 23 carries for 220 yards to go with his trio of scores. Jackson Morris came up with two interceptions in the victory and Jaybo Daniels also registered an interception. Senior Dreyland Martin also rushed for a Commerce touchdown.
Irwin County 56, Lanier County 28
Two-time defending state champion Irwin County closed out its road victory with 21 unanswered points after Lanier County rallied back from a 35-14 deficit to cut the lead to 35-28 in the third quarter. Marcus Edwards rushed for two Irwin County touchdowns and Malachi Hadden also scored on a 32-yard carry in the first half. Cody Soliday threw touchdown passes to Mason Snyder and Eli Roberts and Matthew Payne finished with two rushing touchdowns in the victory. Teammate Shane Marshall also rushed for an Irwin County touchdown that made it 49-28 before Edwards' second trip to the endzone put the Indians up 56-28.
Class A Private
Trinity Christian 34, ELCA 3
Quarterback David Dallas scored a pair of touchdowns in the first few minutes of No. 1-ranked Trinity Christian's showdown with No. 2-ranked ELCA, providing enough of a cushion during what was largely a defensive battle for the Lions to maintain control throughout and make a statement with their first-ever win against the Chargers. ELCA came up with an apparent answer that was called back on a penalty, ultimately settling for a field goal before turning over the ball on their next two drives (a fumble forced by Shawn Braxton and an interception by Bryce Wilcox). Senior kicker Noah Maupin added a pair of field goals before the end of the half—the second of which came as time expired and was set up by a sideline interception from Jimbo Batchelor and a 38-yard completion from Dallas to brother Josh Dallas to get into field goal range. ELCA was held to just 49 total yards of offense in the first half (30 rushing, 19 passing) to go with four turnovers and five false start penalties. Trinity Christian picked up where it left off in the second half with an 11-play, 67-yard drive that ended with Dominick Cosper in the end zone and ate up nearly five minutes of clock.
Wesleyan 23, Athens Academy 2
Kicker Brooks Sturgeon made three field goals and Thomas Cook had a touchdown pass and a touchdown reception for visiting Wesleyan, which led 23-0 before a fourth-quarter safety spoiled the shutout. Cook fielded a backward pass and threw a touchdown to Bobby Cook, his brother, for the Wolves' first touchdown at the 5:41 mark of the second quarter. Thomas Cook then caught a touchdown pass from quarterback Jett Miller just two minutes later to give Wesleyan a 20-0 lead at halftime. Sturgeon made two field goals in the first quarter and one in the third quarter.
Calvary Day 42, Stratford Academy 6
No. 3 ranked Calvary Day punted on its first possession and then scored touchdowns on its next six drives to storm to a 42-0 halftime lead over No. 10 ranked Stratford Academy. Sophomore quarterback Jake Merklinger threw five touchdowns and freshman running Donovan Johnson added a 4-yard score for the Cavaliers.
Roundups from Thursday
5A
Blessed Trinity 40, Woodland-Cartersville 3
Blessed Trinity opened region play with a 40-3 road win over Woodland-Cartersville. The Titans led 27-0 at the break following a pair of first-half scores by Justice Haynes (7 yards, 25 yards), another by Evan Dickens, and a touchdown pass from quarterback J.C. French to Dickens. Dickens found the end zone again to start the second half, and Tate Titshaw provided the final points of the night in the final frame. Christopher Sanchez saved the Wildcats from the shutout with a 24-yard field goal in the third.
Creekside 63, Forest Park 7
Creekside improved to 3-0 in Region 3 play (5-1 overall) with a 63-7 rout of host Forest Park (2-2, 0-1). The Seminoles led 21-7 after the opening frame and 36-7 at halftime, and the first-quarter touchdown by the Panthers are the only points allowed by the Seminoles defense in the three games following the 17-14 loss to Cartersville in Week 3. Creekside has outscored its opponents 159-7 during that span and will host Banneker following its upcoming bye week.
Decatur 28, Lithonia 0
Decatur defeated host Lithonia to improve to 6-0 on the season and 3-0 in Region 5 play. The 28-0 victory is the second-straight shutout for the Decatur Bulldogs, who defeated Stone Mountain last week by a margin of 63-0. Lithonia will look to earn its first win of the year next week against Region 5 foe St Pius X, and Decatur will travel to M.L. King after next week's bye.
4A
Benedictine 59, Burke County 28
No. 4 ranked Benedictine built a comfortable first-half lead with its potent offense and never let up, earning its fourth-straight victory and handing host Burke County its first loss of the season. UGA baseball-commit Justin Thomas needed only 1:15 to find the end zone for his 20th-straight game with a touchdown, and he finished the night with three scores—including one from 55 yards out in the third quarter. Auburn-commit Holden Geriner connected with Kam Edge for touchdown completions of 46 and 20 yards, Edge added an 85-yard kick return for a touchdown, and the Cadets got fourth-quarter rushing scores from Hunter Dunn and LaMont Mitchell.
New Hampstead 46, Windsor Forest 38
New Hampstead led 20-7 at the break, then held on through a back-and-forth second half to beat the visiting Knights for the second time this season and improve to 4-1 on the year. It wasn't a clean first half of football; Knights running back Mike Caballero accrued 138 yards on 20 carries but lost the ball twice in the red zone, and Phoenix quarterback Pauly Seeley went 5-of-13 for 87 yards and a touchdown but was intercepted twice. New Hampstead also racked up 15 penalties to Windsor Forest's five, but Samari Dowdy's 143 yards on just three carries—including an 84-yard TD run—gave the Phoenix the edge. A pair of third-quarter scores by the Knights cut New Hampstead's lead to 27-22, and Windsor Forest took its first lead of the game when Caballero capitalized on a fumbled kickoff return by the Phoenix with a 26-yard score. A chaotic final frame saw four lead changes, the last of which came on a 63-yard touchdown run by Dowdy. Donte Chisolm then added one last touchdown for the Phoenix, and Dowdy sealed the win with a fumble recovery.