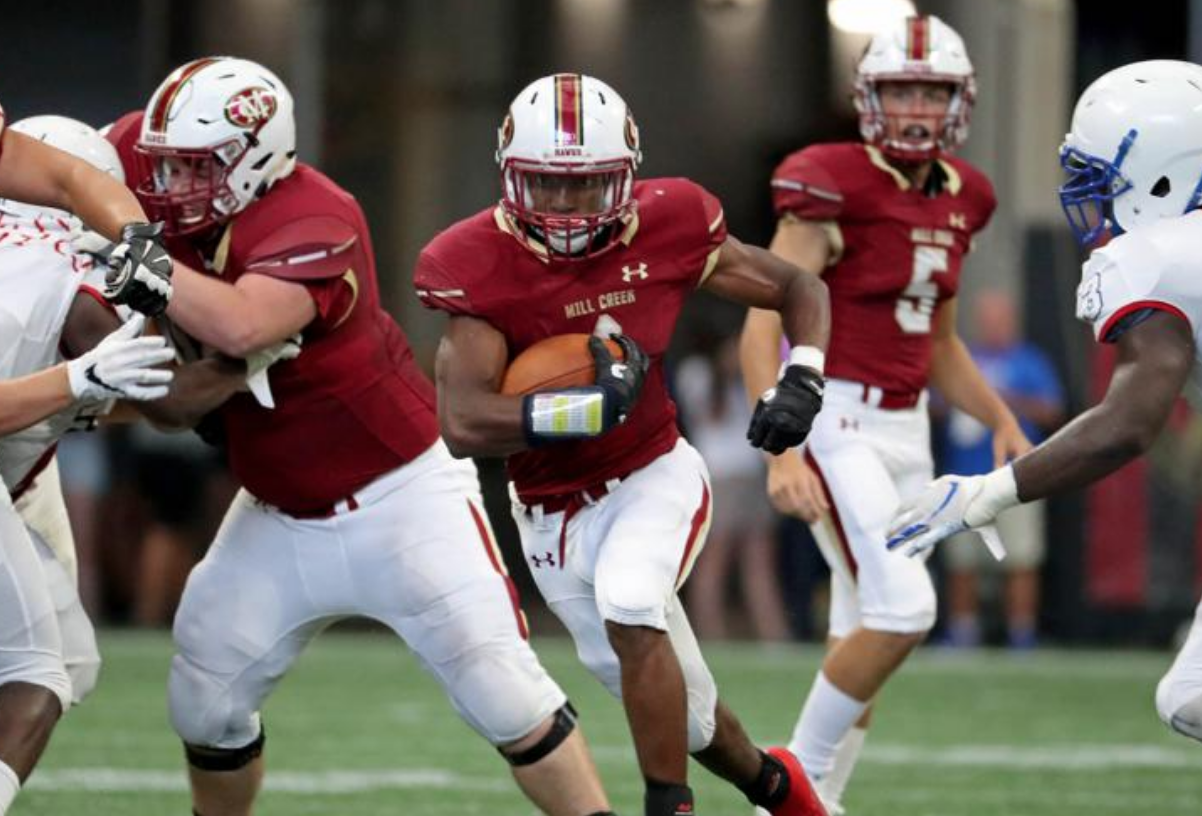 Mill Creek defeated the Peachtree Ridge Lions at home, coasting on a 42-0 halftime lead to the 49-7 final. Parker Wroble returned the opening kickoff 90 yards before scoring the first of his two rushing touchdowns minutes later. Chancellor Lee-Parker's 38-yard trip to the endzone put him over 100 first-quarter yards (on just 6 carries), and a 27-yard interception return by Jacob Allen put the Hawks up 28-0 heading into the second. Wroble scored again to open the frame, this time on a 75-yard run. Anthony Thompson provided the sixth touchdown of the first half for Mill Creek, whose defense held the Lions to just 8 first-half yards on the ground (on 13 attempts) and 30 yards passing.
Class AAAAAAA
Cherokee 17, Etowah 15
The Cherokee Warriors struck the first blow with a 32-yard rush from quarterback Landon Ergle near the end of the first quarter, but Etowah outscored Cherokee 12-3 in the second on a 79-yard rush by Justin Sherrer and an interception return from Tyler Freas. Cherokee's only points in the second quarter came off a 38-yard field goal from David Trinidad, giving Etowah a 12-10 lead going into the half. A 44-yard rushing touchdown from Cherokee's Grant Mogelnicki in the third gave the Warriors a 17-12 lead, and the Eagles kicked a successful field goal to bring the score to 17-15. Both teams went scoreless in the fourth.
Meadowcreek 53, Berkmar 0
The Meadowcreek Mustangs defeated Berkmar in large part to their success on the ground. Midway through the first quarter, Senior running back Javion Johnson rushed 6 yards into the end zone for the first score of the game. Shortly after, Meadowcreek picked up a safety — its first of two in the game — to increase its lead to 9-0. Johnson found paydirt again with less than a minute in the first with a 5-yard rush, ending the drive with a 2-point conversion. Johnson scored once more on the ground in the second, along with a 15-yard rushing score from Senior Desmon Jackson. The Mustangs scored twice more in the half, including a 31-yard fumble recovery and return by Senior Jeremiah Lee. Sophomore Sayvion Hall capped out the scoring spree in the fourth with a 20-yard rushing score to help the Mustangs get their sixth win of the season.
North Gwinnett 45 at Mountain View 7
Mountain View hosted the 6th-ranked bulldogs for their homecoming as their four-game winning streak was snapped Friday night. North Gwinnett's Tyler Goodson, who is committed to Iowa, ran for 121 yards and two touchdowns. Junior running back Devin Crosby rushed for 105 yards on seven carries and one touchdown. Mountain View opened with a 69-yard drive for a touchdown, but the scoring for the home team ended there. Junior quarterback J.R. Martin was 10 of 12 passing for 187 yards and two touchdowns. Javonni Cunningham had four catches for 58 yards and Josh Downs had three catches for 92 yards. "We're getting better. We know we have a lot of work to do and they know that," North Gwinnett head coach Bill Stewart said as his North Gwinnett bulldogs improve to 4-2.
Central Gwinnett 59, Lakeside-DeKalb 7
Justin Fomby threw three touchdowns and Justin Wilkins rushed for three scores and caught a TD pass for host Central Gwinnett. Wilkins gave the Black Knights an early 14-0 lead with his first two touchdown runs before Lakeside scored its only points of the game on an interception return in the first quarter. Fomby hit T.J. Ellis for a 4-yard touchdown pass in the second quarter, and another Wilkins TD run made the score 28-7 at halftime. Central Gwinnett scored four touchdowns in the third quarter. Eric Daniel had a 7-yard touchdown run, Fomby hit Skylar Adams (45 yds) and Wilkins (65 yds) for passing scores and Tyan Milton had a 30-yard interception return for a touchdown. Chris Sanchez made a 35-yard field goal in the fourth quarter for the game's final points. Central's Kevon Blackwood had two sacks and two interceptions.
Newton 31, South Gwinnett 7
South Gwinnett was first on the board, capitalizing on an interception that led to a first-quarter score. Newton got on the board with a field goal, and then took a 10-7 lead when Laterius Stowers hit Senior Adarius Thomas for a 13-yard score. After a scoreless second quarter to end the half, Junior quarterback Neal Howard tossed the rock to Junior receiver Robert Lewis who took the ball 91-yards for the score on his first catch of the game to increase the Rams lead to 17-7. Howard struck once more midway through the fourth, connecting with Thomas for each player's second score of the night. Junior Keaton Hambright scored with 2:30 left in the game to seal the deal on the Ram's first region win of the season.
Colquitt County 56, Alcovy 0
Jaycee Harden and Marvion McDonald combined to go 17-of-21 for 298 yards and six touchdowns as Colquitt County overwhelmed visiting Alcovy. Harden completed passes to 10 different receivers, with Kam Woods, Tajh Sanders, K.T. Wilson, and Lemeke Brockington all finding the endzone. McDonald took over in the second half and tossed scoring strikes to Desmond Davis and Max English. The Packers, who also got a pair of touchdown runs by Daijun Edwards, led 21-0 after one quarter, 42-0 at halftime, and by the final 56-0 margin going into the fourth.
Class AAAAAA
Dalton 49, River Ridge 20
The Dalton Catamounts put together a convincing 49-20 victory on the road against host River Ridge, accruing just under 550 yards of total offense in the first three quarters. 246 of those yards came from Jahmyr Gibbs, who accounted for Dalton's first two touchdowns (runs of 21 and 55 yards) and 71-yard rushing score in the third. Jeric Montgomery and quarterback Landon Allen each scored on the ground as well — 7 yards and 48 yards, respectively — and Allen added touchdown passes to Yendry Cruz (81 yards) and Bryce Houghton (19 yards). The Catamounts led 21-7 after the first quarter, 28-13 at the half, and 49-3 heading into the final frame.
Dacula 37, Gainesville 7
After receiving the kickoff, Gainesville quickly gave the ball back to Dacula after a three and out to open the game. The visiting Falcons responded by scoring in an eight-play drive that ended with an 8-yard touchdown pass from Jarrett Jenkins to Jalen Perry. Dacula tacked on another score after an explosive drive with two plays of over 30-yards, a 33-yard completion by Jenkins and a 35-yard run by running back Trenton Jones. Jenkins ran a 1-yard QB keeper to put his Falcons up 14-0 in the first quarter. The Red Elephants caught some momentum when they recovered a muffed punt return by Dacula on their 46, but were unable to capitalize on the turnover. With 5:16 left in the second quarter, Falcons running back Trenton Jones added a second score to his night on a 37-yard carry, but the PAT was missed. Heading into the third quarter, Dacula had a 20-0 lead and added to it with a 33-yard field goal by junior kicker Zach Gerks and a second touchdown pass from Jarrett Jenkins. Gainesville could not get their offense rolling as they went three and out eight times on Friday night. With 7:21 left in the game, Falcons running back Kaleb Edwards ran a 6-yard jet sweep for a score just after a 56-yard run of his own. Dacula won 37-7.
Habersham Central 10, Lanier 38
It was all Longhorns on Friday night as they thwarted Habersham Central 38-10. Habersham scored first with a field goal, but Lanier quickly responded with a big Jahkai Richardson run in which he broke several tackles to reach the endzone. Longhorn quarterback Zach Calzada then connected with Richardson for his second touchdown of the night. In the second quarter, Lanier's Nahil Perkins had a huge punt return to Habersham Central's 25-yard line, which lead to an Andre Watson running score to put the home team up 21-10. Kicker Michael Decu then tacked on a field goal from the 26 to put his team up 24-10 at half. In the second half quarterback Zach Calzada had a short running score of his own and defensive back Nahil Perkins intercepted a Habersham pass and brought it back for six. Longhorns won 38-10.
Pope 26, Dunwoody 0
A home win over Dunwoody gave Pope its first shutout since October 5, 2012. Cade Payne scored the first touchdown of the night with 3:28 left in the first quarter with an 8-yard rush. Pope scored 14 in the second on an interception return by Jack Seabolt and a 42-yard rush by Will Zegers with 4:37 remaining in the half. Kemper Hodges connected with Zegers on an 18-yard touchdown pass with 7:28 left in the third. The Greyhounds attempted to go for two, but were unable to convert.
Centennial 14, Alpharetta 7
The first points of the game came at 10:26 in the second quarter courtesy of a 24-yard field goal from Alpharetta's Bryce Troutt. On the following possession, Centennial's Max Brosmer connected with Richard Shaw for an 80-yard touchdown with 9:37 left in the quarter. Bryce Troutt completed a 39-yard field goal at the very end of the half, bringing the score 7-6 in favor of Centennial. Alpharetta put on a monstrous defensive performance in the third quarter. One Centennial drive saw three sacks in a row — the first coming from Jack Stanton, and the second two from Jackson Michaels. The final touchdown of the game came with 7:38 left in the fourth when Brosmer completed a 25-yard pass to Freddy Fairley.
Northview 40, North Atlanta, 26
North Atlanta was up 7-3 to end the first quarter before scoring three touchdowns in the second quarter. Touchdowns from Northview's Travis Buchanan and Will Caylor, and field goal by Northview's Cole Michel brought the score to 26-20 with North Atlanta on top to end the half. Northview's offense exploded in the third quarter, putting together a potent attack that was able to give them the win. Beau Lark connected with Matt Bolton for a touchdown to begin the quarter to tie the game 26-26. Will Caylor scored his second touchdown of the evening four minutes later, putting the Titans up 33-26. Lark completed a 60-yard pass to Jonathan Baker with three minutes left in the quarter. Neither team scored in the fourth.
Cambridge Bears 21, Chattahoochee Cougars 20
A thrilling match-up that went down to the wire ended with Cambridge on top thanks to a strong performance from Cambridge's Philip Michael Collins. Cambridge scored first with a rushing touchdown from Collins. Chattahoochee's Damon Stewart found Jordan Coleman for a 17-yard touchdown pass, but the Cougars missed the extra point. Collins scored his second touchdown with 8:37 left in the second quarter to bring the score to 14-6 at the half. Stewart found Coleman for his second touchdown pass in the third quarter, bringing the score to 14-12 to start the fourth. With 7:43 left in the game, Coleman connected with Jordan Palmer on a 37-yard touchdown. Chattahoochee subsequently converted on the two-point play, gaining an 20-14 lead. Collins ran it into the endzone for his third touchdown of the evening with 2:16 to go, giving Cambridge the win.
Class AAAAA
Rome 48, Woodland-Stockbridge 7
Rome running back Jamious Griffin led the visiting Wolves with three rushing touchdowns and a touchdown reception. Griffin cashed in a 15-yard touchdown run on Rome's opening drive and Woodland answered with a 20-yard Justice Carter touchdown run before the Wolves poured on 41 unanswered points. Rome quarterback Knox Kadum connected with Xavier Roberts for two first half touchdowns and Traceton Lawrence scored the lone points of the second half on a 5-yard touchdown run with 9:14 left in the third quarter.
Kell 54, Paulding County 20
Kell picked up its third region win of the season in a high-scoring outing by the Longhorns. After a safety put Kell up early, Junior running back Ebony Jackson rushed 24 yards into the end zone for the score. A 27-yard field goal from Logan Flesher increased the lead to 12, but the Longhorns kept piling on the points with a 2-yard touchdown pass from Senior quarterback Evan Conley to Chad Goddard early in the second. Conley and Goddard connected again later in the quarter on a 15-yard touchdown play. Jackson found the end zone once more in the half along with a third touchdown throw from Conley to Senior Isaiah Cruz to go up 40-7 at the half. Kell's last two scores were earned on the ground by BJ Abson and Tyler Barrett in the third to seal the deal on the Longhorn's first region win of the season.
Buford 49, Johnson 0
Aaron McLaughlin threw four touchdown passes — all in the first half — to lead Buford to a blowout of visiting Johnson. McLaughlin opened the scoring with a 40-yarder to Julien Lewis and also connected with Austin Turner and Dom Maggio en route to a 21-0 first-quarter advantage. Following Derrian Brown's three-yard scoring run, McLaughlin found Drew Gutierrez for a 38-yard touchdown. The Wolves, who led 35-0 at halftime, added third-quarter scores from Zane Harkness and Tommy Beuglas to lead by the final 49-0 margin before the fourth quarter even started.
Class AAAA
Marist 59, Chestatee 7
Marist dominated in all three phases of the game to overwhelm host Chestatee. Kyle Hamilton returned a blocked punt for a touchdown and had a 65-yard punt return for another score, the War Eagles got defensive touchdowns from Tyler Hare on a fumble return and Grayton Hudson on a pick-six, and Connor Cigelske accounted for three total TDs. Cigelske found the endzone on runs of 24 yards and 36 yards while also tossing a scoring strike to Hamilton from 23 yards out. Brock Thrasher added a 15-yard touchdown run and Conor Rahiya booted a 30-yard field goal for Marist, which led 17-0 after one quarter, 45-0 at halftime, and 59-0 one play into the fourth quarter. Chestatee got a late 75-yard touchdown pass from Christian Charles to Seth Pressley.
West Hall 48, Denmark 27
Denmark quarterback Ben Whitlock threw three of his five interceptions in the first quarter and the host Danes found themselves in a quick 20-0 hole. West Hall's Clayton Jenkins threw a 79-yard touchdown to Devon Williams, Jeremiah Prather returned an interception 30 yards and Michael Thomson cashed in a 7-yard rushing touchdown after the third interception. Whitlock got Denmark on the board before the quarter ended with a 23-yard touchdown pass to Teddy Davenport. Jenkins found Quentin Smith for a second quarter touchdown and West Hall's lead grew to 27-7 at the half. Denmark began to mount a serious second-half comeback, before another series of costly mistakes spoiled the effort. Whitlock threw a 5-yard touchdown pass to Andrew Harvey and wideout Ze'Vian Capers took a handoff in for a 5-yard touchdown run to cut the deficit to 27-21 with 36 seconds left in the third quarter. West Hall responded with a 9-yard Michael Thomson touchdown run to open the fourth and successfully faked the PAT to build a 35-21 lead. Whitlock found Capers for a touchdown pass less than a minute later, but the PAT was blocked (35-27) and it was all Spartans after that. Jenkins found Williams for the duo's second touchdown connection and his third touchdown pass of the game to make it a 42-27 game with 7:55 left. Denmark's next possession ended just 35 seconds later, when Whitlock fumbled on a sack and Corey Dupree recovered it and returned it for the game's final points.
Mary Persons 21, Spalding 0
Host Mary Persons did all its scoring in the first half and cruised past the visiting Jags to improve to 6-0. Quarterback JT Hartage connected with Quen Wilson for a 79-yard touchdown on the second play of the game. Wilson increased the lead to 14-0 with a 1-yard run with 2:03 left in the opening quarter and Hartage found Antoine Davis for a 37-yard touchdown with 7:27 left in the half.
Woodward Academy 49, Druid Hills 7
The Woodward Academy War Eagles scored early and often as they jumped to a 35-0 lead in the first quarter. Sophomore quarterback Banks Snelling threw two touchdowns — both to receiver Parker Kahler — and junior running back Miles Montgomery ran for two scores, including a 45-yard run. Senior running back Tahj Gary was the leading rusher of the night with 74 yards and had the fifth touchdown of the first quarter. The War Eagles had 13 first downs in the game and accumulated 342 yards of offense as they improved to 3-2 on the year.
Troup County 35, Sandy Creek 21
Troup County led 21-7 at halftime and 35-7 in the second half before Sandy Creek cut the deficit late with two touchdowns. In the first half, Troup's Kobe Hudson threw touchdowns to Jamari Thrash and Ja'Rell Smith and ran for a 72-yard score to give the Tigers a two-touchdown lead at the half. Trey Williams and Tyree Carlisle rushed for touchdowns in the third and fourth quarters, respectively, to give Troup its biggest lead of the game before Jamal Lewis touchdown passes to Brian Branch and Nic Toomer brought Sandy Creek to within 14 points late. Matt Williams gave Sandy Creek a 7-0 first-quarter lead with a touchdown pass to Ahmad Jackson.
Class AAA
Pace Academy 61, Stone Mountain 18
Jared Rayman threw a pair of touchdown passes and rushed for two more, leading Pace Academy to a road win over Stone Mountain. The Knights led 27-0 after one quarter only to see Stone Mountain abruptly cut its deficit to 27-12 midway through the second. Rayman's second touchdown connection with Jayden Thomas — this one from 40 yards following a 34-yarder in the first quarter — came with seven seconds left prior to halftime and gave the Knights a 25-point cushion. They eventually led 51-12 going into a fourth quarter, which was sped up by a running clock. Keashawn Perryman had 92-yard kickoff return for a touchdown and scored once on the ground, while Pace Academy also got field goals from Patrick Markwalter and Pearson Bates.
Fannin County 45, Cherokee Bluff 7
Host Fannin County snapped a three-game losing streak and opened up Region 7-AAA play with a convincing home victory over first-year program Cherokee Bluff. The Rebels took a 21-0 lead at the end of the first quarter and led 28-7 at the half. Cason Owensby ran in a pair of first-half touchdowns and Fannin County quarterback Luke Holloway connected with Chandler Kendall for 37 yards and Jalen Ingram on a 32-yarder. The teams went scoreless in the second half until Will Mosley broke the scoring drought with a 48-yard rushing touchdown with 10 minutes left in the game. Alex White tacked on a 25-yard field goal to grow the lead to 38-7 and Tyler Norton ran in the game's final points on a 4-yard carry. 
Lovett 45, Towers 8
K.J. Wallace rushed for three touchdowns and eclipsed the 100-yard mark in the first quarter as host Lovett wasted no time racing away from Towers. Wallace scored from 49 and 35 yards away before the Lions finished the opening frame with a 35-0 advantage. They led 42-0 at halftime and 45-0 going into the fourth quarter, at which point Towers finally got on the scoreboard thanks to a touchdown reception by Nathan Cox. Lovett also got an eight-yard touchdown run by Nick Jackson and a 20-yard fumble return to the endzone by Collin Goldberg, while Henry Beery had a touchdown run and two field goals.
Greater Atlanta Christian 21, North Hall 0
Greater Atlanta Christian went on the road and picked up a shutout victory over North Hall. Josh Rose's 15-yard touchdown pass to Jake Floyd in the first quarter would have ended up being enough for the Spartans, but he tacked on a 25-yard scoring strike to Ty James for good measure heading into halftime. Montae Bailey added an insurance touchdown with a two-yard plunge in the fourth quarter and North Hall never managed to mount a charge. The Trojans turned the ball over twice in Greater Atlanta Christian territory during fourth-quarter action, fumbling once and throwing one interception.
Jefferson 17, Franklin County 10
The home team Lions took the initial lead after an 80-yard touchdown drive that ended with 2:29 in the first quarter. Franklin County forced a bad pass while backed up in their own end zone late in the second quarter on a 4th-and-goal attempt by the visiting Dragons. Jefferson then scored its first points of the night with a 28-yard Hayden Kilgore field goal with 2:09 left in the half, but the Lions made field goal of their own as time expired in the second quarter. Franklin County had just 127 yards on offense in the first half, but had a 10-3 lead going into the locker room that held through the third quarter. With 6:59 left in the game, the visiting Dragons capped a long drive with a 4-yard run by Donsha Gaither to tie the game at 10 each. The Lions drove to the red zone, but fumbled. Jefferson recovered, and the Dragons scored on a 1-yard run to take a 17-10 lead with just 14 seconds left in the game.
Morgan County 26, Jackson County 14
Morgan County's Seth Robertson ran in a 72-yard touchdown in the opening minute and added a 13-yard touchdown run before quarterback Trenton Folds' 38-yard touchdown pass to sophomore Denver Laughlin for a 20-0 first-quarter lead at home. Jackson County's Jonathan Steeb recovered a fumble and returned it 35 yards for a touchdown on the final play of the first half to make it a 20-7 game and teammate Tyler Wester ran in a third-quarter touchdown (24 yards) to bring the Panthers within six points (20-14). Robertson iced the game with his third rushing touchdown (8 yards) with 2:09 left.
Ringgold 28, Sonoraville 7
Ringgold's Cole Kibler ran in a 1-yard touchdown and Sonoraville's Tre Williams rushed for a 7-yard touchdown in the second quarter to even the score 7-7 at the half.  Ringgold's Brayden Broom intercepted Sonoraville on its opening drive of the second half and returned it 44 yards for the go-ahead score. Dalton Green ran in a 3-yard touchdown with 3:20 left in the final frame and Ringgold's fourth interception set up the game's final points — a 1-yard touchdown run by Andrew Tarver.
Peach County 42, Pike County 6
Peach County outscored Pike County 21-6 in the first quarter with the help of two defensive touchdowns. The Trojans pushed the lead to 28-6 at the half. The Trojans added two touchdowns early in the third quarter to take a 42-6 lead. Shortly after, an injury occurred to a Pike County player and it was decided to end the game with 2:47 left in the third quarter.
Class AA
Callaway 37, Bremen 25
Callaway used two late fourth-quarter touchdowns to erase a 25-24 deficit and handed visiting Bremen its first loss of the season. Jacob Freeman put the Cavaliers up 7-0 early and Cartavious Bigsby scored the first of his three long touchdown runs from 65 yards out to put Callaway ahead 14-6 at the end of the opening quarter. Bremen added a pair of touchdowns in the second quarter, but Bigsby's 80-yard touchdown run kept Callaway ahead 21-19 with the help of the Blue Devils' second failed post-touchdown conversion. Callaway's Hunter Williamson nailed a crucial 28-yard field goal for the only points of the third quarter, but Bremen answered in the opening minute of the fourth to take a brief 25-24 lead. Bigsby took the next Callaway snap in 80 yards for his third rushing touchdown and  Freeman iced the game with 1:42 left with his second rushing score.
Class A
Mount Vernon Presbyterian 32, Holy Innocents 29
Austin Douglas scored all five of Mount Vernon Presbyterian's touchdowns to help his team survive a Homecoming thriller against visiting Holy Innocents'. Douglas hauled in two scoring strikes from Blake Kytle and rushed for three touchdowns in the second half, including an 80-yarder that gave the Mustangs a 25-22 advantage and a 53-yarder that put them ahead 32-22. Hunter Hawk's second touchdown pulled the Golden Bears to within 32-29 and they eventually got the ball back, but Douglas forced a fumble that Mt. Vernon Presbyterian recovered inside its own 30-yard line with one minute remaining to clinch victory. Michael Cox scored one rushing TD for Holy Innocents', while Graham Collins had a pick-six.
Mount Paran Christian 46, Mount Pisgah Christian 21
Jack Allen rushed for four touchdowns, helping host Mount Paran Christian hold off a brief mid-game charge by Mount Pisgah Christian. Trading a trio of point streaks, the Eagles soared to a 33-0 lead in the second quarter and the Patriots scored all 21 of their points in unanswered fashion to trail 33-21 going into the fourth. Parker Rostowsky kicked a pair of field goals and Allen tacked on a 30-yard touchdown run as the Eagles outscored the opposition 13-0 in the fourth quarter. They also got a touchdown run by Niko Vangarelli and a 53-yard punt return to the endzone from Jake Wilson. Connor Norwood accounted for all three of Mount Pisgah Christian's touchdowns, rushing for one and connecting with Nick Speros for two through the air.
Athens Academy 31, Prince Avenue 27
The Spartans' Len'Neth Whitehead scored the first touchdown of the night on a run from the 9-yard line at the 8:18 mark in the first quarter and had 81-yards on the drive. The visiting Wolverines responded with a touchdown run of their own with 3:06 left in the first, but missed the PAT. Athens Academy kicker James Williams's school-record 57-yard field goal put the Spartans up 10-6 in the second, the score holding through the half. Len'Neth Whitehead opened the second half with another touchdown run, this one from 13 yards out. A handful of penalties by the Spartan defense lead to an easy touchdown run from the Wolverines to make the score 17-13 with 8:39 in the third. The two teams exchanged short touchdown runs in the fourth, and Whitehead's fourth touchdown run from 1 yard gave Athens Academy a 31-27 home victory.
Darlington 24, Christian Heritage 21
Frank Manning rushed for one score and threw what proved to be the game-winning touchdown pass to Casey Gunn from 18 yards out with 7:25 remaining as Darlington survived a back-and-forth thriller against host Christian Heritage. It was a wild one right from the start, with Christian Heritage's Zach Gentry returning an interception 84 yards in the first quarter before Roth Wildcox took the ensuing kickoff 94 yards for a Darlington touchdown. The Lions got touchdowns from Evan Lester and Ethan Smith to turn a 16-7 deficit into a 21-16 lead before the Tigers answered with the game-winner from Manning to Gunn.
Eagles Landing Christian 63, Wesleyan 0
The visiting Chargers decimated the Wolverines as they controlled all facets of the game. The Chargers' offensive line paved the way for 597 yards rushing as junior running back Keaton Mitchell scored four times — two from 78 and 57 yards out. Fellow backs Josh Rogers and Brayden Rush combined for three more running touchdowns. Coach Gess said he was proud of their defensive effort as well as they did not give up a score all night. Eagles Landing Christian improves to 5-1 on the year.