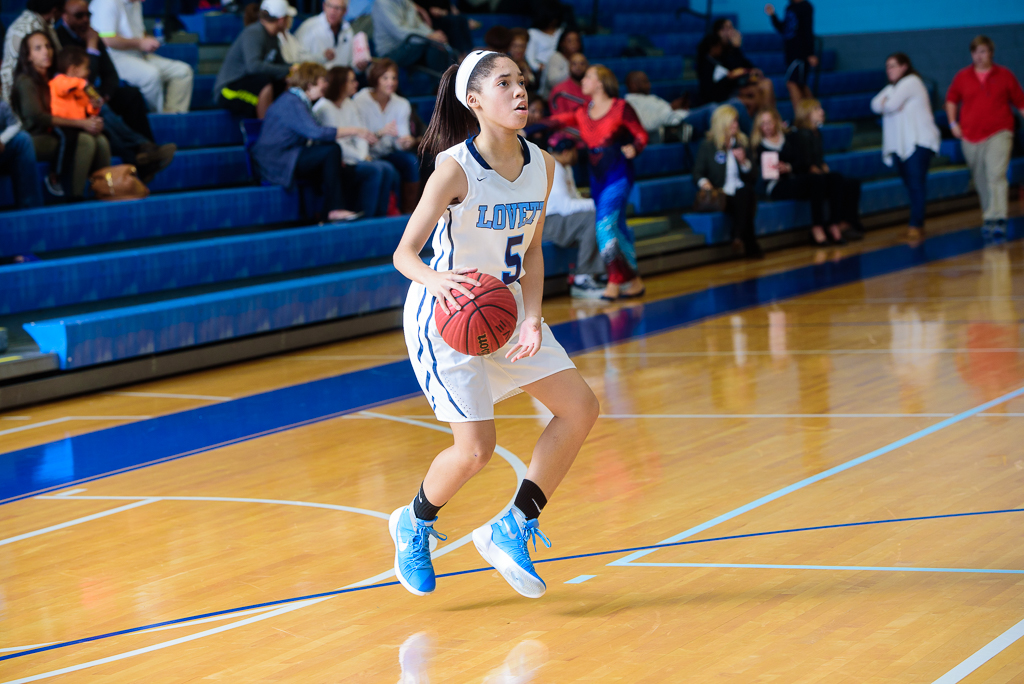 Photo By Ty Freeman
No. 1 Archer and No. 2 Harrison hold the slight advantage over No. 3 Collins Hill in Class AAAAAA thanks to strength of schedule playing out of state opponents. No. 7 McEachern has played nine of their 14 games against national opponents and returns to Region 4 play undefeated at 4-0. They will battle with Harrison and new entry to the top ten, No. 10 Marietta, for the region title. The Lady Blue Devils scored a big win over 2A No. 6 Lovett, 55-45 in overtime. Marietta is led by sophomore Taylor Smith (12.4 ppg) and junior Tatiana Foster (12.1 ppg).
In AAAAA, No. 1 Sequoyah and No. 2 Flowery Branch both dominated the competition to win their respective holiday tournaments. The Lady Chiefs won the Ft. Lauderdale Holiday Classic while the Falcons captured the 56th annual Lanierland championship over East Hall, 72-49 at Valhalla. Region 3 has emerged as a power struggle between No. 3 South Effingham, No. 4 Brunswick and No. 5 Glynn Academy. After falling by 15 to Glynn Academy earlier in the year, Brunswick rebounded on Dec. 21 with a 42-32 win over the Terrors. Glynn plays South Effingham this Tuesday in a top five showdown.
Buford regains its spot atop Class AAAA after No. 3 Griffin stumbled against Lovejoy, 60-49. The Lady Wolves stopped 5A No. 8 Stephenson, 68-50. No. 9 Northwest Whitfield appears in the top ten after winning the Deep South Classic with victories over Johns Creek, Brookwood and Lambert in the championship game, 41-40.
No. 1 Morgan County continues to roll in AAA and has now won nine straight. AAA looks to be one of the most competitive classes in the state with the top eight teams sharing just 11 losses between them, with three belonging to the Lady Bulldogs and three more to No. 7 Johnson-Savannah who debuts. The Atomsmashers have won eight in a row including the Memorial Health Holiday Classic over 1A No. 2 Calvary Day, 43-40. Johnson's only losses have come to 4A No. 9 Carrollton, 5A No. 3 South Effingham and 5A No. 4 Brunswick.
Pelham swaps places with Model in AA even though both teams are undefeated. The No. 3 Lady Hornets make the move ahead of No. 4 Model thanks to an 84-54 drilling of Fitzgerald. No. 9 Rabun County makes its first appearance in the top ten after starting 11-3 with nine consecutive W's.
Following a slow 4-3 start to the year in A-Private, No. 9 Mt. Paran has shown signs of life and are now 7-3. Their resume is highlighted by a 66-49 win over Gilmer at the Mountain Top Holiday Classic. No. 1 in A-Public is Turner County. The Lady Rebels remain undefeated and topped Fitzgerald 58-52.
Class AAAAAA
1. Archer
2. Harrison
3. Collins Hill
4. Norcross
5. Tucker
6. South Forsyth
7. McEachern
8. Parkview
9. Woodstock
10. Marietta
Class AAAAA
1. Sequoyah
2. Flowery Branch
3. South Effingham
4. Brunswick
5. Glynn Academy
6. Grovetown
7. Southwest DeKalb
8. Stephenson
9. Columbus
10. Warner Robins
Class AAAA
1. Buford
2. Marist
3. Griffin
4. Americus-Sumter
5. Jonesboro
6. Veterans
7. West Laurens
8. Henry County
9. Northwest Whitfield
10. Carrollton
Class AAA
1. Morgan County
2. Dawson County
3. Laney
4. Jackson-Atlanta
5. Kendrick
6. Ringgold
7. Johnson-Savannah
8. Peach County
9. Dodge County
10. South Atlanta
Class AA
1. Wesleyan
2. Holy Innocents'
3. Pelham
4. Model
5. Jeff Davis
6. Lovett
7. Vidalia
8. Bleckley County
9. Rabun County
10. Putnam County
Class A-Private
1. St. Francis
2. Calvary Day
3. Tattnall Square Academy
4. Greenforest
5. Stratford Academy
6. Paideia
7. Our Lady of Mercy
8. Savannah Country Day
9. Mt. Paran
10. ELCA
Class A-Public
1. Turner County
2. Taylor County
3. Terrell County
4. Calhoun County
5. Mitchell County
6. Greenville
7. Wheeler County
8. Commerce
9. Wilcox County
10. Quitman County