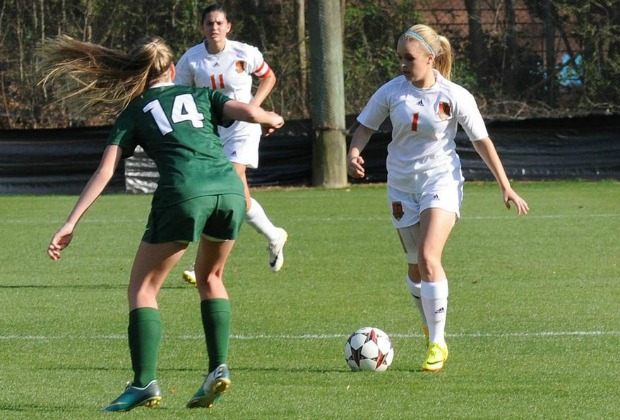 In Class AAAAAA, Pope dropped to No. 10 after a 1-0 loss to Collins Hill. Grayson jumped to No. 8 and Parkview climbed to No. 9.
In Class AAAAA, McIntosh (13-0) and Starr's Mill (13-2) remain No. 1 and No. 2 respectively, and Columbus dropped out of the top 3 after opening the month of April with three consecutive losses. The losses came to Marist, Parkview and Allatoona, which combine for a 29-7-1 record, so the Blue Devils only slipped to No. 5. Allatoona debuts at No. 9 after its statement win over Columbus and a 12-game winning streak that has followed the Bucs' 0-3 start.
Buford improved to 12-2 on Tuesday with a 5-1 win over Lumpkin County and jumped Woodward Academy in this week's poll for No. 4.
In Class AA, Pace Academy remains No. 1 with a 12-0 record and rivals Greater Atlanta Christian, Lovett, Wesleyan and Holy Innocents' log jam the top 6 with St. Vincent's. Holy Innocents' fell 1-0 in a competitive match with the top-ranked Knights and then battled with No. 3 Lovett in a 3-2 loss Tuesday night. Greater Atlanta Christian's 3-1 victory over Lovett on March 29 is still enough to keep the Spartans at No. 2 ahead of the Lions. No. 4 Wesleyan sits at 12-2-1 and owns a 1-0 victory over Holy Innocents' but now must close the season against GAC (April 15), at Pace Academy (April 19) and Lovett (April 22) to guarantee an intriguing end of the regular season in Class AA. In Class A, Calvary Day used a 4-2 win over Savannah Country Day to take over No. 6
Class AAAAAA
1. Harrison
2. South Forsyth
3. Lassiter
4. West Forsyth
5. Walton
6. John's Creek
7. Lambert
8. Grayson
9. Parkview
10. Pope
Class AAAAA
1. McIntosh
2. Starr's Mill
3. North Atlanta
4. Northgate
5. Columbus
6. Evans
7. Gainesville
8. Dunwoody
9. Allatoona
10. Lakeside-Evans
Class AAAA
1. Marist
2. St. Pius
3. Whitewater
4. Buford
5. Woodward Academy
6. Grady
7. Pike County
8. Veterans
9. North Oconee
10. Heritage-Catoosa
Class AAA
1. Westminster
2. Decatur
3. Blessed Trinity
4. Dawson County
5. Lumpkin County
6. Savannah Arts
7. Pierce County
8. Oconee County
9. Adairsville
10. Calhoun
Class AA
1. Pace Academy
2. Greater Atlanta Christian
3. Lovett
4. Wesleyan
5. St. Vincent's
6. Holy Innocents'
7. East Laurens
8. Dade County
9. Long County
10. Bremen
Class A
1. First Presbyterian Day
2. Fellowship Christian
3. Stratford Academy
4. Savannah Christian
5. Athens Academy
6. Calvary Day
7. Atlanta International
8. Paideia
9. Savannah Country Day
10. Walker