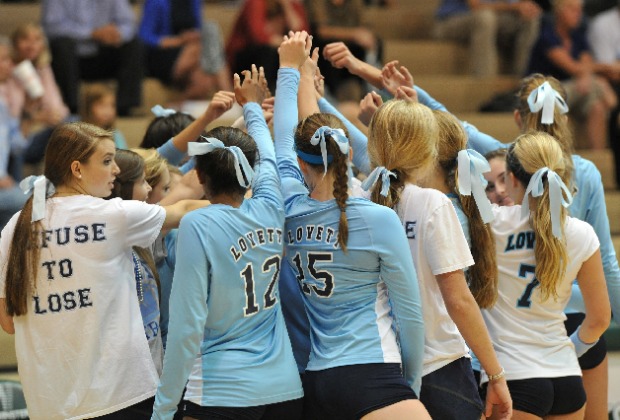 Perry McIntyre
One major change in the Class AAAAAA rankings was South Forsyth jumping to No. 2 over Johns Creek after defeating the Gladiators last week. Walton reclaimed No. 1 after a strong showing at the Berkeley tournament in Florida.
Class AAAAA No. 1 McIntosh topped Whitewater, Northgate and Drew in straight sets last week. No. 3 Pope has been dealt some injuries this season, but the Greyhounds topped Kennesaw Mountain twice, Hillgrove and South Cobb last week before falling to a solid North Cobb team. Harris County fell in the polls after close losses to Greenbrier and Veterans over the weekend.
In Class AAAA, Veterans dropped from No. 2 after a loss to a solid East Coweta team. The War Hawks were topped in straight sets (25-11, 25-12).
In Class AAA, Blessed Trinity, St. Pius X and Woodward Academy all had strong showings in out of state tournaments over the weekend. No. 4 Buford made sure to impress with its neighboring competition and won the Gwinnett County volleyball championship on Saturday. Morgan County moves in the polls after topping Oconee County in three sets. North Oconee dominated Morgan County and enters the rankings with its impressive 28-2 record on the season. The Titans grabbed wins over Flowery Branch and Loganville over the weekend. North Hall replaces Cartersville in the top 10.
Wesleyan grabbed wins over Greater Atlanta Christian, Marist and Collins Hill last week, but still sits behind No. 1 Westminster, which edged Lovett (25-23, 25-23) last Tuesday. GAC moves up in the polls after wins over Archer, Brookwood, Berkmar, Parkview and Shiloh this weekend.
In Class A, Landmark Christian moves up in this week's polls at No. 3 after impressive wins over Newnan, Whitewater, Northgate and Sandy Creek on Saturday.