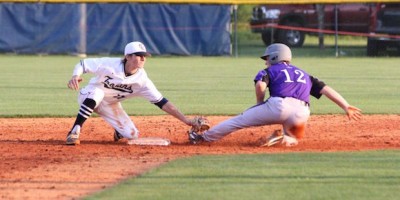 Gordon Lee remains No. 1 in Class A-Public. Credit: Walker Co. Messenger
The top three shuffled in Class AAAAAAA, as North Gwinnett takes No. 1, Parkview moves up one place to second and previous No. 1 Mill Creek is now third. Pope remains No. 1 in Class AAAAAA, and Glynn Academy takes a tumble from No. 3 to No. 8 after losing two of three to Effingham County, now No. 6. In Class AAAAA, the top six stay the same with Wayne County still on top; Decatur moves from No. 10 to No. 7 after a perfect week. Woodward Academy moves from sixth to fourth in Class AAAA, and West Laurens moves from No. 10 to No. 7 as Blessed Trinity remains No. 1.
Ringgold is still on top of Class AAA, but previous No. 2 Jackson falls to No. 8 after going 0-2 against Pike County, which moves from sixth to third. No. 3 Rockmart switches places with No. 2 Callaway behind No. 1 Thomasville in Class AA. In Class A-Public, Gordon Lee and Schley County remain No. 1 and No. 2, respectively, and Charlton County falls from No. 3 to No. 4 as Irwin County moves one spot up to third. The first six stay the same in Class A-Private with Tattnall Square No. 1, and Wesleyan moves from No. 9 to No. 7.
Class AAAAAAA
1. North Gwinnett
2. Parkview
3. Mill Creek
4. Woodstock
5. Hillgrove
6. South Forsyth
7. Walton
8. Brookwood
9. Peachtree Ridge
10. North Paulding
Class AAAAAA
1. Pope
2. River Ridge
3. Allatoona
4. Lee County
5. Winder-Barrow
6. Effingham County
7. Houston County
8. Glynn Academy
9. Heritage-Conyers
10. Brunswick
Class AAAAA
1. Wayne County
2. Loganville
3. Carrollton
4. Ola
5. Veterans
6. Buford
7. Decatur
8. Jones County
9. Starr's Mill
10. Harris County
Class AAAA
1. Blessed Trinity
2. Cartersville
3. Heritage-Ringgold
4. Woodward Academy
5. Columbus
6. Troup County
7. West Laurens
8. Jefferson
9. North Oconee
10. Stephens County
Class AAA
1. Ringgold
2. North Hall
3. Pike County
4. Cook
5. Appling County
6. Morgan County
7. Lovett
8. Jackson
9. Pace Academy
10. Adairsville
Class AA
1. Thomasville
2. Callaway
3. Rockmart
4. Westside-Augusta
5. Dodge County
6. Benedictine
7. Jeff Davis
8. Social Circle
9. Elbert County
10. Harlem
Class A-Public
1. Gordon Lee
2. Schley County
3. Irwin County
4. Charlton County
5. Telfair County
6. Bowdon
7. Johnson County
8. Taylor County
9. Trion
10. Emanuel County Institute
Class A-Private
1. Tattnall Square
2. Savannah Christian
3. Mount Paran
4. Aquinas
5. Brookstone
6. First Presbyterian
7. Wesleyan
8. Calvary Day
9. Stratford Academy
10. Holy Innocents'