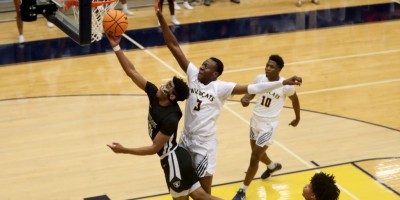 Boys: The first week of the new year has concluded and now the regular season gets set for the final month of its slate. Leading the polls in Class 7A is the Milton Eagles—who are the highest rated Georgia program in the national poll—currently representing the Peach State at No. 20 in the Maxpreps national power poll. Grayson comes in at No. 2 and was defeated by Milton 75-64 in a game that sparked the Eagles' current 10-game winning streak.
In Class 6A, Cobb County's Wheeler and Kell leads the poll with the Wildcats at No. 1. Wheeler is coming off a run to the Class 7A state title this past season after being reclassified into Class 6A. Chattahoochee, Evans and undefeated Richmond Hill (12-0) round out the top 5.
St. Pius headlines the latest Class 5A poll and is 12-1 overall with no losses coming to in-state opponents so far. The Golden Lions got the nod over Eagle's Landing—which also has a 12-1 record, with its lone loss coming in a 50-49 battle with Tift County. The Eagles are also off to a strong 5-0 in region play.
Class 4A experienced a dramatic restructuring following the reclassification cycle and No. 1 Spencer and No. 2 Baldwin top the poll with identical 4-0 starts. The Class 3A top 10 is crowded with strong contenders including a battle-tested Sandy Creek team that sits at No. 1 with a 10-4 start.
Defending Class 3A state champion Pace Academy leads the Class 2A poll with a 12-1 start and Greenforest Christian leads a deep Class A-Private top 10. Finally, in Class A-Public, defending state champion Hancock Central had a delayed start to this season and therefore it has been undefeated Drew Charter (10-0) earning the No. 1 spot up to this point.
Class 7A
1. Milton
2. Grayson
3. Pebblebrook
4. McEachern
5. Berkmar
6. Cherokee
7. Discovery
8. South Forsyth
9. North Gwinnett
10. Collins Hill
Class 6A
1. Wheeler
2. Kell
3. Chattahoochee
4. Evans
5. Richmond Hill
6. Lanier
7. Shiloh
8. Centennial
9. Buford
10. North Atlanta
Class 5A
1. St. Pius
2. Eagle's Landing
3. Tri-Cities
4. Veterans
5. Forest Park
6. Woodward Academy
7. Lithonia
8. Jonesboro
9. Cass
10. Blessed Trinity
Class 4A
1. Spencer
2. Baldwin
3. Stephenson
4. Westover
5. Luella
6. Monroe
7. Cedar Shoals
8. North Oconee
9. Arabia Mountain
10. Miller Grove
Class 3A
1. Sandy Creek
2. Windsor Forest
3. Hart County
4. Johnson-Savannah
5. LaFayette
6. Salem
7. Cross Creek
8. Sonoraville
9. Thomson
10. Murray County
Class 2A
1. Pace Academy
2. Swainsboro
3. Lovett
4. Woodville-Tompkins
5. Washington County
6. Thomasville
7. Westside-Augusta
8. Laney
9. Banks County
10. Chattooga
Class A-Private
1. Greenforest Christian
2. Mt. Pisgah
3. St. Francis
4. Galloway
5. Providence Christian
6. Trinity Christian
7. St. Anne-Pacelli
8. Christian Heritage
9. Holy Innocents'
10. Tallulah Falls
Class A-Public
1. Drew
2. Dublin
3. Towns County
4. Lanier County
5. Chattahoochee County
6. Manchester
7. Calhoun County
8. Turner County
9. Bowdon
10.Warren County
Girls: Collins Hill tops Class 7A this week despite losing to Class A Private No. 3 Hebron Christian. Campbell, McEachern, Cherokee and Parkview round the top 5. Buford leads Class 6A with Westlake, Carrollton, Langston Hughes and Lovejoy chasing.
In Class 5A, Forest Park is at the top and leading Jackson, Loganville, Woodward Academy and Cass. In Class 4A, Jefferson is the team to beat ahead of Carver-Columbus, Luella, Baldwin and Marist. Lumpkin County takes the top spot in Class 3A after Johnson-Savannah fell to No. 4 after losing to No. 3 Beach. Coahulla Creek comes in at No. 2 and Cross Creek is No. 5.
Rabun County tops Class 2A again this week and is leading Early County, Washington County, Woodville-Tompkins and Elbert County. Lake Oconee is the team to beat in Class A Public ahead of Calhoun County, Dublin, Greenville and Turner County. In Class A Private, Mount Paran is at the top ahead of Eagle's Landing Christian, St. Francis, Hebron Christian and Wesleyan.
Class 7A
1. Collins Hill
2. Campbell
3. McEachern
4. Cherokee
5. Parkview
6. North Forsyth
7. Tift County
8. Marietta
9. Woodstock
10. North Paulding
Class 6A
1. Buford
2. Westlake
3. Carrollton
4. Langston Hughes
5. Lovejoy
6. Kell
7. Sprayberry
8. Statesboro
9. Rockdale County
10. Brunswick
Class 5A
1. Forest Park
2. Jackson-Atlanta
3. Loganville
4. Woodward Academy
5. Cass
6. St. Pius X
7. Southwest DeKalb
8. Warner Robins
9. Hiram
10. New Manchester
Class 4A
1. Jefferson
2. Carver-Columbus
3. Luella
4. Baldwin
5. Marist
6. Spalding
7. Arabia Mountain
8. Troup
9. Cairo
10. Pickens
Class 3A
1. Lumpkin County
2. Coahulla Creek
3. Beach
4. Johnson-Savannah
5. Cross Creek
6. Sonoraville
7. Upson-Lee
8. Greater Atlanta Christian
9. Americus-Sumter
10.  Pierce County
Class 2A
1. Rabun County
2. Early County
3. Washington County
4. Woodville-Tompkins
5. Elbert County
6. Heard County
7. East Laurens
8. Northeast-Macon
9. Dade County
10. Banks County
Class A Public
1. Lake Oconee Academy
2. Calhoun County
3. Dublin
4. Greenville
5. Turner County
6. Georgia Military
7. Clinch County
8. Mount Zion-Carroll
9. Trion
10. Pelham
Class A Private
1. Mount Paran Christian
2. Eagle's Landing Christian
3. Hebron Christian
4. St. Francis
5. Wesleyan
6. Holy Innocents'
7. Galloway
8. Calvary Day
9. Tallulah Falls
10.  Greenforest