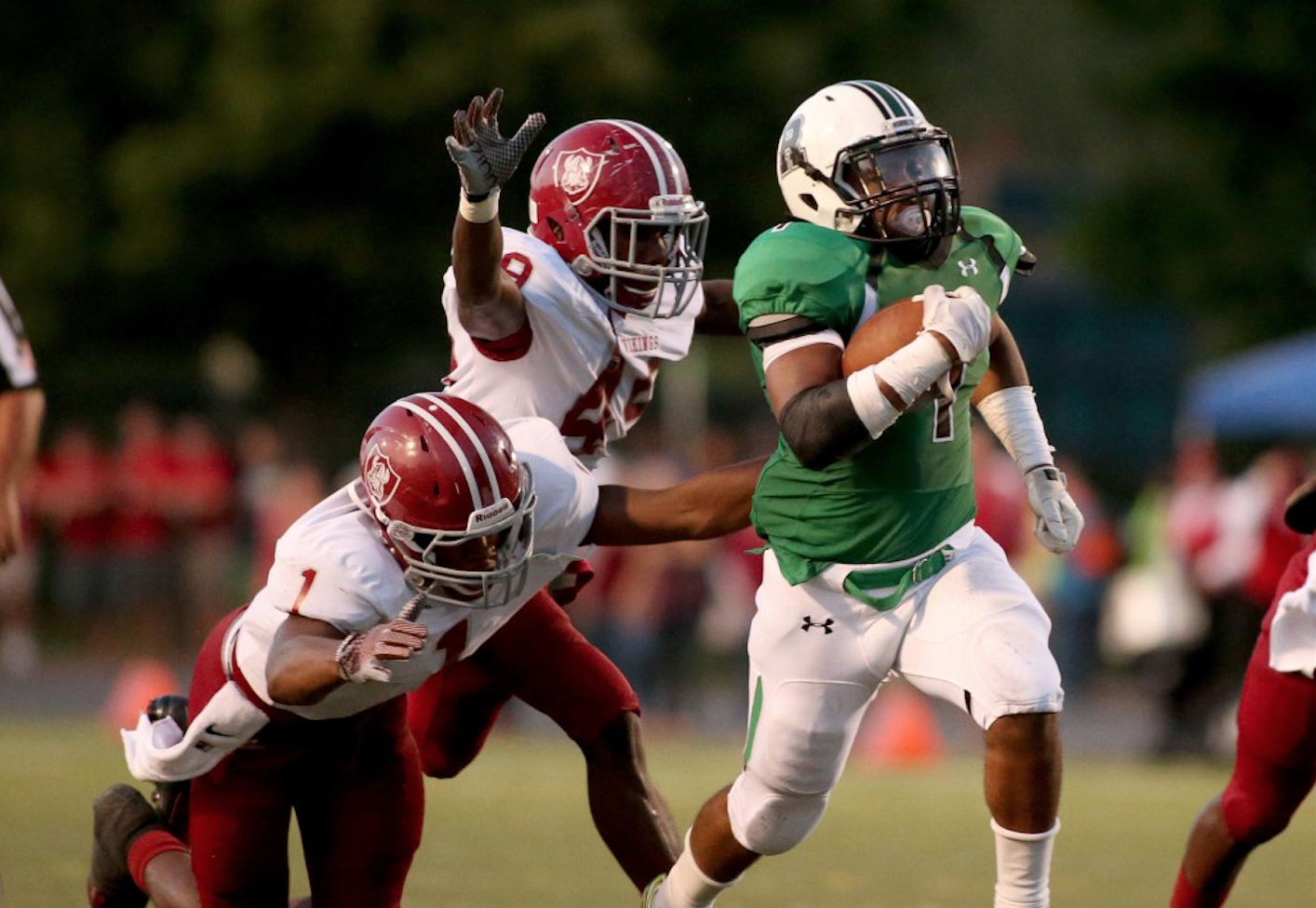 In Class AAAAAAA, Roswell sits at No. 1 after pitching a 17-0 shutout over Milton on Friday. The Hornets have now topped Buford, Central Gwinnett, Colquitt County, Archer and Milton by a combined 153-16. North Cobb and North Paulding replaced Parkview and South Forsyth for No. 9 and No. 10.
Harrison improved to 5-0 with a 43-19 win over Allatoona and climbed to No. 4 in the Class AAAAAA poll.
Alexander also moved to 5-0 on Friday by topping Northgate 21-14. The Cougars moved up to No. 7.
A 52-49 loss to visiting Starr's Mill dropped Griffin out of the Class AAAAA top 10. Undefeated Woodland-Stockbridge replaces the Bears and debuts at No. 8.
Liberty County falls to No. 5 in Class AAA following a 35-34 loss against Effingham County. Central-Macon suffered its first loss of the year, a 30-20 loss to Pike County, dropping the chargers from the top 10 with the Pirates replacing them, taking over the No. 10 spot. Pike County is now 4-1. Crisp County rises to No. 7 thanks to a 16-14 win over Class AA No. 6 Brooks County.
Class AA power Fitzgerald lost to Tift County 10-7. Even with the loss, the Purple Hurricanes hold fast at No. 2 in the rankings. With Brooks County's loss, Rabun County moves into the top three. Model falls out of the top 10 with a 28-14 loss to No. 7 Pepperell. Sneaking into the poll is No. 10 Toombs County, the Bulldogs are 5-1.
In Class A-Private, No. 1 beat No. 2 as ELCA held off Wesleyan 34-31. The Wolves don't see the loss affect them, as the No. 2 spot is still theirs. No. 3 Prince Avenue picked up a 21-14 win over Class A-Public No. 8 Commerce. Darlington slips out of the poll at 4-2 following a 25-17 triple overtime loss to A-Public No. 3 Mt. Zion-Carroll. No. 10 Tattnall Square Academy debuts in the poll with a 5-0 record.
Macon County was drubbed by Northside-Warner Robins 45-6. The Bulldogs fall four spots to No. 7. Twiggs County slots in at No. 6 following a 29-17 victory against A-Private No. 9 First Presbyterian Day. Randolph-Clay is on the move, jumping two spots after a 28-22 win over Mitchell County, the Eagles' first loss of the season. The loss is enough to bump the previously ranked No. 9 team out, giving way to No. 10 Wheeler County. Lincoln County also drops out after an ugly 17-14 overtime win against 0-5 Washington-Wilkes.
Class AAAAAAA
1. Roswell
2. Mill Creek
3. Grayson
4. McEachern
5. Norcross
6. Lassiter
7. Lowndes
8. Colquitt County
9. North Cobb
10. North Paulding
Class AAAAAA
1. Northside-Warner Robins
2. Houston County
3. Lee County
4. Harrison
5. Valdosta
6. Dalton
7. Alexander
8. Tucker
9. Glynn Academy
10. Mays
Class AAAAA
1. Buford
2. Stockbridge
3. Kell
4. Rome
5. Carrollton
6. Ware County
7. Grady
8. Thomas County Central
9. Woodland-Henry
10. Arabia Mountain
Class AAAA
1. Cartersville
2. Thomson
3. Woodward Academy
4. Jefferson
5. Cairo
6. Blessed Trinity
7. Mary Persons
8. Burke County
9. Marist
10. Ridgeland
Class AAA
1. Greater Atlanta Christian
2. Pace Academy
3. Peach County
4. Westminster
5. Liberty County
6. Calhoun
7. Crisp County
8. Lovett
9. Cedar Grove
10. Pike County
Class AA
1. Benedictine
2. Fitzgerald
3. Rabun County
4. Callaway
5. Jefferson County
6. Brooks County
7. Pepperrell
8. Heard County
9. Dublin
10. Toombs County
Class A-Private
1. Eagle's Landing Christian
2. Wesleyan
3. Prince Avenue
4. Landmark Christian
5. Calvary Day
6. Stratford Academy
7. Athens Academy
8. Fellowship Christian
9. First Presbyterian Day
10. Tattnall Square Academy
Class A-Public
1. Clinch County
2. Emanuel County Institute
3. Mt. Zion
4. Manchester
5. Randolph-Clay
6. Twiggs County
7. Macon County
8. Commerce
9. Marion County
10. Wheeler County