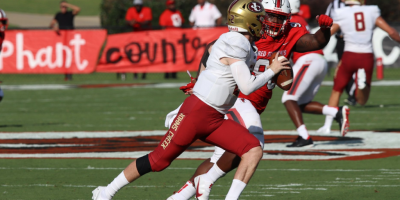 In Class 7A, Marietta dropped out of the poll after a 45-42 loss to North Paulding and Pebblebrook debuts at No. 10 after scoring a 38-21 win over East Coweta. Pebblebrook is now 6-0-1 on the season and was previously 1-10 all-time versus East Coweta prior to Friday's big victory. Additionally, Lowndes moved up a spot to No. 8.
Class 6A saw Johns Creek and Creekview replace Kennesaw Mountain and Douglas County in the poll. Kennesaw Mountain fell to South Cobb and Douglas County lost to South Paulding to make room for 5-1 Johns Creek and 5-1 Creekview.
In Class 5A, Calhoun moved up to No. 6 following its 32-27 win over No. 8 Blessed Trinity and Coffee dropped from No. 2 to No. 9 after dropping a 35-3 loss to No. 5 Ware County. Woodward Academy jumped up to No. 2 and Cartersville moved up a slot to No. 3.
Class 4A also had several movements in the poll. Stephenson and Dougherty both lost their first games of the season and exited the rankings along with Flowery Branch, who lost 14-7 to North Oconee. As a result, Thomas County Central debuts strongly at No. 6, Baldwin debuts at No. 7 and North Oconee debuts at No. 9.
After a loss to unranked Crisp County, Peach County ell from No. 5 to No. 10 in Class 3A this week. Appling County moved up to take Peach's place. Rabun County tops Class 2A ahead of Fitzgerald, Thomasville, Bleckley County and Jeff Davis.
Irwin County tops Class A Public ahead of Brooks County, Macon County, Metter and Schley County. In Class A Private, Trinity Christian is the team to beat with Calvary Day, Prince Avenue Christian, Eagle's Landing Christian and Fellowship Christian chasing.
 Class 7A
1. Collins Hill
2. Mill Creek
3. North Cobb
4. Milton
5. Colquitt County
6. Walton
7. Roswell
 8. Lowndes
 9. Brookwood
 10. Pebblebrook
Class 6A
1. Buford
2. Lee County
3. Langston Hughes
4. Brunswick
5. Rome
6. Westlake
7. Carrollton
8. Cambridge
9. Johns Creek
10. Creekview
Class 5A
1. Warner Robins
2. Woodward Academy
3. Cartersville
4. Creekside
5. Ware County
6. Calhoun
7. St. Pius X
8. Blessed Trinity
9. Coffee
10. Decatur
Class 4A
1. Jefferson
2. Marist
3. Benedictine
4. Carver-Columbus
5. Cedartown
6. Thomas County Central
7. Baldwin
8. Perry
9. North Oconee
10. Spalding
Class 3A
1. Oconee County
2. Cedar Grove
3. Sandy Creek
4. Pierce County
5. Appling County
6. Thomson
7. Monroe Area
8. Hart County
9. Rockmart
10. Peach County
Class 2A
1. Rabun County
2. Fitzgerald
3. Thomasville
4. Bleckley County
5. Jeff Davis
6. Northeast
7. Dodge County
8. Putnam County
9. Washington County
10. Callaway
Class A Public
1. Irwin County
2. Brooks County
3. Macon County
4. Metter
5. Schley County
6. Bowdon
7. Chattahoochee County
8. Emanuel County Institute
9. Charlton County
10. Washington-Wilkes
Class A Private
1. Trinity Christian
2. Calvary Day
3. Prince Avenue Christian
4. Eagle's Landing Christian
5. Fellowship Christian
6. Wesleyan
7. Holy Innocents
8. St. Anne Pacelli
9. Athens Academy
10. Darlington