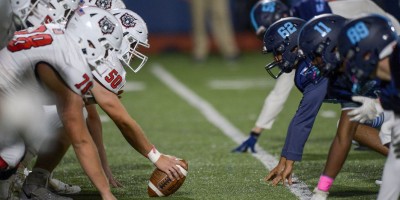 Region 5 rivals Cherokee (No. 6) and Roswell (No. 7) squared off in a back-and-forth battle between two unbeatens that featured stellar individual performances from both teams, but it was Ryan Hill's diving touchdown in the game's final minutes that put the Hornets ahead for good and kept their perfect season alive for another week.
The Warriors' opening drive ended in a muffed punt recovered by the Hornets at the Cherokee 18-yard line, and quarterback Robbie Roper ran it in on the next play for an early Roswell lead. Cherokee QB AJ Swann, who was 16-of-20 for 220 yards and two touchdowns in the first two quarters alone, quickly answered with a 69-yard bomb to Adarrius Harshaw for the first of three first-half ties. The two quarterbacks traded touchdowns twice more before the break, with both of Roper's going to Shaun Spence and Swann's to Brady Bocherer, before Parker Braeson's interception of Roper as time expired left the score knotted at 21-21 at halftime.
Roswell was forced to punt on its opening drive of the third quarter after Cherokee's Will Ross sacked Roper, and a 4th-and-1 gamble on the Roswell 5-yard line resulted in a rushing score by Keith Adams Jr to give the Warriors their first lead of the game at the 4:43 mark. Roper then found senior Marquis Willis for a 28-28 tie heading into the final frame. Roper was intercepted for the second time early in the fourth, this time by Riley Lyons, but the next Hornets drive ended in Hill's go-ahead touchdown and ate up nearly six minutes. Roswell's defense held strong during Cherokee's final possession to seal the win.
Here is the Friday Night Recap by Todd Holcomb.
Here is the Friday Night Scoreboard.
Class 7A
Walton 24, Hillgrove 15
Walton quarterback Zak Rozsman rushed for two scores and passed for one in the Raiders' home win. Rozsman scored on a 5-yard keeper at 5:53 in the first quarter to put Walton ahead 7-0 and found Stone McKnight for a 3-yard touchdown pass with 19 seconds remaining in the first half to give Walton a 17-0 halftime lead. Hillgrove pulled to within 10 points with a touchdown in the third quarter, but Rozsman put the game away with a 16-yard keeper with 4:43 left to play, powering through several Hillgrove tackle attempts on his way to the end zone. Hillgrove scored a touchdown and two-point conversion with 26 seconds remaining. Conor Cummins made a 40-yard field goal at the end of the first quarter to give Walton a 10-0 lead.
Forsyth Central 28, North Forsyth 27
The Forsyth Central Bulldogs overcame a 14-point third-quarter deficit to come away with a 28-27 victory over North Forsyth Raiders and their first region win of the season. Noah Chol answered Jarred Lucero's touchdown for North Forsyth by returning the ensuing kickoff all the way to the end zone to make it a one-score game. Bronson Landreth connected with Chol for a touchdown in the fourth and completed the two-point conversion to knot the game at 21-21. Landreth then found Devin Hill in the end zone to give the Bulldogs the lead. Riley Smith scored for North Forsyth, but the potential game-tying extra point was blocked.
Milton 38, Etowah 0
Devin Farrell passed for three touchdowns and Jordan McDonald rushed for two scores for host Milton. In the first half, Farrell found Adam Freas for a 55-yard touchdown pass and Matthew Evert for a 38-yarder. McDonald scored on a 1-yard run with five seconds remaining in the first half to give Milton a 24-0 lead at the break and scored from 2 yards out to make the score 31-0 late in the third quarter. Farrell's third TD pass, 14 yards to Max St. Vrain, capped the scoring with 14 seconds remaining in the third. Farrell was 16-of-19 passing for 257 yards, and McDonald rushed 13 times for 75 yards. Evert led Milton in receiving with five catches for 102 yards. The Milton offense gained 407 yards to Etowah's 120.
Norcross 23, Mill Creek 20 (2OT)
No. 5 ranked Norcross kept its perfect season alive with a thrilling, double-overtime win over visiting Mill Creek. After a scoreless opening frame in which both offenses combined for 82 total yards, the Hawks struck first with a 30-yard field goal by Brock Pelligrino that was set up by Mill Creek's recovery of a muffed Norcross punt. The Blue Devils answered with an 11-play, 80-yard drive capped with Mason Kaplan's touchdown pass to Trey Goodman to take a 7-3 lead into the second half. The teams traded interceptions to start the third quarter, with Justin Dingle's resulting in a 34-yard Francisco Hernandez field goal for Norcross and Emon Hill returning his 29-yards for a Mill Creek touchdown and a 10-10 tie that stood through the rest of regulation. Kaplan found Lawson Luckie for a big 3rd-down conversion in the first overtime, then scored on a QB sneak, and MJ Patterson's 21-yarder to Brendan Jenkins for Mill Creek sent the game into double overtime. Pelligrino's field goal briefly put the Hawks on top before Jahni Clark gave Norcross the win with a diving touchdown.
West Forsyth 41, South Forsyth 34 (2OT)
The West Forsyth Wolverines came away with a double-overtime win over Region 6 rival South Forsyth to improve to 3-3 and hand the War Eagles their first loss of the season. South Forsyth held a 21-17 lead at the break following three first-half touchdown passes from quarterback Kyle Durham, and a field goal by West Forsyth's Alex Wilson cut the deficit to one before the final frame. South Forsyth added another touchdown, but West Forsyth tied the game at 28-28 with a touchdown and successful two-point conversion by Oscar Delp. West Forsyth's Grey Brockman's interception of a potential game-winning score for the War Eagles sent the contest into overtime, where the Wolverines scored on the first play but missed the extra point. South Forsyth missed its extra point following a War Eagles score as well, however, and Delp's touchdown in the second overtime period gave West Forsyth the win.
Marietta 42, North Paulding 37
Defending Class 7A champion Marietta improved to 2-4 with a home win over North Paulding in the teams' Region 3 opener, surviving a back-and-forth second half that required Marietta to recover an onside kick with a minute remaining to preserve the win. Marietta's Melvin Alexander rushed for a 5-yard score with 2:10 left to put the Blue Devils ahead 42-30, but a quick drive from North Paulding made it a five-point game with 1:06 left to play. Marietta's Christian Mathis fielded the ensuing onside-kick attempt to allow the Blue Devils to run out the clock on the final possession. Marietta quarterback Tyler Hughes threw four touchdown passes: 23 and 9 yards to Daniel Martin, 9 yards to Zuri Johnson and 6 yards to Camden Overton. Milon Jones rushed for a 1-yard score for Marietta, and the Blue Devils successfully converted for two on their first touchdown with backup QB Jalen Woods' pass to Alexander.
Alpharetta 45, Woodstock 12
Alpharetta's defense and special teams contributed a pick-six, a recovered fumble returned for a score and a blocked extra point in the first half alone to propel the Raiders to victory over Woodstock for their first Region 5 win of the season.
Class 6A
Carrollton 56, Paulding County 0
Freshman running back Bryce Hicks rushed four times for 137 yards and three touchdowns for Carrollton, which also got two defensive scores in its home win. Trojans quarterback James McCauley was 9-of-11 passing with a touchdown to Grant Briscoe, and Keshawn Ridley and Christian Lett both rushed for touchdowns. Carrollton's two defensive scores came on fumble returns by Chaz Chambliss and Carter Herron. Carrollton held Paulding County to 60 total yards and minus-12 yards rushing, and the Trojans offense rushed for 301 yards.
Lanier 37, Central Gwinnett 7
The Lanier Longhorns came up with a convincing win on homecoming night over the Central Gwinnett Black Knights. The Longhorns held a 28-0 lead at the break thanks to touchdowns by Bryan Williams and Reese Scott and a pair of pick-sixes from Rylan Serna and Yanis Kasende. Darren MacLaurin had a rushing score in the third, and Mason Mancilla tacked on a field goal for the 37-7 final. Central Gwinnett's only touchdown came in the third quarter.
Richmond Hill 45, Effingham County 14
Richmond Hill came away with a 45-14 road win over Effingham county behind a potent offensive attack led by senior quarterback Tyler Coleman. The Wildcats built a 31-0 lead before the break with Coleman's 184 yards and two touchdown passes to Jordan Clark and 11 carries for 123 yards and a score from running back Ashaud Roberson.
Pope 28, Wheeler 21
Pope took a 28-14 lead over Wheeler on a short Joseph Stellmach touchdown run with 1:28 remaining in the third quarter, but Wheeler pulled to within seven points on Alex Stack's third touchdown pass of the night with 2:42 left in the fourth quarter and recovered an onside kick to take possession again. The Wildcats drove to the Pope 20-yard line but turned the ball over on downs after a sack and three incomplete passes on their final series, giving Pope the road win. Stellmach scored all four touchdowns for Pope on runs of 60, 55, 4 and 2 yards, finishing with 19 rushes for 204 yards. Jasper Merriman added six carries for 111 yards for Pope.
Dacula 50, Habersham Central 14
The Dacula Falcons cruised to a dominant win over Habersham Central behind running back Kyle Efford's 173 yards and four touchdown runs — three of which came in the first quarter alone. Quarterback Blaine Jenkins also added a touchdown on the ground and tossed another to Josh Umenyiora in the second, and the Falcons defense came up with a safety to put Dacula up 36-7 at halftime. Efford added his final rushing touchdown in the third before Jenkins connected with Makale McKenzie to put Dacula up 50-14 before a running clock was utilized in the fourth quarter. Habersham Central quarterback (and Duke commit) Joshua Pickett had rushing touchdowns of 73 and 53 yards for the Raiders.
River Ridge 20, Creekview 17 (OT)
The River Ridge Knights mounted an improbable game-tying drive to send their Region 7 matchup with Creekview into overtime, where Amehre Morrison preserved the Knights' perfect season — and best start in program history — with a walk-off touchdown run. Creekview was first on the board with Tyler Stevens' rushing score early in the second quarter. Scotty Rutherford's 36-yard field goal cut Creekview's lead to 7-3, and River Ridge seemed poised to take the lead after Aidan Bruton's interception gave the Knights the ball in the red zone near the end of the half. Brian Bradley sacked River Ridge quarterback Carson Lathem, however, forcing the Knights to settle for another Rutherford field goal. Creekview QB Brody Rhodes gave the Grizzlies a 14-6 lead with a 40-yard touchdown run at the 4:02 mark of the third quarter, and a promising River Ridge drive in the fourth was quashed by back-to-back sacks of Lathem. The Knights had better luck on their next possession though; Morrison scored from 14 yards out following multiple 4th-down conversions before Riley Caines connected with Micah Martineau on a wide receiver reverse pass for the successful two-point try to tie the game at 14-14. Creekview briefly reclaimed the lead with a field goal in overtime before Morrison's game-winner.
Rome 14, East Paulding 3
East Paulding held a 3-0 lead at the break after holding Rome to 29 total yards of offense in the first two quarters before a pair of second-half scores gave the Wolves a 14-3 win in the Region 5 matchup. Rome finally got on the board with Martel Hight's pick-six midway through the third, and Bryson Hill sealed the victory with a 62-yard touchdown run in the fourth quarter.
Winder-Barrow 35, Shiloh 28
The Bulldogs snapped a four-game losing streak and defeated Shiloh on the road to give head coach Ed Dudley his 200th career victory.
Class 5A
Cartersville 51, Hiram 26
The Cartersville Purple Hurricanes defended home field with a 51-26 win over the Hiram Hornets. Cartersville led 21-9 after the first quarter and 34-12 at halftime. Quante' Jennings got the scoring going for Cartersville, and Sam Phillips had two touchdowns in the first, including one off a pass from Carlos del Rio-Wilson. In the second, Rio-Wilson added a touchdown, Brittan Walker returned an interception for another score, and Oscar Hernandez tacked on a field goal. Jennings scored again in the fourth before Rio-Wilson completed his second touchdown pass of the night to Collin Fletcher.
Blessed Trinity 35, Calhoun 21
Blessed Trinity committed four turnovers throughout the game, several of which contributed to an early 14-0 deficit, but Justice Haynes was unstoppable the rest of the way to lead the Titans to a road win over Calhoun. Haynes scored all five of Blessed Trinity's touchdowns, including one from 80 yards out on the first play of the second half to break a 14-14 tie. Calhoun got on the board first with a 74-yard scamper by Jerrian Hames on the first play from scrimmage. The Yellow Jackets extended their advantage to 14-0 in the first quarter when Christian Lewis threw a 56-yard touchdown pass to Cole Speer before Haynes took over to help the Titans pull away from a 14-14 halftime tie and a 21-21 deadlock going into the fourth quarter.
Cass 28, Woodland-Cartersville 9
Host Woodland-Cartersville scored on the first play of the game with Asa James' 90-yard touchdown run and grabbed a 6-0 lead following a botched snap on the point after. Cass took the lead before the half with a 29-yard touchdown pass from Devin Henderson to Sacovie White. Christopher Sanchez gave Woodland the lead back with a 42-yard field goal with 7:38 left in the third, but the Colonels responded with 21 unanswered points to close out the victory. Henderson completed a 27-yard touchdown pass to Tanayce Calhoun to go up 14-9 and then extended the lead to 21-9 with a 1-yard touchdown run. The final touchdown came on Joshua Varnum's 55-yard run in the final frame.
Kell 47, Osborne 10
Kell quarterback Corbin LaFrance threw touchdown passes to Jamal Hill, who also had a rushing score, and Jaylon Brown. Xavier Parris had a rushing touchdown for the visiting Longhorns, who also got touchdowns on a kickoff return by Bo Benincosa and a fumble return by Quintin Buckley. Colby Kerns made field goals of 30 and 48 yards for Kell.
Class 4A
Flowery Branch 42, North Oconee 35 (2OT)
Falcons running back Jaizen Ellingham found the end zone four times in Flowery Branch's double-overtime win over visiting North Oconee, including the tying touchdown that forced a second overtime and the game-winner moments later. North Oconee quarterback Bubba Chandler was brilliant as well, completing an 80-yard touchdown pass and rushing for two more touchdowns, the second of which put the Titans ahead in the first overtime.
Troup 16, Shaw 12
Troup jumped out to a 16-0 lead with 7:10 left in the third quarter and held off Shaw's rally to improve to 4-1 in Region 2. AJ Tucker rushed for a 7-yard touchdown and Cody Bray kicked a 22-yard field goal to put the Tigers up 10-0 at the half and Taeo Todd's 1-yard touchdown run gave Troup its 16-0 lead.
Fayette County 27, McDonough 6
Fayette County's Shaquille Ancrum ran in a 67-yard touchdown and Kyle Butler scored on a 12-yard fumble recovery to put the Tigers up 12-0. Nasir Bashir came up with an interception in the end zone at the end of the half to help Fayette County preserve its 12-0 edge. McDonough scored to open the second half, but Fayette County responded with a pair of Andre Wright touchdown runs to close out the home victory.
Cairo 41, Monroe 18
The host Syrupmakers scored in all three phases and saw running back Tay Solomon account for three touchdown runs. Jeffery Jones returned an interception for a touchdown and teammate Emanuel Wilson added a 98-yard punt return touchdown that helped Cairo build a 28-0 lead. Cairo also got a passing touchdown from Braylon Robinson to Jaylen Spence. The Tornadoes returned an interception and a fumble for touchdowns and also got a 21-yard touchdown pass that helped cut the deficit to 28-18 entering the final quarter.
Jefferson 49, Cedar Shoals 0
The Jefferson Dragons got touchdowns from seven different players for a big 49-0 homecoming win over visiting Cedar Shoals. Jefferson QB Malaki Starks tossed a pair of touchdown passes and added a rushing score, Jaheim Hardy scored on a blocked punt, Brian Habeck added a defensive score, and backup quarterback Carter Stephenson added another — all before the break. Jordan Perry added Jefferson's seventh and final touchdown in the third quarter.
Class 3A
Cedar Grove 33, Greater Atlanta Christian 6
Windsor Forest 21, Johnson-Savannah 0
Windsor Forest quarterback Dalen Jacobs accounted for a 3-yard rushing touchdown and a 20-yard touchdown pass to Kerwin Tatnall to give the host Knights a 14-0 halftime lead. Senior Malik Demery's 28-yard interception return for a touchdown in the third quarter provided the final tally.
Oconee County 30, Hart County 7
Undefeated Oconee County faced a 7-3 halftime deficit following Hart County receiver (and Notre Dame commit) Cane Berrong's 11-yard touchdown reception in the top right corner of the end zone before closing the game with 27 unanswered points. Wide receiver Darius Johnson had a touchdown reception and a touchdown run for the Warriors in the second half, and Jacob Wright and West Weeks added scores as well. The 7-0 Warriors will meet Monroe Area (6-1) for a Region 3 showdown following their bye next week.
Burke County 35, Harlem 7
Burke County built a 21-0 lead with touchdown runs by Eldrick Williams, Jordan Franklin and Davin Bonner. Host Harlem got on the board before the half on a 41-yard touchdown pass from sophomore Luke Youngblood to Jason Kirdendohl. In the second half, the Bears grew the lead to 35-7 with Franklin's second rushing touchdown and a 16-yard touchdown pass from Marshall Flowers to Daveion Henry with 10:43 left in the final frame.
Westminster 29, Douglass 13
Quarterback Wyatt Stevenson accounted for three total touchdowns as Westminster defeated visiting Douglass. Stevenson rushed for two scores and threw a screen pass that Henry Chartrand took 21 yards to the end zone, helping the Wildcats reel off 29 unanswered points following an early 6-0 deficit. Quinton Ezzard added a 13-yard touchdown run and Westminster also got a field goal from Alex Bacchetta. Quintavious Lockett rushed for a TD from four yards out to get the Astros on the scoreboard. Those were the only points the Wildcat defense allowed, though, and their effort included two interceptions by Denton Shamburger.
White County 35, West Hall 0
White County shut out the visiting Spartans to score its first Region 7 win of the season. Zion McMullen got the Warriors on the board with a 3-yard rushing touchdown and then junior Silas Mulligan tacked on a trio of touchdown runs from 12, four and 38 yards out. Riley Stancil's 5-yard touchdown run grew the lead to 35-0 and kicker Andrew Pierce finished the night a perfect 5-of-5 on PATs.
Murray County 27, Sonoraville 24
Murray County kicker Elber Romero connected on a game-winning, school-record 52-yard field goal at the buzzer to lift the Indians to victory. Romero previously missed on a 47-yard field goal attempt in the final quarter but was successful on a 20-yarder in the first quarter to get Murray County on the board.
Class 2A
Model 27, Dade 0
The Model Blue Devils used a dominant defensive effort to roll to a 27-0 win on Homecoming night over the visiting Dade County Wolverines in 7-AA action on Friday. After exchanging punts, Model (4-2, 2-0) went on a 75-yard scoring march in 11 plays, capitalizing when quarterback Sam Silver threw a perfect touchdown strike from 37 yards out to wide receiver Richmond Sims. The PAT by Jonathan Ogle made it 7-0. With just under three minutes to go before halftime, Model's Joey Samples pounced on a Dade County fumble at the Wolverines' 34-yard line. Three plays later, running back Joseph Wallace sprinted up the middle on fourth-and-one for a 25-yard touchdown run to make it 13-0 at the break. The Wolverines (1-5, 0-2) never could capitalize on any offensive drives, despite averaging 30 points a game this season. Their best drive ended inside the Model 10-yard line in the fourth quarter, when Model's Sims picked off a pass at the goal line and returned it 64 yards. Three plays later, Wallace ran it in from 9 yards out, and Ogle's PAT made it 20-0. The Blue Devils' defense closed out the scoring on the next series, when Samples picked up a Dade County fumble and rambled 30 yards into an end zone for a touchdown. The Ogle kick made the final 27-0. Model's defense also got an interception by Brant Pace that shut out Dade County's only other deep drive of the night. The Blue Devils travel to Blue Ridge next Friday to take on Fannin County, while Dade County travels to Chattooga. The 4-2 start by Model is the team's best start since 2016, when the Devils started 5-0. It was also Model's ninth win in the last 11 games against Dade County.
Union County 19, Banks County 7
Union County's Logan Helcher put the Panthers up 6-0 at the half with a 66-yard touchdown run. Senior fullback Jonah Daniel extended the lead to 12-0 with a 1-yard rushing score in the third quarter before the host Leopards cut it 12-7 with 6:32 left in the fourth quarter. Union County faced a 4th-and-9 at the Banks County 24-yard line with just 1:26 left and Daniel took a screen pass in for the game-clinching touchdown.
Lovett 26, KIPP Atlanta Collegiate 0
Lovett dominated in all phases of the game to cruise past visiting KIPP Atlanta Collegiate. The Lions got three field goals by Lucas Hyman and Christopher Fielden rushed for a touchdown on a fake field goal. Lovett's defense not only recorded a shutout but contributed a pair of points with a safety. The offense tacked on a touchdown for good measure when Michael Hollingsworth took a screen pass from Preston Lusink to the end zone.
Westside-Augusta 17, Butler 6
Butler took an early 6-0 lead with an Amarion Grant touchdown run before Westside-Augusta responded with 17 unanswered points to rally for a key Region 4 Homecoming victory. Xavier Green's 2-yard touchdown run provided the go-ahead score and Patriots teammate Jermichael Ambroise iced the game with a fumble recovery touchdown
Class A-Public
Irwin County 50, Atkinson County 6
No. 2 ranked Irwin County jumped out to a 35-0 halftime lead and went up 50-0 before visiting Atkinson County got on the board. Kam Ward, Gabe Benyard and Marcus Edwards each rushed for touchdowns and Eli Roberts and Malachi Harden each scored on touchdown receptions. Benyard also returned two interceptions for touchdowns and Matthew Payne returned a free kick for a 50-yard Indians touchdown.
Commerce 55, Towns County 7
No. 4 Commerce closed out its home victory with 41 unanswered points after Towns County got on the board to make it 14-7 early in the second quarter. Sammy Brown rushed for two touchdowns and also hauled in a 22-yard touchdown pass from Trey Huff. In addition to his touchdown pass, Huff accounted for two touchdown runs. Commerce also got a 76-yard touchdown run from Tyelon Brock, a 4-yard touchdown run from Michael Sherman and a late Cole Hill touchdown run that made it 55-7.
Terrell County 53, Calhoun County 6
The Terrell County Greenwave rode a 37-point first quarter to a 53-6 victory over visiting Calhoun County to improve to 3-2 on the year and 2-1 in Region 1 play.
Class A-Private
Mt. Vernon 42, Hebron Christian 3
Mt. Vernon jumped out to a 35-3 halftime lead and cruised past the visiting Lions to open its Region 5 schedule. Andrew Douglas accounted for three touchdowns and teammates Liam O'Toole, Syncere Harris and Cameron Jasper also found the end zone.
Trinity Christian 20, Whitefield Academy 12
Trinity Christian led from start to finish and managed to hold off a late charge by host Whitefield Academy. The Lions built a 13-6 advantage by halftime thanks to field goals of 38 and 37 yards by Noah Maupin and a 2-yard touchdown run from Jimbo Batchelor. They extended their lead to 20-6 in the third quarter on a 55-yard scoring strike from Henry Brodnax to Danny Baird. Whitefield Academy pulled to within 20-12 on a 62-yard touchdown run by running back Myles Redding, his second score of the night–both coming out of the wildcat formation. The WolfPack appeared to have a chance at a tie in the fourth quarter when Eric Little ran one into the end zone from 70 yards out, but it was negated by a penalty, and the Lions' defense stopped two Whitefield drives late in a one-possession game.
Fellowship Christian 63, Dunwoody 0
No. 4 ranked Fellowship Christian jumped out to a 35-0 lead in the first quarter and cruised past the visiting Wildcats. Murphy Reeves rushed for touchdowns of 58 and 66 yards in the opening quarter, Lawson Haigler and Garrett Wagner also rushed for scores and senior linebacker Nathan Nordone returned an interception for a touchdown. Josh Cole scored back-to-back Paladins rushing touchdowns to grow the lead to 49-0 and Haigler blocked a field goal and returned it 57 yards for a touchdown to make it 56-0 heading into the final frame. Fellowship's final touchdown came on a 9-yard Nick Persiano rushing score.
Darlington 30, Mt. Paran Christian 27
Mt. Paran held a 27-7 lead with 8:53 left in the second quarter and racked up 352 total yards of offense in the first half before Darlington scored 23 unanswered points to rally past the Eagles at home.
Christian Heritage 35, Walker 0
No. 7 ranked Christian Heritage limited host Walker to just 28 total yards of offense in the first half and took a 28-0 lead into the fourth quarter. Quarterback Christian Thomas rushed for a touchdown and connected with Evan Lester for three touchdowns. Lester posted 258 receiving yards in the first three quarters. Solomon Locke added a 7-yard rushing score in the final frame to make it 35-0.
Prince Avenue Christian 41, Athens Academy 7
With University of Georgia head coach Kirby Smart in attendance to see one of his verbal commitments in action, Prince Avenue Christian quarterback Brock Vandagriff put on a show to lead his team past visiting Athens Academy. Vandagriff threw three touchdown passes to three different receivers and also rushed for one score. The senior connected for scoring strikes with Zac Dyer, Landon Owens, and Logan Johnson. Owens also had a one-yard touchdown run, while Johnson returned a punt 65 yards to the end zone. Athens Academy's lone touchdown came when Palmer Bush threw a 75-yard pass to Deion Colzie in the third quarter to cut the Spartans' deficit to 21-7.