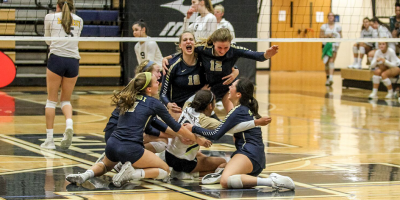 In Class 7A, No. 1 ranked Walton fell to out-of-state Carrollwood Day (FL) and recorded its first loss of the season. The now 16-1 Lady Raiders took the first set 25-20, before coming up short 25-23 in the second set and 32-30 in the decisive third set. No. 5 South Forsyth lost 3-0 (25-20, 25-23, 27-25) to No. 6 North Forsyth, but maintained its position ahead of the Raiders because of its prior win over North Forsyth this season. Also, Etowah was replaced at No. 9 by Mill Creek.
River Ridge scored a 2-1 win over Riverwood on Oct. 6 and jumped the Raiders for the No. 7 spot in Class 6A. McIntosh remains unbeaten with a 24-0 record and tops the Class 5A poll. In Class 4A, No. 1 Heritage-Catoosa fell 2-1 to No. 3 Northwest Whitfield on Tuesday, but retains its status at No. 1 due to its previous victory over the Bruins.
In Class 3A, Sandy Creek makes its debut at No. 10 after posting an impressive 25-22, 25-21 victory over Greater Atlanta Christian—which remains No. 5 despite its loss to the Patriots. Savannah Christian leapt Hebron Christian for No. 2 in Class 2A/A-Private. The Raiders lost to Hebron Christian on Aug. 15, but have won their last 24 matches and edge the Lions due to their 26-1 overall record. Additionally, Trinity Christian's 3-1 victory over Brookstone sent Brookstone down from No. 5 to No. 8 and resulted in replacing St. Francis at No. 10. Class 2A/A-Public saw Union County replace Lake Oconee Academy at No. 9 and Oglethorpe County replace Haralson County at No. 10.
Class 7A
1. Walton
2. Lambert
3. Alpharetta
4. Roswell
5. South Forsyth
6. North Forsyth
7. Newnan
8. Harrison
9. Mill Creek
10. North Gwinnett
Class 6A
1. Buford
2. Pope
3. Sequoyah
4. Lassiter
5. Allatoona
6. Kennesaw Mountain
7. River Ridge
8. Riverwood
9. Lakeside-Evans
10. Kell
Class 5A
1. McIntosh
2. St. Pius
3. Blessed Trinity
4. Greenbrier
5. Whitewater
6. Northside-Columbus
7. Harris County
8. Northgate
9. Starr's Mill
10. Veterans
Class 4A
1. Heritage-Catoosa
2. Islands
3. Northwest Whitfield
4. Marist
5. Jefferson
6. Ridgeland
7. Fayette County
8. North Oconee
9. Central-Carroll
10. Columbus
Class 3A
1. Westminster
2. Savannah Arts
3. LaFayette
4. Morgan County
5. Greater Atlanta Christian
6. Sonoraville
7. White County
8. Oconee County
9. Gilmer
10. Sandy Creek
Class 2A/A-Private
1. Holy Innocents'
2. Savannah Christian
3. Hebron Christian
4. Eagle's Landing Christian
5. Mt. Paran
6. Athens Academy
7. Wesleyan
8. Brookstone
9. Heritage-Newnan
10. Trinity Christian
Class 2A/A-Public
1. Elite Scholars Academy
2. Woodville Tompkins
3. Gordon Lee
4. Armuchee
5. Lamar County
6. Dade County
7. Greenville
8. Vidalia
9. Union County
10. Oglethorpe County