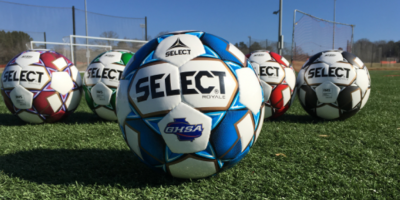 Harrison tops the state's highest class as the regular season gives way to the playoffs. Peachtree Ridge, Pebblebrook, Campbell and Lambert fill the top 5. In Class 6A, Central Gwinnett is the team to beat with Dalton, Lakeside-DeKalb, River Ridge and Lassiter filling the top 5.
In Class 5A, Woodward Academy is at the top. Columbus leads Class 4A, Pike County tops Class 3A and Lovett leads Class 2A. In Class A Public, ACE Charter leads the way and in Class A Private, Atlanta International leads Class A Public.
See the full rankings below.
Class 7A
1. Harrison
2. Peachtree Ridge
3. Pebblebrook
4. Campbell
5. Lambert
6. Collins Hill
7. Forsyth Central
8. Walton
9. South Forsyth
10. Tift County
Class 6A
1. Central Gwinnett
2. Dalton
3. Lakeside-DeKalb
4. River Ridge
5. Lassiter
6. Riverwood
7. Johns Creek
8. Rome
9. Kennesaw Mountain
10. Glynn Academy
Class 5A
1. Woodward Academy
2. Johnson-Gainesville
3. McIntosh
4. Clarke Central
5. Veterans
6. Whitewater
7. St. Pius X
8. Union Grove
9. Blessed Trinity
10. Loganville
Class 4A
1. Columbus
2. LaGrange
3. Southeast Whitfield
4. Northwest Whitfield
5. North Oconee
6. Jefferson
7. Flowery Branch
8. Druid Hills
9. East Hall
10. Pickens County
Class 3A
1. Pike County
2. GAC
3. West Hall
4. Tattnall County
5. Oconee County
6. Westminster
7. North Murray
8. East Jackson
9. Morgan County
10. Coahulla Creek
Class 2A
1. Lovett
2. Pace Academy
3. Gordon Central
4. Bremen
5. Thomasville
6. Union County
7. Putnam County
8. Coosa
9. Callaway
10. Woodville-Tompkins
Class Public
1. ACE Charter
2. Dalton Academy
3. Social Circle
4. Georgia Military
5. Lake Oconee Academy
6. Atkinson County
7. Drew Charter
8. Dooly County
9. Claxton
10. Commerce
Class Private
1. Atlanta International
2. Paideia
3. St. Anne Pacelli
4. Athens Academy
5. Walker
6. Providence Christian
7. Savannah Country Day
8. Landmark Christian
9. Pinecrest Academy
10. Wesleyan