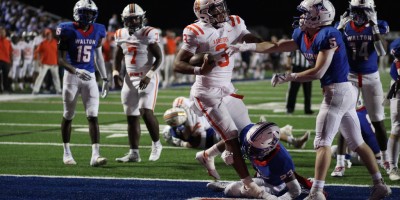 Lacey Daniel
North Cobb quarterback Malachi Singleton capped a stellar outing with a dominant fourth quarter as the Warriors held off Walton 51-29 on Friday night. After the Raiders pulled to within one possession late in the third quarter, Singleton clinched victory for his team with a pair of rushing touchdowns early in the fourth. The junior accounted for five touchdowns in total, and the Warriors also got a touchdown run from Ben Hall and a 75-yard kick return by Reggie Givhan—who broke no less than six tackles en route to the end zone.
Sutton Smith did his best to keep Walton in the game, giving the Raiders an early 7-0 lead with a three-yard rushing touchdown in the first quarter and tying things up at 14-14 in the second with a score from two yards out. Smith's third touchdown of the night and ensuing two-point conversion brought the home team to within 37-29 with a full quarter of football remaining, but Singleton quickly responded with an 11-yard score on the first play of the fourth and another from four yards out with 9:59 left to cap the scoring.
For Walton, Zak Rozsman connected with Mustafa Hefner for 14 yards to cut North Cobb's lead to 37-21 midway through the third quarter.
The AJC had writers at these games this evening: Cartersville 49, Blessed Trinity 21, Kennesaw Mountain, 21, Pope 17, Riverdale 24, Fayette County 7, Brookwood 28, Newton 6.
Follow the link to the PREP SCOREBOARD or see Todd Holcomb's Friday Night Wrap. For Thursday's roundups, go to the bottom of the file.
See the rest of the Friday recaps below.
Class 7A
Grayson 28, Parkview 21
Grayson squared off with Region 4 rival Parkview Friday night and came away with a narrow 28-21 victory to improve to 6-2 on the season and 3-1 in region play. Grayson's rushing game was key to its success, as junior running back Joseph Taylor collected two rushing scores while sophomore Dylan Elder also scored on the ground. Sophomore John Cineas had the only receiving touchdown for the Rams, who will host Brookwood next week.
Harrison 45, North Paulding 28
A 28-point second-half outing by the Hoyas proved enough to pull away from North Paulding and secure the win. The Harrison offense totaled 514 yards with electric performances from multiple playmakers. Senior Akhnaton Shabazz carried the ball 18 times for 97 yards and found the end zone once, while senior Jared Montour finished the game with 51 yards on the ground and a pair of rushing scores. Senior Quarterback Jake Walling finished the game with 254 yards through the air and found his man Brady Kluse for a pair of touchdown passes. Kluse ended the night with four catches for 116 yards.
West Forsyth 42, Forsyth Central 10
The Wolverines were first on the board with a 54-yard touchdown pass from quarterback Keegan Stover in the first, but Forsyth Central was quick to tie the game in the second when Drew Mullvain connected with Camden Yeager for the score. Stover then hit Ashton Van Horn on a 15-yard touchdown pass to take the 14-7 lead before a Forsyth Central field goal heading into halftime. In the middle of the third, Stover hit Van Horn again for the score before connecting with Dylan Baggett on a 32-yard touchdown. Stover hit Oscar Delp for a 63-yard touchdown to end the third, and a 29-yard rushing score from William Orris in the fourth capped the Wolverines scoring spree.
Cherokee 14, Etowah 13
Etowah seemed poised to earn its first win of the season as the Eagles took a 13-0 lead into the fourth quarter of their Region 5 matchup against host Cherokee before the Warriors offense found enough success to come away with the 14-13 victory. Senior quarterback Aj Swann connected with Joel Stahl twice in the final frame, and Caleb Richardson was good on both PATs. Cherokee improves to 4-4 on the season and 2-1 in Region 5 with the win.
Lambert 26, North Forsyth 7
Lambert struck first on a long touchdown pass from QB James Tyre to TE Luke Logan for a fingertip catch, but a missed extra point and blocked field goal had the Longhorns down 7-6 after North's 60-yard catch-and-run score early in the game. Lambert responded with another touchdown pass from Tyre—this time to WR Kojo Antwi just outside the red zone—to take a 13-7 lead into halftime. A Harrison Peyton touchdown run from the goal line early in the fourth quarter made Lambert's lead 20-7 before a pick-six from FS Tommy Morris sealed the Longhorns home victory with less than five minutes left on the game clock.
South Forsyth 17, Gainesville 9
South Forsyth trailed 3-0 at halftime before scoring 17 unanswered points to hand host Gainesville its second-straight loss and improve to 4-0 in Region 6 play. The War Eagles got a rushing score and a field goal in the third quarter and another touchdown run in the fourth before the Red Elephants added one last score in the game's final minute. South Forsyth and Denmark will square off next week, and both teams will enter the matchup with a 4-0 Region 6 record.
Mill Creek 56, Mountain View 0
The Mill Creek Hawks shut out host Mountain View to improve to 7-0 on the season and 4-0 in Region 8 play. Donovan Journey had a trio of touchdown runs, Joseph Robinson II scored twice on the ground, and Hayden Clark connected with Thurman Harris for a passing TD. On defense, Josh Anglin had a scoop-and-score in the first quarter and Jayvon Henderson added a pick-six in the third. Jamal Anderson and Zach Jollay contributed interceptions as well.
McEachern 41, Newnan 21
Nick Owens put Newnan up 7-0 with a 3-yard touchdown run, but McEachern scored a trio of touchdowns in the second quarter to take a 21-0 lead. Makari Bodiford ran in two touchdowns in the quarter and Bryce Archie found Kaleb Webb for a 36-yard touchdown. Shamar Hall increased the Indians' lead to 27-7 with a touchdown run in the second half and then Bodiford's third touchdown made it 34-7. An interception set up Archie's 45-yard touchdown pass to Kaleb West that gave McEachern a 41-7 lead late in the third quarter. Newnan cut into the deficit with a James Paige 4-yard touchdown run and 40-yard touchdown pass to Drew Brooks.
Class 6A
River Ridge 28, Centennial 27
With 1:40 remaining in the game, River Ridge was able to deny Centennial on a go-ahead 2-point conversion to walk away with the narrow victory. The River Ridge offense was rolling on the ground, with senior Carson Lathem scoring on a 3-yard rush along with a pair of rushing scores from senior Andrew Bingham. Junior Jackson Head also put points on the board with a 4-yard receiving touchdown in the first quarter.
Cambridge 48, Johns Creek 47 OT
No. 8 ranked Cambridge kept its perfect season alive and improved to 6-0 with a thrilling overtime victory over Johns Creek. The Bears jumped out to a 17-7 lead, but Johns Creek's explosive offense poured on a 27-0 scoring run to go up 34-17. The Gladiators' explosive scoring was fueled by a four-touchdown performance by receiver JT Thomas. Christian Isibor kept Cambridge alive with explosive plays and his 15-yard touchdown run brought the Bears within 34-31 with 7:36 left. Isibor's big runs and a pair of touchdown passes from Zach Harris to Will Taylor also kept Cambridge in striking distance. Durham scored on a quarterback keeper with 2:06 left to put Johns Creek up 41-31 before Cambridge rallied to force overtime. The Bears' comeback culminated with a successful onside kick and a 45-yard field goal by Connor Noone at the buzzer. Harris put Cambridge ahead 48-41 with a quarterback keeper in overtime and then the Bears blocked Johns Creek's PAT to score the victory.
Buford 37, Shiloh 0
Ashton Daniels and Dylan Wittke combined to pass for more than 200 yards as Buford blanked visiting Shiloh. After Alejandro Matta opened the scoring with a 22-yard field goal, Daniels connected with Jake Pope for a 58-yard touchdown to make it 10-0 after one quarter. The Wolves led 23-0 at halftime and by the final 37-0 margin heading into the fourth. Davis Peek also hauled in a scoring strike from Daniels before Wittke took over under center. The backup quarterback completed four of five passes for 96 yards and also scored once on the ground. Buford got a touchdown run from Christian Butler and a 22-yard interception return for a score by Pope as well.
Allatoona 43, Sprayberry 7
Allatoona QB Tyler McGuire threw three touchdown passes Friday night, including a 70-yarder to Bryce Herring on the Bucs' second play on offense. The pair connected again for a 45-yard touchdown on the team's second possession, which was set up by Caleb Moore's interception. Allatoona RB Marcus Taylor added a 73-yard touchdown run before the end of the first quarter, and Jayden Ponder scored on a 15-yard touchdown run in the second. The Bucs then added a safety, which was followed by McGuire's third touchdown pass of the night—this one to WR AJ Fitts from 10 yards out—to make the score 37-0 at halftime. Ponder added a 70-yard touchdown run in the second half for Allatoona's final points.
Class 5A
Cass 34, Hiram 24
Cass trailed Hiram 10-0 early before Colonels RB Fredi Gbadie put Cass on the board with a 28-yard rushing touchdown late in the first quarter, and the Colonels took the lead a few minutes later on a 31-yard touchdown pass from Devin Henderson to Sacovie White. Henderson's 40-yard QB keeper late in the second quarter extended the Cass lead to 21-10, but Hiram responded with a quick score. Henderson then added a 25-yard rushing touchdown in the final seconds of the first half for a 28-17 advantage at the break. Hiram narrowed the deficit to four points late in the third quarter, but Henderson's third score of the night—a 9-yard run—sealed the home win for the Colonels.
Cartersville 49, Blessed Trinity 21
Cartersville scored on all but one of its first-half possessions and blocked a field goal on defense to take a 35-7 lead into halftime. Hurricanes QB Jake Parker had three touchdown passes in the first half—a 22-yarder to Kendric Price, a screen pass to Amari White for 32 yards, and another for 32 yards to Brynen Wilkins. White also had two rushing touchdowns on the night, and Malachi Jeffries had a 3-yard touchdown early in the game as well. Backup QB Paul Gamble added a 9-yard scramble to Cartersville's total in the third quarter, and Blessed Trinity's Justice Haynes had touchdown runs of 73 and 20 yards in the loss.
Ware County 29, Warner Robins 21
No. 5 ranked Ware County jumped out to a 22-0 lead before scoring an impressive home win over the No. 1 ranked Demons. Quarterback Thomas Castellanos found Landon Dean and Cartevious Norton for touchdowns to give Ware County a 14-0 lead. Henry Bates added two field goals and the Gators scored a safety to make it 22-0 with 36 seconds left in the half. Warner Robins scored on a hook and ladder as time ran out before the half to cut it to 22-7. Warner Robins turned it over on downs on their opening possession of the second half and Ware County marched down the field before Norton scored on a 5-yard carry to make it a 29-7 game. Warner Robins cut the lead to 29-13 with 10:06 left to play. Ware County had a clock-draining drive and set up for a field goal that was blocked by Warner Robins. The loose ball was returned all the way to the Gators' 23-yard line and Warner Robins added its final score with just 17.3 seconds left.
Class 4A
Cedartown 50, Ridgeland 6
Harlem Diamond's three-touchdown performance propelled Cedartown to a home win at Ayers Field on Friday night over visiting Ridgeland. Diamond scored on runs of 51, 1, and 44 yards, and Cedartown QB Reece Tanner connected with TE Demarieo "Demo" Sims for a 25-yard touchdown pass early. Touchdown runs from Khamarion Davis (33 yards) and Jaquaveon Price (6 yards) also contributed to the Bulldogs' win, and the defense secured a safety as well.
Northwest Whitfield 22, Heritage-Catoosa 15
Heritage-Catoosa took a 15-14 lead with 27 seconds left to play on a 15-yard touchdown pass from Kaden Swope to JC Armour. Northwest Whitfield answered with a 60-yard touchdown from Owen Brooker to Ray Morrison with just 5.3 seconds left for the game-winning score.
Marist 38, Arabia Mountain 0
Marist jumped out to a 24-0 lead in the first quarter following touchdown runs by Will Gerrick and Eli Clarkston, an interception Colin Hare returned for a touchdown and a Dawson Jones field goal. Quarterback Champ Davis hit Chandler Heath for a diving 31-yard touchdown pass that pushed the lead to 31-0 and Cooper Felty closed out the first half with an interception. Marist's final points were scored on a Walker Richens touchdown run midway through the third quarter.
Flowery Branch 34, Cedar Shoals 14
Flowery Branch held a comfortable lead over Cedar Shoals throughout Friday's matchup, improving to 4-3 on the year and earning its first win in region play with the 34-14 victory. Marco Valasquez opened and closed the scoring with field goals for the Falcons, and Myles Ivey's touchdown run and a 25-yard completion from David Renard to Seth Larson on 4th-and-16 gave the Falcons a 17-0 lead with 0:41 left in the first half. Cedar Shoals managed to get on the board with a pass from running back Jerdavian Colbert to Malik Armstrong in the final seconds before the break, but Malik Dryden opened the second half with a touchdown run for a 24-7 Flowery Branch edge. Colbert again made it a 10-point game with a 62-yard trip to the end zone off a screen pass before Nick Linkowski's pick-six and Valasquez' second field goal in the fourth.
Benedictine 56 South Effingham 7
Benedictine extended its win streak to six games with an emphatic 56-7 victory over host South Effingham out of Class 6A. The Cadets led 28-0 at the end of the opening frame following rushing scores by quarterback Holden Geriner (18 yards), Justin Thomas (61 yards) and Za'Quan Bryan, along with a 45-yard pick-six by Thomas. South Effingham scored seconds into the second quarter, but Benedictine extended its lead to 49-7 before the break with a 32-yarder from Geriner to Luke Kromenhoek, a touchdown run by Kromenhoek and Thomas Blackshear's score on a recovered blocked punt. Kromenhoek added a third score in the fourth for the game's final tally.
North Oconee 56, East Hall 0
The Titans got a touchdown from junior Khalil Barnes on the second play from scrimmage, and quarterback Max Wilson hit Thomas Eckert for a 12-yard score on the following North Oconee drive. Wilson scored again off a 12-yard rush before senior Rodrick Finch broke free for a 28-yard touchdown run to extend the lead to 28-0. The Titans scored once more in the first off a 1-yard rush by Dominic Elder for a 35-0 lead heading into the second, where Mack Brice added a score on the ground. North Oconee scored twice in the second half en route to its shutout over East Hall, including a touchdown from freshman Justin Curtis.
Central-Carroll 20, Pickens 17
Central-Carroll rallied back from a 10-0 deficit to stun host Pickens. Jose Sanchez made a 38-yard field goal and Sam Streicher found Isaiah Williams from 24 yards out to put the Dragons up 10-0. Central-Carroll got on the board with Vicari Swain's 95-yard interception return for a touchdown and Pickens took a 10-7 lead into the half. Devon Powell gave the Lions their first lead with a 3-yard touchdown run and the 13-10 margin held heading into the final quarter. Streicher hit Devin Hand for a 17-yard touchdown to put Pickens up 17-13 with 8:07 remaining and then Powell scored on a 4th and goal from the 1-yard line to give Central-Carroll a 20-17 lead. Pickens had a chance to tie it up, but missed a field goal with 11 seconds left.
Class 3A
Appling County 42, Tattnall County 7
Dayson Griffis found Patrick Crosby for an 80-yard touchdown on the first play of the game and Jarvis Mims rushed in a 3-yard touchdown after Tattnall County fumbled on their opening possession. Tattnall County got on the board with a 28-yard touchdown run by Jeremiah Mayner before the Pirates closed out the game with 28 unanswered points. Griffis rushed in a 1-yard score, Mims returned to the end zone with a 2-yard run and Dennis Mims also rushed for a score before Darion Smith iced the game with a 30-yard fumble recovery touchdown.
Rockmart 72, Murray County 0
Rockmart secured its sixth-straight victory with a 72-0 rout of host Murray County. It was the second shutout in a row for the Yellow Jackets defense after last week's 56-0 showing against Lakeview-Fort Oglethorpe, and Rockmart improves to 5-0 in Region 6 play with the win. The Yellow Jackets built a 55-0 lead before halftime and extended their advantage to 69-0 in the third quarter.
Adairsville 21, Sonoraville 14
Sonoraville led 14-0 entering the fourth quarter before Adairsville rallied back for victory. Jonathan Gough threw a 9-yard touchdown pass to Caden Copeland with 10 minutes left and a missed PAT kept the deficit at 14-6. After a successful onside kick, Gough rushed for a touchdown and the game-tying two-point conversion to make it 14-14 with eight minutes left. Adairsville blocked Sonoraville's potential game-winning field goal attempt with just under a minute left and Gough found Grayson Belcher with 10 second left for the game-winning touchdown.
Cherokee Bluff 55, Lumpkin County 8
Jaquan Smith has six carries for 165 yards and two touchdowns to help Cherokee Bluff over Lumpkin. Smith scored on runs of 53 and 45 yards, Tre Brown scored on a 50-yard run and Brayden Nance added a 26-yard touchdown run. The Bears led 27-8 after the first quarter and 48-8 at the half in the romp. Sebastian Irons passed to Marlion Jackson (41, 9 yards), Max Eubanks (22 yards) for touchdowns.
Westminster 37, Redan 14
Westminster scored the first 37 points of the game to pick up a road win over Redan. The Wildcats dominated in all three phases of the game, starting with a blocked punt that set up an Alex Bachetta field goal in the first quarter. Westminster's defense posted a shutout through three quarters, allowing for a 37-0 lead going into the fourth. The Raiders managed two late touchdowns, but the game was already out of reach. Westminster got a pair of rushing scores by Quiton Ezzard and one each for Robert Clarke and Fain Barton, along with a 55-yard scoring strike from John Collier to Jacob Fleming.
Thomson 27, Burke County 14
Thomson led 21-0 until Burke County got on the board in the third quarter. Jontavis Curry scored the Bulldogs' first two touchdowns and quarterback Tay Martin found Jordan Lane for a 16-yard touchdown to make it 21-0. Burke County's scoring burst occurred over a four-minute span. During that stretch, Ivan Arroyo's safety got the Bears on the board, Tiger Williams rushed for a touchdown and Elijah Young recovered a fumble for a touchdown. Thomson quelled Burke County's rally with a 30-yard Martin touchdown run and improved its record to 7-0.
Class 2A
Pace Academy 62, Towers 0
Pace Academy's Christian Johnson rushed for two touchdowns, Henry Smith caught a 24-yard touchdown from Maddox Crawford and Terrence Kiel finished with three touchdowns. The Knights' final points came on a touchdown pass from George Little to Kai Cotton.
Haralson County 49, Temple 14
No. 9 ranked Haralson County jumped out to a 35-7 halftime lead. Clay Hyatt rushed for four touchdowns and also threw a touchdown pass to Wesley Cole. In addition to his touchdown reception, Cole finished with two touchdown runs.
Westside-Augusta 28, Laney 6
Visiting Laney converted a 4th and 13 with a 30-yard touchdown reception by Xavier Davis to go up 6-0 and Westside-Augusta responded with 28 unanswered points to seal the victory. Xzavier Green put the Patriots up 7-6 with a 3-yard touchdown and the margin remained after Westside missed a 40-yard field goal attempt at the half. Green's second rushing touchdown put the Patriots up 21-6 midway through the third quarter and their final touchdown was set up by a Kaleb Hutchinson interception late in the final frame.
Class A Public
Commerce 30, Franklin County 0
Commerce out-gained Franklin County 480-29 in total yards and limited the Lions to -4 yards in the first half. Jaiden Daniels paced Commerce with 17 carries for 132 yards and three touchdowns and teammate Malachi Schockey finished with 111 rushing yards off 13 carries. Commerce rarely goes through the air, but quarterback Trey Garnto was able to spark the passing game and finished the night 4-of-8 passing for 134 yards.
Class A Private
Athens Academy 44, Loganville Christian 10
Athens Academy quarterback Sam Bush put up a five-touchdown performance in Friday's matchup with host Loganville Christian to secure a 44-10 victory and improve the Spartans' record to 5-3 overall and 2-2 in Region 8. Loganville Christian answered Bush's first touchdown and a 33-yard field goal by Jake Williams with a touchdown and field goal of its own before the Spartans closed the game with 34 unanswered points. Bush's final touchdown came midway through the fourth quarter, and Jamari Welch brought the score to its final tally with just over two minutes remaining.
Landmark Christian 28, Heritage-Newnan 21
Landmark Christian trailed 21-14 midway through the third quarter and tied it up with a Tobias Lewis touchdown catch. Lewis then hauled in a 35-yard touchdown pass from Tobias Lewis right before a scoreless fourth quarter to give the War Eagles the win.
Wesleyan 34, Hebron Christian 0
Wesleyan was utterly dominant in all three phases of the game against visiting Hebron Christian. In addition to posting a shutout, the Wolves recovered four fumbles in the first half alone and also got an interception by Drew Ball that set up Will Tucker's second touchdown run of the game early in the fourth quarter. On special teams, Max Ledbetter blocked a punt and Baer Cole recovered it in the end zone for a touchdown. Offensively, Jett Miller had one TD run and also connected with James Tremble on a 10-yard scoring strike. The Wolves' lead was a modest 13-0 going into the fourth quarter before they seized control.
Darlington 28, Christian Heritage 24
Christian Heritage led 3-0 at the half following a 25-yard field goal by Carson Russell. The Lions increased the lead to 10-0 with a 70-yard touchdown pass from Christian Thomas to Eli Thomason on their opening drive of the second half. Darlington answered with a D'Marion Floyd touchdown run and then grabbed their first lead of the game (14-10) with a 14-yard touchdown pass from Patrick Shelley to Caleb Thompson. The back-and-forth began in the fourth quarter as Christian Heritage reclaimed a 17-14 lead on a 1-yard run by Thomas with 6:52 left. Darlington dialed up a trick play and Thomas Bethel completed a 52-yard touchdown pass to Shelley to give the Tigers a 21-17 lead with 3:58 left. Christian Heritage went back up 24-21 following a 19-yard touchdown run by Solomon Locke with 1:48 left, but Darlington's Shelley ran in a 7-yard score with 31 left to provide the final margin.
See the Thursday roundups below. 
7A
Collins Hill 35, North Gwinnett 7
Top-ranked Collins Hill gave up an early score to host North Gwinnett—the first points allowed by the Eagles defense since Sept 3rd—before closing out the game with five unanswered touchdowns. The Bulldogs took the lead with QB Ethan Washington's pass to Dylan Gary after Zach Johansen intercepted Collins Hill QB Sam Horn in the end zone and Washington extended the ensuing drive with an 18-yard run on 4th down. The Eagles quickly answered with a Cam Pedro TD run, and following back-to-back Bulldogs drives that ended in a missed field goal and a three-and-out, Horn led his team 92 yards down the field in five plays and 61 seconds to take a 14-7 lead at the end of the half on a pass to Ethan Davis. Rich Dorsey added a fumble recovery and return for a touchdown early in the third, and North Gwinett seemed poised to get within a score again on its next possession when Washington completed a pass downfield to Gary. Jaylon Harris knocked the ball loose, however, and recovered and returned it into North Gwinett territory, and Horn and Pedro connected moments later for the 28-7 edge. Horn's final TD pass of the night went to sophomore receiver Cedric Nash in the fourth.
5A
Clarkston 18, Druid Hills 14
Clarkston quarterback Jamarcus Jenkins scored from a yard out with 0:12 on the clock to end a back-and-forth battle with visiting Druid Hills and secure an 18-14 victory for the Angoras. Both Red Devils touchdowns came on runs by quarterback Jacquez Cullars, including one set up by Zeke Nshimiomana's 63-yard run for the first score of the game. Damian Powell put Clarkston on the board with 3:25 remaining in the half and Jenkins took a 31-yard trip to the end zone at the 0:11 mark, but a pair of failed two-point conversion attempts kept the Angoras' edge at 12-7. Cullars' 19-yard QB draw reclaimed the lead for Druid Hills midway through the fourth before the go-ahead touchdown.
Woodward Academy 42, Drew 0
Woodward Academy shut out host Drew (1-5, 0-4), improving to 7-0 on the season and 4-0 in region play with the 42-0 victory. The War Eagles led 28-0 after the opening frame following a trio of rushing scores from Damari Alston and a touchdown reception by Christian Harrison, then extended their advantage to 42-0 by the end of the first half. Woodward Academy will look to keep its perfect season alive on the road next week against Region 3 foe Forest Park.
Northside-Columbus 14, Northgate 13
The Northside-Columbus Patriots narrowly won their region matchup with visiting Northgate after the Vikings missed a potential game-tying extra point in the game's final minutes. Northgate intercepted Northside on the first play of the game and got on the board moments later with Ishan Metts' 56-yard touchdown pass to Tyon Williams II. Malachi Hosley cut Northgate's lead to 7-6 with a 49-yard TD run late in the second, and he added an 82-yard score the first play after a Vikings fumble in the fourth to take a 14-7 fourth-quarter advantage with the successful two-point pass.
2A
Coosa 7, Gordon Central 6
Coosa got its first win of the season in a 7-6 thriller against Region 7 foe Gordon Central. The host Eagles scored their only touchdown of the night early in the second quarter on a 7-yard run by Harrison East and nearly scored again at the end of the half, picking up 1st-and-goal at the Gordon Central 2-yard line before the ball was fumbled and recovered by Isaac Campuzano for the Warriors. Gordon Central got on the board early in the fourth with Peyton Wilson's 14-yarder to Brison McGinnis, but the PAT and a potential go-ahead field goal attempt with 3:45 remaining were both no good. Gage Cole then recovered the fumble on the Warriors' final drive of the game to seal the Coosa victory.