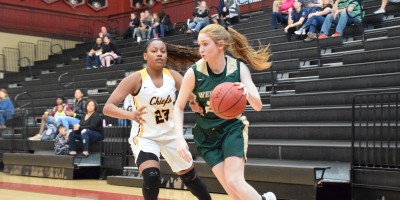 In Class AAA girls, Jefferson is the team to beat with Morgan County chasing again this week. Johnson-Savannah is third again this week with Beach, previously fifth, moving into the fourth spot. Hart County, previously fourth, is fifth this week.
Dodge County has a hold on Class AA again this week with Fitzgerald (No. 2) and Rabun County (No. 3) chasing. Laney holds the fourth spot again with Swainsboro filling out the top-5. In Class A-Public, Marion County is 20-0 overall and 11-0 in region and at the top of the class again. Greenville, Telfair and Calhoun County stay in the same spot this week with a new No. 5, Wheeler County in the mix.
In Class A-Private, Wesleyan (No. 1) and Holy Innocents' (No. 2) are at the top of the class after St. Francis fell from second to third. Lakeview Academy and Eagle's Landing Christian are fourth and fifth, respectively, this week.
Class AAAAAAA
1. Westlake
2. Collins Hill
3. North Cobb
4. Grayson
5. Cherokee
6. Colquitt County
7. Pebblebrook
8. Brookwood
9. North Forsyth
10. Norcross
Class AAAAAA
1. Lovejoy
2. Forest Park
3. Northview
4. Valdosta
5. Lanier
6. Glynn Academy
7. Douglas County
8. Dacula
9. Creekview
10. Sequoyah
Class AAAAA
1. Buford
2. Villa Rica
3. Veterans
4. Statesboro
5. Southwest DeKalb
6. Arabia Mountain
7. Eagle's Landing
8. Harris County
9. Jones County
10. Carrollton
Class AAAA
1. Carver-Columbus
2. Henry County
3. Flowery Branch
4. Spalding
5. Madison County
6. Luella
7. Sandy Creek
8. Westover
9. West Laurens
10. Northwest Whitfield
Class AAA
1. Jefferson
2. Morgan County
3. Johnson-Savannah
4. Beach
5. Hart County
6. Greater Atlanta Christian
7. Tattnall County
8. Dawson County
9. Peach County
10. Rutland
Class AA
1. Dodge County
2. Fitzgerald
3. Rabun County
4. Laney
5. Swainsboro
6. Bryan County
7. Banks County
8. Early County
9. Washington County
10. Thomasville
Class A-Public
1. Marion County
2. Greenville
3. Telfair County
4. Calhoun County
5. Wheeler County
6. Georgia Military
7. Dooly County
8. Wilcox County
9. Clinch County
10. Mitchell County
Class A-Private
1. Wesleyan
2. Holy Innocents'
3. St. Francis
4. Lakeview Academy
5. Eagle's Landing Christian
6. Stratford Academy
7. Mount Paran Christian
8. Calvary Day
9. Paideia
10. Darlington