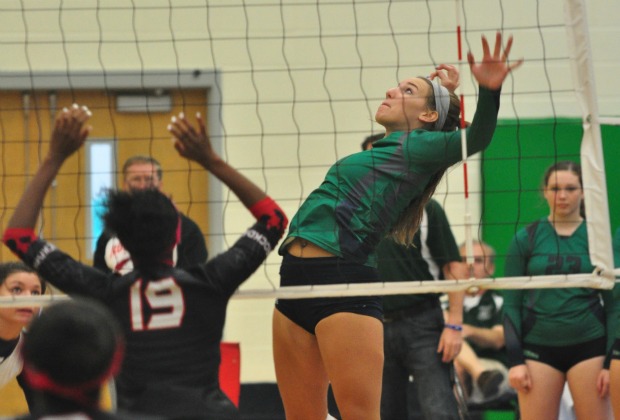 Harrison VB
In Class AAAAAA, Etowah debuts at No. 9 after knocking Woodstock out of the top 10 after a three-set win over the Wolverines this weekend.
Sequoyah won the Cherokee County championship over the weekend and takes over the No. 1 spot in Class AAAAA. The Chiefs were the Georgia Challenge Tournament champions last month and have not dropped a set in four weeks.
Also in Class AAAAA, Starr's Mill lost to Landmark Christian, Northgate, Blythewood (S.C.), Columbus and North Oconee and dropped from No. 3 to No. 6. Harris County was swept by Kendrick and Lee County last week and fell from the No. 4 slot to No. 7. Union Grove debuts at No. 9.
In Class AAAA, No. 2 Columbus fell in a (28-26, 29-27) battle with Class AAAAAA-power Chattahoochee and remains at No. 2. In Class AAA, Woodward Academy remains at No. 3 after an impressive win over No. 2 St. Pius X that preceded a best-of-five loss to Wesleyan. Oconee County swept Hart County on Thursday and come in at No. 9.
Class AA Kendrick posted a sweep over Harris County and moved up two spots to No. 7. Previously top-ranked Holy Innocents' dropped matches to Walker and Landmark Christian on Thursday. Landmark Christian topped Walker in the tri-match and come in as the new No. 1. Walker now sits at No. 2, and the Golden Bears fall to No. 3.
Class AAAAAA
1. Walton
2. South Forsyth
3. Johns Creek
4. Harrison
5. Chattahoochee
6. East Coweta
7. North Cobb
8. Roswell
9. Etowah
10. North Gwinnett
Class AAAAA
1. Sequoyah
2. McIntosh
3. Whitewater
4. Pope
5. Riverwood
6. Starr's Mill
7. Harris County
8. Northgate
9. Union Grove
10. Creekview
Class AAAA
1. Marist
2. Columbus
3. River Ridge
4. Veterans
5. Heritage-Catoosa
6. Sandy Creek
7. Carrollton
8. Southeast Whitfield
9. Woodland-Stockbridge
10. South Effingham
Class AAA
1. Blessed Trinity
2. Woodward Academy
3. St. Pius X
4. Buford
5. Sonoraville
6. North Hall
7. North Oconee
8. Morgan County
9. Oconee County
10. Hart County
Class AA
1. Westminster
2. Wesleyan
3. Lovett
4. GAC
5. Jefferson
6. Calhoun
7. Kendrick
8. Westside-Augusta
9. St. Vincent's Academy
10. Lamar County
Class A
1. Landmark Christian
2. Walker
3. Holy Innocents'
4. Hebron Christian
5. Savannah Christian
6. ELCA
7. Mount Paran
8. Pace Academy
9. Savannah Country Day
10. George Walton Academy