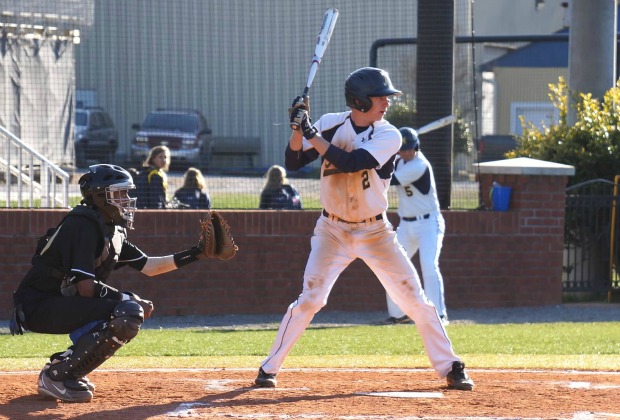 Marist
Class AAAA No. 2 Marist edged No. 3 Columbus 5-4 Friday as the host War Eagles scored five runs in the second and were aided by five Columbus errors. Michael Toner had an RBI for Marist while pitcher Liam Cotter got the win.
Columbus then traveled up I-85 to Lilburn for a Saturday date with the Class AAAAAA No. 2 Parkview Panthers. Parkview was coming off a crucial 4-3 win over Grayson, which allowed the Panthers to clinch the Region 8 title by one game. Pitcher Christian Vann had a no-hitter through five innings and Josh Hart had the game-winning RBI triple in the eighth for the host Panthers. Super-prospect Austin Meadows led Grayson with a two-RBI single. In the Saturday game against Columbus, Hart again struck late to win the game for Parkview. This time, it was a walk-off homer to help the Panthers to an 11-9 victory, one of four round-trippers hit by the Panthers. Parkview will now host Etowah in the first round of the playoffs.
Also on Saturday, GAC stifled the Class AA No. 3 Westminster attack in a 1-0 affair. Pitcher Justin Lewis threw seven shutout innings in a one-hit, six strikeout performance. Ross Wood had the game's lone RBI. However, Westminster still won the Region 6 title.
In Class A action, a crossover private-public battle took place as Class A-Private No. 4 Mount Paran socked No. 1-ranked public Gordon Lee 10-2. Mount Paran clinched the Region 6 title with the win as Keith Jackson struck for a first-inning grand slam. The Eagles also got a homer and two RBIs from Tyler Flowers.
Class AAAAAA No. 5 Walton beat Roswell 4-3 Friday to clinch second place in Region 5. The Raiders got a run-scoring single by senior Stephen Wrenn in the fifth for the game-winning run. Aaron Rucidlo hit a three-run homer for Walton in the first inning. The Raiders will host Region 8 No. 3 seed South Gwinnett in the state playoffs.
Tennis
Kennesaw Mountain's boys team eliminated Lowndes (18-3) from the state tournament last week as Joe Kloklow, Matt Osajima and Aaron Barris each won singles matches. The Mustangs split the doubles matches to earn a 4-1 win. … Lakeside-Evans beat McIntosh 4-1 as Sam Dromsky and Drew Harris won singles matches and the Chiefs swept the doubles matches. … South Effingham advanced in Class AAAA boys play by conquering Eagle's Landing 4-1. Carl Mesmer and Brent Jenkins each won in singles. … St. Vincent's girls team swept East Laurens 5-0 as Juliet Salgueiro, Juliana Lupachino and Emma Lively won in singles. … Irwin County made the quarterfinals in Class A Public in both boys and girls tennis.