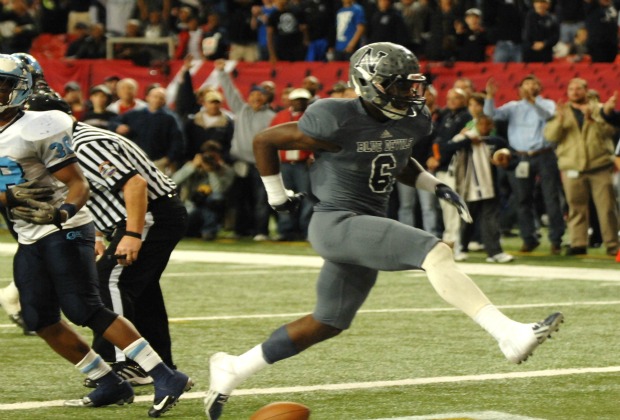 Sonny Kennedy
With National Signing Day less than two weeks away, the Georgia Bulldogs are doing all they can to put the finishing touches on their 2013 recruiting class. The Dawgs currently have 29 commitments, 13 of which have already enrolled at the University and can count towards the 2012 class. Georgia has the ability to take on six more prospects in this year's class and have multiple marquee players in the mix.
Last weekend, Georgia hosted consensus five-star offensive tackle Laremy Tunsil. While on his visit, Tunsil was treated to a Gym Dogs meet alongside Georgia's coaching staff. He also played paintball with a handful of players. The Bulldogs have been in a tight battle with the Alabama Crimson Tide for the nation's top offensive lineman. However, it is believed that Georgia is the "team to beat" in this recruiting battle.
This weekend will also be big for Georgia's 2013 recruiting class. The Dawgs will host running back Alvin Kamara, defensive tackle Montravius Adams, defensive end Davin Bellamy and inside linebacker Reuben Foster for their official visits in hopes of gaining their commitments. Bellamy is the only recruit of the bunch who is committed to a school, but his pledge to Florida State is known to be shaky.
Georgia is in another battle with Alabama for Kamara and is playing catch up with Clemson for Adams after losing defensive line coach Rodney Garner to Auburn. While all of the recruits visiting this weekend are top talents, Foster may be one of the Dawgs' bigger needs as well as the most unpredictable in regards to his recruitment. Foster was once committed to Alabama, then switched to Auburn before de-committing from the Tigers after the school fired its coach. Georgia is believed to be in good shape for the linebacker and is perhaps his best shot at early playing time.
FAMILIAR FACES …
The first day of classes welcomed Georgia fans and players with a few surprises. Old friends had returned to Athens as former Bulldogs Orson Charles, Aron White and Ben Jones have all enrolled in classes to finish their degrees. Charles and Jones arrived to Athens after their respective NFL teams were ousted from the playoffs.