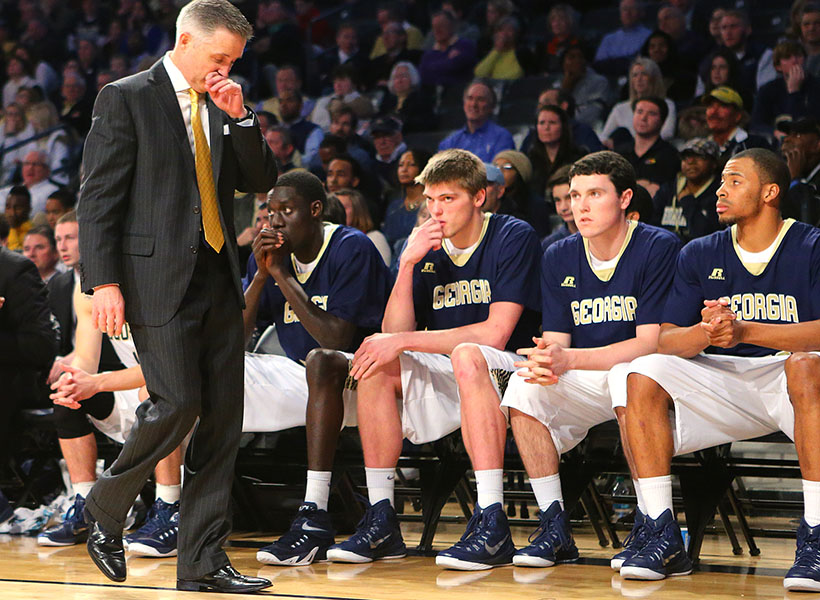 Photo by Curtis Compton
Though they won six of their last eight games with their only two losses coming against teams ranked in the top 15, Georgia Tech (19-14) will likely be stuck at home for the sixth straight season watching March Madness from their collective couches.
The Yellow Jackets rallied from down 18 points to stun Clemson in overtime in the second round of the ACC Tournament 88-85 on Wednesday before falling to No. 4 Virginia 72-52 in a rematch of Jan. 9's upset victory at home, 68-64.
The loss drops Coach Brian Gregory's five-year record at Tech to 74-85.
Is it time for a change?
Since losing in the national championship back in 2003-04, Georgia Tech has been mired in mediocracy, collecting just five winning season over their 188-193 stretch.  Paul Hewitt flopped after an 11-year run and is now just 66-67 at George Mason. Gregory might be the next on the chopping block after missing the big dance for another season.
Georgia Tech has never been ranked while under Gregory's guidance and has struggled to keep Georgia's premier talent in-state while UGA and Coach Mark Fox have slowly begun to pick up the pace in the Peach.
With a veteran-laden group unable to get over the hump this year, things don't look much brighter for the Jackets, meaning it is time to go in a new direction with the head coach.
The next head man for the Jackets has to be and established veteran or a young voice that can sell recruits and fans on a vision; someone that can excite people about Georgia Tech basketball again.
Wheeler's Romello White and Shiloh's Josh Okogie are both signed to play at McCamish Pavilion next year and should be good pieces for whoever takes the lead at Tech. Whether it be Gregory or a new staff in place, they will need to hit the recruiting trails hard, especially in Georgia in order to become a postseason contender year-in and year-out.