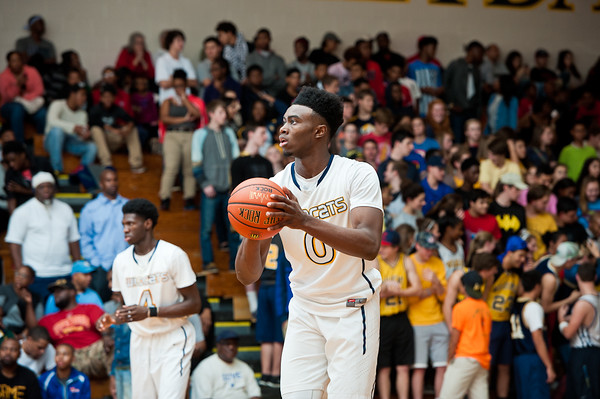 Photo by Ty Freeman
Class AAAAAA No. 1 Wheeler nailed four three pointers in the second quarter while outscoring host Milton 18-5 and held on for a 54-44 victory Tuesday night to earn the No. 1 seed in next week's Region 5-AAAAAA tournament.
Harvard-commit and junior center Chris Lewis led Milton (14-10, 10-5) with a game-high 20 points but Wheeler's three-point shooting in the first half and ability to get to the foul line in the second half was too much for the Eagles to overcome. After going 2-2 from the line in the first half, Wheeler took 16 trips to the foul line in the second half, making 11-of-16.
Jaylen Brown and Shembari Phillips led Wheeler with 13 points apiece. Milton's Alex O'Connell added 10 points off the bench. Wheeler improves to 22-2 overall and remains a perfect 15-0 in region play.
Lambert 73, Habersham Central 70: Host Lambert (19-5, 14-3) survived a scare as a Mason Kinsey three-pointer fell short at the buzzer. Ross Morkem poured in 32 points and Tanner Hall scored 27 to lead the Longhorns to another Region 6-AAAAAA victory. Bennett Black led the upset-minded Raiders (7-17, 1-16) with 23 points.
Tucker 93, Alcovy 37: In Region 2-AAAAAA, No. 6 Tucker (24-2, 10-0) rolled at home against Alcovy (0-20, 0-9) behind Bryce Brown's 19 points. Javier Russell and Adonis Green both pitched in 14 points respectively. Alcovy was led by Jovon Rosse and Darnell Jefferies who both scored nine points.
Cherokee 58, Woodstock 43: The Warriors (15-9, 9-6) pulled away late at home against Woodstock (4-20, 2-13). Jovan Morris led all scorers with 17 points for Cherokee. The Wolverines received 12 points from Tyreke Johnson and 10 from Dillon Morgan.
Miller Grove 66, Stephenson 34: After leading by just two points at the half, No. 1 Miller Grove (22-3, 14-0) blew past Stephenson thanks in part to a stifling defense that allowed just 12 second half points. Lamont West scored 19 points and grabbed 10 rebounds while Alterique Gilbert added 18 points and five assists. Tyrell Johnson led the visiting Jaguars with 10 points. Stephenson now falls to 11-12 overall and 8-5 in Region 6-AAAAA.
Gainesville 66, Apalachee 65: An Xavier Bledson buzzer beater lifted No. 4 Gainesville (21-2, 11-1) at home over Apalachee (17-7, 9-4) in an exciting Region 8-AAAAA matchup. Bledson finished with 13 points on the night while Luke Maddox scored 17 to lead the Red Elephants. Bailey Minor also chipped in 14. Apalachee was led by Kamar Baldwin's 23 points and nine rebounds. Kent Knowles netted 14 for the Wildcats.
Norcross 74, Duluth 66: The No. 4 Norcross Blue Devils (21-3, 12-1) picked up an impressive win on the road against an emerging Duluth team in the ever competitive Region 7-AAAAAA. Rayshaun Hammonds scored 22 points and Ricky Madison chipped in 19 to help Norcross control the paint. Amir Butcher also added 11. The Wildcats (17-7, 8-5) were led by Anthony Showell's 24 points.
Hillgrove 69, Marietta 60: In Region 4-AAAAAA, No. 8 Hillgrove (19-4, 11-2) was able to fend off the Blue Devils (10-13, 6-7) on the road. Jourdan Julian canned five 3-pointers en route to his 20 points to life the Hawks. Collin Sexton scored a game-high 22 and Antonio Wade chipped in 13. Marietta was led by Marlon Gober who scored 18 on senior night. Da'Koda Lacey finished with 13 and Eric Hines netted 11.
Blessed Trinity 56, Westminster 43: Class AAA's No. 8 Blessed Trinity Titans (20-4, 9-0) knocked off Westminster (17-7, 7-2) to stay atop of Region 4. Kyle Swade led the charge for the Titans with 18 points and Cam Johnson netted 14. Westminster received 13 points from Will Benson and 10 from Robert DeGolian in the loss.
South Forsyth 46, West Forsyth 41: Evan Cole scored 13 points to help the War Eagles (8-16, 7-10) take down the visiting Wolverines (10-13, 6-11) in Region 6-AAAAAA. Zach Sewing added 11 to help South Forsyth defend its home floor. Jimmy Staiti led the Wolverines with 18 points.
Berkmar 68, Dacula 53: In Region 8-AAAAAA, the Patriots (12-11, 9-6) knocked off the visiting No. 10 Falcons (17-7, 11-4) using a balanced scoring attack that saw four players finish in double figures. Al Durham led the way with 16 points while Jackson Lenyear added 15. Lane Foster scored 11 and LeRoy Jones netted 10. The Falcons were led by Keshawn Gibbs who finished with 21. Derek St. Hilaire pitched in 19 in the defeat.
Langston Hughes 73, South Cobb 49: The Panthers hit the road and controlled the game from the tip, winning every quarter. Chuma Okeke finished with 24 points and Khalil Cuffee added 23 to help Langston Hughes move to 19-5 overall and 9-4 in Region 3-AAAAAA. South Cobb was led by Josh Holliday who scored 17. Taje Ray netted 14.
LaGrange 76, Harris County 55: The No. 9 Grangers (17-7, 8-3) breezed by the Tigers (14-8, 7-4) at home in Region 1-AAAAA with Rico Smith back healthy. Smith scored 20 points to lead LaGrange in his first game back from injury. Laperion Perry pitched in 16 points as well. Harris County was led by Jalen Northern's 20 points while Donald Johnson added 13 and Tae Crowder finished with 10.
Pebblebrook 93, Westlake 64: No. 3 Pebblebrook (19-5, 13-0) trounced visiting Westlake (11-12, 6-7) in Region 3-AAAAAA action. Derek Ogbeide posted a double-dobule with 23 points, 10 rebounds and also five blocks. Ty Hudson scored 19 points and dished out 10 assists. Jared Harper finished with 18 points and seven assists of his own. Westlake was led by Raquan Wilkins who scored 17.
Girls
Holy Innocents 52, Wesleyan 46: Holy Innocents' had three players in double figures against visiting Wesleyan in a key 6-AA Region matchup. Top-ranked Holy Innocents' (24-0, 11-0) was led by Sydney Long with 15 points. Kaila Hubbard and Khayla Pointer added 12 points each and Erika Cassell scored seven. The score at half was 25-21 in favor of Hly Innocents', and that's as close as the game would get. Third-ranked Wesleyan (18-6, 9-2) received 17 from Nikki McDonald, Cairo Booker had 10 and Noni Thompkins finished with six.
Mill Creek 60, Mountain View 54 (2 OT): Sixth-ranked Mountain View was upset by visiting Mill Creek in an exciting double-overtime game. Mountain View put together a 15-3 run in the final quarter of regulation to pull even and send the game into overtime but Mill Creek made 8-of-10 free-throws attempts in the second OT to put the game away. Mill Creek (17-7, 10-3 in Region 7-AAAAAA) was led by Meredith Shultze with 22 points. She was helped by Tatum Ragsdale with 13 points and Aizha Ross added nine. Mountain View (19-4, 12-1) was paced by Jordan Stallworth with 16 points, Aneysa Williams added 13 and D'Andra Pringle scored nine.
Norcross 37, Duluth 36: Bash Perry hit a five-foot floating shot as time expired to avoid an upset and lift Norcross over host Duluth (14-9, 6-6 in Region 7-AAAAAA). Eight-ranked Norcross (21-3, 12-1) also got scores from Taylor Mason with nine and Allison Johnson with seven points and 11 rebounds. Duluth put together a 17-9 run in the third quarter to make it a close game. Endia Banks scored 13 and Dee Mitchell added nine for Duluth.
Parkview 63, Shiloh 34: Third-ranked Parkview (19-3, 15-0 in Region 8-AAAAAA) received scores from 13 different players in the win at home against Shiloh (12-12, 6-9). Raven Johnson led the way scoring 18 points. She was helped by Autumn Sizemore and Kristi Derouen, both with eight. Parkview put together a 35-13 run in the first half. Shiloh was led by Davida White with 14 points and Kierra Ward with 10.
St. Francis 73, Fellowship Christian 38: St. Francis had four players in double figures in the win at home against Fellowship Christian (13-7, 7-4). Abigail Grant led the way scoring 21 points. She was helped by Kasi Kushkituah and Yasmin Ratliff, each with 16 points and Nichel Tampa with 10. St. Francis (19-3, 11-0) remains top-ranked in Region 6-A. Cameron Swartz scored 10 points for Fellowship and Olivia Karem added seven.
West Forsyth 74, South Forsyth 64: Top-ranked South Forsyth (21-3, 16-1) was upset at home by rival West Forsyth in a key Region 6-AAAAAA matchup. West Forsyth (19-5, 14-3) was led by Sarah Myers, who scored 22 points. She was helped by Ally Welch and Shelby Threlkeld, both with 10. West Forsyth put together a 21-17 fourth quarter that put away the game. South Forsyth was led by Jenna Staiti with 43 points and Carson Parker with 14.
Woodstock 68, Cherokee 46: No. 9 Woodstock's Devyn Lowe scored 23 points and had four assists in the win at Cherokee (15-9, 10-5in Region 5-AAAAA). Lowe was helped by Kennedy Montgomery with 13 points, eight rebounds and three assists. Ashton Sutton also added eight for Woodstock (24-0, 15-0). Cherokee found scoring from Abbey Weaver with 10 points and Bailey Gilbreath with eight.
Wheeler 48, Milton 34: Visiting Wheeler took a 25-23 halftime lead and piled on a 23-11 scoring advantage in the second half to improve to 11-9 and 10-5 in Region 5-AAAAAA. Tierra Steede and Shanee Bailey led Wheeler with nine points apiece. McKenna Bruckman paced Milton (5-17, 4-11) with a game-high 10 points.