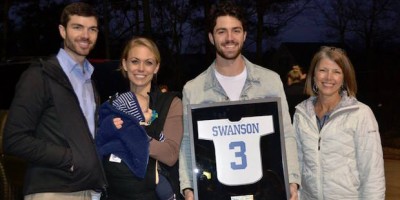 Courtesy of Marietta HS Baseball
Head coach Phillip Rogers is in his first season at the helm of the Marietta High School program, but before that he was an assistant who was on staff at Marietta when current Brave Dansby Swanson was a junior and senior there in 2011 and 2012. The shortstop, who starred at Vanderbilt in college after graduating from MHS, struggled in his second season in the big leagues last year, losing his starting spot and spending time with Triple-A Gwinnett. But Swanson's importance to the MHS community can't be overstated, and Marietta retired Swanson's jersey in a ceremony in February at the baseball team's opener. As the Braves season moves into its second week, Score Atlanta spoke with Rogers about Swanson's time at MHS, his unique baseball smarts and the hometown product's ability to get past a tough 2017 season.
Score Atlanta: What was your first impression of Dansby when you joined the staff for the 2011 season?
Phillip Rogers: He was by far the most athletic guy on the field. He's a phenomenal athlete in general that he played baseball and basketball and was just a few three-pointers short of the all-time lead for Marietta High School, and there have been some big-time basketball players come through here. He was just a phenomenal athlete on the field, on our team, and was the best athlete on the field when we played most everybody. What I always tell our players now, is that he was just so intelligent. His GPA was well over a 4.0, with all the IB and AP courses that he took in high school, so number one, academics were just the first thing on his list. And it also translated to the baseball field as well. Between being coached by his dad and the high-caliber travel teams that he was playing on, he knew the game very well and was taught the game very well. He would see the little things on the field that everybody else wasn't seeing. That includes coaches sometimes, also. He would come off the field and say, 'Hey, did you pick up on what this guy was doing?' It was just kind of the minute baseball details that he was able to see that obviously is going to give you an advantage when you're that athletic.
SA: There's no other way to say it; he struggled last year (.232 AVG, .312 OBP, 6 HRs, 120 SOs in 488 ABs in MLB). What do you think he'll be able to put together this season?
PR: He did struggle last year, and he admits that. But being able to talk to him during the offseason, I know that he worked really, really hard in the offseason to understand his weaknesses and work on his strengths. He's a very intellectual person, so he wanted to acknowledge his weaknesses. He was breaking down his swing and trying to figure out what he was doing wrong with his swing, and how could he correct it and use more of his athleticism, is what he was saying, just be an athlete on the field, use a tool to accomplish a job. It's kind of amazing what he was saying in the first place, just trying to be an athlete, to use a tool to do a job. He's trying not to go up there and put so much pressure on himself and do more than what he truly needed to do in that moment. It's easier said then done at the major league level. He was working with his hitting coaches in the offseason and changing just the little things about his swing. [His approach is], 'I know where I hit the best, what zone I'm the most successful in, and I'm looking for that pitch. I may get it one time a game, but if I get one hit in every three at-bats, I'm doing pretty good. When I get that one spot, that one pitch, I can't miss it.'
SA: Did he mention anything specific he was trying to fix with his swing?
PR: You know, you're going from the best in the SEC to Minor League Baseball, and the caliber of players shoots up dramatically. But within a year and a half, he's up in the major leagues and he's facing some of the best pitchers of the day. And that's just a tough adjustment to make in a year and a half. He wasn't necessarily doing anything major to his swing, per se, it was more of just changing his approach.
SA: How did his smarts help him through his tough 2017 season? Early returns seem promising through five games this season (.318 AVG, 7-for-22).
PR: I think he's able to understand his role in the game and what he wants to be able to accomplish over a career. Conceptually, he can step back and look at the big picture and go, 'Here's what I need to do, here's the approach that I need to have.' He breaks it down by numbers, too. He was going into detail with the numbers, talking about [pitchers he faced throughout the season], and he was really breaking down the percentages. But I think he can really step back and understand what he's trying to accomplish over the course of his career and just be able to acknowledge that he was struggling last year. That doesn't necessarily mean to take a different swing, because that same swing, Dansby Swanson's, got him to [the major leagues] in the first place.
SA: How do you think playing basketball in high school helped him?
PR: You rarely find kids who are multi-sport athletes, especially in baseball. They're playing year-round baseball, they're playing in the spring with their high school team, on a summer schedule, and then they're usually playing with that same program in a fall schedule. I think it give you a more well-rounded athlete. You're playing with different people, sometimes different demographics, different speeds of play. With basketball, you're constantly running. And in baseball there's a lot of standing around, there's a lot of quick bursts. So you're playing a different game with different adversity with different groups of people with different styles of coaching, and I just think that it makes kids more well-rounded athletes.
SA: I know that Dansby is still active in the Marietta community, working with youth ballplayers and staying close to the MHS baseball program. What's it like to have him around?
PR: We retired his jersey at our first home game, and it was great to have him back on the baseball field. He'll come back and hit in the offseason in our hitting facility. Just to have him back and be able to honor him and show him thanks. Because I know there are a lot of people out there that want stuff of him, or are constantly asking him for autograhps or wanting his attention. It's just a way to have him back and honor him for all his accomplishments. It was funny having him back in such a different way, I'm not sure he'd been back on that field since he graduated. And you know, leaving Marietta High School and going on to Vanderbilt and then becoming the starting shortstop for the Atlanta Braves, it's a really cool opportunity for me and for our program and everybody in the community. His dad works in the community, his mom works at the local elementary school, and it was just fun to have him back.
SA: How's everything coming together with your team? I know you're 8-14 right now, but you've had some close losses in region.
PR: We're headed in the right direction, that's for sure. They've bought into what we believe in, what we've been teaching, and I have three great assistant coaches to help me out, who really contribute to everything from practice plans, we talk about lineups every single day. And they all have very good baseball minds, very good opinions. We're all working together, the players and the coaches are definitely working well together.