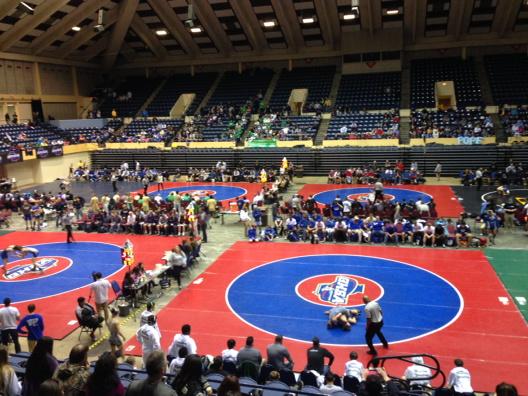 Camden County captured its third-straight traditional state title and first Class 7A championship by scoring 259 points. Half of the Wildcats' 14 state qualifiers walked away with individual state titles, including Sangobunmi Smith (170 pounds) and Antonio Stewart (195 pounds), who finished their seasons with perfect 42-0 records. Nicholas Krug (106), Tyler Crew (113), Brandon Orum (120), Raydan Wilder (138) and Denton Spencer (145) were Camden County's other five individual state champs.
In Class 6A, Alexander completed its first sweep of wrestling state titles by outscoring second-place South Paulding 140.5 to 114.5. The Cougars scored valuable points with third-place finishes by London Dubroc (113), Little Nelson (145) and Deandre Burton (152) and a second-place finish by Spencer Meyers at 285 pounds.
Buford dominated the Class 5A field with 243.5 points, while Union Grove and Woodland-Cartersville each tallied 160. Logan Ashton (106), Nick Stonecheck (126), Charlie Darracott (138), Trent Ferguson (152) and Jack Ness (195) gave the Wolves five individual state champs on their run to Buford's first traditional title since 2014.
In Class 4A, Jefferson edged Gilmer 166.5-to-142.5 to take home the program's 17th straight traditional wrestling title. Bates Dawson (132) was the Dragons' lone individual state champion, while second-place finishes by Nick Holman (220), Caleb Little (182), Mason Corbett (160) and Ian Statia (126) were enough for Jefferson to prevail.
Bremen captured its first traditional state title since the program's run of four consecutive state championships from 2009-12. The Blue Devils edged the Class 3A field with 132.5 points, while second-place Sonoraville finished with 105. Senior Drew Cook (160), junior Noah Liles (170) and Paul Robinson (285) gave Bremen three individual state champs.
Social Circle brought home its third-straight Class 2A state title with a 160-point effort, while Elbert County took second-place with 136 points. Josh Engstrom (132), Douglas Peppers (145) and Cade Lackey (160) gave the Redskins a trio of individual champs.
In Class A, Commerce (238.5) won its fourth-straight traditional title, easily outclassing second-place Trion (98.0) and third-place Wesleyan (89.0). Dalton Flint (138), Jake Brewer (145), Owen Brown (160), Chase Forrester (170), Mitchell Patton (182), Cole Chancey (195) and Cade Ridley (285) matched 7A's Camden County with seven individual state champs.
Class 7A
1. Camden County 259.0
2. Archer 125.0
3. Mountain View 124.0
4. Collins Hill 110.5
5. North Forsyth 100.0
6. Hillgrove 96.5
7. Brookwood 75.5
8. North Paulding 71.0
9. South Forsyth 68.0
9. Tift County 68.0
Class 6A
1. Alexander 140.5
2. South Paulding 114.5
3. Allatoona 98.0
4. Effingham County 94.5
5. Valdosta 93.5
6. Richmond Hill 89.0
7. Pope 83.5
8. Creekview 75.5
9. Lee County 74.5
10. Dalton 71.5
Class 5A
1. Buford 243.5
2. Union Grove 160.0
2. Woodland-Carterville 160.0
4. Cass 117.0
5. Ola 103.5
6. Clarke Central 95.5
7. Carrollton 91.5
8. Ware County 73.0
9. Veterans 68.0
10. Kell 64.0
Class 4A
1. Jefferson 166.5
2. Gilmer 142.5
3. West Laurens 133.5
4. Heritage-Catoosa 111.5
5. Luella 100.0
6. Northwest Whitfield 91.0
7. Marist 77.0
8. Ridgeland 74.5
9. Troup 73.0
10. Woodward Academy 66.5
Class 3A
1. Bremen 132.5
2. Sonoraville 105.0
3. Morgan County 86.0
4. Lovett 80.0
5. Jackson County 75.0
6. Ringgold 66.5
7. Lumpkin County 63.0
8. Franklin County 58.0
9. North Hall 50.5
10. Pierce County 40.0
Class 2A
1. Social Circle 160.0
2. Elbert County 136.0
3. Fitzgerald 93.0
4. Toombs County 87.0
5. Armuchee 71.0
6. Chattooga 66.5
7. Pepperell 63.0
8. Banks County 46.0
9. Spencer 38.5
10. Dodge County 35.5
Class A
1. Commerce 238.5
2. Trion 98.0
3. Wesleyan 89.0
4. Irwin County 87.5
5. Darlington 81.5
6. Gordon Lee 75.0
6. Turner County 75.0
8. Treutlen 63.5
9. George Walton 34.0
10. Telfair County 32.0
Final Individual Standings
Class AAAAAA 
106 pounds: 1. Nicholas Krug Camden County 2. Carlos Gonzalez Mountain View 3. AJ Ringer South Forsyth 4. Joey Felix Collins Hill
113 pounds: 1. Tyler Crew Camden County 2. Tariq Malik Collins Hill 3. Steve Chavez Mountain View 4. Christian Torres South Gwinnett
120 pounds: 1. Brandon Orum Camden County 2. Paul Watkins North Forsyth 3. Ethan Willis Hillgrove 4. David Cartier Roswell
126 pounds: 1. Bradley Bitting North Paulding 2. Aaron Hunt Archer 3. Keshawn Laws Central Gwinnett 4. Sam Ranta South Forsyth
132 pounds: 1. Gavin Smith Archer 2. Lucas DeSilva Collins Hill 3. Jake Pratt Tift County 4. Tyler Dahlgren Camden County
138 pounds: 1. Raydan Wilder Camden County 2. Isaiah Gadsden Lassiter 3. Logan Smith Archer 4. Kyle Brown Peachtree Ridge
145 pounds: 1. Denton Spencer Camden County 2. Chase Standridge Mountain View 3. Peter Myndresku Archer 4. Reese Dalton Parkview
152 pounds: 1. David Key Brookwood 2. Jesse DeJames North Paulding 3. Bryce Crew Camden County 4. Leon Jarda Mountain View
160 pounds: 1. Dalton Burks Tift County 2. Gabriel Lee Brookwood 3. Anthony Carter Camden County 4. Justin Lewis North Gwinnett
170 pounds: 1. Sangobunmi Smith Camden County 2. Dorian Piekarz Mill Creek 3. Andy Leggett Norht Forsyth 4. Jamar McEachern Mountain View
182 pounds: 1. Keison Forte North Gwinnett 2. Eric Kohlins Lambert 3. Tr'Sean Williams Marietta 4. Brantley Little North Forsyth
195 pounds: 1. Antonio Stewart Camden County 2. Matthew Key Brookwood 3. Connor Cross North Forsyth 4. Charley Powell Tift County
220 pounds: 1. Quinn Miller Archer 2. Ricardo Atkinson Hillgrove 3. Aaron Johnson Kennesaw Mountain 4. Tomari Fox Collins Hill
285 pounds: 1. Nathaniel Wellington Collins Hill 2. Kobe Hicks Hillgrove 3. Hunter Jolly West Forsyth 4. Bruce Jones Peachtree Ridge
Class AAAAAA
106 pounds: 1. John Watts Coffee 2. Dennis McNeal Douglas County 3. Max Druhot Pope 4. Jayce Williams Allatoona
113 pounds: 1. Noah Bullock Dacula 2. Juan Alaniz Lee County 3 London Dubroc Alexander 4. Matthew Tankersley
120 pounds: 1. Bryce Davis Creekview 2. Xavier Wallace Effingham County 3. Quin McGlamery Valdosta 4. Keegan Connolly Chattahoochee
126 pounds: 1. Drew Eller Evans 2. Trevian Walton Valdosta 3. Grant Harney Centennial 4. Daniel Byers South Paulding
132 pounds: 1. Dashawn Farber Northside-Warner Robins 2. Miles Paramore Valdosta 3. Andrew Burpee Habersham Central 4. Will Moon South Paulding
138 pounds: 1. Ethan Phillips Chattahoochee 2. Reed Vincent Houston County 3. Harrison Kemp Allatoona 4. Wyatt Higgins Creekview
145 pounds: 1. Gavin Kane Cambridge 2. Will Formato Allatoona 3. Little Nelson 4. Malique Johnson Gainesville
152 pounds: 1. Cody Anderson Allatoona 2. Malik Coleman Dalton 3. Deandre Burton Alexander 4. DQ Ruston Robinson South Paulding
160 pounds: 1. Will Britain Cambridge 2. Jake Mctyre South Paulding 3. Cole Driskell Alexander 4. Alex Figuero North Atlanta
170 pounds: 1. Braden Johnson Creekview 2. Zebrandon Gant Effingham County 3. Jordan Conely Pope 4. DQ Chanceller Jones Osborne
182 pounds: 1. Taylor Wilson Richmond Hill 2. Brantley Emanuel Effingham County 3. Abe Elia Pope 4. Sylvester Jacson Lee County
195 pounds: 1. Constantine Gavalas Dunwoody 2. Raji Brown South Paulding 3. Shamar Cofield Grovetown 4. Conner Perry Alexander
220 pounds: 1. Nick Markus Alpharetta 2. Malcolm Spencer Allatoona 3. Greggory Rodgers Grovetown 4. Dalton Elliot Northgate
285 pounds: 1. James Monteiro Lee County 2. Spencer Meyers Alexander 3. Derrick Newton Coffee 4. Noah Latzsch Chattahoochee
Class AAAAA
106 pounds: 1. Logan Asthon Buford 2. Julian Farber Veterans 3. Ivan Arguello Rome 4. Brent Parivechio Carrollton
113 pounds: 1. Kyle Gollhofer Woodland-Cartersville 2. Kyle McCullough Buford 3. Hunter Daniel Ola 4. Brandon Foster Ware County
120 pounds: 1. Jackson Disario Ola 2. Jesus Montero Woodland-Cartersville 3. Jacob Taylor 4. Armon Newbill Hiram
126 pounds: 1. Nick Stonecheck Buford 2. Vinnie Rosati Woodland-Cartersville 3. John Webb Lithonia 4. Kaden Spann Decatur
132 pounds: 1. Davion Fairley Union Grove 2. Blaine Bergey Buford 3. Dawson Woods Woodland-Cartersville 4. Kyhree Alexander Arabia Mountain
138 pounds: 1. Charlie Darracott Buford 2. Nick Voiles Carrollton 3. Gabe McDaniels 4. Colin Kasler Starr's Mill
145 pounds: 1. Justin Ruffin Union Grove 2. Christian Trimble Ola 3. Jaylen Callahan Cass 4. Ethan Ceren Buford
152 pounds: 1. Trent Ferguson Buford 2. Cody Cochran Woodland-Cartersville 3. Me'Shai Colemon Clarke Central 4. Justin Gittemeier Union Grove
160 pounds: 1. Calvin Nimley Clarke Central 2. Tyler Person Morrow 3. Tristan Bozoian Buford 4. Adam Coviello East Paulding
170 pounds: 1. Melvin Nimley Clarke Central 2. Cooper Roberts Buford 3. Ian Darling Starr's Mill 4. Houston Jones Cass
182 pounds: 1. Sam Ashway Kell 2. Champ Leddon Locust Grove 3. Hunter East Union Grove 4. Kori Walker Veterans
195 pounds: 1. Jack Ness Buford 2. Camden Johnson Union Grove 3. Nathan Woolf Kell 4. Britton Jones Ware County
220 pounds: 1. Tripp Breeden Cass 2. Monex Charles Hampton 3. Athnony Woodall Flowery Branch 4. Luke Vinson Union Grove
285 pounds: 1. Seven Richards Cass 2. Martez Hudson Carrollton 3. Ryan Adams Bainbridge 4. Sauvignon Hayes Ola
Class AAAA
106 pounds: 1. Vincent Mannella West Laurens 2. Dan Pauc Gilmer 3. Ryan Craft Heritage-Catoosa 4. Pierce Simmons Central-Carroll
113 pounds: 1. Nick Masters Woodward Academy 2. Jordan Silvey Oconee County 3. Jose Chavez Southeast Whitfield 4. Blake Bryant Heritage-Catoosa
120 pounds: 1. Koby Milner Pickens 2. Logan McGowan West Laurens 3. Robert Mulvany Columbus 4. Benjamin Preal Luella
126 pounds: 1. Charles Thurman Heritage-Catoosa 2. Ian Statia Jefferson 3. Andrew Pace Marist 4. Aundarrius Weems Luella
132 pounds: 1. Bates Dawson Jefferson 2. Seals Chase Troup 3. Reed Bethune Marist 4. Daniel Jernagin Heritage-Catoosa
138 pounds: 1. Jacob Mariakis Ridgeland 2. Cody Bond Madison County 3. Cole Potts Jefferson 4. Noah Kile Blessed Trinity
145 pounds: 1. Matthew McClellan Chestatee 2. Blake Beasley West Laurens 3. Tucker Witmer Woodward Academy 4. Dustin Berry Luella
152 pounds: 1. Vincent Baker Blessed Trinity 2. Daniel Reid Luella 3. Hicks Scott Troup 4. Dylan Pittman Northwest Whitfield
160 pounds: 1. Cameron Butler West Laurens 2. Mason Corbett Jefferson 3. Matt Malcom Eastside 4. Jake Breedlove Gilmer
170 pounds: 1. Jack Marsh St. Pius 2. Cole Ingram Lafayette 3. Joel Faglier Cross Creek 4. Blanchard Max Marist
182 pounds: 1. Matthew Waddell Gilmer 2. Caleb Little Jefferson 3. Jycobi Williams Luella 4. Malcom Wiley Woodward Academy
195 pounds: 1. Jordan Lewis Northwest Whitfield 2. Ryan Crump Gilmer 3. Kellen Haynes St. Pius 4. Demarco Mosley Druid Hills
220 pounds: 1. Chris Henderson Ridgeland 2. Nick Holman Jefferson 3. Jeffery Curtis Heritage-Catoosa 4. Lazavier Moore Upson-Lee
285 pounds: 1. Levi Seabolt Gilmer 2. Mitchael Robles Northwest Whitfield 3. William Nana Fabu Columbus 4. Joseph Horne West Laurens
Class AAA
106 pounds: 1. Jeffery Logan Skeen Ringgold 2. Robert Wilkes Lovett 3. Allen Stone 4. Landon Galloway Fannin County
113 pounds: 1. Todd Carter Pierce County 2. Dre Porter Crisp County 3. Matt Glenn North Hall 4. Gavin Thompson Sonoraville
120 pounds: 1. Tyler Hunt Sonoraville 2. John Pedraza North Hall 3. Keegan Smith Bremen 4. Lucas Ribeiro Pike County
126 pounds: 1. Trevor Burdick Sonoraville 2. Bryson Smith North Hall 3. Devan Moore Appling County 4. Josh Ravenel Monroe Area
132 pounds: 1. Ian Clark Sonoraville 2. James Stoudenmire East Hall 3. Ben Gilbreath Jackson County 4. Mokeil Eason Appling County
138 pounds: 1. Chandler Saine Jackson County 2. Koby Cook Bremen 3. Frank Houser Pace Academy 4. Parker Brown Fannin County
145 pounds:  1. Jody McAlister Morgan County 2. Griffin Green Ringgold 3. Rogerick White Lovett 4. Eshun Hall Franklin County
152 pounds: 1. Atnonio Robinson Morgan County 2. Chris Eriquezzo Bremen 3. Ian Politz Greater Atlanta Christian 4. Christian Hardin Franklin County
160 pounds: 1. Drew Cook Bremen 2. Abe Hafez Franklin County 3. Grand Garrett Lovett 4. Dalton Malone Pierce County
170 pounds: 1. Noah Niles Bremen 2. Sean McElligott Morgan County 3. Nic Jackson Adairsville 4. Anthony Wingfield Jackson County
182 pounds: 1. Smith Brooks Lovett 2. Jeremy Whalen Dawson County 3. Eric McKnight Calhoun 4. Tavores Pearson Westside-Macon
195 pounds: 1. Kyle Graham Jackson 2. Isaiah Sellers Kendrick 3. Ladarrius Andrews Morgan County 4. John Knight Sonoraville
220 pounds: 1. Zach Matthews Lumpkin County 2. Jeffrey Pickney Cook 3. Daniel Lopez Coahulla Creek 4. Austin Hemrich Monroe Area
285 pounds: 1. Paul Robinson Bremen 2. Cody Drake Monroe Area 3. Enrique Maraville Ringgold 4. Bradley Chrestenson Windsor Forest
Class AA
106 pounds: 1. Griffin Jarrett Chattooga 2. Kevin Martin Fitzgerald 3. Deonte Williams Berrien 4. Tyler Post Social Circle
113 pounds: 1. Wesley Conley Armuchee 2. Walker Byrd Model 3. Kenyon Wilson 4. Martrez Huff Elbert County
120 pounds: 1. Ricardo Santana Toombs County 2. Jamarcus Allen Elbert County 3. Ethan McKie Fitzgerald 4. Kyle Morris Social Circle
126 pounds: 1. Gage Clarke Toombs County 2. Jackson Wheeler Social Circle 3. Morgan Mitchell Fitzgerald 4. Cameron Mack Dublin
132 pounds: 1. Josh Engstrom Social Circle 2. A.J. Streetman Rockmart 3. Chance Mitchell Fitzgerald 4. Gavin Brady Elbert County
138 pounds: 1. Elijah Mcnickles Spencer 2. Christian Grauberger Dodge County 3. Gabriel Peryam Oglethorpe County 4. Zack Bolton Elbert County
145 pounds: 1. Dougals Peppers Social Circle 2. Jaxon Croy Pepperell 3. Preston Decker Temple 4. Dustin Armstrong Fitzgerald
152 pounds: 1. Kevin Almond Elbert County 2. Stevie Howard Social Circle 3. Trace Daitz Armuchee 4. Landon Guy Fitzgerald
160 pounds: 1. Cade Lackey Social Circle 2. John Austin Robinson Temple 3. Carson Roberts Toombs County 4. Davis Day Banks County
170 pounds: 1. Jake Ross Pepperell 2. Micah Thompson Social Circle 3. Maximillan Hess Monticello 4. Jeremy Solomon Jeff Davis
182 pounds: 1. Jacob Kenderson Armuchee 2. Zyshonne Holliman East Laurens 3. John Brooks Banks County 4. BJ Bradford Elbert County
195 pounds: 1.  Devin Almond Elbert County 2. Terrance Walker Banks County 3. Austin Jones Chattooga 4. Sam Butikofer Rabun County
220 pounds: 1. Ashton Gibson Elbert County 2. Alex Mears Chattooga 3. Dequan Thorton Spencer 4. Ervin Mincey Toombs County
285 pounds: 1. Hinton Bolinger Pepperell 2. CJ Wright Screven County 3. Cedric Dumas Lamar County 4. Rod Nunnally Social Circle
Class A
106 pounds: 1. Wright Walker Irwin County 2. Brandon Shelnutt Strong Rock Christian 3. Josh Frager Turner County 4. Hunter Burnett Gordon Lee
113 pounds: 1. Dalton Blankenship Darlington 2. Karlos Nadal Mt. Pisgah 3. Chadler Crawford Turner County 4. Tucker Miller Gordon Lee
120 pounds: 1. Harrison Dearth Wesleyan 2. Tucker Flint Commerce 3. Chris Perin George Walton 4. INJ Johnny Burgess Turner County
126 pounds: 1. Colton Woods Darlington 2. Kole Burchett Commerce 3. Jack Hale Mt. Vernon 4. Tyson Brooks Treutlen
132 pounds: 1. Payton Brooks Treutlen 2. Davis Peek Darlington 3. Mark Watson North Cobb Christian 4. Matthew Barajas Crawford County
138 pounds: 1. Dalton Flint Commerce 2. Cole Luallen Trion 3. Cal Helton Mt. Zion 4. Kyle Jones Irwin County
145 pounds: 1. Jack Brewer Commerce 2. Rhett McDurmon Darlington 3. Rico Ashley 4. Crofford Helton Mt. Zion-Carroll
152 pounds: 1. William Delk Wesleyan 2. Collin Greer Landmark Christian 3. Nick Patrick Commerce 4. Jay Morrow Turner County
160 pounds: 1. Owen Brown Commerce 2. Cameo Blankenship Telfair County 3. Ben Connor Wesleyan 4. Jarrett Lassetter Gordon Lee
170 pounds: 1. Chase Forrester Commerce 2. Braden Jarvis Gordon Lee 3. Ian Blankenship Telfair County 4. Grant Marshawll Wesleyan
182 pounds: 1. Mitchell Patton Commerce 2. Jake Wells Trion 3. Deontae Crockett Turner County 4. Anthony Corcoran Riverside Military
195 pounds: 1. Cole Chancey Commerce 2. Logan Bevins Trion 3. Nathan Tucker Irwin County 4. Chapman Pendery Wesleyan
220 pounds: 1. Christian Rodgers Tattnall Square 2. Knox Allen Commerce 3. Seth Cox Trion 4. Dylan Gabrielson Landmark Christian
285 pounds: 1. Cade Ridley Commerce 2. Seth Love Treutlen 3. DJ Lundy Irwin County 4. Caleb Hines Calvary Day