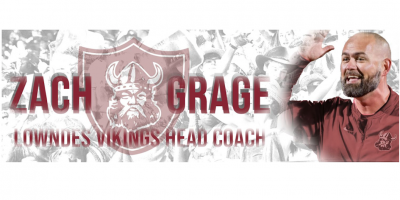 Lowndes Vikings Football
The Lowndes Vikings is a household name in high school football nationwide and especially in the state of Georgia. This notoriety has been earned with the program's five state championships since 1980 and three region titles in the last five years. Their success over the last several decades is tied to their slew of great head coaches, from Joe Wilson, to Milt Miller and Randy McPherson. The next coach hoping to join that list is Zach Grage, who enters his first year with the historic football program.
Grage brings in his own background and tradition of winning. His first taste of eminence as an up-and-coming came as the offensive coordinator for Colquitt County where the Packers completed an undefeated run to the 2014 Class 6A state title–Georgia's largest classification at the time. Grage took the head coaching job at Thomasville two years later. The program was coming off a 1-8 season when he arrived in 2016. He knew there was work to be done for a school that hadn't won a region championship in nine years. In just his second season, Grage led the Bulldogs to a 12-1 season and secured a region title. He went on to win two more regions in the next four years, including a trip to the state championship last season.
New Beginnings
After accomplishing as much as he did at Thomasville in six strong years, it wasn't an easy decision for Grage to depart for Lowndes.
"It was extremely difficult. We had some opportunities the past couple seasons after the years we had in Thomasville. We had some phone calls and we would always say no," Grage said. "We didn't leave Thomasville, we came to Lowndes."
Of course there's more to making a life-changing decision than just the football aspect. Family is an important factor, and that element made the move even more challenging.
"We had it really good in Thomasville. The kids were in good schools, my wife was taken care of. We loved living in Thomasville," Grage said.
Grage hadn't even thought about possibly leaving for a new school until one of his mentors approached him and his wife over the offseason. His mentor asked him if there was anywhere in the state that he'd consider. Grage pinpointed just one school.
"We talked and we looked around the state and said there's one place, and it would be Lowndes," Grage said.
Sure enough, there was an opening at Lowndes after Grage's predecessor, Jamey DuBose resigned and moved back to Alabama to take a head coaching job there. Despite the less-than-ideal timing, Grage accepted the job and said it was just too good to pass up.
"We didn't expect it to happen this quickly. The timing of it being in April was not the exact way you draw it up. But we also felt you can't bypass an opportunity like this," Grage said. "The Lowndes name holds a lot of weight to it."
New Identity
As he prepares for Year 1, Grage said the early part of the summer has just been about establishing the identity of the team and how they go about doing things behind the scenes. This includes routines on the practice field and in the weight room. Building familiarity among the players and coaches has also been key, and everything came together at an offseason OTA in June. Grage said he and the coaches played cards and pickup basketball with his new players and they tried to just focus on having fun as a new team.
"We just let them be kids and try to form those relationships," Grage said.
Taking over a program as successful as Lowndes is no small task. The players know they've been successful. The parents, fans and county knows they've been successful. Carrying those credentials can make it challenging for a team to buy into a new coach's methods and schemes. But that hasn't been a concern for Grage and his staff, as he indicated that it's actually been one of his group's biggest strengths up to this point.
"The biggest strength I've seen since I've been here has been the open arms they've had going into any of the changes that we've tried to make," Grage said. "The kids have been extremely receptive."
That comes as no surprise though. Grage has been around the block himself and has won wherever he's been. He said that getting his team to adapt to his style starts with believing.
"If you believe in the process and you believe in the way that we lift, and the way that we practice and the way that we approach our daily routine is going to win us football games, that's how you buy in," Grage said.
Go Time
With the season just a couple months away and a new era in Lowndes football upon us, it's all systems go to get ready for Week 1 and beyond. Grage didn't mince words when he laid out his expectations for the season.
"The goal all the time is to go 15-0," Grage said. "We don't say compete here, we say win here. The goal is to win every game."
The new-look Lowndes Vikings open their season against American Heritage (FL) on Aug. 20 at 8 p.m. at Martin Stadium.