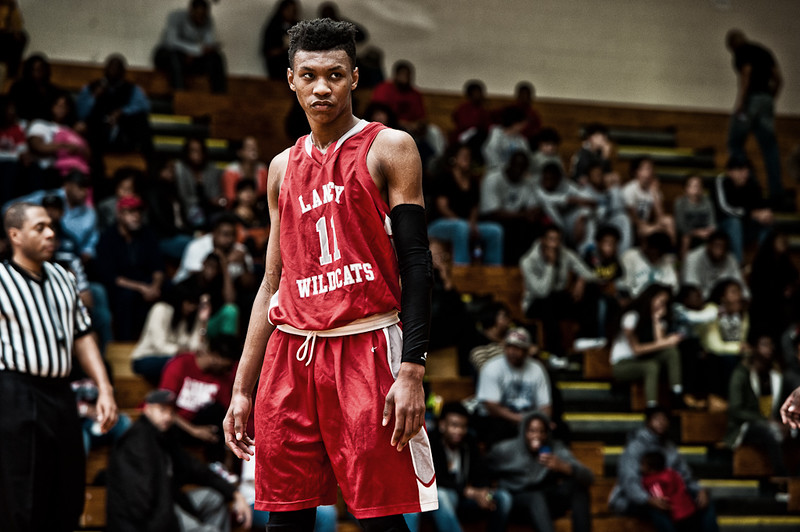 Photo By Ty Freeman
By Kyle Sandy (sandysspiel.com)

BOYS
Class AAAAAA
No. 3 Wheeler 50, Cherokee 36: The Wildcats rebounded from a sluggish first quarter in which they trailed 12-5 to knock off a pesky Warrior team. Romello White came on strong in the second half and finished with 14 points and 10 rebounds to go with his four blocks. Cam Jordan added nine points and four rebounds while Darius Perry scored eight. The Warriors were led by Phillip Cirillo's 14 points and nine rebounds. Kash Jackson chipped in 11 points and four boards.
No. 7 Pebblebrook 104, Campbell 101 OT: Down 15 in the fourth quarter, the Falcons stormed back to force overtime and knock off an explosive Campbell backcourt. Collin Sexton led the way for Pebblebrook with 39 points, eight rebounds and six assists. Jared Harper poured in 31 points and eight assists. JJ Smith posted a double-double with 18 points, 12 rebounds and five assists while Dwight Murray chipped in nine points and three dimes. Campbell was powered by Laz Walker who went for 37 points and sank 17-of-19 free throws. Tyree Crankfield scored 26 and Mike Olmert pitched in 12 points.
No. 8 Lambert 76, North Forsyth 58: Connor Mannion proved once again why he is Navy-bound by posting 27 points and 12 boards. Ross Morkem joined him in the double-double parade with 16 points and 11 rebounds of his own. Andrew Melms scored 13 points and handed out nine helpers while Austin Deckard finished with 14 points. The Raiders were paced by Chad Bureau and Connor Stephenson who both finished with 15 points.
No. 10 Newton 88, Alcovy 42: JD Notae poured in 22 points, Jaquan Simms added 13 and freshman Ashton Hagans scored 10 points and handed out 10 assists to power the Rams in a blowout region win on the road. Dre Butler chipped in nine points and seven rebounds in limited action.
Class AAAAA
No. 1 Miller Grove 83, Clarkston 47: Alterique Gilbert scored 21 points, added five assists and collected seven steals in the region blowout. Raylon Richardson had 20 points, 10 rebounds and four steals. Collin Young added 12 points, while Joshua Jackmon and Aaron Augustin both scored nine. Jackmon posted six steals. Augustin flirted with a triple-double but settled with a double-double, collecting 10 assists and 10 steals.
No. 2 Gainesville 85, No. 5 Heritage 79: Gainesville rallied down 11 at the half on the road to defeat the Patriots. D'Marcus Simonds had 26 points and Bailey Minor notched 20 to pace the Elephant comeback. Jordan Thomas had another big game for Heritage with 24 points in the loss.
No. 3 McIntosh 69, Mundy's Mill 57: The Tigers held a quick 8-0 lead, a recent trend McIntosh has fallen into, falling behind early in games, but the Chiefs were able to race past Mundy's Mill in the end. Will Washington had 18 points and eight assists while Jordan Lyons scored a game-high 19. Dishon Lowery continued his torrid rebounding pace with 10 points, 17 rebounds and four blocks. Cartez Crane led the Tigers with 16 and Kaelon Harris, who entered averaging over 22 per game, was held to nine points.
No. 4 Allatoona 72, East Paulding 49: The Bucs were able to beat "the system" and stymied the up-tempo Raiders. Ephraim Tshimanga went for 20 points, eight rebounds and eight steals. Chima Ogboi played well and posted 12 points, six boards and two steals from his forward position.
No. 8 Cedar Shoals 69, Apalachee 53: Coach L'Dreco Thomas' Jaguars used a balanced attack to defeat the Wildcats. Jerrick Mitchell scored 21, Phlan Flemins added 14 and Stavion Stevenson posted a double-double with 10 points and 10 rebounds to grab the Region 8 victory.
No. 9 Riverwood 69, Forsyth Central 38: Riverwood's strong start to the season continued with a blowout of region foe Forsyth Central. Kohl Roberts was too much inside, scoring 19 points and grabbing 11 rebounds. Charnchai Chantha added 11 points and six assists in the win.
No. 10 LaGrange 74, Woodward Academy 58: Rico Smith picked up where he left off with another big game. After scoring 36 points against Mundy's Mill, Smith went for another 31 tonight. He received help from Kenan Gray (7) and Alex Dantzler (8) in the scoring column. LaPerion Perry hopes to return soon after fracturing a toe while playing quarterback for the Grangers. Woodward was paced by Jake Nestlehutt's 16 points.
Class AAAA
No. 1 Lithonia 78, Redan 52: Lithonia got back on the winning track with a blowout win on the road. Jacara Cross scored a team-high 21 points and grabbed 10 rebounds. Rodney Chatman added 15 points and eight assists while Tylon Patterson netted 12 points and hauled in eight boards.
No. 7 Grady 51, No. 5 St. Pius 50: Christian Bryant and Bucknell-commit Avi Toomer's big games helped the Knights stave off a talented Golden Lion team. Bryant  went for 17 points, four rebounds, seven assists and six steals while Toomer led the way with 19 points, 10 rebounds, three blocks and two steals. Tykwaan Bryant played well with eight points, six rebounds and two blocks. St. Pius received 15 points from Kerney Lane and 14 from Christian Merrill.
No. 6 Henry County 81, Mt. Zion 62: Mt. Zion had no answer for the Warhawks' dynamic offense. Javon Greene scored a game-high 38 points while sinking six threes. Damion Rosser poured in 23 points as well.
No. 8 Sandy Creek 83, Lovejoy 44: Sandy Creek rolled behind a performance which saw 10 players score. Christian Turner led the Patriots with 22 points, seven rebounds and four steals. Elias Harden finished with 17 points and seven steals. Evan Jester added nine points while AJ Freeman and Keith Heard both chipped in eight apiece.
Class AAA
No. 1 Laney 77, ARC 72 OT: Trailing 23-7 in the first quarter and 40-24 in the second, the Wildcats rallied to force overtime.  Laney was down 40-31 at the half and down 61-47 entering the fourth before Christian Keeling and Zep Jasper turned it on. Jasper tied the game at 66-66 with 3.5 seconds left but Henry Brown was fouled and sent to the line for ARC. He missed the front end of the one-and-one and the game was sent to overtime. The Wildcats pulled away in OT and received 28 points from Keeling, who suffered an asthma attack during his heroics.
No. 9 Blessed Trinity 62, McNair 44: John Michael Bertrand and Kyle Swade did the damage for the Titans, scoring 14 and 11 points respectively.
Class AA
No. 1 Seminole County 101, Mitchell County 74: UGA-bound Jordan Harris picked up where he left off in the state championship, scoring 41 points, grabbing nine boards and dishing out seven assists. Anfernee King went for 20 points, 10 assists, six steals and five rebounds in the rout.
No. 5 Holy Innocents' 61, 1ANo. 6 SWAC 46:  Brent Duncan was a force inside for the Golden Bears with 27 points and Ibrahim Shabazz added 13 to storm past the Warriors. De'Andre Ballard finished with 17 for SWAC.
No. 10 Lovett 59, North Atlanta 36: The Lions canned 11-of-16 three balls led by Henry Richardson's 7-of-10 shooting to bombard North Atlanta. Richardson finished with 25 points. Freshman guard Ryan Greer posted 14 points, seven rebounds and six assists in the win.
Class A-Private
No. 2 St. Francis 88, Walker 53: Kobi Simmons pitched in 20 points and Anthony Showell scored nine points, collected nine assists and grabbed four rebounds in the blowout over Walker.
No. 4 Whitefield Academy 55, Houston County 50 OT: The Wolfpack escaped a very talented Houston County team in overtime. Isaiah Hart had 18 points, six steals and four rebounds. Brendon Myles finished with 14 points, 12 rebounds and two blocks. Tyson Jackson also had a double-double with 12 points and 11 rebounds.
Class A-Public
Taylor County 73, 1A-PrivateNo. 7 St. Anne-Pacelli 51: In a battle of the Vikings, John Corbin and Cordel Daniels were too much for St. Anne-Pacelli to contain. Corbin scored a game-high 25 points and Daniels netted 15. Pacelli closed the gap to eight in the fourth before Taylor County got hot and went on a run to put it out of reach. St. Anne-Pacelli received 21 points from Triston Wells and 11 points and five assists from Tre Sudberry.
GIRLS
Class AAAAAA
Lambert 53, North Forsyth 40: ME Craven scored 10 points to lead the Lady Longhorns over North Forsyth. Ashley Johnson added seven points, seven rebounds, five assists and three steals in the win. The Lady Raiders were powered by Amber Jones who hit eight threes en route to 26 points.
Northview 45, Johns Creek 37: Freshman Ashlee Austin scored a career-high 19 points and Melissa Muench added 13 to lift the Lady Titans over Johns Creek.
Class AAAAA
No. 2 Sequoyah 50, Dalton 27: Sisters Kelley and Lauren Hartman wreaked havoc in the paint for the Lady Chiefs. Kelley scores 12 points, grabbed 12 rebounds, dished out four assists and added three blocks while Lauren posted 11 points, 13 rebounds and two blocks. Peyton Satterfield tagged on 11 points in the win.
McIntosh 48, Mundy's Mill 31: Sam Coffey poured in 17 and DeLanye Rotolo chipped in 15 to help the Lady Chiefs knock of Mundy's Mill. Kiara Glenn led the Lady Tigers with 14 points.
Class AAAA
No. 8 Redan 97, Lithonia 18: With three players out, including two starters, Lithonia was no match for No. 8 Redan. Five Lady Raiders scored in double figures led by Dariyon Minor's 20 points. Taylor Tucker posted 14 points and 11 rebounds in the win.
Heritage-Catoosa 52, Southeast Whitfield 43: Four players scored eight points or more to pace a balanced Lady Generals attack. Sydney Smith led the way with 10 points. Shayla Ludy, Ansley Bice and Emily Wiley all added eight points.
St. Pius 33, Grady 17: Hannah Jones and Kathryn McKenzie both scored nine points to pace the Golden Lions. Grady received four points apiece from Briona Jones and Kailyn Jackson. St. Pius scored the first six points of the fourth quarter and pushed the lead to 28-17 with a traditional three-point play by Jones with just under three minutes remaining to seal the game.
Henry County 68, Mt. Zion 60: Brooke Moore poured in a game-high 34 to boost the Warhawks to victory. Mt. Zion received 27 from Tyeisha Juhan and 18 from Jayda Holder.