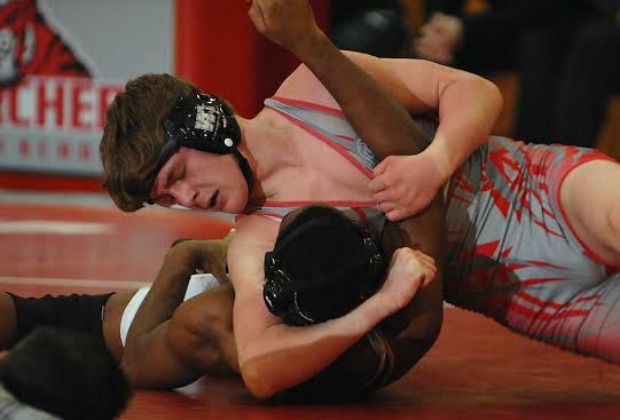 Photo by Sonny Kennedy
For the first time since 2005, each dual state championship team completed the season sweep Saturday and captured the GHSA Traditional Wrestling titles at the Macon Centreplex including Jefferson's 15th straight championship.
In Class AAAAAA, Gwinnett County's Archer swept the titles for a third consecutive time by cruising past second-place Chattahoochee 235.5 to 99.0. The Tigers had five individual state champions: Chris Diaz (132 pounds), Thomas Bullard (160), Daniel Bullard (170), Quinn Miller (220) and Elliott Lee (285). Lee won the state title at 190 pounds last season and successful made the jump to 285 to fill in for Archer's heavyweight state champ from last year, M.J. Couzan. Lee defeated Berkmar standout Jose Acosta in the final match of the weekend. Pope's Jake Adcock (Army-signee) won the 152-pound individual state title and wraps up his varsity career as a three-time state champion.
Class AAAAA Camden County outscored second-place Woodland-Bartow 213.5-127.0 to win the school's first-ever traditional state title. The Wildcats qualified wresters in all 14 weight classes and the depth carried them throughout the weekend. Jay Sheppard (138) was Camden County's only individual champion but second-place finishes by Lucas Nelson (106), Bryce Crew (120), Adrian Hughes (126), Denton Spencer (132), Domonique Hargrave (182) and Aaron Galegor (195) accounted for 127 of Camden County's 213.5 points.
Like Archer, Class AAAA's Gilmer completed its third-straight sweep of titles. Lucas Patterson (132), Jamie Lopez (152), Matthew Waddell (170) and Levi Seabolt (285) gave Gilmer four first-place finishers as the Bobcats tallied 220.5 points and held off second-place Marist (147.5). Domingo Reynoso (106), Trevor Preece (113) and Marcelino Lopez (120) got Gilmer off to a fast start with second-place finishes and a combined 62.5 points in the first three weight classes. Gilmer's William Gudger also finished second and added 22 points to the total after falling to North Hall's Michael Carew in the 145-pound championship.
Newly-reclassified Jefferson won the Class AAA state title for the first time, while making its annual return to the podium to collect the program's 15th consecutive traditional state championship and 19th all-time traditional title. The Dragons crowned six individual champions and had 11 wrestlers finish in the top 6. Dawson Bates (106), Mitchell McGhee (113) and Ben Kelly (120) conquered the first three weight classes before teammates Tanner Thurmond (132), Chase Piperato (145) and Caleb Little (182) added first-place finishes. Jefferson nearly doubled second-place Lumpkin County (125.0) with a total 240.5 points.
After winning a wrestling state title for the first time in school history at the dual state championships last month, Social Circle held off Bremen 215.0 to 160.5 to capture the Class AA traditional title and complete its first-ever sweep of state titles. Cade Lackey was the only individual champion returning from the Redskins third-place finish at state last year and he was edged by Bremen's Joseph Stroud for first-place in the 152-pound finals. However, Lackey's runner-up finish accounted for 16 points and Social Circle would stockpile first-place finishes at 132 pounds (James Corasaniti), 138 (Reid Harris), 160 (Cameron Paschal) and 195 (David Endstrom). Gordon Lee's Jonathan Ragsdale completed a perfect 58-0 season with the Class AA 120-pound title and joined even rarer company, becoming the 30th four-time individual state champion in Georgia history.
Commerce dominated the Class A field with 283 points as the Tigers more than tripled second-place Turner County (90.0) and third-place Treutlen (83.5) for the state title. A Commerce wrestler finished in the top four of every weight class and a school-record eight wrestlers were crowned individual champions. Casey Burchett (106), Jacob Brewer (113), Dalton Flint (120), Austin Brock (126), Mitchell Patton (132) and Owen Brown (138) won state titles in the first six weight classes and Cole Chauncey took the 170-pound title before Derek Benoit capped off the Tigers' historic weekend with a 4-3 decision over Brandon Carswell (Montgomery County) in the 285 pound final.
Final Team Standings
Class AAAAAA

1. Archer 235.5, 2. Chattahoochee 99, 3. Kennesaw Mountain 71, 4. Mountain View 70, 5. Collins Hill 67, 6. Etowah 66, 7. Woodstock 52.5, 8. Lambert 49.5, 9. Roswell 47, 10. Lowndes 45
Class AAAAA
1. Camden County 213.5, 2. Woodland-Bartow 127, 3. Union Grove 125, 4. Allatoona 106, 5. Creekview 104.5, 6. Cambridge 90.5, 7. South Paulding 90, 8. Cass 55.5, 9. Effingham County 55, 10. Clarke Central 54.5
Class AAAA

1. Gilmer 220.5, 2. Marist 147.5, 3. West Laurens 114, 4. Buford 111.5, 5. Carrollton 69, 6. Northwest Whitefield 68.5, 7. North Hall 63, 8. Chestatee 61.5, 9. Locust Grove 59, 10. Heritage-Catoosa 49
Class AAA

1. Jefferson 240.5, 2. Lumpkin County 125, 3. Rockmart 121, 4. Sonoraville 94.5, 5. Elbert County 87, 6. Jackson County 80, 7. Oconee County 77, 8. Spencer 74, 9. Banks County 73, 10. McNair 57.6
Class AA

1. Social Circle 215, 2. Bremen 160.5, 3. Greater Atlanta Christian 109, 4. Lovett 82.5, 5. Armuchee 60.5, 6. Jeff Davis 51, 7. Fitzgerald 43, 7. Holy Innocents' 43, 9. Model 40, 10. Screven County 31
Class A

1. Commerce 283, 2. Turner County 90, 3. Treutlen 83.5, 4. Mt. Zion-Carroll 82, 5. Mt. Vernon 70, 6. Eagle's Landing Christian, 67, 7. St. Francis 62, 8. Athens Christian, 47.5, 9. Athens Christian 47.5, 10. Irwin County 37
Individual Standings
Class AAAAAA
106 pounds: 1. Bradley Bitting North Paulding, 2. Eric Diemert Lambert, 3. Gavin Smith Archer, 4. Alex Gomez Woodstock
113 pounds: 1. Todd Small North Gwinnett, 2. Matthew Sheetz Lambert, 3. Andrew Burpee Habersham Central, 4. Ethan Phillips Chattahoochee
120 pounds: 1. Jordan Pitt Chattahoochee, 2. Vinny Artigues Archer, 3. Aslan Kilic Wheeler, 4. Nigel Jones Grayson
126 pounds: 1. Reggie Dennis Valdosta, 2. Codi Russell Collins Hill, 3. Justin George Mountain View, 4. Spencer Wilson Lakeside-DeKalb
132 pounds: 1. Chris Diaz Archer, 2. Adam Flatt Mountain View, 3. Quen Campbell Tift County, 4. Tyrone Heard Rockdale County
138 pounds: 1. Zack Shareef Woodstock, 2. Grant Aycox Archer, 3. Denver Stonecheck West Forsyth, 4. D.J. Schrenk Mountain View
145 pounds: 1. Andrew Webb Parkview, 2. Rudy Guillen Norcross, 3. Griffin Riley Collins Hill, 4. Trey Rinehart Archer
152 pounds: 1. Jake Adcock Pope, 2. Davis Ison Lowndes, 3. Sam Bullard Archer, 4. Felipe Hayes South Forsyth
160 pounds: 1. Thomas Bullard Archer, 2. Carlin Powell Hillgrove, 3. Demarco Gatti Roswell, 4. Tanner Buggs North Forysth
170 pounds: 1. Daniel Bullard Archer, 2. Rodney Jones Duluth, 3. Carl Jackson Lowndes, 4. William Broniec Peachtree Ridge
182 pounds: 1. Justan Rivera Kennesaw Mountain, 2. Bronson Rechsteiner Etowah, 3. Austin Brown Mountain View, 4. Connor Shields Lassiter
195 pounds: 1. Sean Hoffman Chattahoochee, 2. Stephen Solamon Brookwood, 3. Michael Spencer Marietta, 4. Queryachi Taylor Lovejoy
220 pounds: 1. Quinn Miller Archer, 2. A.J. Palomino Newton, 3. Imani Heslop Lakeside-DeKalb, 4. Ryan Willis Roswell
285 pounds: 1. Elliott Lee Archer, 2. Jose Acosta Berkmar, 3. Jeremy Quarshie Brookwood, 4. Mike Mason Rockdale County
Class AAAAA
106 pounds: 1. Bryce Davis Creekview, 2. Lucas Nelson Camden County, 3. Dawson Woods Woodland-Bartow, 4. Matthew Tankersley Dalton
113 pounds: 1. Isiah Royal Effingham County, 2. Jahvar Lewis Woodland-Bartow, 3. Davion Fairley Union Grove, 4. Chris Solo Dunwoody
120 pounds: 1. Bryce Holloman Alexander, 2. Bryce Crew Camden County, 3. Logan Sims Woodland-Bartow, 4. Ronny Link Flowery Branch
126 pounds: 1. J.R. Salemi Cambridge, 2. Adrian Hughes Camden County, 3. Noah Isley South Paulding, 4. Patrik Isip Clarke Central
132 pounds: 1. Justin Ruffin Union Grove, 2. Denton Spencer Camden County, 3. Tristan Ware Villa Rica, 4. Hunter Quinn Cass
138 pounds: 1. Jay Sheppard Camden County, 2. Spencer Cooper Woodland-Bartow, 3. Dylan Frontin Heritage-Conyers, 4. Noah Craft Union Grove
145 pounds: 1. Cody Cochran Woodland-Bartow, 2. Will Britain Cambridge, 3. Jack Woods Allatoona, 4. Devin Calhoun Brunswick
152 pounds: 1. Braden Johnson Creekview, 2. Luke Parker Union Grove, 3. Ethan Benedict Allatoona, 4. Jordan Germany Ola
160 pounds: 1. Devin Kane Cambridge, 2. Abdurrahman Ya-Sin Southwest DeKalb, 3. Bunmi Smith Camden County, 4. Jacob Robinson Allatoona
170 pounds: 1. Elijah Kerr-Brown Rome, 2. Jacob Sledge South Paulding, 3. Josh Williams Clarke Central, 4. Blake Meadows Ola
182 pounds: 1. Will Kemp Allatoona, 2. Domonique Hargrave Camden County, 3. Mugammad Ansari Alexander, 4. Tyrik Woods Sprayberry
195 pounds: 1. Torrez Finney Jones County, 2. Aaron Galegor Camden County, 3. Christian Saragusa Creekview, 4. A.J. Spencer Union Grove
220 pounds: 1. Michael Farmer South Paulding, 2. Aaron Thomas Ola, 3. Kash Jones Gainesville, 4. Robbie Garvin Effingham County
285 pounds: 1. Tyjuan Jett Cass, 2. Caleb Branham Richmond Hill, 3. Brandon Ballard Paulding County, 4. Brannen Wilson Effingham County
Class AAAA
106 pounds: 1. Koby Milner Pickens, 2. Domingo Reynoso Gilmer, 3. Jake Lee Sandy Creek, 4. Jacob Taylor Fayette County
113 pounds: 1. Cody Bond Madison County, 2. Trevor Preece Gilmer, 3. Blake Beasley West Laurens, 4. Augie Rodrigues Locust Grove
120 pounds: 1. Charles Thurman Heritage-Catoosa, 2. Marcelino Lopez Gilmer, 3. Kirkglen Hudson Lithonia, 4. Grady Pastor Woodward Academy
126 pounds: 1. Darius Bunch Buford, 2. Ben Deal West Laurens, 3. Blake Hayes Northwest Whitfield, 4. Shamel Findley Lithonia
132 pounds: 1. Lucas Patterson Gilmer, 2. Omar Ruiz Southeast Whitfield, 3. Jack Barber Buford, 4. Nick Voiles Carrollton
138 pounds: 1. Trent Ferguson Buford, 2. Caleb Mariakis Ridgeland, 3. Marvin Cunningham Chestatee, 4. Logan Wesolowski Whitewater
145 pounds: 1. Michael Carew North Hall, 2. William Gudger Gilmer, 3. Matthew McLellan Chestatee, 4. Michael Kirschmann Upson Lee
152 pounds: 1. Jamie Lopez Gilmer, 2. Derekston Williams Perry, 3. Kershon Manciel Fayette County, 4. Layton Self Marist
160 pounds: 1. Jarett Henry West Laurens, 2. Brandon Benson Locust Grove, 3. Fredis Velasquez Johnson-Gainesvile, 4. Austin Taylor Northwest Whitfield
170 pounds: 1. Matthew Waddell Gilmer, 2. Julian Grady Marist, 3. Isaiah Hale North Hall, 4. Cole Baxter Whitewater
182 pounds: 1. Taylor Lujan Carrollton, 2. Marcus Gaines Cairo, 3. Jaime Arroyo Chestatee, 4. Jack Ness Buford
195 pounds: 1. Jack Kratzenberg Marist, 2. Kameron Jackson West Laurens, 3. JaQwun Stinson Howard, 4. Grant Simonds Buford
220 pounds:1. Kenneth Brinson Marist, 2. Chris Henderson Ridgeland, 3. Andrew Posten White County, 4. Eric Long St. Pius
285 pounds: 1. Levi Seabolt Gilmer, 2. Gary Walker Stephens County, 3. Greg Pertillo Howard, 4. Jack Trainor Marist
Class AAA
106 pounds: 1. Dawson Bates Jefferson, 2. Rudy Rodriquez Oconee County, 3. Salavador Grimaldo Adairsville, 4. Truett Bowman Rockmart
113 pounds: 1. Mitchell McGhee Jefferson, 2. Logan Brown Lumpkin County, 3. Scotty Arthur Appling County, 4. Aaron Aquirre Calhoun
120 pounds: 1. Ben Kelly Jefferson, 2. Devin Darden Rockmart, 3. Noah Kile Blessed Trinity, 4. Brian Carranza Jackson County
126 pounds: 1. Chris McCrackin Banks County, 2. Dawson Hunt Central-Carroll, 3. Tristan Duckworth Lumpkin County, 4. Kyle Chastain Sonoraville
132 pounds: 1. Tanner Thurmond Jefferson, 2. Connor Crump Jackson County, 3. Dylan Suttles Banks County, 4. Jacob Callahan Calhoun
138 pounds: 1. Nick Forsyth Rockmart, 2. Tuyen Bowles Spencer, 3. Austin Tillman Sonoravile, 4. Griffin Green Ringgold
145 pounds: 1. Chase Piperato Jefferson, 2. Greg Hilliard Lumpkin County, 3. Laython Warren Spencer, 4. Luke Mitchell Morgan County
152 pounds: 1. Jamaal Deng McNair, 2. Kevin Almond Elbert County, 3. Will Ballard Jeffrson, 4. Jake Ross Pepperell
160 pounds: 1. Elliot Raiford West Hall, 2. Joshua Sampson Spencer, 3. Tysean Hall Elbert County, 4. Chris Couch Oconee County
170 pounds: 1. Rexx Hallyburton Oconee County, 2. Ryan Farist Sonoraville, 3. Charlie Trense Westminster, 4. Austin Carter Appling County
182 pounds: 1. Caleb Little Jefferson, 2. Kevin Hurtiz Sonoraville, 3. Chuckie Allen Jackson County, 4. Rashamel Reynolds Jenkins County
195 pounds: 1. Maron Morales Rockmart, 2. Bryson Smith Toombs County, 3. A.J. Edmond Elbert County, 4. Gavin Brown Dawson County
220 pounds: 1. Jamar Smith Toombs County, 2. Derek Clayton McNair, 3. Draven Smith Rockmart, 4. Jerald Gay Dodge County
285 pounds: 1. Ken Allen Elbert County, 2. Kenny Cooper Sonoraville, 3. Victor Ramos Lumpkin County, 4. Aaron Spires Dodge County
Class AA
106 pounds: 1. Keegan Smith Bremen, 2. Ethan McKie Fitzgerald, 3. Kyle Morris Social Circle, 4. Kendall Byrd Model
113 pounds: 1. Austin Capes Bremen, 2. Easton Mathis Armuchee, 3. Grainger Reeves Lovett, 4. Justin Van Lueween Greater Atlanta Christian
120 pounds: 1. Jonathan Ragsdale Gordon Lee, 2. Levi Leach Social Circle, 3. Quintavius Rollins Chattahoochee County, 4. Austin Herndon Jeff Davis
126 pounds: 1. Braylen Scoggins Armuchee, 2. Ian Politz Greater Atlanta Christian, 3. Chris Eriquezzo Bremen, 4. Mitchell Clegg Social Circle
132 pounds: 1. James Corasaniti Social Circle, 2. Logan Chastain Holy Innocents', 3. Hunter Kelley Berrien, 4. Wyatt Vaughn Greater Atlanta Christian
138 pounds: 1. Reid Harris Social Circle, 2. Cook Drew Bremen, 3. Avery McWhorter Bowdon, 4. Damon Upton Jeff Davis
145 pounds: 1. Brock Cooper Bremen, 2. Kyle Politz Greater Atlanta Christian, 3. Travis Tyson Social Circle, 4. Hunter Phillips Jeff Davis
152 pounds: 1. Joseph Stroud Bremen, 2. Cade Lackey Social Circle, 3. P.J. Johnson Lovett, 4. George Bielan Wesleyan
160 pounds: 1. Cameron Paschal Social Circle, 2. Nick Fernandez Riverside Military, 3. Jacob Bumgardner, 4. Tyler Campbell Vidalia
170 pounds: 1. Thad Moore Armuchee, 2. Khamari Whimper Social Circle, 3. Andrew Backer Rabun County, 4. Daniel Rivera Fitzgerald
182 pounds: 1. Hayden Cook Darlington, 2. Aaron Forrester Social Circle, 3. Hap Dykes Lovett, 4. Chuck George Temple
195 pounds: 1. Davi Engstrom Social Circle, 2. Rod Davis Holy Innocents', 3. Aiden Jarrett Greater Atlanta Christian, 4. Devin Johnson Vidalia
220 pounds: 1. Carson Rich Lovett, 2. Matt Brown Heard County, 3. Jack Walsh Pace Academy, 4. Chris Abraham Screven County
285 pounds: 1. Joshua Coker Greater Atlanta Christian, 2. Paul Robinson Bremen, 3. Julian Wright Screven County, 4. Trenton Mathis Jeff Davis
Class A
106 pounds: 1. Casey Burchett Commerce, 2. Will Smith St. Francis, 3. Payton Brooks Truetlen, 4. Kaine Hoffman Towns County
113 pounds: 1. Jacob Brewer Commerce, 2. Colin Mulvany Pacelli, 3. Tyson Brooks Treutlen, 4. Cary Jackson Trion
120 pounds: 1. Dalton Flint Commerce, 2. Cole Luallen Trion, 3. Hunter Smith Mt. Zion-Carroll, 4. Jack Hale Mt. Vernon
126 pounds: 1. Austin Brock Commerce, 2. Ashton Robinson Mt. Zion-Carroll, 3. Ethan Sparks St. Francis, 4. Gamal Lawton Montgomery County
132 pounds: 1. Mitchell Patton Commerce, 2. Collin Greer Landmark Christian, 3. Mark Watson North Cobb Christian, 4. Crofford Helton Mt. Zion-Carroll
138 pounds: 1. Owen Brown Commerce, 2. Jaterrias Dudley Treutlen, 3. Tanner Crawford Treutlen, 4. Matt Lewis
145 pounds: 1. Zane Wolf Athens Christian, 2. D.J. Pollard Irwin County, 3. Michael Patton Commerce, 4. Demetrice Smith Turner County
152 pounds: 1. Willam Schubert Walker, 2. Wes Poke Turner County, 3. Chase Forrester Commerce, 4. Josh Snyder St. Francis
160 pounds: 1. Malik Holley Turner County, 2. Knox Allen Commerce, 3. Nathan Shirley Fellowship Christian, 4. Ben Jackson Savannah Christian
170 pounds: 1. Cole Chancey Commerce, 2. Constantin Gavalas Mt. Vernon, 3. Daulton Rogers Towns County, 4. Dre Dashiell Brookstone
182 pounds: 1. George Gavalas Mt. Vernon, 2. Dontavious Mosely Commerce, 3. Cody Love Treutlen, 4. Scott Frazier Trion
195 pounds: 1. Griffin Alexander Eagle's Landing Christian, 2. Benjamin Sizemore Mt. Zion-Carroll, 3. Cody Calhoun Treutlen, 4. Cole Sweeney Commerce
220 pounds: 1. Chase Burdette Eagle's Landing Christian, 2. Daniel Anderson Mt. Zion-Carroll, 3. Tyreke Wiggins Commerce, 4. Christian Rodgers Tattnall Square
285 pounds: 1. Derek Benoit Commerce, 2. Bandon Carswell Montgomery County, 3. Seth Cecil St. Francis, 4. David Sanford Athens Christian
-Compiled by Score Atlanta