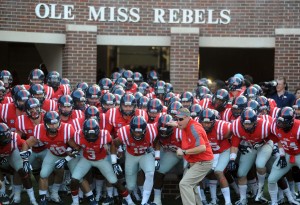 AP Photo
In 2014, Ole Miss had their most successful season in recent memory despite the disappointing finish at the Chick-Fil-A Peach Bowl. A 42-3 loss to TCU dropped them to 9-4 on the season.
Senior defensive back Mike Hilton says the returning players still felt the sting from that day in the Georgia Dome all the way back to Oxford.
"It stuck around for a while," Hilton said. "We have actually been using it this summer for motivation. We have to go out there and finish games stronger than that, but it stuck around for a little bit."
It was a season that included wins over Boise State, Alabama, Tennessee, and in-state rival Mississippi State. However they would lose in heartbreaking fashion to their archrival LSU, Auburn, and a 30-0 at Arkansas.
All that being said Ole Miss had their best season since their back to back nine-win campaigns under then head coach Houston Nutt in 2008 and 2009. They haven't had a 10-win season since 2003 under David Cutcliffe and haven't won the SEC since 1963 under John Vaught.
The bad news is that Ole Miss has to replace their quarterback with Bo Wallace moving on. Plus they also lost standout cornerback Senquez Golson and free safety Cody Prewitt.
The good news is that they have 16 out of 22 starters returning from that successful team in 2014. On that list are Grayson product/defensive tackle Robert Nkemdiche, tight end Evan Engram, and wide receiver Laquon Treadwell is back from the gruesome leg injury he suffered in the Auburn game to end his season.
Treadwell is supposedly back to 100 percent from the injury and looking better than ever. That's the case according to Engram.
"Laquon looks very good," Engram said. "He's back at full tilt working on his craft at receiver and all the little things. Honestly he looks bigger, stronger and faster than he did before he got hurt last year. I'm looking forward to him having a big year."
He seems to be in good position to help out the new quarterback for the Rebels in 2015. They return sophomore Ryan Buchanan and fellow sophomore DeVante Kincade from last year's team. Both players got reps during the season.
Also, enter in the picture the nephew of Pro Football Hall of Fame QB Jim Kelly, Chad. Kelly spent last year at East Mississippi Community College, after he was booted from the Clemson program for an off-field issue.
Like is the case with Florida, Georgia, Alabama, LSU and Kentucky; head coach Hugh Freeze isn't ready to name a starter.
"I don't think there's a fair sampling yet for any of the three," Freeze said. "I will not put myself in a box on when that decision will be made. I think all three have earned the right to compete for it. I said after spring I thought Ryan was a little ahead of the other two, but the margin was so small that it certainly could be overcome."
They'll have a very good target to throw to in Evan Engram at tight end. The junior Hillgrove product is back after a 38 catch and 662 yard sophomore season.
He's excited about a dynamic to the passing game that Kelly could bring the Rebels.
"Last year we really didn't have a consistent deep ball threat and he has a really strong arm," Engram said. "He knows how to throw deep balls. He knows how to look for them pre-snap and he's real big on making that big play. I think he can bring that aspect to the game this year."
Engram enters the season at a preseason first team All-SEC member according to the media. Plus, he is considered by some NFL Draft forecasters to be the best at his position entering this season.
On the other side of the ball, the Rebels bring back seven returners to the "Land Shark" defense. That is a group that limited their opponents to 16 points per game and caused 32 turnovers.
Part of that group is senior linebacker CJ Johnson, after making a move to middle linebacker from defensive end. He says there were definitely adjustments to his game that needed to be made.
"The biggest adaptation I had to make was being out in space," Johnson said. "It requires a lot more running and you have to be patient. I have developed patience and have learned to react instead of attack. Our defensive line plays a really aggressive style and I think moving to linebacker has taught me to be patient."
Johnson says he was receptive to the move when Freeze came to him with the idea following the bowl game.
The media has picked Ole Miss to finish fifth this season in the very strong SEC West. They won't face their toughest test until the third game of the season at Alabama.
They have two tough road games against Florida and will look for revenge against Auburn when they travel to Jordan-Hare Stadium. The good news is they'll have Texas A&M, Arkansas and LSU all coming to Vaught-Hemingway Stadium this season.
My Ole Miss Prediction For 2015: Fourth in the SEC West