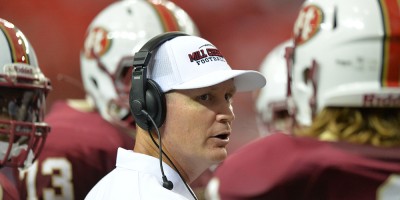 Mill Creek 23, Archer 0
In what was pegged to be one of the top quarterfinal matchups in the state of Georgia turned out to be a complete domination by the home team as Mill Creek shutout Archer 23-0. The win improves the Hawks to 13-0 on the season and a berth to the school's first ever trip to the semifinals.
The Hawks defense was the story forcing three turnovers and continuing to pin the Tigers deep in their own territory. Mill Creek's offense, although not outstanding, had great starting field position and pounded out tough yards throughout the night.
"The biggest thing it [this victory] means is I'm proud of this football team, and we get to play again," said Mill Creek head coach Shannon Jarvis. "We have done a great job this year of not getting caught up in the history they are making every time they play. It's really about lining up and doing your job. I know that sounds like coach speak, but that's what this team has gravitated to."
Archer drove down the field on the opening drive with relative ease mixing in runs with Jamyest Williams and passing plays to Kyle Davis. In the red zone, Williams took a handoff down to the 12-yard line but then fumbled the ball away to Mill Creek. After that drive, Archer was stalled on offense for the rest of the night.
"As far as adjustments, it's not always scheme. After we got the momentum [after the fumble], our kids just started feeding off of each other and playing fast. They were playing fast the opening series. I don't think we came out flat by no means. Our defense thrives off of turnovers, and that's what they do a good job of."
The Hawks then drove 88 yards and converted on a 12-yard touchdown pass from quarterback Cameron Turley to Daniel Leconte to take a 7-0 lead. Late in the first quarter, Mill Creek took advantage of great field position as placekicker Brenton King connected on a 42-yard field goal to go up 10-0.
The second quarter was one highlighted by turnovers. Deep in their own territory, Archer quarterback Will Bearden threw an interception, giving the Hawks the ball at the Tigers 40-yard line. Two plays later, Mill Creek tried a double pass trick play that resulted in an interception by Archer cornerback Jeremiah Nails.
After King missed wide on a 47-yard field goal, Archer took over once again in their own territory. Looking to make something, Bearden misread coverage and threw and interception to Mill Creek defensive end Peyton Moore. Moore then weaved his way through a slew of Tiger tacklers and dove into the end zone, dragging Bearden behind him.
The Hawks continued to control the tempo. They took the opening kickoff of the second half for 69 yards down to the Archer 26-yard line. After a short series, King connected on a 41-yard field goal to put the team up 20-0.
The lockdown defense from the home team continued into the second half. They did not give up a first down to Archer in the entire third quarter. King tacked on another field goal at the start of the fourth quarter to stretch the Hawks lead to 23-0. With Archer in desperation mode, they tried and failed on two fourth down conversions late in the game.
Turley finished the game 10-of-21 passing for 108 yards, while Leconte added 43 yards on the ground and the 12-yard touchdown reception.
Williams led the Archer offense with 107 yards on the ground. Auburn-commit Kyle Davis caught six passes for just 17 yards. Aramis Bryant's 82 receiving yards led all pass-catchers in the game.
Mill Creek will play defending Class AAAAAA state champions Colquitt County in the semifinals next Friday. A coin flip will determine the site of the game as both team enter the contest 13-0 on the season.
Class AAAAAA
Colquitt County 49, South Forsyth 31
How the game was won: Host South Forsyth led 31-28 with 10:30 left and the ball inside Colquitt County territory before the Packers closed the game with 21 unanswered points. South Forsyth was able to move the ball through the air throughout the game and after an Alex Barbir field goal, the War Eagles took a 10-0 lead with a sideline to sideline scramble and touchdown pass from Davis Shanley to Jalen Camp. Nate Powell scored Colquitt's first touchdown from 5-yards out and cut South Forsyth's lead to 10-7 entering the second quarter. Camp leapt for his second touchdown to make it 17-7 but Colquitt County converted a 3rd down and 15 on its ensuing drive and Ty Lee bounced outside and ran in a Packers touchdown with 6:23 left in the half. Colquitt County took its first lead of the game (21-17) with 1:46 left in the half when Chase Parrish hit a wide-open Kiel Pollard for a 13-yard slant and score. Pollard took a direct snap in for a 1-yard touchdown in the third quarter to increase the lead to 28-17 before South Forsyth began climbing back. Shanley hit Camp for an 84-yard touchdown and Julian Mingo intercepted Parish to set up a 2-yard touchdown run by Sam Outlaw to give South Forsyth a 31-28 lead. Colquitt County fumbled its next possession and South Forsyth took over at the Packers' 42-yardline but the Packers found their footing in the secondary. Quan Singletary picked off Shanley to set up an 8-yard touchdown run by Lee and Colquitt County reclaimed a 35-31 lead. After a tipped punt, Lee ran in a 29-yard score to make it 42-31. The final score came on what was the fifth Packers interception of the second half. Senior linebacker Akivie Bailey picked off Shanley and returned it 76 yards for the touchdown with 1:10 left.
Top Performers: South Forsyth's Jalen Camp caught three touchdown passes from Davis Shanley. … Colquitt County's Ty Lee ran in two touchdowns and Kiel Pollard ran and caught a touchdown. …Akivie Bailey had a 76-yard interception return for a touchdown.
---
Class AAAAA
Northgate 34, Kell 21
How the game was won: Northgate got a big passing night from sophomore quarterback Kyle McLaren, who threw for a touchdown in each half. Northgate led 14-0 before Kell tied it up with a late first-half score and a touchdown on its first possession of the third, but the host Vikings scored the next 20 points of the game to put Kell away.
Top performers: McLaren hit Isaiah Prayor for a touchdown pass in the second quarter and found Anthony Dickerson for a score in the third quarter to make it 21-14. … Kyle Cater put the Vikings on the board with a 3-yard run, set up by a long Evans rush to put Northgate in Kell territory. … Evans scored on a 5-yard run to cap off a 76-yard Northgate drive in the fourth quarter to make it 28-14. … Linebacker James Skalski had an interception return for a touchdown to give Northgate a 34-14 lead.
Ware County 46, Drew 21
How the game was won: In a battle between a No. 3 seed and a No. 4 seed, Ware County overcame a slow start to dominate the second half and slip past visiting Drew. The Gators trailed 21-19 at halftime but scored 27 unanswered points–including a 21-0 margin in the fourth quarter–to seize control.
Top performers: Quarderman Sloan got the Titans off to a strong start by rushing for an 84-yard touchdown on Drew's second play from scrimmage, which put the visitors ahead 7-0. … Dedrick Mills rushed for four touchdowns to lead Ware County. He scored twice in the fourth quarter and two of his touchdown jaunts came from more than 50 yards away. … Jamar Lincoln added touchdowns via both the run and the pass for the Gators.
Glynn Academy 24, Stockbridge 21
How the game was won: Glynn Academy used 17 unanswered points to overcome a 21-7 fourth quarter deficit and advance to the semifinals in thrilling fashion. Stockbridge had its two-touchdown lead (21-7) and was a yard away from icing the game and pushing the lead to 28-7 but the Terrors stuffed the 4th down and 1 call. With the ball inside its 1-yard line, Glynn Academy shifted the momentum by driving 99-yards for the score as Kendall Cross rumbled in a 25-yard touchdown. After forcing a Stockbridge punt, Garrison Hurd ran the ball down to the 5-yard line to set up Cross' game-tying score. Stockbridge was forced to punt out of its own end zone with three minutes left and Glynn Academy took possession at its 36-yard line. Hurd once again picked up a critical first down and got the Terrors into field goal territory. With 14 seconds left, Glynn Academy's Banks Entwistle booted through a game-winning 30-yard field goal.
Top Performers: Malachi Brown ran in two touchdowns and threw a 7-yard touchdown pass to Demitrius Sullivan to lead Stockbridge. … Glynn Academy quarterback Deejay Dallas rushed for a 50-yard touchdown and Kendall Cross scored a pair of scores. … Banks Entwistle nailed a game-winning field goal from 30 yards.
---
Class AAAA
Buford 49, Thomson 7
How the game was won: Xavier Gantt and Martin Mangram each scored two touchdowns in the first half as visiting Buford jumped out to a 35-0 lead at the break. The Wolves held Thomson, which averages over 300 yards rushing per game, to 7 yards rushing in the first half and 57 for the game.
Top performers: Christian Turner of Buford rushed 10 times for 186 yards and a 70-yard touchdown in the fourth quarter for the game's final points. … Gantt scored on runs of 53 and 8 yards and finished with 81 yards rushing. … Mangram's runs were both from 7 yards out. He finished with 41 yards on the ground. … Wolves QB Mic Roof was 6-of-9 passing for 104 yards and an 18-yard touchdown to Brandon Marsh right before halftime. … Joshua Blackwell had a 13-yard rushing score in the third. … Buford finished with 355 yards rushing.
Cartersville 38, Jonesboro 14
How the game was won: Trevor Lawrence's arm was too much for the Cardinals to handle as he threw for four touchdowns. Cartersville led 21-7 at the half behind Lawrence's 15-of-21 passing for 200 yards and two touchdown passes.
Top Performers: Trevor Lawrence tossed four touchdowns, going 24-of-36 for 315 yards and 4 TDs. He hit Miller Forristall from 29 yards out in the first quarter, Antoine Jefferson for a 7-yard score and Terrius Callahan on a 28-yard strike to end the game. …Tiamon Pennymon ran in a 5-yard touchdown. …Jonesboro scored its first points of the game on an 81-yard screen pass from Zerrick Cooper to Jordan Griffin. Cooper later found Joshua James on a 3-yard strike.
Bainbridge 18, St. Pius X 17
How the game was won: Dameon Pierce rushed for two fourth-quarter touchdowns to lead Bainbridge past visiting St. Pius X. Pierce's second score, which proved to be the game-winner, gave the Bearcats their first lead of the entire night with 1:44 remaining. The Golden Lions missed a 59-yard field goal in the final seconds.
Top performers: Pierce finished with 23 carries for 216 yards and two touchdowns. … Brett McLaughlin accounted for Bainbridge's other score when he plunged in from one yard out in the first quarter. … Nkem Njoku of St. Pius X blocked a punt and returned it 55 yards for a touchdown to begin the scoring. He added a three-yard touchdown run in the third quarter to give the Golden Lions a 17-3 advantage. … St. Pius X also got a 33-yard field goal from Nick Jones.
---
Class AAA
Westminster 51, Adairsville 21
How the game was won: Westminster won its third consecutive road contest of these playoffs as it never trailed against Adairsville. The Wildcats dominated in all three phases of the game, forcing three turnovers while committing none. They scored 24 unanswered points following a 7-7 tie to take a commanding lead into halftime and never looked back.
Top performers: Rankin Woley threw two touchdown passes, rushed for a score and returned an interception 31 yards for a touchdown to lead Westminster. … Woley tossed a 61-yard scoring strike to Chase Williams and found Truman Jones in the endzone from three yards out. Williams also had a three-yard touchdown run. … Ian Ude added a one-yard scoring plunge for the Wildcats. … Blake Gillikin kicked two field goals, one of which was a school-record for Westminster from 56 yards away as the first-half clock expired. … The visitors also got fumble recoveries by Cortez Alston and Beau Vance.
Blessed Trinity 35, Dawson County 7
How the game was won: Blessed Trinity scored the game's first 35 points, including 28 in the first half, to overwhelm host Dawson County. The Titans led 14-0 after one quarter and 35-0 heading into the fourth before the Tigers got on the scoreboard with 1:05 remaining.
Top performers: Milton Shelton accounted for all five of Blessed Trinity's touchdowns. He carried 21 times for 216 yards and four scores while also catching a 28-yard touchdown pass from Jake Smith. … The Titans' finished with three interceptions–two by Elijah Hamilton and another courtesy of Colin Dore. … Dylan Nix had an interception for Dawson County, while Andrew Goley rushed from three yards out for the Tigers' lone score.
Calhoun 33, Elbert County 30, 3OT
How the game was the won: Kaelan Riley won the battle against Mecole Hardman in a showdown between two dynamic athletes. David Vera forced overtime on a 25-yard field goal with 40 seconds left for Elbert County. It took three overtimes but the Yellow Jackets finally kept Hardman out of the end zone and forced a Vera 27-yarder, setting up an opportunity for Calhoun to sting the Blue Devils. Riley scored his fourth rushing touchdown of the night on a 8-yard keeper to knock off Elbert and advance to the semifinals.
Top Performers: Kaelan Riley carried 26 times for 104 yards and four touchdowns to power Calhoun, while also completing 11-of-20 passes for 98 yards and one interception. …Olico Dennis added 97 yards rushing on 21 carries as Calhoun barely outgained Elbert County 313-to-302 in total offense in the evenly matched contest. …Alex Flores hit a career-long of 32 yards and tacked on a 30-yarder to give the Jackets a 6-3 lead at the half. …Mecole Hardman of Elbert County ran 35 times for 144 yards and three scores. He also went 3-of-7 passing for 70 yards. …David Vera went 3-of-4 kicking with a long of 41.
---
Class AA
Jefferson County 31, Rabun County 28
How the game was won: Evans Hodges coolly sank a short field goal as time expired to propel the Warriors into the semifinals after a back and forth game which saw four ties.
Top Performers: TJ Bell threw three touchdown passes, connecting with Marquis Carter twice. Bell hit Carter on scores of 68 and 28 yards while also hooking up with Nikel Stone for a 61-yard strike. …Kurt Bell gave the Warriors a 28-21 advantage with 4:45 to play when he scooped up a fumble and returned it 72 yards. …Bailey Fisher of Rabun County threw three touchdowns and ran in a 1-yard score. He tossed touchdowns of nine and 21 yards to Charlie Woerner and also hit Tristan Huggins for a score with 3:10 remaining in regulation. …Alden Wright intercepted a pass in the loss.
Fitzgerald 54, Benedictine 28
How the game was won: Fitzgerald gained 616 total yards (526 rushing and 90 passing) and 23 first downs to run past defending state champion Benedictine on the road. Benedictine led 21-20 at halftime, but Fitzgerald led 40-28 after the third quarter and tacked on two more scores in the fourth. Fitzgerald junior running back J.D. King rushed 44 times for 335 yards and three touchdowns for the Purple Hurricane.
Top performers: King scored on runs of 13, 4 and 32 yards. … Fitzgerald sophomore quarterback James Graham rushed 20 times for 111 yards and touchdowns of 40 yards and 3 yards. He also threw a 64-yard touchdown to Montrell Harris. … Harris opened scoring for Fitzgerald with a 25-yard touchdown. … Raul Martinez connected on field goals of 32 and 37 yards for Fitzgerald, the second one with 13 seconds left in the first half to draw within a point.
Pace Academy 33, Macon County 26
How the game was won: A balanced attack on the road helped the Knights advance to state semifinals for the first time in school history. Macon County cut the lead to 16-13 with 4:40 to play in the first half, but Gunnor Faulk tossed his second touchdown of the first half to give Pace a 23-13 lead at the half.
Top Performers: Realus George punched in a 1-yard run to start the scoring for Pace Academy after the Knights recorded an early safety. …Gunnor Faulk tossed a 37-yard touchdown to Tony Addison and a 15-yarder to Trey Blount. …Deon Jackson ran home an 11-yard run to extend the lead to 30-20 before Samuel Sloman boomed in a 44-yard field goal. …Akeevious McLendon scored on a 3-yard run for Macon County. …Jared Daniels found the end zone on a 10-yard scamper. …K'Hari Lane hit Trey Mathis for a 9-yard touchdown and later bombed a late 80-yard touchdown pass.
---
Class A-Public
Commerce 20, Marion County 7
How the game was won: Commerce maintained a shutout until a late Marion County touchdown run. Will Thomas and Caleb Brooks each scored on 1-yard runs for Commerce in the second and third quarters, respectively. The Tigers led 10-0 at halftime.
Top performers: Thomas, the fullback, scored his touchdown with 11:56 left in the second quarter after defensive end Chase Forrester intercepted Marion County on its own 33-yard line with no return. Commerce went on a nine-play drive to go up 10-0 after the turnover. … Brooks, the quarterback, scored after Commerce took over possession at the Marion County 40 following a failed fake punt. Another nine-play Commerce scoring drive followed. … Andres Salgado hit a 30-yard field goal in the first quarter and a 33-yard field goal in the fourth quarter.
Irwin County 21, Trion 0
How the game was won: Irwin County returned two interceptions for touchdowns and used a 12-yard touchdown run by quarterback Zach Tolar to secure its third straight trip to the state semifinals. Cartavion Benyard opened the scoring with a 59-yard interception return for a touchdown that eventually gave Irwin County a 7-0 halftime lead, despite getting outgained 83-to-60 in total yards. The third quarter saw the only offensive score of the game as Tolar ran in the 12-yard touchdown on a critical 4th and 4 call. Earlier in what turned out to be a gamechanging 12-play 71-yard drive, Tolar also converted a fake punt. William Lewis iced the game with a 67-yard interception return that made it 19-0. The successful 2-point conversion came on a Tolar pass to 6-foot-5 tight end Cully Jones. Trion ended up outgaining Irwin County in total yardage 195-to-175. Irwin County, which fell 15-6 to Hawkinsville in last year's state championship game, sits two wins away from the program's first state title since 1975.
Top Performers: Zach Tolar ran in a 12-yard touchdown to make it a 13-0 Irwin County lead. … Cartavion Benyard (59 yards) and William Lewis (67 yards) returned interceptions for touchdowns.
Clinch County 50, Johnson County 34
How the game was won: Clinch County scored 22 unanswered points in the third quarter to break open a 22-20 halftime game. Clinch rushed for 482 yards on 49 carries as a team and had three rushers reach 100 yards; the Panthers did not attempt a pass.
Top performers: Zebulon Johnson led Clinch with 179 yards rushing and two touchdowns on eight carries. … Shannon Young scored three times, rushing 17 times for 106 yards. … Clinch's quarterbacks, Trezman Marshall and Charles McClelland, combined for 192 rushing yards; McClelland had 92 yards rushing and two touchdowns and Marshall rushed for 100 yards.
---
Class A-Private
Prince Avenue Christian 30, Savannah Christian 10
How the game was won: Prince Avenue Christian's 9-3 halftime lead disappeared 16 seconds into the second half when a fumbled kickoff return led to a Savannah Christian touchdown and 10-9 lead. On the ensuing kickoff, Savannah Christian gambled with an onsides attempt that Prince Avenue recovered at midfield. Just 47 seconds later and Kevon Hudson, who ran in the only first half touchdown from nearly 70 yards, took in his second score from 50 yards to reclaim a 15-10 Wolverines' lead. Prince Avenue Christian added a Jordan Hightower touchdown run and a Grant Roland touchdown pass to Hightower to close the game with 21 unanswered points.
Top Performers: Kevon Hudson ran in two Prince Avenue Christian touchdowns and Jordan Hightower caught and rushed for scores. … Jared Pringle added a 25-yard field goal with six seconds left in the first half that gave Prince Avenue Christian its 9-3 lead.
Eagle's Landing Christian 31, Mt. Paran 7
How the game was won: In a rematch of last year's Class A-Private state championship (Mt. Paran 49-7), ELCA turned the tides with a dominant performance on both sides of the football. Mt. Paran's rushing attack was stonewalled and the only score came with a running clock and a 31-0 deficit. Alex Usry opened the scoring with a Mt. Paran field goal and Trevor Gear made it a 10-0 lead with a 14-yard touchdown run with 4:36 left in the opening quarter. Quarterback DJ Hammond ran in a 1-yard score in the second quarter and Johnathan Youngblood scooped up an Eagles fumble and returned it 20 yards for a touchdown to push the Chargers' lead to 24-0 at the half. Sophomore Josh Mays added a 20-yard touchdown run that made it 31-0.
Top performers: DJ Hammond passed for 147 of his 165 yards in the first half and ran in a 1-yard touchdown. … Cam Merrit hauled in five catches for a game-high 135 receiving yards. … Trevor Gear and Josh Mays ran in Chargers touchdowns.
Stratford Academy 43, Pinecrest Academy 15
How the game was won: Pinecrest Academy tied the game at 7-7 in the second quarter before Stratford Academy used 37 straight points to balloon a 43-7 lead. Kasey Sanders scored on a 3-yard run to give the Eagles their 7-0 lead. Mitchell Ojeda answered with a 9-yard Mitchell Ojeda touchdown before the onslaught began. Sanders ran in his second score from 47 yards out to reclaim the lead and Sim Patrick added a 1-yard touchdown and a 2-point conversion to make it 22-7. O'showen Williams found the end zone twice to increase the lead to 36-7 and Sanders closed the scoring with his third rushing touchdown. Gregory Varghese ran in Pinecrest Academy's late touchdown and Ryan McCarthy's conversion made it 43-15
Top Performers: Kasey Sanders ran in three touchdowns to lead Stratford Academy and teammate O'showen Williams added two Eagles scores. Sim Patrick ran in a 1-yard touchdown in the second quarter.
Aquinas 28, Christian Heritage 27
How the game was won: Aquinas took the lead on a Chris Gates 5-yard touchdown run with 7:28 left to play and held on as Christian Heritage missed a 40-yard field goal as time expired. Will Evans of Aquinas blocked a Lions extra point with 10:13 remaining which proved to be the difference.
Top Performers: D'Angelo Durham rushed for three touchdowns to lead the way for the Fightin' Irish. Scores of eight, six and three yards all came in the first half for Durham. …Chris Gates scored the go-ahead touchdown on a 5-yard run. …Christian Heritage received three rushing touchdowns of its own via the legs of Tyson Cooper.