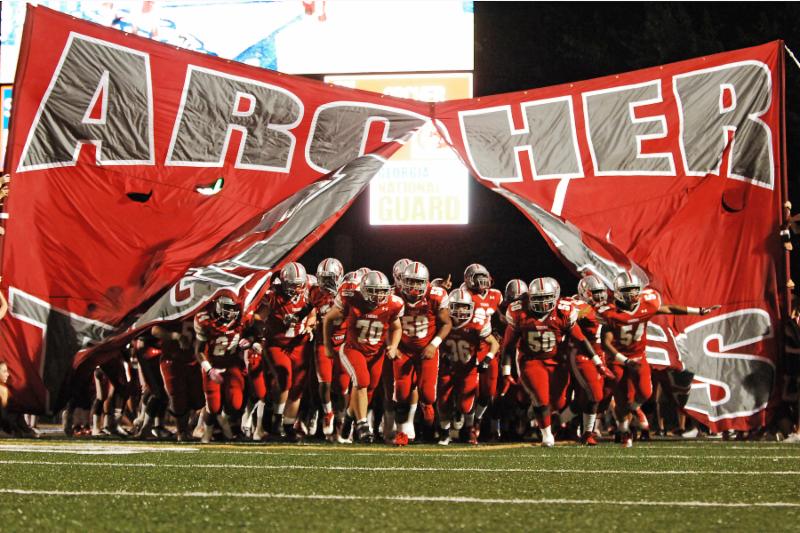 Photo by Sonny Kennedy
Archer debuts at No. 1 ahead of defending Class AAAAAA state champion Colquitt County. The Tigers have 6-foot-6, 320-pound lineman E.J. Price anchoring the offensive line and Jamyest Williams and Dylan Singleton lead a dangerous backfield. Kyle Davis is a deep threat on every play and Jeremiah Nails adds more talent at receiver. The secondary is led by blue chip Isaiah Pryor.
Colquitt County's core returns nearly completely in tact, but the loss of Bull Barge and Quintin Hampton from the defensive line could take a couple weeks to retool. Also, Sihiem King graduated and is at Kentucky after his 37-touchdown senior season and Ty Grump Jones was arrested for murder charges in July after rushing for seven scores last year as a sophomore.
In Class AAAAA, Houston County quarterback Jake Fromm is one of the top prospects in the Class of 2017 for a reason and turns the Bears into a serious contender for the Class AAAAA title this season. Ware County debuts at No. 2 after an 11-1 finish in 2014. Head coach Franklin Stephens is back for his second year with the team and will have starting quarterback Xavier Hollmon back under center.
Buford remains No. 1 in Class AAAA with Cartersville debuting at No. 2. Blessed Trinity unseated defending Class AAA champion Calhoun for the top spot in Class AAA and state runner-up Greater Atlanta Christian tops a wide-open Class AA top 10. In Class A-Private, defending state champion Mt. Paran Christian remains No. 1 and Hawkinsville tops Class A-Public as reigning champions.
Class AAAAAA
1. Archer
2. Colquitt County
3. McEachern
4. Grayson
5, Peachtree Ridge
6. Mill Creek
7. Roswell
8. North Gwinnett
9. Valdosta
10. Etowah
Class AAAAA
1. Houston County
2. Ware County
3. Jones County
4. Stockbridge
5. Mays
6. Allatoona
7. Lanier
8. Northside-Warner Robins
9. Kell
10. Glynn Academy
Class AAAA
1. Buford
2. Cartersville
3. Woodward Academy
4. Sandy Creek
5, St. Pius
6. Marist
7. Mary Persons
8. Cairo
9. Carrollton
10. Stephens County
Class AAA
1. Blessed Trinity
2. Calhoun
3. Elbert County
4. Westminster
5, Cedar Grove
6. Pierce County
7. West Hall
8. Jefferson
9. Peach County
10. Washington County
Class AA
1. Greater Atlanta Christian
2. Lamar County
3. Vidalia
4. Pace Academy
5, Lovett
6. Wesleyan
7. Fitzgerald
8. Benedictine
9. Brooks County
10. Macon County
Class A-Private
1. Mt. Paran
2. Eagle's Landing Christian
3. Calvary Day
4. Aquinas
5, First Presbyterian Day
6. Landmark Christian
7. Stratford Academy
8. St. Anne Pacelli
9. Prince Avenue Christian
10. Savannah Christian
Class A-Public
1. Hawkinsville
2. Marion County
3. Charlton County
4. Irwin County
5, Dooly County
6. Commerce
7. Emanuel County Institute
8. Early County
9. Jenkins County
10. Clinch County