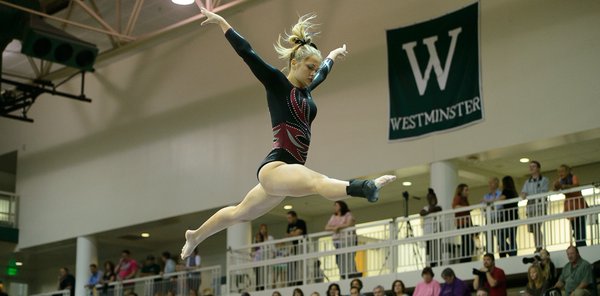 Photo By GHSA
The Westminster Schools will host the 2016 Gymnastics State Championship this Friday, an event that features some of the most talented gymnasts in the nation. The top six teams, Forsyth Central, Lambert, West Forsyth, Tift County, Northview and two-time state champion Buford will compete for this year's team title. Forsyth Central, West Forsyth and Northview are looking for their first-ever state titles. Lambert claimed the state title in 2013 and Tift County stood center podium in 2011 and 2012.
The Wolves' second state title was a team effort, fueled by their combination of depth and star-studded state qualifiers. Junior Lyndzi Jones placed third in the all-around competition by finishing first on the beam and on the floor last year. Senior Logan Nugent finished fourth all-around by placing first on the bars and third on the vault. Junior Berkley Berrett also finished with high marks at last year's competition, placing sixth all-around. Buford's first crown in 2014 was fueled by underclassmen that have grown into veterans. Junior Claudia Goyco and freshman Kelsey Schulman also strengthen Buford's chance at a three-peat.
As the Wolves seek their third straight state gymnastics title, it will not come without steep competition coming out of Forsyth County. West Forsyth's Sienna Schreiber holds the top state qualifying scores on the vault (9.75) and beam (9.6), giving her the top all-around score with a 37.47. If Schreiber holds these scores on Friday she will likely take home individual gold medals and the coveted All-Around title. Also contending for the Wolverines is Audra Crittendon who qualified on the vault, beam and floor, which could also land her as one of the all-round finishers.
Lambert is led by Alaina Steinberg who is an all-around state qualifier and will compete on the vault and on the bar. Her teammate Madison Lord also enters this year's competition a qualifier on the bars, beam and the floor and will look to improve her eighth place All-Around finish last year.
Tift County's Khloe Parker finished runner up in 2015 after battling through a cramp in her calf during warm ups. The strength of her routine and determination overall helped her place only .2 points lower than first place finisher Kelly Aycock. Parker carries the experience of last year's obstacles into at this year's state championship as Aycock has graduated. Others vying for a spot in the all-around competition are Katie Beth Carter (Carrollton), Maddy Sims (South Forsyth), Sterlyn Austin (TCC), Elizabeth McMullen (Jefferson), Lauren Gist (Forsyth Central) and MacKenzie Miller (Forsyth Central).