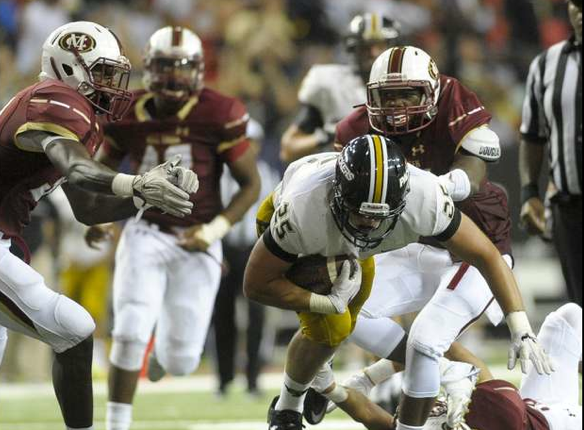 Photo by Daniel Varnado
In Class AAAAAAA, Mill Creek used a 34-27 victory over Colquitt County to takeover the No. 2 spot. The Packers drop to No. 3. Roswell and McEachern round out the top 5. Norcross dismantled Walton 46-14 on Saturday and Etowah opened the year with a 56-0 rout over Campbell to find its way to No. 8.
In Class AAAAAA, No. 1 Northside-Warner Robins defeated rival Warner Robins 55-3, which marked the largest margin victory their historic rivalry has ever seen. Houston County defeated Mary Persons 26-14 on Thursday and remains at No. 2. Valdosta jumped to No. 3 after opening the year with a 38-13 victory over Lowndes.
Buford remains No. 1 in Class AAAAA, despite a 24-7 loss to Class AAAAAAA No. 3 Roswell. No. 2 Ware County is yet to play and No. 3 Bainbridge defeated Godby (FL) 14-0 on Friday to solidify its top 3 standing.
Cartersville blew out Allatoona 34-14 in a battle of defending state champions and tops Class AAAA. Woodward Academy impressed in a 41-13 victory over Westminster and sits firmly at No. 2.
In Class AAA, Cedar Grove scored a 34-23 win over Stephenson and jumped to No. 2 behind top-ranked Pace Academy. Benedictine notably defeated Glynn Academy 24-7 and sits at Class AA No. 2 behind defending state champion Fitzgerald.
Class AAAAAAA
1. Grayson
2. Mill Creek
3. Colquitt County
4. Roswell
5. McEachern
6. Norcross
7. Westlake
8. Etowah
9. Camden County
10. Peachtree Ridge
Class AAAAAA
1. Northside-Warner Robins
2. Houston County
3. Valdosta
4. Lee County
5. Coffee
6. Northgate
7. Hughes
8. Allatoona
9. Creekside
10. Tucker
Class AAAAA
1. Buford
2. Ware County
3. Bainbridge
4. Thomas County Central
5. Kell
6. Jones County
7. Carrollton
8. Rome
9. Starr's Mill
10. Loganville
Class AAAA
1. Cartersville
2. Woodward Academy
3. Jefferson
4. Blessed Trinity
5. Marist
6. Thomson
7. Sandy Creek
8. Mary Persons
9. St. Pius
10. Spalding
Class AAA
1. Pace Academy
2. Cedar Grove
3. Calhoun
4. Greater Atlanta Christian
5. Westminster
6. Lovett
7. Peach County
8. Liberty County
9. Westside-Macon
10. Pierce County
Class AA
1. Fitzgerald
2. Benedictine
3. Rabun County
4. Brooks County
5. Callaway
6. Vidalia
7. Jefferson County
8. Model
9. Dodge County
10. Heard County
Class A-Private
1. Eagle's Landing Christian
2. Darlington
3. Wesleyan
4. Prince Avenue Christian
5. Mt. Paran
6. Stratford Acdemy
7. Calvary Day
8. Landmark Christain
9. Pinecrest Academy
10. Mt. Pisgah
Class A-Public
1. Clinch County
2. Irwin County
3. Commerce
4. Emanuel County Institute
5. Macon County
6. Mt. Zion
7. Charlton County
8. Manchester
9. Trion
10. Lincoln County