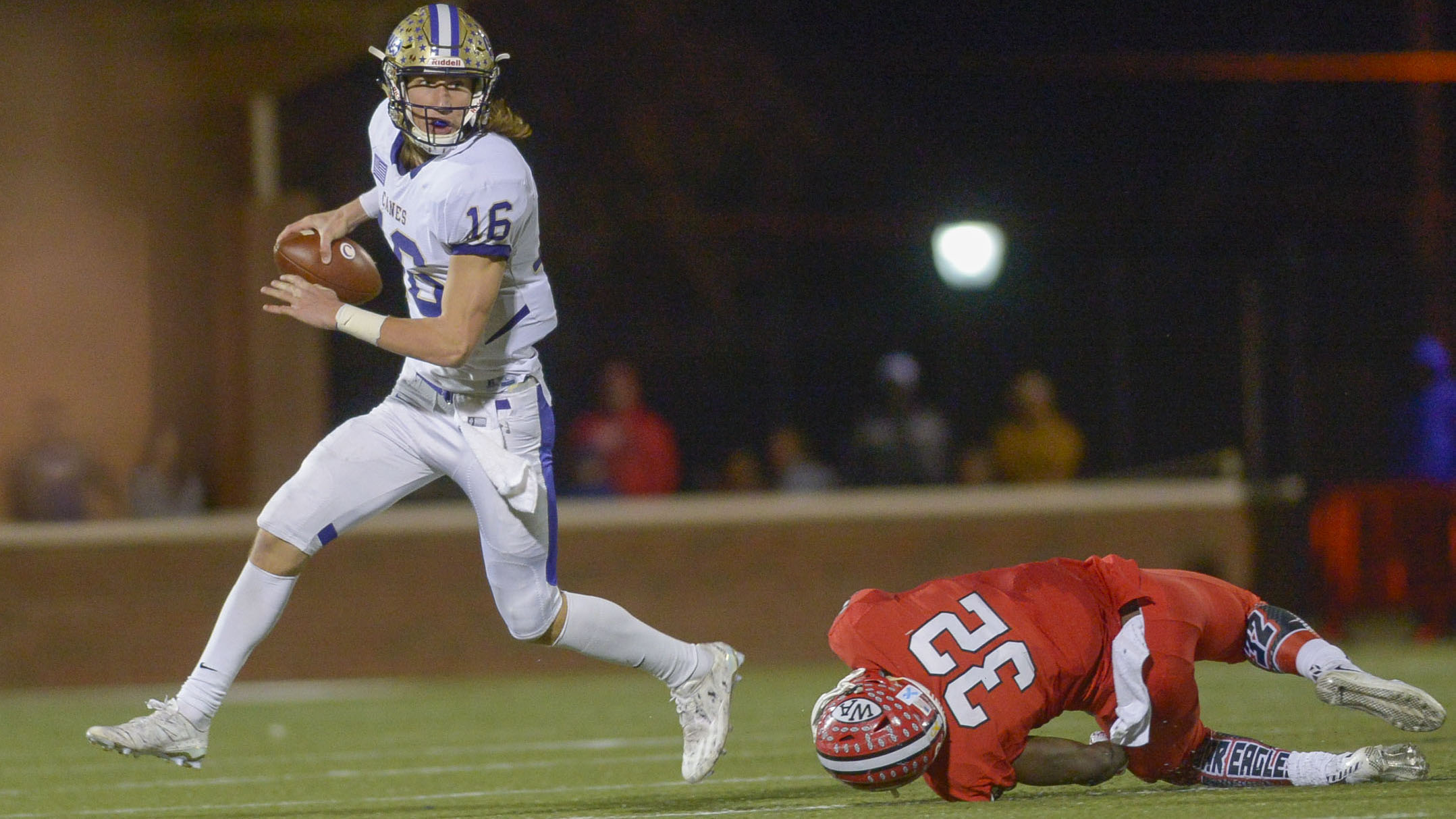 Class AAAAAAA had some high-profile coaching shakeups and personnel losses, but the top is still loaded. Grayson may have lost one of the best senior classes in recent memory, but the roster is stocked with talent like junior linebacker Owen Pappoe, one of the top players in the country. Colquitt County also reloads, and quarterback Steven Krajewski, a classic pro-style signal-caller, has huge potential in his first year as a starter. Lowndes returns quarterback Michael Barrett to one of the state's most prolific offenses. Brookwood and Parkview make the Top 10 for the debut of this season's rankings; each returns all but a few starters from teams that went 8-4 last fall. Westlake is coming off a semifinals run and should take the Region 2 title. Roswell lost a coach and tons of talent to graduation and transfer, so the Hornets have a lot to prove in the early going. McEachern loses quarterback Bailey Hockman but has talented skill players back. Norcross and Mill Creek round out the rankings.
State runner-up Tucker remains stacked, boasting a defense—and linebacking corps especially—that features numerous big-time prospects like Michael Harris. The Tigers are looking for their third state title in a decade. Valdosta was last season's surprise state champion; the Wildcats only return eight total starters, but there's talent on the roster. Harrison's Justin Fields has seen his stock skyrocket after a phenomenal summer, and Lee County has top prospect Otis Reese at safety. Stephenson is strong on both sides of the line of scrimmage, with O-lineman Jalil Irvin starring. Dalton stays in the Top 10 despite some personnel losses like Kyric McGowan, but overall depth keeps the Catamounts at No. 6. Region 1 mates Northside and Coffee show up at Nos. 7 and 8 to give their region four teams in the rankings, and Mays looks to carry over the success from a run to the quarterfinals, and Alpharetta is poised for a big year with 16 returning starters and prolific quarterback Matthew Downing back.
In Class AAAAA, defending state champion Rome returns to No. 1 with a team capable of returning to the championship stage. No. 2 Buford has reached the finals in each of the last 10 seasons and open the year as convincing contenders. Kell and the Longhorns' first-year head coach Brett Sloan debut at No. 7.
In Class 4A, it is no surprise that two-time defending state champs Cartersville remain No. 1. Blessed Trinity's outstanding 2016 season that came with one of the classification's youngest rosters has positioned the Titans at No. 2 opening the season.
Peach County leads a talented Class AAA after falling to No. 2 Greater Atlanta Christian in the semis last season. However, the Trojans are returning Division-1 talent all over the field. Kearis Jackson, a 5-11, 203-pound receiver has garnered attention from UGA, Auburn, Alabama and Miami to name a few. Linebacker Jaquez Jackson, a Georgia Tech commitment, anchors the defense. GAC, the Class AAA runner-up, will be led by two-way starter Kyler McMichael, a Clemson commitment, who handled running back and corner back duties. Cedar Grove, the defending state champions, debut at the No. 3 spot.
Defending champion Benedictine holds the top-spot in Class AA after defeating No. 2 Fitzgerald 49-26 in the championship game last season. Hapeville, who fell to Fitzgerald in the semis last year, holds the No. 3 spot. Screven, who fell to No. 5 Callaway 35-34 in the quarterfinals last year, is in the No. 4 spot. Rabun, who fell to No. 3 Fitzgerald in the quarterfinals last season, is in sixth. Pepperell might've fallen to Benedictine in the quarterfinals last season, but a productive offseason has them in the No. 7 spot.
Eagle's Landing Christian returns the top collection of talent in Class A, with cornerback Tre' Douglas leading the way. Prince Avenue is coming off a season in which it narrowly missed a chance to play for a title. Wesleyan has quarterback Banks Ramsey, who threw for nearly 2,800 yards last year, and Fellowship Christian returns a handful of all-region players despite losing a slew of seniors who helped it reach the title game. Landmark Christian has a strong offensive line to lead the way, and Darlington has 3-star running back and Georgia Tech commit Tijai Whatley as a weapon. Mt. Paran has talent at the skill positions, and Calvary Day—the only Savannah-area school on the list—has a deep backfield led by running back Nolan Smith. Athens Academy is young but talented. Aquinas dropped to 6-5 last season after three straight seasons of at least 12 wins, but there's a lot of senior talent on offense.
In Class A-Public, Macon County returns as No. 1 after taking home the state title last year and dominating their Class A schedule. Emanuel County Institute debuts at No. 2 after a semifinal season and McIntosh County Academy edges Clinch County for No. 3.
Class AAAAAAA
1. Grayson
2. Colquitt County
3. Lowndes
4. Brookwood
5. Westlake
6. Roswell
7. McEachern
8. Parkview
9. Norcross
10. Mill Creek
Class AAAAAA
1. Tucker
2. Valdosta
3. Harrison
4. Lee County
5. Stephenson
6. Dalton
7. Northside-Warner Robins
8. Coffee
9. Mays
10. Alpharetta
Class AAAAA
1. Rome
2. Buford
3. Carrollton
4. Stockbridge
5. Ware County
6. Bainbridge
7. Kell
8. Thomas County Central
9. Griffin
10. Loganville
Class AAAA
1. Cartersville
2. Blessed Trinity
3. Thomson
4. Jefferson
5. Sandy Creek
6. Marist
7. Woodward Academy
8. Ridgeland
9. Mary Persons
10. Cairo
Class AAA
1. Peach County
2. Greater Atlanta Christian
3. Cedar Grove
4. Calhoun
5. Westminster
6. Pace Academy
7. Lovett
8. Liberty County
9. Crisp County
10. Dawson County
Class AA
1. Benedictine
2. Fitzgerald
3. Hapeville Charter
4. Screven County
5. Callaway
6. Rabun County
7. Pepperell
8. Jefferson County
9. Brooks County
10. Rockmart
Class A-Private
1. Eagle's Landing Christian
2. Prince Avenue Christian
3. Wesleyan
4. Fellowship Christian
5. Landmark Christian
6. Darlington
7. Mt. Paran
8. Calvary Day
9. Athens Academy
10. Aquinas
Class A-Public
1. Macon County
2. Emanuel County Institute
3. McIntosh County Academy
4. Clinch County
5. Manchester
6. Commerce
7. Linclon County
8. Irwin County
9. Taylor County
10. Turner County