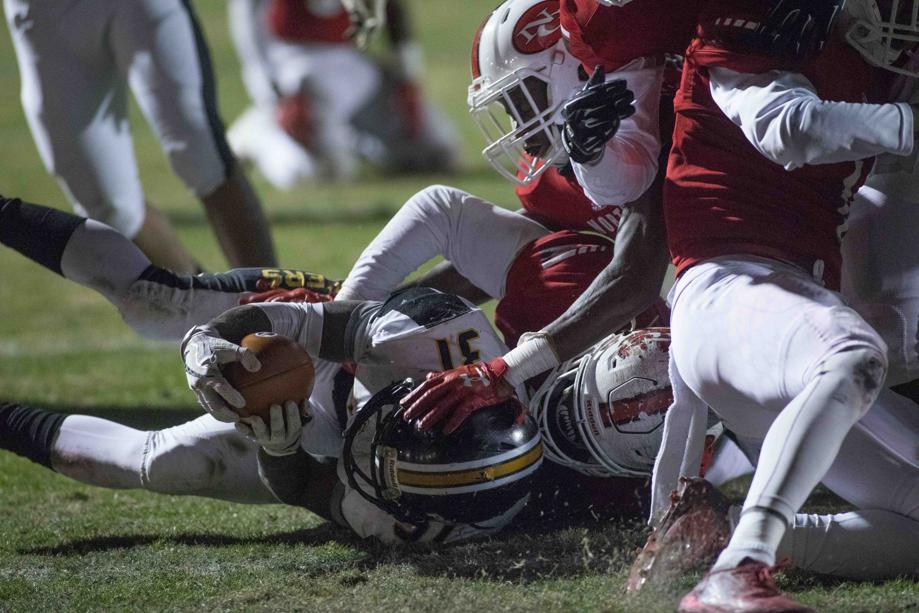 Photo by AJC.com
The GHSA expanded to a seventh classification in 2016, where the 48 largest schools in the state continue to compete each year. The 2017 season saw first-year coaches around the classification experience incredible success and these breakout performances have set the stage for an intriguing 2018.
Region 1: Camden County, Colquitt County, Lowndes, Tift County
It is the only region in Georgia's highest classification that dwells outside the Metro Atlanta circle, but the small collection of South Georgia powerhouses within it are among some of the most decorated, consistent and dominant programs in the state. Lowndes head coach Randy McPherson has led the Vikings to three state titles since taking the job in 2002 and his 2017 Vikings scored a 51-45 double-overtime victory in their season finale against visiting Colquitt County to cap a perfect 10-0 regular season. It was the program's first region title since the 2010 season and the offense went on to average a school-record 52.3 points per game. The red-hot Vikings took their flawless record into the second round of the playoffs, but squandered a 24-0 lead and fell to an equally-astounded McEachern team 36-31. This season, Lowndes will need to fill the leadership and void left by dual threat quarterback Michael Barrett, who will be suiting up with the Michigan Wolverines this fall. Tift County earned the No. 2 seed a year ago after falling to only Lowndes (51-38) in the regular season and advanced to the quarterfinals where they lost 35-28 to Brookwood. Tift County will be replacing quarterback and West Georgia signee Griffin Collier, who sparked the offense with 2,941 passing yards and 32 passing touchdowns last season, but running back Mike Jones will be back keep the ground game going after accounting for 1,301 rushing yards and 14 touchdowns last season. Colquitt County and its 1-2 region record resulted in a No. 3 seed and, consequentially, a run to the 2017 state finals that had to be played entirely on the road. The Packers lost the championship game 19-17 to North Gwinnett, evening out the record of head coach Rush Propst to 2-2 in his four championship appearances with the school.  Propst is entering season No. 11 with the Packers and will have one of the most talented rosters and backfields he has had since taking over the program.  Running back Ty Leggett returns after racking up 1,287 yards and 12 touchdowns last year, and the state's No. 1 ranked running back prospect for the Class of 2020, Daijun Edwards, is the other headliner of Colquitt's potent one-two punch. What has been most impressive about Colquitt County's success over the past decade is the patterned resiliency they show come playoff time. No stat better represents the Packers' "championship or bust" mindset, ability to shake off disappointing defeats or just their exceptional will to win, like the 32 playoff victories they have accumulated the past nine seasons. Camden County, which won 91 consecutive region games from 1999-2012, has gone winless in region action the past two seasons and a modest 15-13 since getting placed in Region 1 for the first time in 2012 (not coincidentally the same year the Wildcats' region winning streak was snapped). Head coach Bob Sphire took over the program last season after posting 110 wins in the 11 seasons he spent at North Gwinnett. Sphire, with his North Gwinnett teams and last year's Camden County team, will enter the 2018 season with a combined 1-10 all-time record against the trio of Lowndes, Colquitt County and Tift County.
Region 2: Campbell, East Coweta, Newnan, Pebblebrook, Westlake, Wheeler
It was the only region that got swept cleanly from the first round of the Class AAAAAAA state playoffs last season, but overall Region 2 has the bulk of its teams trending in positive directions. Four-time defending region champion Westlake took a 2-3 record into region action and swept the field for the top seed. Westlake fell 34-7 in the first round to an ultra-talented Marietta team, that nearly busted the entire playoff bracket, and the Lions will return a talented and experienced secondary this season with safeties Myles Farmer and Joel Girtman and 3-star cornerback Amir Spivey. Pebblebrook used a 4-1 region record to take the No. 2 seed and former Sandy Creek head coach Chip Walker's debut season with Newnan resulted in a 3-2 region record and the No. 3 seed. After going 0-10 in 2016, Campbell earned the No. 4 seed and reached the postseason for the first time since 2006 with a 4-6 overall record. First-year East Coweta coach John Small saw his Indians finish with a 1-4 region record and the program's 20-year playoff streak was snapped in the process. Wheeler went winless in region play and the 41.7 points per game allowed by the Wildcats' defense in 2017 are the most in the 53-year history of the school.
Region 3: Hillgrove, Kennesaw Mountain, Marietta, McEachern, North Cobb, North Paulding
The depth of Region 3 has been known to leave solid teams out of the playoff picture, but 2017 was a lucky year as Marietta was able to earn the At Large bid after Hillgrove, McEachern, North Paulding and North Cobb secured the region's four playoff spots. Region champion Hillgrove's defense was stout last season and Class of 2019 4-star safety Jaylen McCollough will be back to lead the Hawks defense against the high-powered offenses of the region. McEachern's run to the semifinals last season offered a glimpse into the bright future of starting quarterback Carlos Del Rio, who enters his sophomore season already holding offers from Florida, Miami, Michigan and N.C. State. North Paulding will have a new head coach this year as Jim Bob Bryant takes over for Scott Jones, who led the Wolfpack to the playoffs in each of his six years spent at the school. Bryant comes to the Peach State after coaching in North Carolina, where he was a two-time AP state coach of the year and three-time state champion. Also, the 11.8 points allowed by the 2017 North Paulding defense is the best statistical season in school history. North Cobb carries a seven-year playoff streak into 2018 and will feature a talented defensive line, anchored by senior Caleb Oppan, a 6-foot-4, 220-pound Duke commit. Marietta has 18 returning starters from last year's quarterfinal run, including Class of 2020 quarterback Harrison Bailey, whose only loss as a starter last season was his five-touchdown performance against North Gwinnett in the quarterfinals. Kennesaw Mountain High School, which played its first season in 2000, has never reached the playoffs, but the Mustangs are hoping the hiring of homegrown Caleb Carmean as new head coach will change that. Carmean played quarterback at the school in the early 2000's and coached the quarterbacks under former head coach Andy Scott last season.
Region 4: Cherokee, Etowah, Lassiter, Roswell, Walton, Woodstock
The 2017 season proved to be an outstanding debut for new Walton head coach Daniel Brunner. After missing out on the playoffs two of their last three seasons, the Raiders offense put up a school-record 38.17 points per game and rolled to 11-0 before falling (28-21) to Colquitt County in the second round; the Raiders were also the only team that beat state champion North Gwinnett last season (a 31-28 victory in the Corky Kell Classic). Walton will have quarterback Austin Kirksey back as well as Georgia-commit Dominick Blaylock. Kendall Alford, who caught 35 passes for 600 yards last year, is another option through the air and running back D.J. Soyoye is back after rushing for 1,193 yards. Woodstock earned the No. 2 seed and advanced to the second round of the playoffs for the second consecutive season, where they'd fall 38-28 to Marietta. The Wolverines biggest challenge this season will be grooming a new starting quarterback following the graduation of Murray State signee Garrett Bass. Etowah fell 38-35 to Woodstock and ultimately took the No. 3 seed last season before failing to advance past the first round of the state playoffs for the third straight season. Matt Kemper led Roswell into the playoffs as a No. 4 seed in what was his first year at the school. The fresh start extended beyond the coaching change, however, as the team entered the 2017 season in major rebuilding mode after a star-studded class of seniors carried the Hornets to a second-straight finals appearance in 2016.  Lassiter's 36-30 loss to Roswell in its region-opener proved costly, leaving the Trojans in an early hole and ultimately outside of the playoffs for the third time in the last four seasons. Cherokee will desperately try to climb back up from a dramatic offensive drop-off last season. Just how bad was it? The Warriors put up 33 points per game and advanced into the second round of the state playoffs in 2016, but woefully mustered just 4.9 points per game and went winless last season.
Region 5: Forsyth Central, Lambert, Milton, North Forsyth, South Forsyth, West Forsyth
Long seen as talented, but on a lower tier than the South Georgia or Gwinnett County powerhouses, recent seasons suggest that a championship caliber brand of football may indeed be brewing right in Region 5's backyard. That being said, reigning region champion South Forsyth is going to have to fill a lot of holes this upcoming season. In addition to graduating quarterback Cal Morris, the opening of Forsyth County-based Denmark High School down the street has led to an exodus of some of the program's most talented contributors, including wide receiver and Clemson-commit Ze'vian Capers who will be playing his junior season in Class AAAA with the Danes. Milton fell 21-13 to South Forsyth last year and earned the No. 2 seed. It was head coach Adam Clack's first year at the school; Clack came to Milton after spending three successful seasons at West Forsyth, which first-year head coach Shawn Cahill led to a No. 3 seed in 2017. All three of Milton's losses last season (North Gwinnett, South Forsyth and Brookwood) were decided by a touchdown or less and there is plenty of talent returning for the Eagles to set their sights on the ultimate prize this year. Milton is returning a trio of highly ranked senior prospects, including 3-star quarterback Jordan Yates, 3-star linebacker Allen Walker and Clemson commit Joseph Charleston, a 6-foot-2 safety. Additionally, rising junior Paul Tchio is a 4-star offensive tackle that is a force in the trenches at 6-foot-5, 325 pounds. Lambert went from winning the region in 2016 to producing a 1-4 region record in 2017 that opened up an opportunity for North Forsyth to take the No. 4 seed. Former West Forsyth coach Frank Hepler's Forsyth Central team finished 0-10, but remained a competitive bunch even late into the season. Hepler's Bulldogs have a solid defense, but the one-dimensional offense this past season and its abundance of turnovers, put way too much pressure on the defense and forced the unit to defend short fields and play with their backs against the wall. If the offense can make a sizable leap, and more specifically use the non-region schedule to gradually establish an identity, then it could be a joyful rebounding process.
Region 6: Collins Hill, Discovery, Duluth, Mill Creek, Mountain View, North Gwinnett, Peachtree Ridge
The teams residing in Region 6 shattered expectations throughout the 2017 season, but as good as last season was, it was likely just the tip of the iceberg. Defending region and state champion North Gwinnett was led by first-year head coach Bill Stewart, who took over the program in 2017 (following Bob Sphire's departure to Camden County) and led the Bulldogs to their first-ever state crown. Quarterback Cade Fortin (North Carolina signee) has left a position battle this offseason, but the Bulldogs have plenty of talent and championship experience returning; Class of 2019 standouts Warren Burrell (CB), Tyler Goodson (RB) and Quinton Newson (S) are back, as well as Class of 2020 4-star Josh Shuler (S). Burrell led the Bulldogs with five interceptions a year ago, while the speedy Goodson sparked the offense with 20 rushing touchdowns and four receiving scores. Mill Creek, Collins Hill and Mountain View each finished 4-2 in region play last season and it will likely be another tight playoff race this season. Mill Creek will be a much different looking team with just six starters returning to the offense and only four on defense, but the Hawks should once again be sound in all three phases. Mountain View followed its school-record 8-3 finish in 2016 by posting an even better 9-3 finish in 2017. Bears head coach Nick Bach, who joined the program in 2015 and quickly turned it around, left to take the head coaching job at Gillman High School in Maryland this offseason. His replacement is Rob Kellogg, who came to Mountain View with Bach in 2015 and served as offensive coordinator the last three years. Kellogg also has 15 years of coaching experience in GISA in addition to his decade spent in GHSA. Collins Hill had a strong 2017 season under first-year head coach Lenny Gregory and will be an interesting team to watch this season. Gregory was the head coach at Centennial and served as Grayson's defensive coordinator during the Rams' 2011 state championship run. Peachtree Ridge also debuted a new head coach last season with Reggie Stancil, a former Colquitt County quarterback and baseball standout that coached both sports at Norcross before joining the Lions. Peachtree Ridge went just 2-8 in Stancil's first season and was outscored by 23.9 points per game. The Lions especially struggled offensively, putting up just 12.7 points per game. Duluth head coach Bob Swank faced a similar challenge when he arrived at the school in 2015, but has been able to improve the offense's production steadily from just 9.7 ppg that first year to 20.7 ppg in 2017. The newly-build Discovery High School takes a 3-17 all-time record into its third season of competition. Leading the Titans and building the program from the ground up is Efrem Hill, a former Samford wide receiver and practice squad member of both the Tampa Bay Bucs and Carolina Panthers.
Region 7: Berkmar, Brookwood, Central Gwinnett, Lakeside-DeKalb, Meadowcreek, Norcross, Parkview
In Philip Jones' third year at the helm of Brookwood, the Broncos won 11 straight games after starting 0-2, won Region 7-AAAAAAA and reached the semifinals for the eighth time in school history. But after the 31-14 loss to Colquitt County (a team they defeated earlier in the season) that kept them out of the state title game, the Broncos were left to face the reality of losing 20 starters and 19 signed players from last year's tight-knit senior class. Brookwood will open the 2018 season at Mercedes-Benz Stadium in the Corky Kell Classic against North Gwinnett. Last season, Parkview came three points shy (30-27 loss to Brookwood) from winning their first region title in 14 years. Instead, the Panthers wore the No. 2 seed all the way to the quarterfinals where McEachern advanced with a 43-28 win. The Panthers offense set a school-record in 2017 with 47.15 points per game and averaged 326.1 rushing yards per game. They too, however, will have a lot of holes to fill in this year. Norcross lost to Brookwood and Parkview in region play and took the No. 3 seed with a 4-2 region record. The Blue Devils finished 5-6 overall after losing to Grayson 31-14 in the first round. Norcross has the talent to compete with any team in the state, but the six losses last year (North Gwinnett, Archer, Brookwood, Grayson, Parkview and Colquitt County) show that Norcross needs to prove this upcoming season that they can close out opponents and win close games. Meadowcreek made history last year and secured the program's first-ever playoff berth, largely due to a 41-34 win over Central Gwinnett that snapped the Black Knights' streak of 3-straight postseason appearances. The 2016 reclassification didn't do Lakeside-DeKalb any favors by reassigning them from Region 2 to Region 6 and this year's Vikings teams will have to replace starting quarterback Matthew Holt and leading rusher Maxwell Guggemos. Berkmar, which has gone 0-10 the last four seasons has hired Willie Gary as its new head coach. Gary will have to take over a Patriots team that scored just 3.9 ppg last year, the lowest output in school history.
Region 8: Archer, Grayson, Newton, Rockdale County, Shiloh, South Gwinnett
Among the many surprises revealed in 2017 was Archer, who bounced back from a 4-7 finish in 2016 and opened the 2017 season with 12-straight victories. Archer's defense really began to peak in region play and the Tigers limited their Region 8 opponents Newton, Grayson, Rockdale County, South Gwinnett and Shiloh to just 5.8 points per game in route to the region crown. Offensively, quarterback Carter Peevy produced a breakout sophomore season, pacing the Tigers with 2,030 passing yards, 20 touchdowns and just six interceptions. Archer opened the playoffs with a 37-0 win over Meadowcreek and then defeated Mill Creek (for the second time of the season) 16-10 to set up a showdown with Colquitt County in the quarterfinals. Archer was able to keep the Packers offense out of the end zone, but three made field goals by Colquitt County kicker Ryan Fitzpatrick and the unbelievable 60-yard free kick he drilled at the end of the first half was enough to score a 12-7 victory. Grayson earned the No. 2 seed and finished 10-2 in Christian Hunnicutt's first year with the school, falling 6-3 to Archer in region play and 35-28 to North Gwinnett in the second round of the state playoffs. Grayson will have one of the most talented groups of seniors in the country leading the way this season: 4-star OLB Owen Pappoe (6-0, 211), 4-star OT Wayne Morris (6-6, 293), 4-star ATH Ronald Thompkins (5-11, 195), 3-star OT and Michigan commit Trente Jones (6-6, 282), 3-star safety Kenyatta Watson II (6-2, 187), 3-star DT and FSU commit Tru Thompson (6-0, 338), 3-star CB and Duke commit Jalen Alexander (6-0, 165), 3-star WR Kenjon Jackson (6-5, 200), 3-star S and Georgia Tech commit Jeremiah Smith (6-2, 180) and starting center and Auburn commit Jakai Clark (6-2, 305). In addition to their big name prospects, the Rams possess championship size, speed and depth throughout the roster. Last year, the team's 56 sacks came from 15 different guys. The first concern for Hunnicutt in 2018 will be grooming a replacement for quarterback D.J. Irons (Eastern Kentucky signee) and receiver Jaquavius Lane (Kansas State signee). Although Lane was the team's leader with 8 receiving touchdowns this past season, it was junior Kenjon Johnson who racked up a team-high 608 yards off just 27 catches in 2017. The 6-foot-5 frame of Johnson will be a tough matchup for opponents every week this season, especially in the red zone. Additionally, Thompkins' elite playmaking will be a major aspect of Grayson's offense this upcoming season. Newton fell 20-19 to Archer and 41-16 to Grayson last season and earned the No. 3 seed. A 42-35 overtime loss to Parkview eliminated Newton from the playoffs in the first round, but the team's athleticism and physicality will make them another difficult matchup in 2018. Steve Davenport replaced current East Coweta coach John Small last season and led South Gwinnett to the No. 4 seed. Overall, the 2017 season was difficult, in the fact that it produced just three wins (3-8), but South Gwinnett took on an incredibly challenging schedule, held its own for the most part and will have more experience in 2018 across the board. Rockdale County has hired Jamie Baldwin to take over as head coach for Greg Manior, who went 1-9 last season and 3-17 in his brief two years at the school. Shiloh, which avoided finishing in the Region 8 basement with a 14-12 win over Rockdale County, was outscored 159-6 by the other four region opponents.